The 2015 Los Angeles Calendar Motorcycle Show Concours de Elegance
& Calendar Girl Music Festival • Saturday July 25th 2015 • 10am - 4pm
Sagebrush Cantina, 23527 Calabasas Road, Calabasas, CA 91302
Join us on the grass for the World's premier Motorcycle Show and Concours de' Elegance at the
Los Angeles Calendar Motorcycle Show featuring the finest Professional and Amateur
Pro Builder / Street Customs, Bar Hopper / Cafe Racers, Classic Restored Bikes and Modern Sport / Racebikes
Previous Show Winners
The PREMIER CUSTOM & SPORT BIKE CONTEST on the WEST COAST!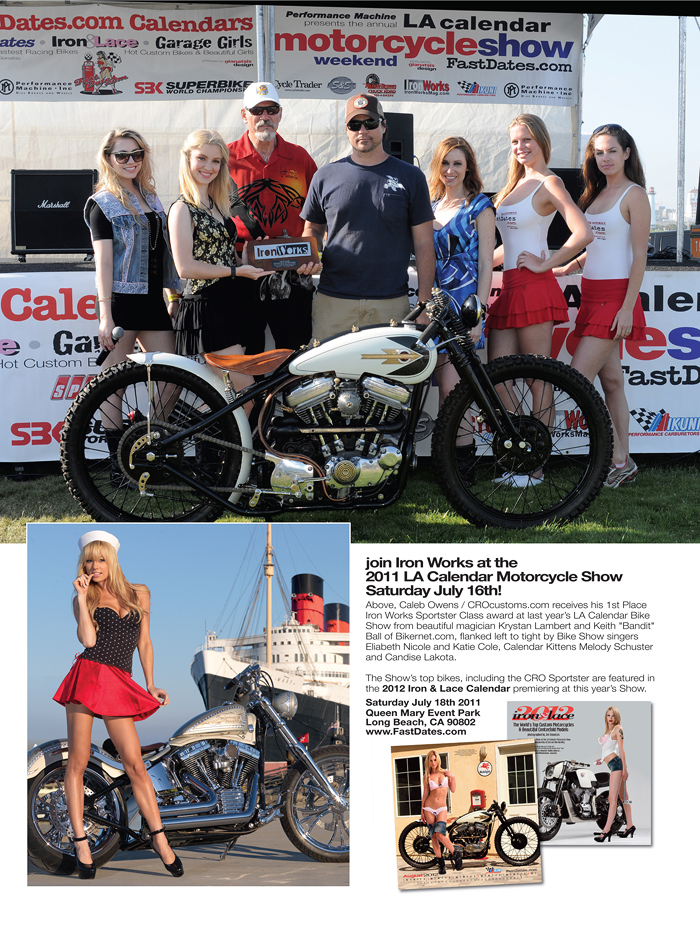 LA Calendar Motorcycle Show Winning Bike & 2010 Show Preview!
Caleb Owen's 1st Place Sportster at the 2010 LA Calendar Motorcycle Show was featured in this 3-page feature in the
June/July 2011 issue of Iron Works magazine and in the 2012 Iron & Lace Calendar.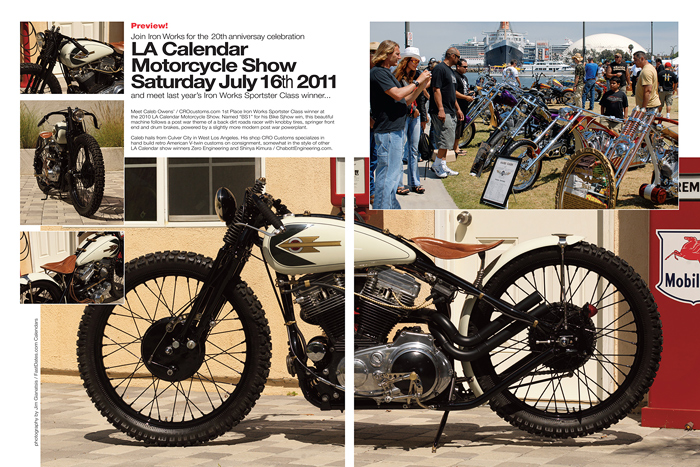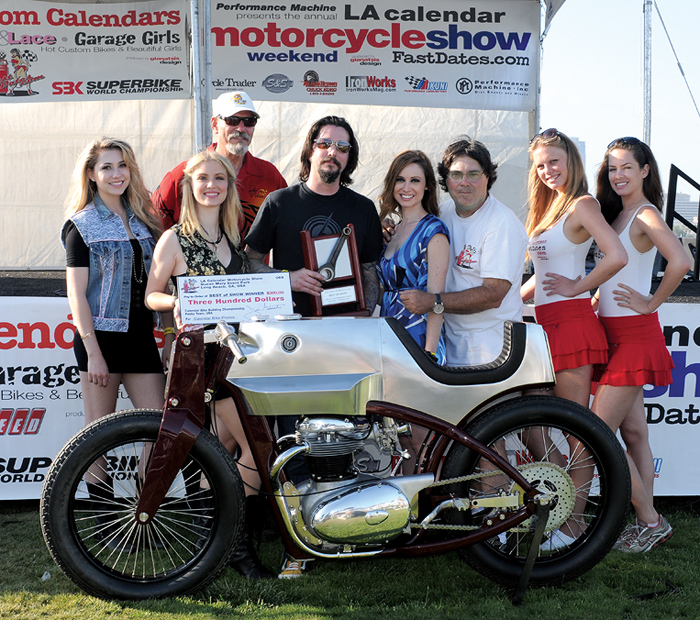 2010 LA Calendar Best of Show winner "Beezer" by Chris Fletchner / SpeedShopDesign.com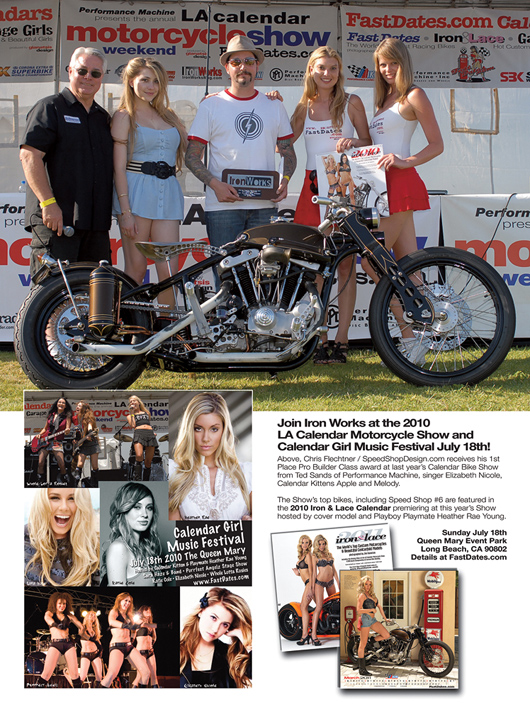 LA Calendar Motorcycle Show Winning Bike & 2010 Show Preview!
Chris Fletchner's / SpeedShopDesign.com 2009 LA Calendar Pro Class winning bike winner Speed Shop Special #6
was featured in a 3-page spread in the June 2010 issue of Iron Works magazine. Chris is building an all-new bike
to premier at this year's 2010 LA Calendar Show on Sunday July 18th. Click the pages to ENLARGE.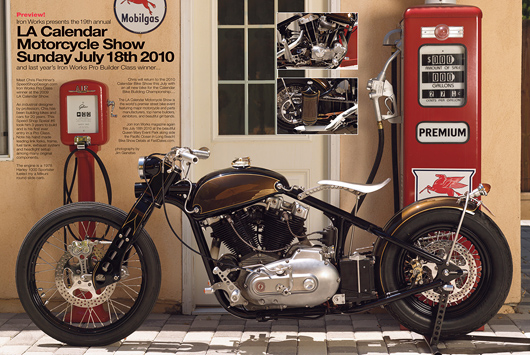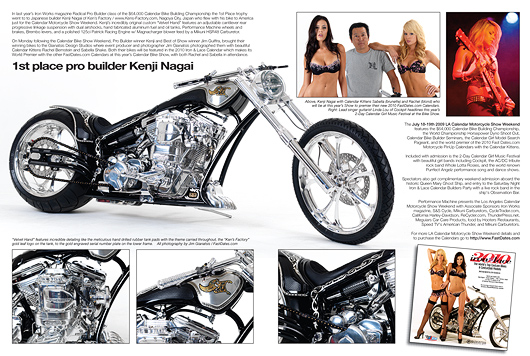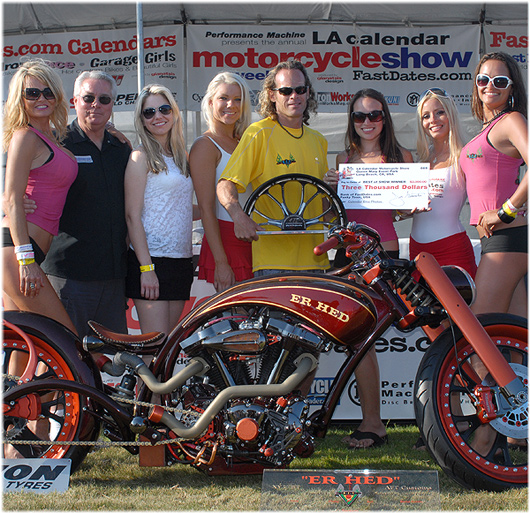 Above: 2008 Best of Show winner Jim Guiffra / AFTcustoms.com and !st Place Pro Builder Kenji Nagai / Kens-Factory.com
were featured in this 4-page Calendar bike Show feature in the Juy 2009 issue of iron Works magazine! Click on pages to go BIG.



2007 Performance Machine / LA Calendar Motorcycle Best of Show Winner Greg Westbury from Westbury Hardcore, Concrod, CA,
took home $4,000 cash and some $3,000 in awards from the Calendar Kittens: KLSX radio host & Penthouse Sam Phillips,
Playboy's Tiffany Toth, and Miss Texas Rockin' Robin Cunningham.



Best Performance Machine Equipped Bike $5,000 Product Award and Tophy in 2007 was awarded here to Barry LaCour
by Roland Sands and the Calendar Kittens.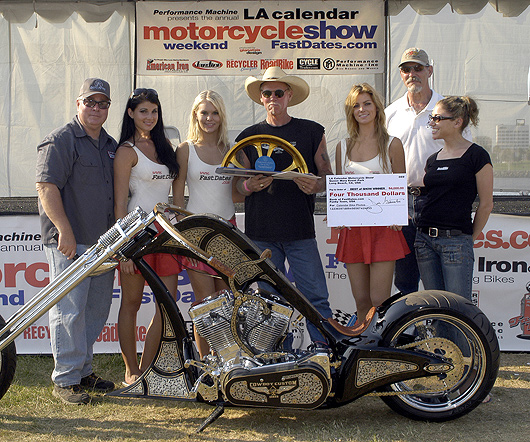 In 2006 Russ Hess from CowboyCustomBikes.com in Jacksboro, Texas, took the coveted and always unique
Performance Machine Best of Show Trophy and some $10,000 in cash and awards.
From left: Show sponsor Performance Machine's Ted Sands, Calendar Kittens Cora Skinner and
Playboy Playmate Athena Lundburg, Russ Hess, Calendar Kitten and Playboy Playmate Tamara Witmer,
Bikernet.com's Keith "Bandit" Ball, and celebrity Jessica Procup. Photographed by Show producer Jim Gianatsis.
---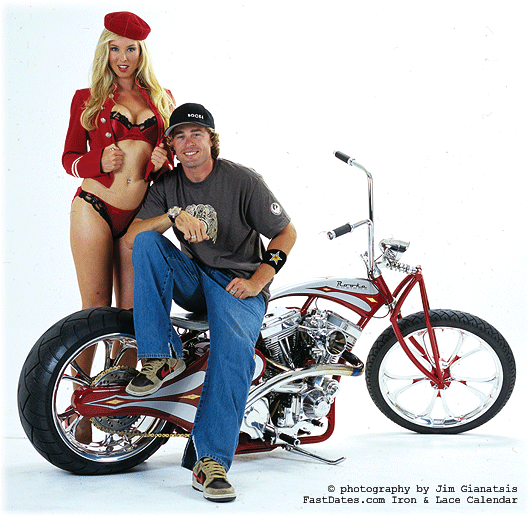 How to Become a Rich & Famous Celebrity at the LA Calendar Bike Show!
Jesse Rooke emerged out of no where, never having built a bike before, and won our Best of Show in 2002 with his radical new concept bike "Singled Sided" . Jesse's bike was then featured in the 2004 Iron & Lace Calendar and in countless magazines. Jesse returned in 2003 and 2004 to win twice more, 2003 Best of Show and 2004 First Place Pro Builder Class, and earned twice more having his incredibly innovative bikes featured in the Iron & Lace Calendar. It landed Jesse a national advertising campaign and sponsorship with Mikuni Carburetors among many, a feature program on the Discovery Channel which first aired March 2005, and paid appearances at leading motorcycle events across America. Click on Jesse (above) for the big picture and a preview of the upcoming 2006 Iron & Lace Calendar with Jesse's latest Kali Kruiser - Rockstar, also featured in a detail in the world's first exclusive pictorial in Iron & Lace Garage. Success is Sweet.




Jesse Rooke's first ever custom bike "Single Sided" won the Pro Builder class of the 2002 LA Show and went on
to be featured in many magazines, the FastDates.com website and Iron & Lace Calendar with beautiful model Joanna Kruppa,
Playboy cover model and MAXIM's World's Sexiest Swimsuit Model!




Calendar Kitten Taylor McKegney poses for Speed Channel's American Thunder on Harold Pontarelli's Radical Pro Class
class winning chopper at the 2001 Show. Harold also took The LA Calendar Best of Show award that year with a green blower bike.
Both bikes were featured in the next Iron & Lace calendar.

a production of


Return to Bike Show Contest Registration Page 1
LA Calendar Motorcycle Show, Los Angeles Calendar Motorcycle Show, bike show, bike contest, custom bike show, California bike show, motorcycle show, California motorcycle show, event, Calendar bike building Championship, American Bike Building Championship, bike show, contest, bike contest, event, events, Los Angeles, Long Beach, Queen mary, USA, America, United States, United States of America, Long Beach, Long Beach, Queen Mary, Mikuni, Performance Machine, American Iron, Metric Cruiser, RoadBike, Road Bike, Jesse James, Jesse Rooke, Roland Sands, Paul Yaffe, Chica, Russell Mitchell, Arlen Ness, Paul Yaffe, Mike Stafford, Mitch Bergeron, Big Dog, V-Twin, American V-Twin, Harley-Davidson, Harley, custom, chopper, bobber, cafe, sportbike, cruiser, metric, Sportster




The Biggest Custom
& Performance Street Bike Show in America!
Some winning bikes will be featured in the next Iron & Lace Custom Bike and Fast Dates Racebike Motorcycle Pinup Calendar premiering at the
LA Calendar Motorcycle Show.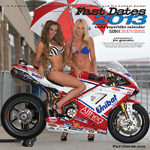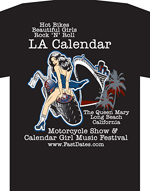 Get the T-Shirt!

Contest Sponsors Include: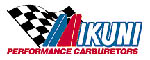 Contest Awards
Due to the current down in the economy and the loss of many Manufacturers, Sponsors and Venders at all bike events across America, including the Calendar Motorcycle Show, our cash awards have been eliminated since the 2010 Show. We will still have our great Trophies and Product Discount Award Certificates from our manufacturers in attendace at the show. Meanwhile, thank you for your continued support of the Calendar Show during the current difficult recession.
- Jim Gianatsis

Gianatsis Design will photograph selected top winning bikes photography for the Iron & Lace Calendar and Motorccyel Magazine Featurees in Cycle World, Easriders, and other Magazines. Normally the Monday following the Sunday contest is set aside for photography of the winning bike at the Gianatsis Design studio in Woodland Hills, CA.

.** Bike Judging Criteria
Calendar Bike Building Championship
will be judged by respected industry professionals and celebrity builders based on their personal tastes for design, execution and creativity. There will be no score cards or points awarded and all decisions are final.
Best of Show is approved by
Jim Gianatsis as the one bike most exemplifying the theme of the
LA Calendar Motorcycle Show and the FastDates.com Calendars for high standards of originality and creativity and function.

Contestants are responsible for choosing the correct class for their bike, and No Contest Entry Fees will be refunded. No whiners or cry babies please. This is a fun event.

Paul Yaffe was one of the many celebrity Iron & Lace Calendar builders who gave Show Seminars.
LA Calendar Motorcycle Show Event Coverage

• 2012 Calendar Show
• 2011 Calendar Show
• 2010 Calendar Show
• 2009 Calendar Show
• 2008 Calendar Show
• 2007 Calendar Show
• 2006 Calendar Show
• 2005 Calendar Show
• 2004 Calendar Show
• 2003 Calendar Show
• 2002 Calendar Show
• 2001 Calendar Show
• 2000 Calendar Show


Above: 2002 & 2003 Best of Show winner, 2004 Best Pro Builder - Jesse Rooke.