at The Rider RoundUp at the Ranch on Sunday October 7th 2018
Join us on the grass forone of the World's premier Custom Motorcycle Show events at the
Rider RoudUp at TheRanch featuring incredible Professional and Amateur built motorcycles.
Pro Builder / Street Customs, Bar Hopper / Cafe Racers, Classic Restored Bikes and Modern Sport / Racebikes


2014 and 2013 LA Calendar Motorcycle Classic Bike & Bar Hopper Class winner Ron Baldonado
with FastDates.com Calendar Kittens Petra, Jitka and singer Katie Cole
Motorcycle Contest Information
The PREMIER CUSTOM & SPORT BIKE CONTEST on the WEST COAST!
2018 Rider RoundUp at The Ranch & Calendar Bike Building Championship
on Sunday October 7th 2018 on the Western Movie Set at Paramount State Park
Our Calendar Bike Building Championship joins Russell Mitchell / Exile Cycles at the Paramount Western Movie Ranch in Agoura, CA, down the road from the Rock Store, for an exciting day of Custom Motorcycle Activities, Food and Beer, Venders,
Manufacturers and Live Music.

2018 BIke Contest Pre-Registration Online is $40 which incudes (1) $20 Admission for Bike Owner.
Additional Contest Bikes for the same Owner are $15 each.
Bike Contest Load-In is 9:30-11am. Awards at 3pm. Event ends at 5pm Winners may be invited to have their bikes
photographed for the FastDates.com Calendars on Monday Oct 8th. Please Bring your Prepaid Registation with you for Entry.
Additional Guests / Spectators can pay the $20 General Admission at the gate day of the event.

Be an LA Calendar Motorcycle Show & Calendar Bike Building Championship Sponsor - Information Here

Got an exciting Calendar Worthy Custom Bike?
Email Us a picture with details and you could earn a complimentary invitation to the Calendar Party.


Bike Contest Load-In 10am. Spectator viewing 11am - 5pm. Trophy Presentation and Media Photography 3-4:00pm.
All Contest Bikes must remain in place until the Close of the Show at 5 pm.

Many of the contest Show bikes are chosen to be photographed by Calendar Show producer Jim Gianatsis for the
Iron & Lace and Fast Dates Calendars, and are submitted and featured in the world's leading motorcycle magazines including Bike Craft, Hot Bike Hot Bike Baggers, Street Choppers, Easyriders, Cycle World, Motorcyclist, Cafe Racer, Streetfighters.
Above, 2017 Calendar Show winner is featured on the cover and inside the new
2018 Iron & Lace Calendar. Event co-producer Jim Gianatsis will be photographing the winning bikesthe next day on
Monday the 8th after the Show to appear in Motorcycle Magazine features, and the FastDates.com Calendars and Website..
2018 Rider RoundUp Calendar Bike Building Championship Classes
Awards in 3 Classes, plus Best of Show

• Pro Builder - Best of Show Trophy
• Street Custom
• Bar Hopper / Cafe Racer
• Classic Metric & American pre 1980
• Performance Sportbike / Race Bike
Builders / Owners are free to enter any motorcycle in any class as often the lines are blured between Pro and Amateur custom and collector bike styles, designs and classes.
However, the Judges do reserve the right to move a bike to a differet class then selected by
the owner when there is a obvious descrepency in class and quality of build,
and the oppotunity to win an award in a different class.



F astDates.com LA Calendar MotorcycleShow Trophies provided by MikuniPower.com
In our ongoing 24th year tradition of having the coolest, most functional motorcycle show trophies in the industry,
this year's LA Calendar Show features stand-up display plaque trophies with functional Mikuni VM38 Motorcycle Carburetors provided by our Iron & Lace Calendar sponsor Mikuni American with the carbs mounted on the bases for Best of Show and 1st Pla ce awards in all 6 classes. The 2nd and 3rd Place awards in all 6 classes are embossed leatherette cases on aluminum whisky flasks - perfect for trophy case display or carrying your favorite refreshment on your next ride!
Above: 2014 LA Calendar Motorcycle Show Special Mention winner: Samuel Kao / JSK Custom Design
Harley Sportster cafe racer. Same also awarded a Mikuni Carburetor Kit of his choice.
Calendar Show Winners Featured In Bike Craft Magazine!
Three of the top winning bikes at last year's LA Calendar Motorcycle Show are featured in the Spring 2013 edition of Barnett's Bike Craft magazine, one of the Calendar Shows new media partners together with Thunder Press, Hot Bike, Hot Bike Baggers and Street Choppers magazines.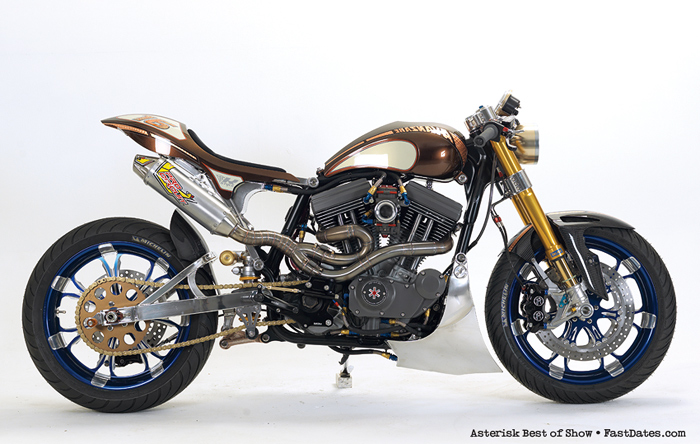 Garnering the cover and inside features in Bike Craft are Best of Show winner Hideki Hoshikawa / Asterisk Custom Cycles' 'Avanzare' naked Sportster based Streetfighter, Jim Giuffra / AFT Custom's 'Halia" Honda Shadow 750 based Bobber, and a Chris Redpath / MotoGPwerks built Ducati Desmosedici RR ultimate naked Streetfighter. Look for Bike Craft on your favorite new stand and order it online BikeCraftMagazine.com
Can you guess what kind of bike AFT is building for this year's Calendar Show?
7-time Show winners Jim Giuffra and the spokesmodels at AFTcustoms.com are hard at work on their latest custom bike build Cimeron premiering at the LA Calendar Motorcycle Show in Malibu on Sunday July 20th. And don't forget their special AFT Visionary Trophy Award presented to the most innovative new custom at the Show.
More Past LA Calendar Bike Builder Championship Winners HERE

a production of


LA Calendar Motorcycle Show, Los Angeles Calendar Motorcycle Show, bike show, bike contest, custom bike show, California bike show, motorcycle show, California motorcycle show, event, Calendar bike building Championship, American Bike Building Championship, bike show, contest, bike contest, event, events, Los Angeles, Long Beach, Queen mary, USA, America, United States, United States of America, Long Beach, Long Beach, Queen Mary, Mikuni, Performance Machine, American Iron, Metric Cruiser, RoadBike, Road Bike, Jesse James, Jesse Rooke, Bob Phillip, Paul Yaffe, Chica, Russell Mitchell, Arlen Ness, Paul Yaffe, Mike Stafford, Mitch Bergeron, Big Dog, V-Twin, American V-Twin, Harley-Davidson, Harley, custom, chopper, bobber, cafe, sportbike, cruiser, metric, Sportster




Bike Contest Sponsor with Meguiar's Bike & Car Care Gift Packs for All Entrants


The Biggest Custom
& Performance Street Bike Show in America!
Some winning bikes will be featured in the next Iron & Lace Custom Bike and Fast Dates Racebike Motorcycle Pinup Calendar premiering at the
LA Calendar Motorcycle Show.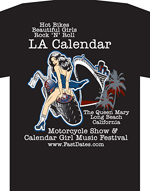 Get the T-Shirt!

Contest Sponsors Include: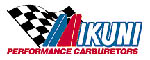 No phone calls, please.
No Cry Babies.
We treat this as a fun, low pressure contest.**
Come hang with us and enjoy the day. Some winners (and loosers) will be invited to have their bikes photographed
for the next Iron & Lace and Fast Dates calendars.
Contest Awards
Due to the current down in the economy and the loss of many Manufacturers, Sponsors and Venders at all bike events across America, including the Calendar Motorcycle Show, our cash awards have been eliminated since the 2010 Show. We will still have our great Trophies and Product Discount Award Certificates from our manufacturers in attendace at the show. Meanwhile, thank you for your continued support of the Calendar Show during the current difficult recession.
- Jim Gianatsis

Gianatsis Design will photograph selected top winning bikes photography for the Iron & Lace Calendar and Motorccyel Magazine Featurees in Cycle World, Easriders, and other Magazines. Normally the Monday following the Sunday contest is set aside for photography of the winning bike at the Gianatsis Design studio in Woodland Hills, CA.

.** Bike Judging Criteria
Calendar Bike Building Championship
will be judged by Jim Gianatsis and other respected industry professionals and celebrity builders based on their personal tastes for design, execution and creativity. There will be no score cards or points awarded and all decisions are final.
Best of Show is approved by
Jim Gianatsis as the one bike most exemplifying the theme of the
LA Calendar Motorcycle Show and the FastDates.com Calendars for high standards of originality and creativity and function.

Contestants are responsible for choosing the correct class for their bike, and No Contest Entry Fees will be refunded.


Paul Yaffe was one of the many celebrity Iron & Lace Calendar builders who gave Show Seminars.
LA Calendar Motorcycle Show Event Coverage

• 2014 Calendar Show
• 2013 Calendar Show
• 2012 Calendar Show
• 2011 Calendar Show
• 2010 Calendar Show
• 2009 Calendar Show
• 2008 Calendar Show
• 2007 Calendar Show
• 2006 Calendar Show
• 2005 Calendar Show
• 2004 Calendar Show
• 2003 Calendar Show
• 2002 Calendar Show
• 2001 Calendar Show
• 2000 Calendar Show


Above: 2002 & 2003 Best of Show winner, 2004 Best Pro Builder - Jesse Rooke.