9th LA Calendar Motorcycle Show Huge Success!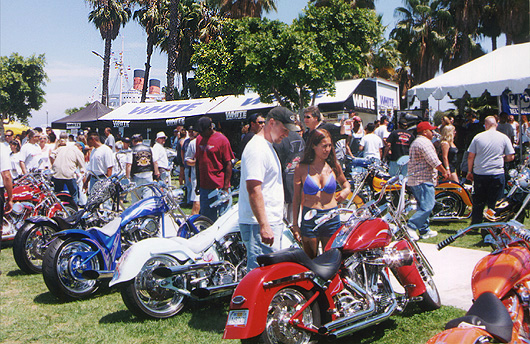 The 2000 LOS ANGELES CALENDAR BIKE SHOW Blows the Lid Off!
It was Bigger and Better than ever at the new Queen Mary location...

Long Beach CA, Sunday July 23th: Our Hot Bike presents The White Brothers 9th Annual Los Angeles Calendar Motorcycle Show premiered at the Queen Mary Event Park for the first time this July and we blew the lid off. We had a record 95 Manufacturers attending with the biggest and best in America including American Honda, Yamaha, Ducati, Indian, Titian, Ultra, Confederate, Pro One, Drag Specialities, plus all the top aftermarket component companies including Performance Machine, Vance & Hines, Jim's Machine, Edlebrock, Storz, Mikuni, STD and much more. More Exhibitors than any 1-day streetbike event in America! Plus the top custom bike builders in America including West Coast Choppers, Paul Yaffee, Harold Pontarelli, John Covington, Russ Tom, Al Martinez, and Best of Show winner Steve Frasco's Matt Hotch built Hot Match Choppers.
And the fans turned out in record numbers with a 30% increase in attendance again this year! Some 10,000 streetbike fans made it into the Calendar Bike Show for a day filled with exciting entertainment ranging from the best Custom Bike Show on the West Coast to The White Brothers West Coast Horsepower Dyno Shootout, live retro disco music from Night Fever with on stage ceremonies hosted by famed announcer Larry Huffman, to a roaring world record holding Top Fuel Vance & Hines Harley drag bike ridden by Doug Vancil.
One of the many other intersting attractions included the opportunity to sign up for Adult Film vacation in Cabo San Luca, Mexico, with famed adult film star Houston (regularly featured on the Howard Stern Show) who was on hand to promote the vacation and autograph pictures.
As always, The LA Calendar Bike Show was the premier of the new season's FastDates.com motorcycle pinup calendars including the Mikuni Iron & Lace Custom Bike, the White Brothers Berm Busters motocross calendar, and the World Superbike Fast Dates Racebike Calendar. Beautiful calendar models Tiffany Gramaza and Allison McCurdy were on hand to personally autograoph their pages in the new calendars.
The Show's parking, and then admission was a sellout early in the day and many of the fans were forced to park a half mile away at the Longbeach Aquarium and Convention Center and be shuttled to the Queen Mary Event Parkfor the Show. We would like to offer our sincere apologies to those who were inconvienced by the huge, unexpected growth of the Show which increased another 30% in attendance this year. We pledge to have these problems corrected for next year's Show, both with increased on-location parking, increased food service, and expansion to a new 2-Day Format for Saturday and Sunday July 21st & 22nd, 2001
to accomodate your increased attendance. Thanks for your support!
Bike Show Contest Results at bottom of this page.

For Additional 2000 Bike Show Coverage and Photos CLICK HERE .


Doug Vancil fires up his world record holding, 6.45@219 mph, Vance & Hines top fuel Harley. If the ear shattering noise didn't get you, the eye buring nito methane did. Awsome!
RESULTS: 9th Annual LA Calendar Bike Show Contest, July 2000
Iron & Lace Calendar Best of Show Award
1. Steve Frasco, Hot Match Special Construction Chopper w/ 113ci Patrick Racing engine
Sport Bike / Race Bike
1. Richard Pollock, Mule Motorcycles Ducati 916 Super TT Dirt Tracker
2. John Schoenfeldt, 1986 Suzuki RG500 Gamma
3. Kent Riches, Airtech Honda CBR900
Sportster
1. Ron Cook, 1991 Atlas Softail wide/ stretch
2. Peter Shea, 1998 Atlas Softail Sportster
3. Robbie DeCapua, Joe's Harley Repair 1996 Sportster
Classic Big Twin
1. Ricky Bunch, 1916 Harley Sidecar
2. Kevin Kelly, 1948 Harley EL Sidecar
3. Gary Wood, 1999 RoadGlide
Street Custom Big Twin
1. John Stencil, Special Construction 103/200 Daytec Frame w/113ci S&S engine
2. Ron Myers, Special Construction Softail w/ Patrick Racing engine
3. Jeremy Rosas, 1997 H-D FatBoy
Street Performance Big Twin
1. Keith Drum, Performance 230 Rigid w/ Blown 113ci S&S engine
2. Randy Smalley/T.J. Jackson, Kenny Boyce frame w/ 120ci Turbo/Nitrus
3. Lenny Shabes, Speedvision American Thunder 1986 H-D FRRSSD
Radical Pro Custom Big Twin
1. Rick Knox, Hot Match Softail Chopper w/ Patrick Racing 113ci engine
2. John Campos, 2000 H-D Softail w/ Patrick Racing engine
3. John Bevers, Special Construction Atlas frame w/ 96ci S&S engine
RESULTS: White Brothers West Coast Horsepower Dyno Shootout
• Open SportBike: Team Ebsco Corona Suzuki Hayabusa
• SportBike 750cc: (tie) Todd Sherman,1994 Yamaha YZF750 98.0 HP
Ben Campos, 1990 Kawasaki ZX7 98.0 HP
• SportBike 600c: Sean Perkins, 1999 Yamaha YZF 600 93.7 HP
• V-Twin 1200cc: Chris Dolan, 1999 Buell 87.1 HP©
• V-Twin 1340cc: Rod Cavanaugh, Special Construction Pro Street, 108.5 ci 157.1 HP
• Open Turbo/Nirtous: Rick Yacouchi
For Additional 2000 Bike Show Coverage and Photos CLICK HERE .