Hot bikes, beautiful babes, huge crowds and National TV coverage by 4 networks! FastDates.com Calendar girl Taylor McKegney poses for the Speedvision camera crew on Harold Pontarelli's Best of Show Chopper.
2001 LA Calendar Bike Show is a Huge Success
with its New Expanded 2-Day Format! photos by Art Hall
And Featuring the First Public Showing of Harley-Davidson's new V-Rod Motorcycle
Long Beach California, July 21st & 22nd, 2001: The 2001 edition of the Hot Bike magazine presents
the White Brothers Los Angeles Calendar Motorcycle Show, sponsored by Performance Machine,
The ReCycler/Cycle Buys newspapers and Hollywood Blond Beer saw the continued growth of
America's premier outdoor custom and high performance streetbike event. Produced by Jim Gianatsis of the
renown motorsports advertising design and photography agency Gianatsis Design, this year's event
at the beautiful Queen Mary Event Park in Long Beach Harbor saw a continued 25% annual growth for
the Show in both Spectator and Exhibitor attendance over each previous year. This year's expanded
2-day format for the Show was a huge success and saw 1-day ticket sales of 4,800 attendees on
Saturday, 5,400 attendees on Sunday, plus 400 in 2-day ticket sales, bringing the weekend's daily
totals in attendance to 11,000 hard core streetbike fans.

Over 10,000 people joined us this year at the LA Calendar Motorcycle Show! Photos by Art Hall.
Exhibitor participation for the Show was up 25% as well with a sell-out at115 Exhibitors that included a
great balanced mix of major motorcycle manufacturers including Honda, Yamaha, Harley-Davidson,
Indian and Ultra with their latest bikes. Premier component manufacturers and distributors including
Drag Specialities, Chrome Specialities, White Brothers, Performance Machine, Jim's Machine, STD
and many others. The top custom bike builders and race teams in America including Ron Sims, Paul
Yaffee, Jim Nassi, Russell Mitchell and Jesse James, plus the AMA Supersport Roadracing
Championship team of Team EBSCO Corona Suzuki sponsored by FastDates.com. Plus a few select
boutique apparel companies like 5-Star, Sha-Sha and Trick Pony women's apparel to keep the
girlfrind's occupied while the boys played elsewhere.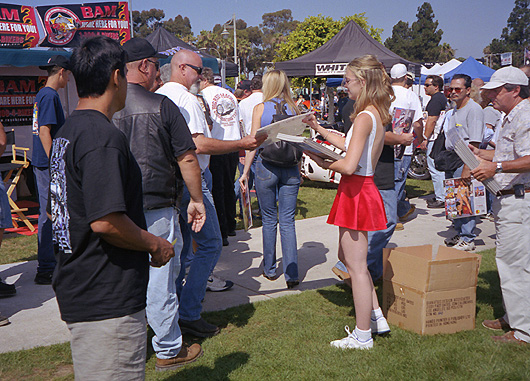 The first 200 arriving spectators each day of the Show were treated to free FastDates.com Calendars, seen here being handed out by our lovely calendar girl Taylor McKegney, just one of many added bonus for Show's low $15 admission charge.
The Calendar Bike Show offered bike fans 2-days of non stop entertainment that included the exciting
White Brothers West Coast Horsepower Dyno Shootout; Sunday's Bike Show Contest for Customs,
Sportbikes and Vintage Bikes: plus two great live bands -the all girl rockers Hojo. and the hot salsa / rock headliner band Soto. Also included in the low $15 admission price for the Show was free general admission to the historic Queen Mary ocean liner, normally a separate $15 admission charge to visitors. Plus on Saturday night, Bike Show attendees were treated to a free party with live jazz music in the Queen Mary's Observation Room Bar hosted by Keith Ball's BikerNet.com with beautiful Bike Show announcer Brenda Fox. Together with a huge fireworks show over the Queen Mary and Long Beach Harbor at 9 pm, it was a full weekend of great entertainment.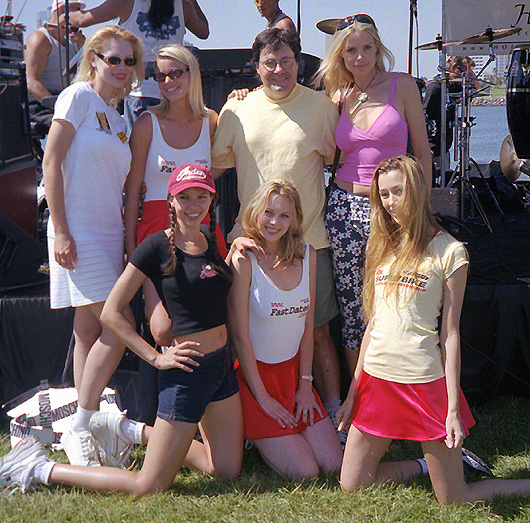 LA Calendar Bike Show producer Jim Gianatsis with the beautiful FastDates.com Calendar girls at the 2001 Show. Standing (left to right) Marina Pahomova, Brooke Johnson and Anna Marie Goddard. Kneeling (left to right) Delilah Stombs, Taylor McKegney, Vanessa Norris.
And of course the Show marked the premier of the new 2002 FastDates.com Calendars sponsored by White Brothers, Performance Machine, Mikuni Carburetors, EBSCO Suzuki and Sportbikes.com with the beautiful FastDates.com Calendar girls on hand both days to meet their fans, sign autographs, pose for photos and assist with trophy presentations. The models included SBK World Superbike umbrella girls Brooke Johnson, Taylor McKegney and Deliah Stombs. Together with Russian beauty Marina Pahomova, Playboy 40th Anniversary Playmate Anna Marie Goddard, and Perfect 10 covergirl and Temptation Island temptress Venessa Norris. And adding to the popular pinup theme of the Show both days was a beauty pagent sponsored by Bad Pig which drew many more beautiful girls to the event.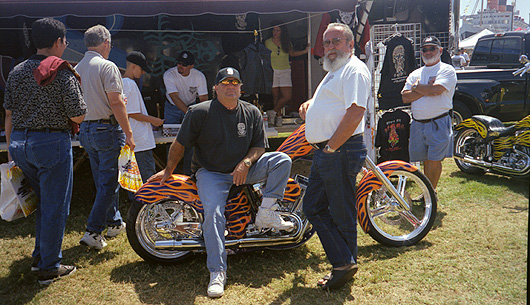 legendary custom bike builder Ron Sims (seated) from The Bay Area is just one of the many premier custom bike builders featured each year at the Show. His shop Bay Area Custom has been attending the Show since 1995.
Another exciting attraction at this year's Show was the first public showing of Harley-Davidson's
beautiful new watercooled V-Rod performance cruiser. A couple of the new V-Rods were brought out
by both Bartel's Harley-Davidson and Hot Bike magazine, with Hot Bike editor Howard Kelly
introducing the bike onstage both days to the huge crowd, then firing up the bike and providing
smokey burn outs much to everyone's delight.

Howard Kelly, editor of Hot Bike magazine, gives his impressions of the new Harley V-Rod to the TBS crew.

The LA Calendar Motorcycle Show again played host on Sunday to the West Coast's premier Bike
Contest, this year expanded to include a Vintage Class for pre-1965 bikes. The day's big winner was
pro builder Harold Pontarelli of H-D Performance, Vacaville, CA, who claimed the unique Hot Bike and
Street Chopper magazine Handle Bar Trophys for Best of Show in both the Custom and Chopper
categories with a lime green blower and fuel injected softail cruiser and a red coffin tanked chopper.
Other class winners were awarded the Show's unique trophies featuring working Mikuni carburetors
mounted on a desk pen set, together with a record setting $40,000 in gift certificates from the
Show's top bike product exhibitors.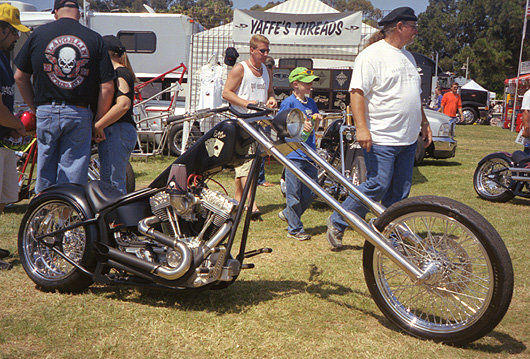 In a big departure from his normal exotic customs, top builder Paul Yaffe's attended this year's Show with a large assortment of radical street choppers like this one to capitalize on the new chopper resergence.
As always a big attraction each year at the Show is the White Brothers West Coast Horsepower Dyno Shootout, hosted by Tom White and Kerry Bryant. The Dyno is always a big crowd pleaser with bike owners competing in different classes for trophies and prizes. This year's big horsepower winner was John Noonan of Canoga Park, CA, running a Suzuki Hayabusa-Turbo Bike which posted 302.6 hp from 1300cc!

John Norman's turbo Hayabusa attemps to blow up the White Brothers dyno with a record 302.6 HP!

The previous year's parking problems at the Queen Mary Park were alleviated this year by
designating the Queen Mary's parking lot for close-up security parking for spectators' motorcycles,
and then directing automobile parking to the Long Beach Aquarium and Convention Center parking
structures across the harbor. From there the spectators could take a quick shuttle bus, or better yet,
a fun 2-minute shuttle boat ride across the harbor to the Queen Mary's dock located right at the
entrance to the Bike Show.

"The new expanded 2-day format for this year's LA Calendar Bike Show proved to be a huge
success," said a proud show producer Jim Gianatsis. "Response from both Spectators and Exhibitors
was nothing put positive, with congratulations expressed by everyone attending the Show. Our Long
Beach location at the Queen Mary facility offers a unique venue with the beautiful grass park right on
the water, combined with all the great attractions the Queen Mary, the City of Long Beach with its
Aquarium / shops / restaurants / harbor facility, plus nearby Catalina Island and greater Los Angles
have to offer.

In this respect, I feel the LA Calendar Bike Show weekend has even more to offer spectators than
some more traditional motorcycle week venues like Daytona, Sturgis and Laughlin, both in the quality
of the event and the costs for both local and out-of-town visitors. As we continue to grow, I can see
an extended weekend in Los Angeles at the LA Calendar Motorcycle Show being a the top of every
motorcycle enthusiast's event list as the premier Streetbike Motorcycle Event in America."

The 2002 edition of the LA Calendar Motorcycle Show is scheduled for the weekend of
July 20th & 21st, 2002.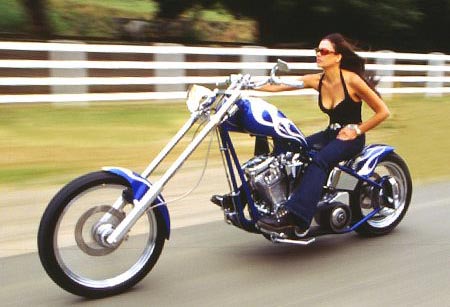 The 2001 Calendar Bike Show was hosted by Brenda Fox -actress, stunt woman and kick ass biker babe!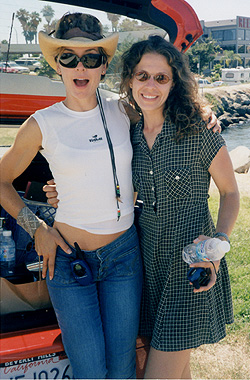 Meet our great Bike Show staff...
Assisting LA Calendar bike Show producert Jim Gianatsis with the production of our most successful Show yet was a staff of great assistants. Pictured above are two of them, actress Anna Marie Wood (left) with Jim's neice Jessica Ehrlich (right), a fitness club director from Houston, TX. Jessica usually takes a week off from work to come to Los Angeles to help Jim with the Show. Anna lives in Hollywood and her flexible acting schedule allows her to assist at our offices in the months leading up to, and at the Show. Anna is a commercial actress who is featured in many currently running TV commercials.
A wild Hollywood girl, Anna was seen streaking the corridors of the Queen Mary ocean liner hotel in her underwear on Saturday night!
Additional thanks go to Steve Carpenter who also assisted with vender setup the weekend of the Show, and to John Adamson, Director of Special Events at the Queen Mary.
LA Calendar Bike Show Production
Co-Ordinator Adam Briles Producing the the SURVIVOR TV Series
Many of our exhibitors at the annual Los Angeles Calendar Motorcycle Show just know him as the guy with the talkie-walkie telling them where to set up their displays. My best friend and motorcycle buddy Adam Briles has been helping me with the production of the Show since 1995. Between our annual Shows, Adam has been off in Africa filming and producing the animal TV series Wild Things (unfortunately not the movie with Denise Richards) shown on the UPN and FOX Networks, and more recently segments for It's A Miracle! on the PAX Network.
Adam, unfortunately for us, couldn't help with the Bike Show in 2001 because he had to leave for Africa for 2 months on July 2nd to produce the next Survivor TV Series, Survivor 3 in Kenya! Adam was involved in selecting the contestants for the Series, then he left for filming and directing on location in Africa, followed by returning to Hollywood to edit the Series from September to December for its premiere on national TV in the fall of this year. As you probably know, the Survivor Series is the most watched program on American television.
We will also not have Adam working with us at the 2002 Show because he'll be off at some undesclosed location working on Survivir V. We are really excited and proud of Adam who is self taught, and who's first film experience was working as " assistant director and actor " on a gangster movie in Moscow, Russia, called Americanski Blues some 9 years ago.
Filling in for Adam as production coordinator at this year's Show was Adam's girl "friend" and actress Anna Marie Wood, plus my young niece Jessica Erlich who once got hit on by country singer and biker Lyle Lovette, and motorsports enthusiast Steve Carpenter, all who have assisted us at past shows. -Jim Gianatsis
---
Spectator complains of being ticketed
for loud pipes on the residential streets in Long Beach while riding home from the
LA Calendar Bike Show

We received the following message from one of the spectatos attending the LA Calendar Motorcycle Show. This is not word for word - but the basic idea of the message he left....
A spectator, his wife & friends rode to the Show on their bikes. On their way out, they were pulled over & ticketed on Pacific Coast Highway 1 (a residential street bordered by homes and apartments) by Long Beach Police Department for 'loud pipes'. The Spectator goes on to say that basically the 'attendees' are 'sucked into' the Show then the LBPD pulls people aside for "issues" such as these. He said he will contact all the (motorcycle) publications about this and will never attend another (LA Calendar Bike) Show if this is to be the way it is (cops/tickets). He says he talked to "many" people about this and heard the same story.
The Gentleman says he was "obeying the laws"
(speed, not revving engine, etc.), but was still ticketed for pipes. We heard this same police "enforcement" relayed to some of our employees at the Show on Sunday.
But also, many people attending the show over the weekend overheard our announcer Brenda Fox announcing over the PA system several times during the the show - announcements telling people on "loud bikes" bikes to avoid certain Long Beach city streets because cops were ticketing loud pipes -(and laying in wait.) We told people with loud pipes to ride home on the 710 Longbeach Freeway and to stay off the City's residential streets.
..........................................................................................
Comment and reply from
LA Calendar Bike Show
director Jim Gianatsis -

What can I say to this Gentleman without getting into an arguement?

He was riding on a residential street with an illegal exhaust system (probably open pipes). He probably did deserve to get a ticket, as does anyone on a bike or in a car with open pipes on a residential street. It amazes me that more cops in more cities do not regularly enforce the California Vehicle Code, particularly when it is applies to motorcycle riders. The Law states: "It is illegal to modify any vehicle's exhaust to make it louder than stock."

This is also one of the questions which appears on the
CA Drivers License Examination. As a California resident in a democratic state, This Gentleman is responsible for this law being on the books and being enforced by the police. Not the LA Calendar Motorcycle Show.

Any motorcycle event in any city is subject to enforcement of the law. This includes such big events as the Cycle World Advanstar Show at the Long Beach Convention Center in November, or the Love Ride in Glendale. Our previous Shows at the Santa Monica Airport were also targeted by the Santa Monica Police because our previous Museum of Flying location was located just off of a residential street which riders rode down on a Sunday morning and local residents were calling the police to complain, requiring the police to come out and enforce the law (which they might not have otherwise).
A similar situation probably occured in Long Beach. Residents were annoyed by the noise of spectators with open pipes riding to the Show on Saturday and Sunday morning, and the police had no choice but to be out
there later in the day to ticket them on the ride home. Spectators leaving the Bike Show on the 710 Long Beach Freeway, away from residential streets, were not stopped or ticketed.
Some cities may make an exception to open pipes. Like The Love Ride in Glendal, CA, because it is a major charity event that takes place quickly in just a few hours. Or Laughlin Bike Week, NV, because it's a casino tourist town that wants the revenue spending of noisey bikers. Long Beach, however, is normally a quiet residential and tourist community and it wants to maintain that standard.

The LA Calendar Motorcycle Show has no advance knowledge that police will "target" our event to enforce the law. Nor should we have to be notified. But still, we did make many PA announcements at the Show on Saturday and Sunday afternoon telling spectators the police were ticketing loud bikes on the residential
streets of Long Beach, and for spectators to ride home on the 710 Freeway. This Gentleman obviously ignored this warning or did not hear it, and suffered the consequences. It is the responsibility of every citizen to respect the laws of this or any other state, no matter
how stupid those laws may seem to them (or us).
In closing I should mention that I am a biker myself and all of my motorcycles do have modified exhausts. But the exhausts are equipped with silencers to not anoy my neighbors and attract the attention of the police. And when I do get written up with a fix-it ticket, I've got my stock pipes at home to get the ticket signed-off, then it's back to bolting on the cool looking pipes. No big deal. It's a game we've always played.

Jim Gianatsis, Director
The LA Calendar Motorcycle Show
P.S. What our Spectatorand other motorcyclists attending the LA Calendar BIke Show didn't know was that the Long Beach and Los Angeles PD were also protecting THEIR RIGHTS throughout the weeknd. All large bike events are regularly target by bike theft rings, and the LA Calendar Bike Show is no exception. Our Show was assigned a 40-man undercover police task force throughout the weekend to guard spectator bikes in
the parking lots and capture possible bike thieves.
Many of our spectators possibly had a bike to ride home thanks to the Long Beach Police Department.
---
White Brothers West Coast Horsepower Dyno Shootout Winners:
600cc Sportbike Class Winner
Ryan Nyema
2001 Suzuki GSXR600
96.8 hp
750cc Sportbike Class Winner
Dave Stinson
2000 Suzuki GSXR750
120.7 hp
Open Sportbike Class Winner
Tameka Settle
2001 Suzuki GSXR1000
143.7 hp
Unlimited Sportbike Class Winner
Gregg Park
1999 Suzuki GSXR1300 Hayabusa
168.5 hp
Open-Turbo/Nitrous/Fueler Class Winner
John Noonan
Hayabusa-Turbo Bike
302.6 hp
80" Class Winner
Eric Bennett
1991 Harley Davidson® Softail
101.8 hp
81"-88" Class Winner
Rich Esterman
1994 Harley Davidson® Fatboy
75.1 hp
96"+ Class Winner
Bob Bennet
1999 Custom
127.0 hp
89"-95" Class Winner
Frank Sisson/White Bros.
2000 Harley Davidson® Softail
107.6 hp
LA Calendar Motorcycle Show, Bike Contest Winners:
Hot Bike Best of Show Custom: Harold Pontarelli, HD Performance.
Street Chopper Best of Show Chopper: Harold Pontarelli, HD Performance.
Radical Pro Builder Class: 1. John Lisenby, Special Construction w/Patrick Racing 80 ci engine;
2. Buzz Sitzler, Special Construction w/S&S engine; 3. John Campos / JC Custom Cycles, 2001 H-D
Custom.
Street Custom Class: 1. Jerry Howe, Stretched Softail w/Patrick Racing 113 ci engine; 2. Phillip
Sanchez, West Coast Exteme Softail w/STD 120 ci engine; 3. Raymond Soto, Special Construction
Daytec Softail frame w/ 6-speed S&S 113 ci engine.
Street Performance Class: 1. Kelly Hance, Pro Street Rigid Chopper w/RevTec 100 ci engine; 2.
Tommy Eriksson, Hardtail Chopper w/139 ci 4-cam engine; 3. Shawn Christensen, SC Rigid w/S&S
engine.
Classic Big Twin from 1965: 1. Russ Petrone, 2001Harley-Davidson FLHR w/95 ci engine; 2. Randy
Bond, 1996 Harley-Davidson Road King w/H-D Stage II engine; 3. Mike Brewster, 1996
Harley-Davidson Herritage w /modified H-D engine.
Classic/ Vintage pre-1965: 1. Richard Bunch, modified1951 Indian trike; 2. Steve Ortloff, 1959
Harley-Davidson FLH; 3. Ron Reeve, 1960 Harely-Davidson Rigid Pan/Shovelhead.
Sportster: Larry Winkleman, 2000 Sportster modified; 2. Ron Cook, Atlas stretched frame w/ 1991
engine; 3. Penny Martin, Atlas framed Softail Wide Glide w/ 1990 engine.
Sportbike: 1. Rick Diaz, 1997 Buell S3T; 2. Dan Simoes, 1996 Suzuki GSXR750; 3. Mark Donaldson, 1999 BMW R-100S