A huge sellout success for America's premier streetbike show!
The 2002 LA Calendar Motorcycle Show

Long Beach California, July 21st & 22nd, 2001:
The 2002 edition of the Hot Bike presents the White Brothers Los Angeles Calendar Motorcycle Show, sponsored by Performance Machine, Bikernet.com, FastDates.com, The ReCycler/Cycle Buys newspapers and Corona Extra Beer was a sold out success that saw the continued growth of America's premier outdoor custom and high performance streetbike event.
Produced by Jim Gianatsis of the renown motorsports advertising design and photography agency Gianatsis Design which also produces the popular FastDates.com website and motorcycle pinup calendars, this year's event at the beautiful Queen Mary Event Park in Long Beach Harbor continued to see a 25% annual growth for the Show in both Spectator and Exhibitor attendance over each previous year. This year's hugely successful 2-day Show drew some 4,930 paid attendees on Saturday, 7,300 attendees on Sunday, plus 500 in 2-day ticket sales and 1,200 industry members from across North America, bringing the weekend's total attendance to some 14,000 hard core streetbike fans.

14,000 people joined us this year at the LA Calendar Motorcycle Show! Photos by Art Hall.
The LA Calendar Bike Show offered fans 2-days of non stop entertainment that included the exciting White Brothers West Coast Horsepower Dyno Shootout, Sunday's Bike Show Contest for Customs, Sportbikes and Vintage Bikes, 2 great live bands including LA's sexiest rock band Powder and the hot salsa / rock band Soto. Included in the low $15 admission price for the Show was free general admission to the historic Queen Mary ocean liner, normally a separate $17 admission charge to visitors. Plus on Saturday night, Bike Show attendees were treated to a free party in the Queen Mary's Observation Room Bar hosted by Keith Ball's BikerNet.com with lovely Bike Show announcer Brenda Fox. It was a full weekend of great entertainment drawing spectators from across North America.

Powder rocked the Bike Show on Saturday afternoon with their wild stage show.

Exhibitor participation for the Show was a sell-out weeks in advance at 143 Exhibitors and included a balanced mix of major motorcycle manufacturers including Yamaha and Big Dog, plus premier component manufacturers and distributors including show sponsors White Brothers and Performance Machine, together with Drag Specialities, Chrome Specialities, Jim's Machine, RC Components, Pro One and many others. The top custom bike builders and race teams from across North America included Roger Goldammer, Ron Sims, Paul Yaffe, Jim Nasi, Harold Pontarelli, Chica Choppers and many more, plus the AMA National Supersport Roadracing Championship team of Corona Extra Suzuki sponsored by FastDates.com with rider Steve Rapp in attendance to meet the fans. Select boutique apparel companies included Feelin' Lucky which produced the LA Calendar Bike Show's official event shirt, plus Tribe and Mountain Trails leather women's apparel to keep the girlfrind's occupied while the boys played with their big toys, Chromestar and others.

The LA Calendar Motorcycle Show again played host on Sunday to America's premier Custom Bike Contest sponsored by Performance Machine. The day's big winner was a new comer and virtual unknown in the custom bike field, a young kid name Jesse Rooke from Phoenix, Arizona, with his first ever custom bike that he rode into the Show during morning sign-up. Jesse's 120 ci Merch/Nasi engined bike featured a mono tube gas shock front fork ala mountain bike style, with a single sided front wheel mount, and a single sided rear swingarm, playing book ends to an incredible fabricated custom chassis. All the renown top name builders at the Show were standing in line with the spectators to ask questions and admire Jesse Rooke's innovative custom, the likes of which had never been seen before. There was no doubt in anyone's mind that the young rooke would easily walk away with the coveted Performance Machine Best of Show Trophy out of the Pro Builder Class which showcased an awesome array of more conventional, yet still incredibly beautiful custom bikes that left the judging staff headed by Keith Ball and Harold Pontarelli having an extremely difficult time deciding the other trophies. Class winners were awarded the Show's unique trophies featuring working Mikuni carburetors mounted on a desk pen set, together with a record setting $40,000 in gift certificates from the Show's top bike and product exhibitors.

And it's street legal! John Noonan's JE Piston turbo Hayabusa, last year's winner with 302.6 HP, returned again this year in an attempt to blow up the White Brothers dyno with a new record at 351 HP!

One of the most popular features of the LA Calendar Motorccyle Show is the showcase White Brothers West Coast Horsepower Dyno Shootout. Spectators can roll their bikes into the Show grounds and let the White Brothers staff hook their bikes up to their highly accurate rear wheel dyno to compete in different classes in front of a packed crowd of spectators. The dyno contest was hosted throughout the weekend by non other than White Brothers co-founder Tom White, together with legendary motorsports announcer Larry Huffman, both of whom did an excellent job in interviewing the bike owners and keeping the crowd informed of what was going on. Conducting the dyno runs was non other then White Brothers product engineer and former 3-time AMA National Motocross Champion Gary Jones. Quite a star studded crew!

The LA Calendar Bike Show staff from left to right: Calendar girl Chandi Mason, announcer Brenda Fox, calendar girl and Miss Great Britian Nicki Lane, director Jim Gianatsis, production assistants Jessica Erlich, Honor, Craig Boone. MIA assistant director Anna Marie Wood.
And of course, the Show marked the premier of the new 2003 FastDates.com Calendars sponsored by White Brothers, Performance Machine, Mikuni Carburetors, EBSCO Suzuki and Sportbikes.com with the beautiful FastDates.com Calendar girls on hand both days to meet their fans, sign autographs, pose for photos and assist with trophy presentations. The calendar models included Miss Universe Great Britain and SBK World Superbike / FastDates.com / Team Ducati Corse girl -Nicki Lane, plus Chandi Mason. And adding to the popular pinup theme of the Show both days was the Calendar Girl Pageant sponsored by Kiser Models which drew many more beautiful girls to the event. Plus more beautiful spokesmodels were provided by the many exhibitors like Hooters of Long Beach, Evil Twin Choppers and Ron Sims. Needless to say, the LA Calendar Bike Show has established a reputation for having more beautiful bikes and girls in one place at one time than anywhere else in the world.

Hot bikes, beautiful babes, huge crowds and National TV coverage by 4 networks! FastDates.com Calendar girl Taylor McKegney poses for the Speedvision camera crew.
The recent biker gang problem at the Laughlin River Run, Nevada, back in May which resulted in many cities throughout the Southwest cancelling their scheduled, well-established motorcycle events, wasn't a factor for the LA Calendar Motorcycle Show. The Long Beach Police Department is highly supportive of the showcase event and maintained a strong presence at the Show throughout the weekend for the security of both spectators and exhibitors.

"We have a strong relationship with the Queen Mary Corporation, our partner in the Calendar Bike Show, and the full support of the City of Long Beach," explained event producer Jim Gianatsis. "The Queen Mary is helping us with the continued future growth of the Bike Show. Presently under construction at the Queen Mary complex is a huge multi-level parking structure to increase on-site parking by three-fold, a promenade of shops, plus next year we will be able to expand the Show and its perimeter fencing into the Queen Mary's parking lot to accommodate the additional major bike manufactuers who wanted to join us this year but couldn't because of the the sold out event park area."

"We are extremely happy the 2-day LA Calendar Bike Show continues to grow and become a huge success. Response from Spectators and Exhibitors is nothing but positive, the parking problems not withstanding. Our Long Beach location at the Queen Mary facility offers a unique venue with the beautiful grass park right on the water, combined with all the great attractions the Queen Mary, the City of Long Beach with its Aquarium / shops / restaurants / harbor facility, plus nearby Catalina Island and greater Los Angeles have to offer. The LA Calendar Bike Show weekend has even more to offer spectators than other more traditional established motorcycle week venues, both in the quality of the event and the costs for both local and out-of-town visitors. The Los Angeles Calendar Motorcycle Show should be at the top of every motorcycle enthusiast's event list as the premier Streetbike Motorcycle Event in America. "

The 2003 edition LA Calendar Motorcycle Show is scheduled for the weekend of July 19-20th, 2003, with complete details on this website at BIKE SHOW.
LA Calendar
Motorcycle Show
Bike Contest Winners:
Performance Machine Best of Show Custom: Jesse Rooke, Special Construction w/mono single sided fork and swingaarm, 120 ci Merch/Nasi engine.
Radical Pro Builder Class: 1. Marty Zaninovich, Paul Yaffe Original w/performance 95 ci engine; 2. Rick Knox, Hot Match Custom w/Patrick 113 ci engine; 3. X-Rated Cycles custom w/HD Twin Cam.
Street Custom Class: 1. David Washburn, Lucky's 7 Custom special construction w/HD 80 ci engine; 2. Jerry Colins, 1997 Dyna Wideglide; 3. Daryl Schaar, 1990 FXR.
Street Performance Class: 1. Joe Cutshall, special construction Atlas Softail w/90 ci supercharged and injected engine; 2. Keith Drum, KD Customs dragster w/blown Big Twin; 3. Count's Customs, special construction hardtail w/100 ci. RevTech & 6-speed.
Classic Big Twin from 1965: 1. Bob Carrillo, 2001Harley-Davidson FLHR w/95 ci engine; 2. Randy Bond, 1996 Harley-Davidson Road King w/H-D Stage II engine; 3. Mark Laughrey, 1996 Harley-Davidson FL Shovelhead.
Classic/ Vintage pre-1965: 1. Bob Carrillo, 1947 Harley-Davidson Knucklehead; 2. Chris Schalberg, 1950 H-D FL; 3. Dave LaPierre, 1952 Harley-Davidson Pan Head.
Sportster: 1. Jay Akins, 2002 Sportster special construction Atlas Softail wide drive; 2. Tom Corley, 1998 Sportster; 3. Charles Ward, 1994 Sportster.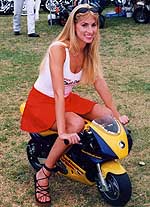 Chandi goes for a ride!

Sportbikes.com
Sportbike: 1. John Bisson, 1999 Kawasaki ZX6R w/Kyle 636cc 120 hp engine; 2. Greg DesJardins, 2002 Yamaha YZF R-1 with Ohlins suspension / MV Agusta wheels; 3. Willie Scheffer, 1984 HD XR-1000.



John Bisson's winning ZX6R
w/Ohlins, single sided swingarm.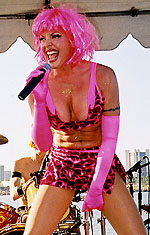 ---
LA Calendar Bike Show's White Brothers West Coast Dyno Horsepower Shootout Winners:
V-Twin 88 ci & Under
Tom Edison, 1988 Harley-Davidson FXR, 92 HP
V-Twin 88 ci & Over
Paul Morris, 1990 Harley FXR, 137.5 HP
V-Twin Class Unlimited
1991 Harley FXR, 216.8 HP
Sportbike 600cc
John Besson, 1999 Kawasaki ZX6R, 100.1 HP
Sportbike 601-900cc
Dean Tarnow, 2001 Suzuki GSXR750, 126.8 HP
Sportbike Umlimited
John Noonan / JE Pistons Suzuki GSXR1300 Hayabusa, 351 HP
---
Meet our great
LA Bike Show staff...
Assisting LA Calendar Bike Show producer Jim Gianatsis with the production of our most successful Show yet was a staff of great assistants. Our
Production Coordinator again at this year's Bike Show was commercial TV actress Anna Marie Wood who you would recognize from as many as 6 commercials presently running on national TV. A wild Hollywood girl, Anna was seen streaking the corridors of the Queen Mary ocean liner hotel in her underwear on Saturday night!
Plus my own young niece Jessica Erlich, a personal sports trainer from Houston TX, who once got hit on by country singer and biker Lyle Lovette. Also assisting at the Show was my motorcycle riding buddy and movie screenwriter Craig Boone with his girlfriend Honor, a very sweet and deceptive looking professional bodyguard packing a mean punch and a Beretta automatic. Thanks guys! -Jim Gianatsis
Additional thanks go to John Adamson, Director of Special Events at the Queen Mary, and his assistant Jenny Moore, and the Long Beach Police Department for Exhibitor and Spectator security.

Team EBSCO Corona Extra Suzuki rider Steve Rapp was on hand with his GSXR1000 Formula Extreame racebike and a team replica Kymco scooter the girls loved!
LA Calendar Bike Show Production Co-Ordinator Adam Briles Producing the SURVIVOR TV Series nominated for Grammy!
Many of our exhibitors at the annual Los Angeles Calendar Motorcycle Show just know him as the guy with the talkie-walkie telling them where to set up their displays. My best friend and motorcycle buddy Adam Briles has been helping me with the production of the Show since 1995. Between our annual Shows, Adam has been off in Africa filming and producing the animal TV series Wild Things (unfortunately not the movie with Denise Richards) shown on the UPN and FOX Networks, and more recently segments for It's A Miracle! on the PAX Network.
Adam, unfortunately for us, couldn't help with the Bike Show in 2001 because he had to go to Africa for 2 months to produce the Survivor TV Series, Survivor 3 in Kenya! The program has just been nominated for a Grammy in 2002 -so congradulations Adam! Adam couldn't join us again this year, 2002, as he was just wrapping up filming Survivor 5 in Thailand.
Filling in for Adam as our
Production Coordinator again at this year's Bike Show was commercial TV actress Anna Marie Wood, plus my young niece Jessica Erlich, a personal sports trainer from Houston TX, who once got hit on by country singer and biker Lyle Lovette. Also assisting at the Show was my motorcycle riding buddy and movie screenwriter Craig Boone with his girlfriend Honor, a very sweet and deceptive looking professional bodyguard packing a mean punch and a Beretta automatic. Thanks guys! -Jim Gianatsis