Pro Builder Class Contest bikes line the shore on Sunday with the Queen Mary and a giant Carnival Cruise Lines ship in the background.

For Immediate Release and Media Use

Additional Event Report w/Hi-Res Images Go to:
2006 Calendar Show Coverage Page 2
$70,00 in Cash & Awards at America's Biggest & Best Custom & Performance Streetbike Show

Performance Machine presents the
15th Annual 2006 LA Calendar Motorcycle Show Weekend
Calendar Motorcycle Show Again Blows the Lid Off Long Beach
The Queen Mary, Long Beach, CA July 15-16th, 2006 - The 15th annual Los Angeles Calendar Motorcycle Show Weekend presented by Performance Machine and produced by Jim Gianatsis of Giantsis Design Associates held annually every 3rd weekend in July at the Queen Mary Event Park in Long Beach / Los Angeles continued to kick out all the stops again this year despite the long summer heat wave and the current attendance slump at most other motorcycle events to uphold the Calendar Shows' well earn reputation as the biggest and most exciting Custom and Performance Street Motorcycle Show in America.
The expanded Queen Mary Event park venue which has spilled out from the beautiful grass park alongside the Pacific Ocean into the Queen Mary parking lot again was again sold out of exhibitor space and standing room only for spectators both days, hosting 180 major custom bike and product manufacturers, top name custom bike builders and selected venders from across America added into the mix to keep it fun for the entire family. Spectator attendance reached 16,000 hard core motorcycle enthusiasts and celebrities at the exciting 2-day motorcycle weekend which features the sexy FastDates.com motorcycle pinup calendar girl theme with many beautiful spokesmodels throughout the Show.


Many of America's top Pro and Amateur street bike builders were in attendance to compete in the Performance Machine Calendar Show Bike Building Championship with a bulging purse of $70,000 in cash and awards. This year's Show Contest featured 3 new classes including Street Chopper, Bar Hopper, and the new RoadBike Magazine Metric Class located in the exciting new Roadbike Metric Midway featuring Japanese Cruisers, along with classes for European and Japanese Sportbikes. There were10 Calendar Bike Building Championship Classes including the premier Radical Pro Builder Class sponsored by American Iron magazine with a $5,000 cash purse up for grabs with the coveted Performance Machine Best of Show Trophy.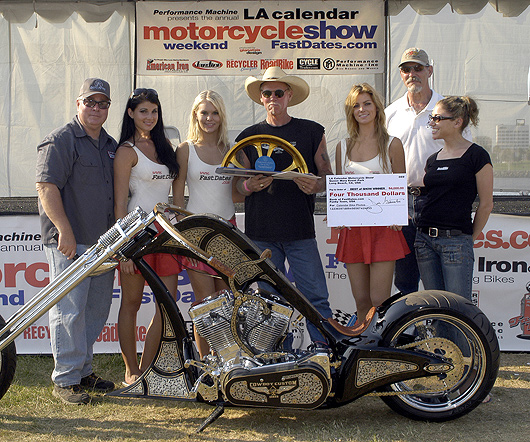 Our 2006 LA Calendar Motorcycle Best of Show Winner Russ Hess from CowboyCustomBikes.com all the way from Texas (in the cowboy hat obviously) joined at awards presentation by (l to r) host Ted Sands from title sponsor Performance Machine, Calendar Kittens Cora Skinner with Playboy Playmates Athena Lundburg and Tamara Witmer, Keith "Bandit" Ball from Bikernet.com, and editor Jessica Procup from magazine sponsor Tam Publications for American Iron and RoadBike magazines. Open Hi-Res

Taking home top honors this year for Best of Show was 60 year old Russ Hess from Jacksboro, TX, who returned to custom bike building after taking a 21 year sabbatical. Back in the late 1960's and early '70's Russ had many of his custom built bikes and street rods grace the covers and center spreads of Street Chopper, Hot Rod and Rod & Custom magazines. Russ said he chose the LA Calendar Motorcycle Show, America's premier bike building contest to gauge just how good his first bike "Art Attack" from his new shop Cowboy Custom Bikes in Jacksboro, Texas would stack up against other top builders from across the country.
This extremely intricate chopper that Russ built is a one of a kind with his co-owner stepson still in Iraq Tommy Wallace who is currently serving as a contractor will be home soon to help beat and shape metal with the best of them. Art Attack took a full 7 months to build from scratch and features a western show horse saddle motif with intricate gold, silver and ruby overleaf designs, a hand tooled saddle, and a beautiful wood overlayed handlebar. Not just a show horse, "Art Attack" is powered by a thoroughbred 113 inch El Bruto 120hp engine mated to a 6 speed tranny. Russ currently has two other bikes under construction which he hopes to premier at other top bike events before the end of the year. Many of the original bolt-on accessory components found on his bike like the exhaust system, carburetor intake, wheels and engine covers are available for sale from his shop CowboyCustomBikes.com.
Other Calendar Bike Building Championship Classes featured contingency sponsorship by Jardine, Vance & Hines, Havoc Industries, American Iron, Road Bike and Iron Works magazines, Meguiar's Car Care Products with winners receiving complete exhaust systems of their choice and other many other awards totaling $70,000. Not the least of which is the $5,000 product award for Best Performance Machine Equipped Bike at the show from the title sponsor, plus another product award for $3,500 Custom Cycle Controls. Along with the Show's unique and famous working Mikuni Carburetor Desk Pen Set Awards for1st Place in class, and engraved Calendar Show Whiskey Flasks for 2nd and 3rd, many of the class sponsors constructed unique one off trophies for their class winners consisting of Anodized Motorcycle Wheels (Best Performance Machine Bike), Engine Components (Iron Works magazine), and Jardine Exhaust Pipes (Metric Road Bike magazine).

The most popular attractions at the Show included the Jardine World Record Horsepower Dyno shootout where James Noonan, the former world record holder returned to claim another class win. And Big Daddy's Hillicoptermobile which featured a real military transport helicopter painted up with 1940's WWII bomber pinup nose art, grafted atop a drive able bus chassis with a walk-through party lounge inside.




Spectators jam the newly expanded RoadBike magazine Metric Midway area on the tarmac under the bow of the Qween Mary. location of the exciting Jardine World Record Horsepower Dyno Shootout, Sportbike and Metric Cruiser Bike Contest displays.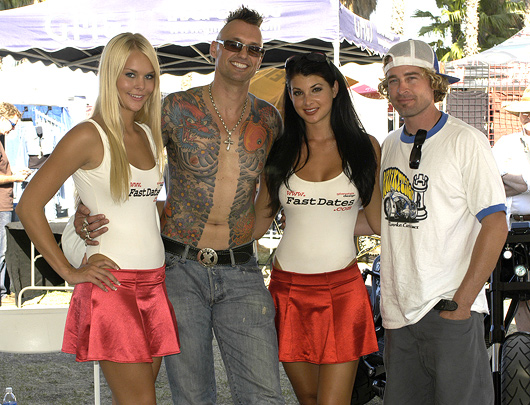 Iron & Lace Calendar celebrity TV builders Russ Mitchell and Jesse Rooke cuddle up with FastDates.com Calendar Kittens Athena and Cora.

Spectators dad a chance to meet and attend free Iron & Lace Calendar Bike Builder Seminars with America's top celebrity TV builders featured on American Thunder, Biker Build Off, Build or Bust and V-twin TV (who were also filming there filming) including Russell Mitchell of Exile Cycles in a tag-team seminar with 3-time Show winner Jesse Rooke, putting on a back-and-forth comedy banter that had fans packed in and laughing the full hour. Plus other top Calendar Builders including Roland Sands of Performance Machine, Mike Stafford of MGS Customs, Joe Takai of Mercury Customs, and Mike Powers of Powers Custom Cycles.
Any girl this ambidextrous who comes equipped with her own knee pads, bull whip and spiked heel knee-high lace up boots is a keeper! The Purfect Angelz performed on stage all weekend long to enthusiastic crowds.
All weekend long entertainment included a 2-Day Musical Festival on the Main Stage in the Queen Mary Park showcasing top sexy rockin' girl bands and singers including the Lead Zeppelin tribute band Zeparella, beautiful blues rocker Jesse Payo, with beautiful pop music harpist and singer Marnie Boyd performing with a huge classical harp near the park entry. The exciting Purrfect Angelz brought the Show to a standstill when they performed their exciting dance and musical stage shows both days, including three different 1-hour Shows on Saturday featuring their USO performance for our troops in the Middle East, and their live performances with Trace Atkins on the CMT and CMA Country Music Awards.
Plus in the middle of the Show weekend on Saturday night on board the historical Queen Mary ocean liner in the art deco Observation Bar was the big Iron & Lace Calendar Builder's Party where you could hang with the builders, exhibitors, Show producer Jim Gianatsis and his staff, and dance with the Purrfect Angelz all night long to the cover tunes of beautiful Mary Fall and her band Reckless Driver. Bike Show spectator admission included complimentary admission to the historic Queen Mary ocean liner and the Saturday Night Calendar Bike Builder's Party.

The Pro Builder Class offered up a huge range of incredible bikes from across America including this Ken's Factory bike with under-the-fender dual exhausts, while behind is Jesse Rooke's latest creation, half a V-twin / single cylinder SuperMoto bike.
The LA Calendar Motorcycle Show also marks the annual premier of the new 2007 FastDates.com Motorcycle Pinup Calendars and this year the beautiful 2007 Calendar Kittens were in attendance including Playboy Playmates Tamara Witmer and Athena Lundberg, and model Cora Skinner. There was the Calendar Girl Model Search Pageant both days with last year's winner Candice Curtis returning with her sexy on stage striptease to win both days the $500 first place award and a paid calendar shoot.
The LA Calendar Motorcycle Show is sponsored by Performance Machine, Jardine Performance, Tam Publications' American Iron American V-Twin and RoadBike Metric magazines, The Los Angeles Times / ReCycler.com / Cycle Buys, Speed TV's American Thunder and Build or Bust, Trader Publications / Cycle Trader, BikerNet.com, Quick Throttle and Connection magazine, Meguiar's Car Care Products, and the FastDates.com Calendars.
Go to: 2006 Calendar Show Coverage Page 2
_______________
2006 LA Calendar Show Bike Building Championship Class Winners:
Performance Machine Best of Show: Russ Hess / CowboyCutsomBikes.com, Jacksboro, TX, old school unibody chopper "Art Attack" with 113ci El Bruto 120hp, 6-speed.

Best Performance Machine Equipped Bike: George Lindemann / Roger Kuwahard - Kustom Fab, Honolulu, HI, "Fusion" radical custom in candy copper, w/ Shovel Head.

Pro Builder by American Iron magazine: 1). Randy Hocker / Red Hill Motorcycle Werx, Loveland,Co. Yellow Softail lowboy with Jim's 120ci T.C.B.; 2). George Lindemann / Roger Kuwahard - Kustom Fab, Honolulu, HI, "Fusion" radical custom in candy copper, w/ Shovel Head; 3). Kirk Taylor / Custom Design, gooseneck rigid splitail in purple w/ 110ci RevTech Pan Rockers.
Street Custom by Havoc Industries: 1). Jason Coursey, Henderson, NV. Wrath in blue w/ 127ci Ultima; 2). Mike Kornowski / Hand Built Softail in Silver/Maroon/ Tangerine, w/106ci billet top end; 3). Bob Baumann / Abeline, TX, Red Neck frame w/H-D and 2 front heads.
Street Performance by Performance Machine: 1). Dave & Corey Wall / D&C Customs, LaVerne, CA, D&C Woody w/Rev Tech; 2). Paul Soto / KD Customs, Anaheim, CA. 2001 Fat Boy w/Magnacharger blower; 3). Bobbi Kelly / Semi Valley, CA. Paramount silver/red flames w/Rev Tech.
Street Chopper by Havoc Industries: 1). Nash / Nash Motorcycle Company, Vancouver, WA, Nash grey/red riggid w/Shovelhead; 2). Shannon Aikav / Counts Customs, Las Vegas, NV. 1977 FXE purple Shovelhead; 3). Satya Kraus / Cazadero, CA. CFL w/96ci S&S Evo.
Bar Hopper by Iron Works magazine: 1). Gary Smith / Harold Hanvey, Triumph 650 w/750 kit rigid frame; 2). Mike Tomas / Kiwi Motorcycle Company, Riverside, CA. 2001 Big Chief bobber; 3). Barton Sengelmann / Bobber Shop. 2006 Springer rigid w/93ci Shovelhead.
Classic V-Twin From '56 by Vance & Hines: 1). James Aikaw / Las Vegas, NV. 1974 H-D with CCI frame; 2). Mark Monroe / Wichita, KS. 2001 H-D Heritage Springer; 3). Joe McIntyre / Rancho Santa Margareta, CA. Speical constuuction w/ Panhead Pandemonium.
Clasic V-Twin Pre '56 by Iron Works magazine: 1). Mike Tomas / Kiwi Motorcycle Company, Riverside, CA. 2003 Big Chief Roadmaster w/Kiwi Flathead 84ci; 2). Keith Drum / KD Customs, Anaheim, CA. 1954 H-D rigid Knucklehead w/supercharger; 3). Ray Robertson / Ray & Dino, Harbor City, CA. 1940 H-D Knucklehead.
Sportster by Iron Works magazine: 1). Kevin Brooks / Thunder Mountain Motorsports, Lakewood, CO. Sportster Retro Hot Rod w/ dual rear heads and 2-barrell Holly carb. 2). Jalopy / Top Shelf Customs, Huntington Beach, CA. 2006 Sportster; 3). Brandon Holstein / ToddÕs Cycle, Long Beach,CA. 2004 Sportster rigid.
Metric Custom by Road Bike magazine: 1). Bill Bushing / MagnaCharger Yamaha V-Max; 2). Richard Clairefond, 2000 Victory Sport Cruiser. 3). RA / SREKustums, Hollywood, CA. 2006 Honda Rebel.
Sportbike by Jardine Performance: 1). Carlos Navarro / Chrome Effects, Whittier, CA. 2006 Honda CBR1000RR; 2). Gary McKenzie / Chrome Effects, Whittier, CA. 2006 Yamaha R1; 3). Silviano Blea Jr., Albuaurane, NM. Ducati 998 Matrix Superbike.
_________

Hi-Resolution Pictures for Editorial Use with Photo Credit:
2006 LA Calendar Motorcycle Show, photos by Pete Alva and Jim Gianatsis
CALENDAR SHOW PR PHOTO: FastDates.com Calendar Kitten and SBK Fast Dates World Superbike Girl, Gemma Gleeson with the controversial Jesse Rooke Customs/ Russell Mitchell, Exile Cycles X-1 Kali Cruiser bike from the TV Show Build or Bust, on location at the Queen Mary Event Park in Long Beach.
http://www.FastDates.com/BikeShow2006/2006LABikeShowPRImageHiRes.jpg

Purrfect Angelz Lap Dance
http://www.FastDates.com/BikeShow2006/BikeShow2006Images/BikeShow06.016.LapDanceHiRes.jpg

FastDates.com Calendar Kittens Tamara, Athena and Cora with Ssinster CHP Bar Hopper
http://www.FastDates.com/BikeShow2006/BikeShow2006Images/BikeShow06.026.KittesnSsinisterHiRes.jpg

Show Hostess Lisa Ligon confers with Calendar Girl Model Search judges Tamara, Athena & Cora
http://www.FastDates.com/BikeShow2006/BikeShow2006Images/BikeShow06.047.PageantJudgesHiRes.jpg

Russel Mitchell and Jesse Rooke cohosted 1-hour Calendar Builder's Seminars both days
http://www.FastDates.com/BikeShow2006/BikeShow2006Images/BikeShow06.109.RussJessSeminarHiRes.jpg

Calendar Kittens Athena, Cora with Iron & Lace Calendar Builders Russell Mitchell, Jesse Rooke
http://www.FastDates.com/BikeShow2006/BikeShow2006Images/BikeShow06.120RussJessGirlsHiRes.jpg

Jardine World Championship Dyno Horsepower Winners
http://www.FastDates.com/BikeShow2006/BikeShow2006Images/BikeShow06.205.DynoWinnersHiRes.jpg

Classic V-Twin From '56 by Vance & Hines, winner James Aikaw
http://www.FastDates.com/BikeShow2006/BikeShow2006Images/BikeShow06.221BestPost56HiRes.jpg

Clasic V-Twin Pre '56 by Iron Works magazine, winner Mike Tomas / Kiwi Motorcycle Company
http://www.FastDates.com/BikeShow2006/BikeShow2006Images/BikeShow06.226BestPre56HiRes.jpg

Bar Hopper by Iron Works magazine, winners Gary Smith / Harold Hanvey, Triumph 650
http://www.FastDates.com/BikeShow2006/BikeShow2006Images/BikeShow06.234BestBarHopHiRes.jpg

Best Performance Machine Equiiped Bike with George Lindemann
http://www.FastDates.com/BikeShow2006/BikeShow2006Images/BikeShow06.240.BestPMbikeHiRes.jpg

American Iron Pro Clss winner Randy Hocker
http://www.FastDates.com/BikeShow2006/BikeShow2006Images/BikeShow06.243.ProBuilderHiRes.jpg

Performance Machine Best of Show winner Russ Hess
http://www.FastDates.com/BikeShow2006/BikeShow2006Images/BikeShow06.250BestShowHiRes.jpg

Park walkway in from of Chica Custom.
http://www.FastDates.com/BikeShow2006/BikeShow2006Images/BikeShow06.301ChicaWalkHires.jpg

Motorcycle Showcase with exotic customs displayed for sale on Saturday
http://www.FastDates.com/BikeShow2006/BikeShow2006Images/BikeShow06.302ShowcaseHiRes.jpg

Sculpture Cycles display booth.
http://www.FastDates.com/BikeShow2006/BikeShow2006Images/BikeShow06.303SculptureHiRes.jpg

Road Rage apparel models.
http://www.FastDates.com/BikeShow2006/BikeShow2006Images/BikeShow06.304GirlsHiRes.jpg

FastDates.com Calendar Kittens Athena, Cora and Tamara
http://www.FastDates.com/BikeShow2006/BikeShow2006Images/BikeShow06.305CalKittensHiRes.jpg

Calendar Motorcycle Show producer Jim Gianatsis with the Fastdates.com Calendar Kittens (left) and Calendar Girls Model Search winners (right) wit Candice Curtis (center left) the winner both days.
http://www.FastDates.com/BikeShow2006/BikeShow2006Images/BikeShow06.306ModelSearchhiRes.jpg

Purrfect Angelz performance
http://www.FastDates.com/BikeShow2006/BikeShow2006Images/BikeShow06.308AngelzHiRes.jpg

Purrfect Angelz performance
http://www.FastDates.com/BikeShow2006/BikeShow2006Images/BikeShow06.309AngelzHiRes.jpg

Adult film star Chrissy Case
http://www.FastDates.com/BikeShow2006/BikeShow2006Images/BikeShow06.310ChrissyHiRes.jpg

Pro Class Builder bikes
http://www.FastDates.com/BikeShow2006/BikeShow2006Images/BikeShow06.311ProBuilderHiRes.jpg

Pro Class Builder bikes
http://www.FastDates.com/BikeShow2006/BikeShow2006Images/BikeShow06.312ProBuilderHiRes.jpg

Pro Class Builder bikes
http://www.FastDates.com/BikeShow2006/BikeShow2006Images/BikeShow06.313ProBuilderHiRes.jpg

Ken's Factory Pro Custom
http://www.FastDates.com/BikeShow2006/BikeShow2006Images/BikeShow06.314KensHiRes.jpg

Show producer Jim Gianatsis with FastDates.com Calendar Kittens Cora, Athena and Tamara
http://www.FastDates.com/BikeShow2006/BikeShow2006Images/BikeShow06.315.JimKittensHiRes.jpg

The Pro Builder Category Bikes begin lining up durning morning registration
http://www.FastDates.com/BikeShow2006/BikeShow2006Images/BikeShow06.316AmIronProHiRes.jpg

Jardine World Record Horsepower Dyno Shootout with modified Suzuki 13400cc Hyabusa
http://www.FastDates.com/BikeShow2006/BikeShow2006Images/BikeShow06.320DynoHiRes.jpg

RoadBike magazine Metric Midway
http://www.FastDates.com/BikeShow2006/BikeShow2006Images/BikeShow06.321MetricMidHiRes.jpg

Calendar Bike Show Midway
http://www.FastDates.com/BikeShow2006/BikeShow2006Images/BikeShow06.322MidwayHiRes.jpg

2007 Iron & Lace Calendar Kitten Christine Nelson looks good at any angle!
http://www.FastDates.com/BikeShow2006/BikeShow2006Images/BikeShow06.323ChristineHiRes.jpg

Pre '56 Classic Contest bikes
http://www.FastDates.com/BikeShow2006/BikeShow2006Images/BikeShow06.324PreClassicHiRes.jpg

Famed Iron & LaceCalendar buider featured Yasuyoshi Chikazawa of Chica Custom
http://www.FastDates.com/BikeShow2006/BikeShow2006Images/BikeShow06.325ChicaHiRes.jpg

Road Rage Apparel Angels
http://www.FastDates.com/BikeShow2006/BikeShow2006Images/BikeShow06.326RageAngelsHiRes.jpg

Sportser Class winner Kevin Brooks, Thunder Mountain Motorsports
http://www.FastDates.com/BikeShow2006/BikeShow2006Images/BikeShow06.327SportsterHiRes.jpg

Street Chopper by Havoc Industries, winner Nash / Nash Motorcycle Company
http://www.FastDates.com/BikeShow2006/BikeShow2006Images/BikeShow06.328BestChopHiRes.jpg

Metric Custom by Road Bike magazine, winner Bill Bushing / MagnaCharger Yamaha V-Max
http://www.FastDates.com/BikeShow2006/BikeShow2006Images/BikeShow06.329BestMetricHiRes.jpg

Calendar Bike Show Krew Ted Sands from Performance Machine, model Cora Skinner, producer Jim Gianatsis, Playmates Athena Lundburg and Tamara Witmer, Keith Ball of Bikernet.com
http://www.FastDates.com/BikeShow2006/BikeShow2006Images/BikeShow06.330KrewHiRes.jpg
Go to: 2006 Calendar Show Coverage Page 2
---
Los Angeles Calendar Motorcycle Show, bike show, motorcycle show, calendars, calendar show, FastDates.com Calendars, Fast Dates, Iron and Lace, Iron & Lace, Garage Girls, motorcycle event, events, event American Bike Building Championship, Calendar Bike Building Championship,Calendar Show Auction, auction, motorcycle auction, shows, rally, builders, venders, exhibitors, trade, consumer, Purrfect Angelz, Pussycat Dolls, custom bike, custom, drag, dyno, pro builder, professional, chopper, bobber, cafe, sport bike, sportbike, V-Twin, Big Twin, Easyriders, American Iron, Roadbike, Iron Works, Big Twin, AMD, American Motorcycle Dealer, Barnett's, Advanstar, International Motorcycle Show, Long Beach, Queen Mary, Queen Mary Event Park, Los Angeles, USA, America, California, July, Sturgis, Daytona, Jesse Rooke, Russell Mitchell, Exile Cycles, Chica, Dreamcraft, Arlen Ness, Roger Goildammer, Harold Pontarelli, Paul Yaffe, Zero Engineering, Mike Stafford, Jim Nasi, Ron Simms, Roland Sands, Jesse James, American Chopper, American Thunder, Biker Buildoff, Build or Bust, Hot Bike, Easyriders, AMD, Performance Machine, Jardine, Jardine World Record Dyno Horsepower Shootout, Mikuni, Mikuni Show, Mikuni Bike Show, Mikuni Motorcycle Show, dyno run, dyno conteat, Harley-Davidson, Buel, Goldwing, Yamaha, Honda, Suzuki, Kawsaki, Ducati, Aprilia, Bimota. MV Agusta, Indian, Titan, Big Dog, Swift, Victory, Mikuni, model search, model pageant, pageant, bikini, bikini contest, swimsuit contest, girl band, singer, famale, women, girls, model, models, swimsuit, press, media, photos, photo, photography, pictures, editorial, news,