For Immediate Release with Hi-Resolution Images for News Media Use:

http://www.FastDates.com/BikeShow2008/2008CalBikeShowPRphoto.jpg
http://www.FastDates.com/BikeShow2008/2008CalMusicFestPRphoto.jpg
$86,000 in Cash and Awards* in the Calendar Bike Building Championship
At The Biggest & Best Custom & High Performance Street & Sportbike Event in America!
Jim Guiffra / AFT Metric Customs takes Best of Show

Performance Machine presents the 17 Annual
2008 LA Calendar Motorcycle Show Weekend with the
Calendar Bike Building Championship &
2-Day Calendar Girl Music Festival
July 12-13th 2008, Queen Mary Event Park, Long Beach, CA - The 17th annual Los Angeles Calendar Motorcycle Show Weekend presented by Performance Machine, America's premier custom, cruiser, performance and sportbike weekend returned to the Queen Mary Event Park in Long Beach on July 12-13th, 2008. Over 10,000 street motorcycle and music fans were in attendance for the world's most exciting 2-day motorcycle event weekend in the beautiful Queen Mary Event Park on the grass alongside the Pacific Ocean with it's cool ocean breezes to fend off the inland California summer's scorching heat. This remains the world's premier motorcycle show weekend featuring all major motorcycle and parts manufacturers, selected product and apparel venders.
The weekend features many of the world's top Pro and Amateur street bike builders in attendance to compete in the Performance Machine Calendar Show Bike Building Championship with a bulging purse of $86,000 in cash and awards. There are 10 individual classes for American V-Twin and Metric Street Custom, Performance, Classic, Bobber, Chopper and Sportbike motorcycles The coveted Performance Machine Best of Show Trophy is awarded for the top overall bike at the Show and includes a $3,000 cash prize, an additional $7,000 in product awards bringing the total awards to $10,000 overall, plus the winning bike and builder receives an editorial bike feature in Iron Works magazine and the Iron & Lace Calendar photographed by Show producer Jim Gianatsis.
Taking home the coveted Best of Show award for the first time ever at a major Show was an incredible metric custom from builder Jim Giuffra / AFTcustoms.com. Named "Er Head" for it's air-cooled Yamaha XVS engine fed by a Mikuni HSR carb, the bike features a specially modified Yamaha/Redneck Engineering/ AFT Customs oil-in frame with RMD billet girder front forks, and a single shock rear suspension. Assisting Jim with the construction of the top bike was his assistant Ron Abel, and AFT Model Agency girls Kylie and Elaina.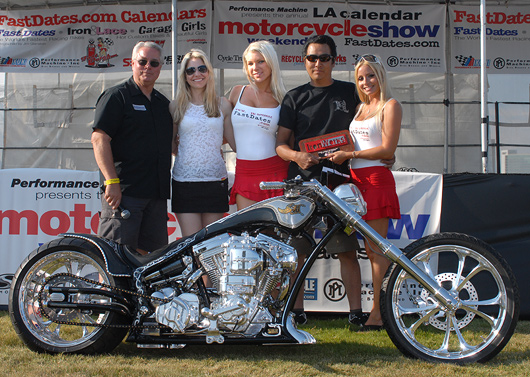 Kenji Nagai / Ken's Factory, flew in from Japan with his beautful bike "Velvet Hand" featuring a 125 ci Patrick Racing Engine w/ Magnacharger. www.Kens-Fasctory.com. In USA contact Jonathan Kluvery 310-749-2026.

Best of Show came from the premier Iron Works magazine sponsored Radical Pro Builder class, which again this year was extremely competitive, with 1st Place trophy gong to Japanese builder Kenji Nagal from Ken's Factory (Kens-Factory.com) who flew in just for the Calendar Bike Building Championship with his blown V-Twin powered polished aluminum custom from Nagoya City, Japan. Taking 1st and 2nd runner-up spots among many many incredible all-new machines premiering at the Show were Todd Silicato, and last year's Best of Show winner Greg Westbury of Westbury Hardcore.
Todd Silicato picked up a really big $5,000 Award Certificate from Ted Sands, Kari Kimmel and the Calendar Kittens for the Best PM Equipped Bike at the Show. Todd also taught Calendar Bike Buiding Seminars both days of the Show.

Performance Machine also offers is own trophy for the Best Performance Machine Equipped Bike with a $5,000 product award from Performance Machine products going to Todd Silicato from Todd's Custom Cycles for one of his bikes. Other favorite classes include the Iron Works magazine sponsored Radical Pro Builder which went to Japanese builder , the Mikuni American HR Carburetor sponsored American V-Twin Performance, and the Fast Dates Calendar sponsored Sportbike Class.
Spectators got to meet top celebrity custom bike builders including last year's best of Show winner Greg Westbury, 2004 Best of Show winner Shinya Kimura, plus Ron Simms, Todd Silicato and many more. They also attend free Calendar Bike Builder Seminars with the top Calendar builders to learn what it really takes to build some of the world's most innovative and beautiful custom bikes as featured in the Iron & Lace and Fast Dates Calendars.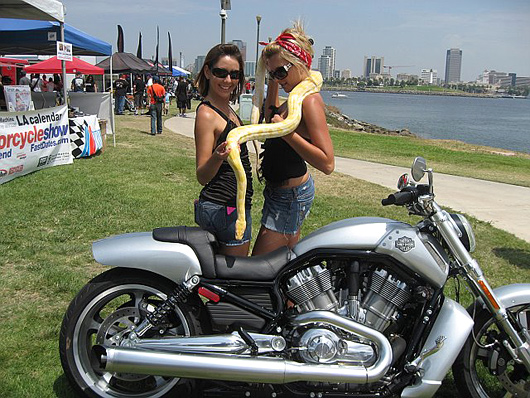 Snakes and Kittens on a Harley! This year's Calendar Show treated visitors to an exclusive unauthorized World Premier of the newly redesigned 2009 Harley-Davidson V-Rod in front of the California Harley-Havidson and FastDates.com Calendar display - a full 2 weeks before the unveiling at the 2009 H-D Dealers Show back east!
Photo by Lee Chapin.

One of the biggest spectator draws throughout the weekend was again the Calendar Show's exclusive S&S Cycle World Championship Horsepower Dyno Shoot Out hosted by Kerry Bryant of Area P Exhaust Systems. World Record runs are open up to anyone, including the change to see just how strong your streetbike really is, with Classes & Awards for all stock and modified American V-Twin and Metric Sportbikes. The most spectacular run during the weekend proved to be John Cabral's Suzuki Hayabusa American Turbo Powered 500hp +! Engine Blow Up at full throttle that saw titanium, aluminum , oil and coolant flying everywhere in spectacular fashion, forcing a shutdown of the dyno for about an hour while it was cleaned up. The S&S Cycle staff used the lull in the action to answer engine building questions from the crowd and hand out free t-shirts.
The Mikuni Street Chopper Midway was one of 7 Midways jam packed with contest bikes, spectators and venders
Included with admission both days was the exciting 2-Day Calendar Girl Music Festival with beautiful girl bands and singers including singer songwriters Kari Kimmel and actress Elizabeth Nicole, pop rockers Taxi Doll, AC/DC Tribute rock band Whole Lotta Rosies, Lead Zeppelin tribute band Moby Chick, Reckless Driver, Absinthe Women, plus the sexy Purrfect Angelz dance shows jammed fans to the Main Stage both days.
The weekend's stage activities were hosted by beautiful singer songwriter Kari Kimmel, with Ted Sands from Performance Machine co-hosting with Kari at the Awards Presentation Ceremonies on Sunday afternoon. Also on stage were the FastDates.com Calendar Kittens including Mary Riley and Jessica for the annual world premier of the new 2009 FastDates.com Motorcycle Pin Up Calendars.
Other exciting activities during the weekend include the S&S Cycle World Championship Horsepower Dyno Shoot Out; free Calendar Bike Building Seminars with celebrity Iron & Lace Calendar builders including Todd Silicato of Todd's Cycle, Dave Stinsen of Edelbrock Engineering and Yasuyoshi Chikazawa of Chica Custom Cycles.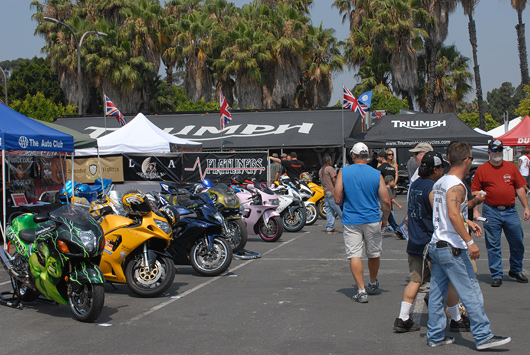 This year's Show featured a big sportbike turnout in the Metric Midway.
This year's Show featured a big sportbike turnout in the Metric Midway with the Big Rig display from Triumph Motorcycles brought in by SoCal Triumph, Ducati in Brea, CA. The West Coast Presidents Association of sportbike clubs also had a bike display of club members bikes, plus there were the Metric Cruiser and Fast Dates Sportbike Contest classes located here. A lot of sportbike wners took the opportunity to run their bikes on the Calendar Show Dyno in one of 5 Sportbike Classes to see how much horsepwoer they really made. The most spectactular run of the weekend came when John Cabral's "Big Boy" turbo Hayabusa was in the process of exceeding well over 500 horsepoer when it blew up spectactularly, with connecting rods ejected out the front and bottom of the engine cases, along with lots of oil, coolant, aluminum, steel, and titanium.

And don't forget the theme of the entire LA Calendar Motorcycle Show Weekend which is the world premier of this year's new 2009 FastDates.com Motorcycle PinUp Calendars: the SBK World Superbike and Performance Machine sponsored Fast Dates superbike, Performance machine and Mikuni Carburetor sponsored Iron & Lace custom bikes, and Garage Girls together with the beautiful Calendar Kittens selling and autographing the Calendars and pose for photos with fans.
There was also the Calendar Girl Model Search Pageant each day with beautiful winners Andrea Hilaro, Kseniya Kseniya Strizhenko and Penny Mentred on Saturday, then Erin Yarbrough, Kseniya Strizhenko again and Petra Moos on Sunday winning $600 in cash awards each day, along with a possible paid booking to shoot for the next FastDates.com Calendars.
Spectators also got complimentary weekend admission aboard the historic Queen Mary Ghost Ship, and entry to the Saturday Night Iron & Lace Calendar Builders Party with a live band in the ship's Observation Bar. Spectators arriving on motorcycles get security parking for just $5 right at the Show's Main Entrance. When the Queen Mary's on site parking reach capacity, spectators arriving my car were directed to park in the downtown Long Beach Parking Garages on Shoreline Drive with free Shuttle Busses or paid Taxi Boat rides available from Shoreline Village Marina direct to the Show.
The Mikuni Street Custom Midway was one of 7 Midways jam packed with contest bikes, spectators and venders

"Producing another successful Calendar Show this, our 17th year was definitely a challenge," explained Show producer Jim Gianatsis. "What with the recent and sudden down turn in the custom bike market, I was sad to see that about a third of our well-known bike and product manufacturers, and custom bike builders who were with us last year are no longer in business. Plus the problems in the American economy are keeping more people close to home. We still had over 10,000 spectators in attendance for the weekend which was great, considering that other major bike events across America have been down by as much as half. We were able to pull in a lot more sportbike and Calendar Girl Music Festival fans which helped.
Adding to the problem this year was the Holister Rally which chose to move their traditional 4th of July bike weekend to the LA Calendar Show's traditional 2nd weekend of July date. This hurts everyone, particularly the smaller bike and apparel venders who want and need to attend both our events so they can stay in business. Plus we share thousands lot of mutual bike enthusiasts who wanted to attend both events, but this year could not because of the date conflict. It's plain stupid to have the two biggest streetbike events on the West Coast on the same weekend, just 200 miles apart. It's disappointing that the Holister promoters do not have the best interests of the motorcycle community in mind. They don't realize that what is best for the bike community, will be good for them as well.
I've already spoken to Holister and for next year, and with the U.S. MotoGP at Laguna Seca moved to the July 5th weekend, Holister will take the July 10-12th weekend, and the LA Calendar Motorcycle Show weeked will be July 18-19th 2009 "
Title and Associate Sponsorship support for the premier streetbike event weekend in America is provided by Performance Machine, Iron Works magazine, S&S Cycle, NOs Energy Drink, ReCycler.com, CycleTrader.com, Thunder Press and Quick Throttle Magazine event publications, Mikuni Carburetors, Meguiar's Car Care Products, and the FastDates.com Calendars.

The 2009 LA Calendar Motorcycle Show & Calendar Girl Music Festival Weekend is scheduled for
July 18-19th 2009 at the Queen Mary Park in Long Beach, CA. For complete details including additional event coverage and pictures, the show schedules, hotels and parking information visit www.FastDates.com.
2008 Calendar Bike Building Championship Results:
Best of Show: Jim Giuffra /AFT Customs, Yamaha XVS Boardtracker Special Construction
Iron Works Pro Builder: 1. Kenji Nagai / Ken's Factory, Japan, "Velvet Hand" Special Construction w/125 ci Patrick Racing / Magnacharger; 2. Todd Silicato / Todd's Cycle, Panhead Special Construction; 3. Greg Westbury / Westbury Hand Crafted, "All Killer, No Filler" Bobber Special Construction.
Mikuni Street Custom: 1. Devin Montgomery/Mid Evil Inc, S&S engine custom; 2.Mickey Morisol, 107ci S&S chopper; 3. Jay Jay Ransom, 2002 H-D Springer, 107 ci engine.
Mikuni Street Performance: 1. P.W. Morris, 1991 H-D FXR w/126ci G2 (9 sec 1/4 mile Club); 2. Mickey Morisol, Chopper Doctors w/ 107ci S&S; 3. Jose Benitz, Special Construction w/ Ultima engine.
Mikuni Street Chopper: 1. Clyde Ransome, Special Construction w/ RevTec engine; 2. John Myer, 2003 H-D Softail w/ 95ci H-D Twin cam; 3. Mike Toupin / Chopper Design Group, Special Construction w'100ci engine.
Iron Works Bar Hopper: 1. Cassidy Lachos / Lion Motorbikes , 1985 Sportster, rigid lowered; 2. Robert Brunson, chopper w// RevTech 88ci engine; 3. Eddie Shigeta / east-West MC Products, chopper.
Iron Works Classic Late Post 1956: 1. Jay Jay Ransom, 2004 H-D Dresser w/104 ci engine; 2. Spanky / Streetlife Motorcycles, 2006 H-D w/124ci engine; 3. Ryan Reed, 2008 H-D.
Iron Works Classic Early Pre 1956: 1. William Jackson / Bob Hancock, 1935 Excelsior w/ 500cc JAP engine.
Iron Works Sportster: 1. David Arbuthnott, 1964 Sportster XLH rigid bar hopper ; 2. Ben Faiella, 2003 Sportster custom; 3. Steve Dresen, 1996 Sportster.
Metric Custom: 1. Gilbert & Alfredo Gonzalez, 2000 Yamaha Roadstar; 2. Brandon Boy, 1971 Triumph Bonneville chopper; 3. Eric hansen, 2006 Yamaha warrior.
Fast Dates Sportbike: 1. Will Song / WSD Moto, 2007 Yamaha R6; 2. Nick Gargano 1985 Yamaha RZ350; 3. Leo Najarian / Suzuki Jordan, 2006 Suzuki GSXR750.

S&S Cycle Dyno Master Kerry Bryant gives a big thumbs at trophy presentation next to (right) Andrew Demotte, son Kerry Bryant, American Tubro's Harry Gunusen and John Cabral, Jamie from Patrick Racing,Tod Silicato, plus Tom and John Olson from S&S and the Calendar Kittens with Kari Kimmel.
John Cabral's dramatic Turbo Power 500hp+ Engine Blow Up
on the S&S World Record Calendar Show Area-P Dyno!

2008 S&S World Record
LA Calendar Show Dyno Horsepower Shootout
LA Calendar Motorcycle Show Weekend, July 12-13th 2008, Queen Mary Event Park, Long Beach, CA -America's premier motorcycle engine builders and and land speed record holders made their annual pilgrimage to the LA Calendar Motorcycle Show Weekend to prove just how strong their machines are at the S&S Cycle sponsored LA Calendar Motorcycle Show World Record Dyno Shootout produced each year by renoun exhaust system designer Kerry Bryant and his wife Jenny of Area-P / No Limits (AreaPnolimits.com). Records were flirted with all weekend in some 12 classes for Normally Aspirated stock and modified Metric Sportbikes and American V-Twins, as well as the ear shattering Turbo & Supercharged Gas & Fuel feed Metric and V-Twin Classes.
The most exciting and literally show stopping dyno run of thru weekend was John Cabrai's "Big Boy" Busa, a unique entry into the Open Turbo/Nitrous Class. We don't see many big bore, heavy engine mod, turbos entered. Prior Calendar Show Dyno champion and event record holder John Noonan at 545 hp runs a completely different set-up more along the lines of stock bore and larger turbo. He has many proprietary secrets he uses to "boost" his numbers where he needs.
John Cabral's "Big Boy" was also a little tired and had many years of use. But he wanted to defeat Noonan and was willing to pull the trigger to the max. The first "tune-up" run was in the 460 hp range. After some adjustments and discussions, the next run produced a mind boggling run of 484.77 hp before complete termination and spectacular detonation. Connecting rods were ejected out the front and bottom of the engine cases. All oil, coolant, along with aluminum, steel, and titanium components exited the engine cases and onto the dyno. Nobody was injured, although Show vender and participant Harry Gunusen from American Turbo Power (ATP-HD.com) did get sprayed with oil and coolant. We take great care with safety precautions, more so on the Turbo bikes, in securing the area prior to a run.
Safety areas are controlled, along with fire extinguishers at the ready, and action plan in place. These are serious machines, making numbers that are far beyond normal. Further analyzing the data logger from their machine, and the graph mapped from the run on our computer, the termination took place at 8500 rpm and power was still climbing. Since their max power is set at a rev-limiter of 9500 rpm, it is easy to assume that the run would easily exceeded the record of 545 hp. Possibly in the 560 hp range. They also did not have the boost setting maxed out. Another indication of the potential power this engine had to exceed the record.
It took about 30 minutes to clear and clean the metal debris, coolant and oil, on and around the dyno area. Some of the exploded material made it's way to one of the Dyno drum speed sensor circuit boards, causing a malfunction. With the help of Eric & Bob Bennett (Bennett's Performance Products) and Dyno operator (Kerry Bryant's son Kenny), they were able to diagnose and trace the problem. When Kenny removed the circuit board, a hair-line crack was noted on the backside of one of the diodes. Very, very difficult to see. Eric Bennett graciously offered to loan us their circuit board sensor from their dyno located at their Long Beach facility. Kenny and Eric rushed over to the Bennett's Performance facility. The dyno was down approximately about 1 hour. It actually ended up being a good time to entertain the crowd with interviews from the engine staff of S&S Cycle, along with a question/answer trivia contest where we gave out free apparel to the crowd. They may have enjoyed this just as much as the Dyno runs. Kerry and his guest competitors actually do this through-out the weekend. This included Harry from American Turbo Power who donated a dozen T-shirts for the contestants, as did product engineers Tom and John from S&S Cycle.
Although there are many back-up systems in place (computers, printers,cables, fans, etc.), It was simply amazing that metal from the exploded engine could make it's way to the drum sensor. We never would have thought that was possible. But as we found out when we returned to our facility on Monday and completely disassembled the Dyno for detailing, there was still a lot of metal, coolant and oil through-out the unit. It took the better part of a day to completely detail it. Suffice to say, we will now be bringing along a spare sensor at future events. Even with the down time, Kerry Bryant was able to ran every single entry, and even stayed to run a few more only minutes prior to the Awards Presentation at 5pm Sunday afternoon. Kerry actually, lost his lead in the Sportster/Buell category to a last minute entry from Bennett's Performance! Maybe he should have closed the S&S dyno a few minutes earlier? Join them again next year at the S&S Cycle World Record LA Calendar Show Dyno Shootut July 18-19th 2009.
2008 S&S presents the World Record
LA Calendar Motorcycle Show Dyno Horsepower Shootout
Class Winners:
600cc Sportbike: Kelly Bryant - '07 Yamaha R6 - 113.3 hp
750cc Sportbike: Art Haserjian - '05 Suzuki GSXR750 - 121.87 hp
1000cc Sportbike: Kerry Bryant - '04 Kawasaki ZX10 - 161.4 hp
Open Sportbike: Thad Wiltz - '04 Kawasaki Hayabusa - 227.52 hp
Sportbike/Turbo: John Noonan - '03 Hayabusa - 490.63 hp
Sportster/Buell: Bennett's Performance '00 Special Const. S&S - 125.29 hp
V-Twin - 74 - 80": Mark Mignella - '04 Harley-Davidson V-Rod - 101.27 hp
V-Twin - 81 - 88": John Cabral - '08 Harley-Davidson V-Rod - 153.82 hp
V-Twin - 89 - 95": Andrew Demotte - '06 Harley-Davidson FLHX - 103.69 hp
V-Twin - 96 - 113": Patrick Racing - Harley-Davidson Twin Cam - 118.59 hp
V-Twin - 114" Plus: Bennett's Performance '96 Bonneville Bike - 223.00 hp
V-Twin/Turbo: John Cabral - '99 Harley-Davidson FLH Bagger - 233.78 hp