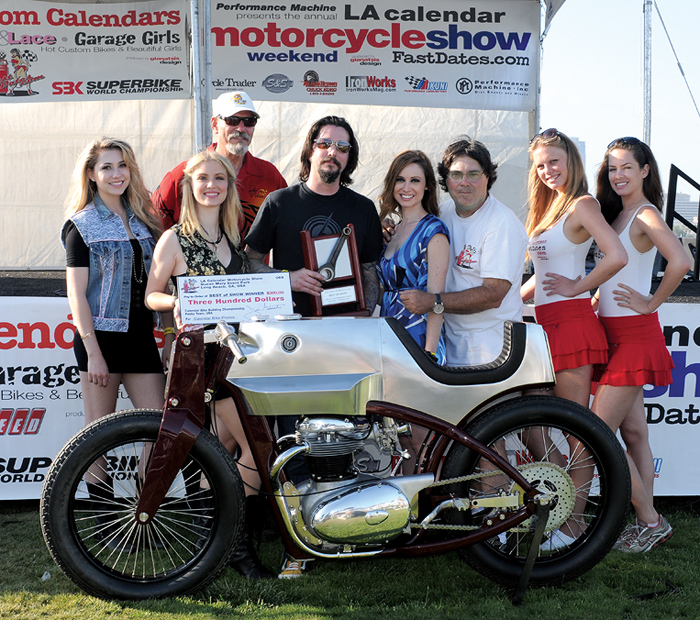 Left to right: Actress, singer songwriter and host Elizabeth Nicole, magician Krystan Lambert, Keith "Bandit" Ball
of Bikernet.com, 2010 Calendar Bike Building Championship winner Chris Flechtner / Speed Shop Design, singer songwriter Katie Cole, Calendar Show producer Jim Gianatsis, Calendar Kittens Melody Schuster and Candise Lakota.
Click to go BIG Hi-Resolution
2010 LA Calendar Motorcycle Show & Calendar Girl Music Festival Coverage with
Hi-Resolution Feature Images for Media Use - Credit photography by Jim Gianatsis / FastDates.com
(Click on any picture for Hi-Res image)

http://www.FastDates.com/BikeShow2010/2010CalendarBikeShowPRimage.jpg
http://www.FastDates.com/BikeShow2010/2010CalendarGirlMusicFestivalPRImage.jpg


Chris Flechtner returns to take Best of Show at the 19th annual
2010 LA Calendar Motorcycle Show & Calendar Girl Music Festival
Long Beach, CA, July 18th 2010 - The 19th annual Los Angeles Calendar Motorcycle Show & Calendar Music Festival presented by Motorcycle Attorneys Brown & Koro, America's premier streetbike event marked its returns to the Queen Mary Event Park in Long Beach on Sunday July 18th 2010. The Show's return to it's original 1-day format proved to be a big success, both in reducing production costs for everyone involved from the bike product manufacturers and vendors, to the builders and spectators traveling from out-of-town and having to book hotels. The 1-day format also helped to reduce reduce production costs for producers Jim Gianatsis and the Queen Mary. Visitor attendance was up for this year's new 1-day Show format, higher than the daily totals seen at the Show the last two years.
What the LA Calendar Show didn't cut back on was its incredible entertainment value for spectators over the course of the jam packed 8 hour day. Fans were again treated to the incredible customs in the Calendar Bike Building Championship, the Calendar Bike Building Seminars, the L&L Motorsport World Record Dyno-Jet Dyno Shootout, over 5 hours of live stage performances in the Calendar Girl Music Festival, West Coast premiers of new model bikes from Los Angeles Indian, SoCal Ducati / Triumph among others, beautiful Calendar Kittens and models everywhere to pose with you for photos, plus complimentary admission aboard the historic Queen Mary ghost ship (normally $12 entry). Not to forget the free Saturday Night Builder's Party aboard the Queen Mary with Irish pop rock singer Juliet Tworsey and her band Fire Bug.
All this taking place in a beautiful grass park on the edge of the cool Pacific Ocean which has to be the best Bike Show venue on the planetfor a low ticket price of just $25. An incredible value when considering the lost work days traveling to other long distance bike events, standing on hot asphalt all day, and still having to spend $30-$50 to see the separately priced music concerts.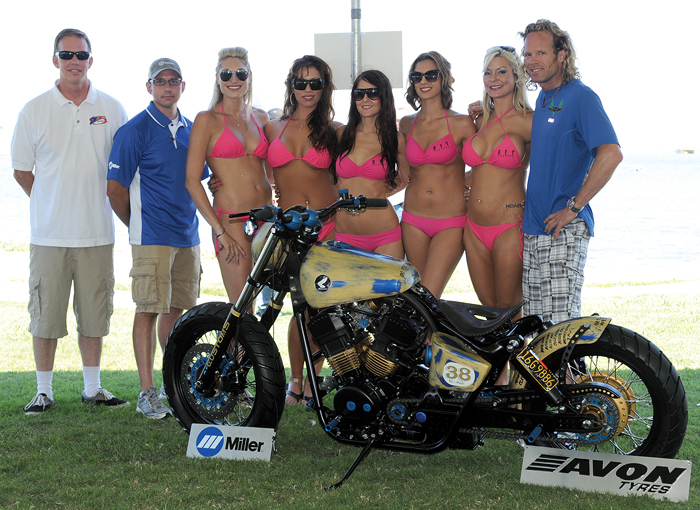 AFT Custom's Jim Giuffra and the AFT Model Agency girls premiered their new "Kimosabe" Bobber in the Calendar Bike Builder's Seminar with the help of sponsors Bryan Weaver / JE Pistons and John Swartz / Miller Electric. Miller gave away a $2,150 TIG Welding Kit to one lucky spectator and $75 Cash Back Certificates to every spectator stopping by their booth at the Show and to all 30 Bike Contest winners. Kimosabe took 1st Place Metric Custom, AFT's 3rd Class Win and Best of Show award in 4 consecutive years!
Spectators got to meet top celebrity custom bike builders including past Show winner Jim Giuffra and the AFT Motorsports Models who were premiering an all-new bobber race bike named "Kimosabe" which the girls will be racing at Bonneville in August. They conducted a Builder's Seminar with their sponsors Miller Electric and JE Pistons to explain the details of the bike build. Miller also held a raffle drawing on Stage at the end of the day, giving away a $2,150 Miller TIG Welding Kit to one lucky spectator, as well as giving $75 cash-back gift certificates towards Miller equipment purchases to every spectator who stop by their booth. Another great value for the low admission price to the Show.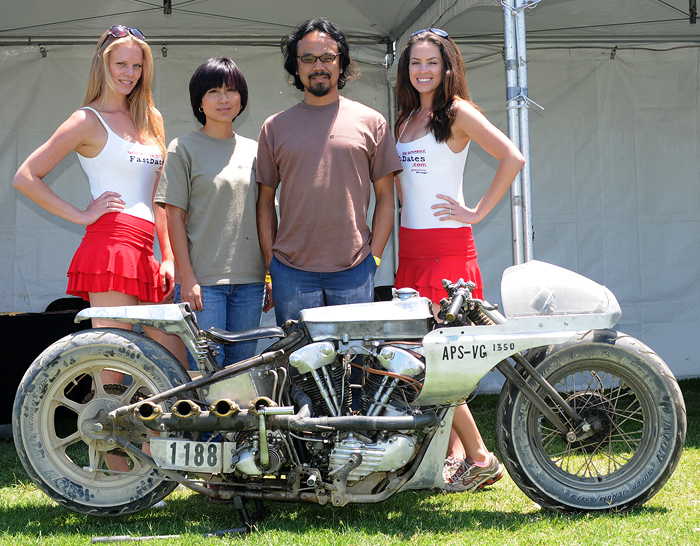 Other top FastDates.com Calendar builders holding free Calendar Builder Seminars during the day were Russell Mitchell / Exile Cycle and Todd Silicato / Todd's Cycle. While former Best of Show winner and builder to the stars, Shinya Kimura / ChabottEngineering.com showed off two of his latest bikes, one an old Knucklehard powered alloy faired racer (featured in the 2009 Iron & Lace Calendar) still coated in the dust from the past week's high speed run at El Mirage Dry Lake, and the other a commissioned custom bodied Ducati 999S Superbike named "Edge". Also at the Show in the Metalsport Wheels display signing posters was celebrity custom car builder Chip Foose of Chip Foose Designs.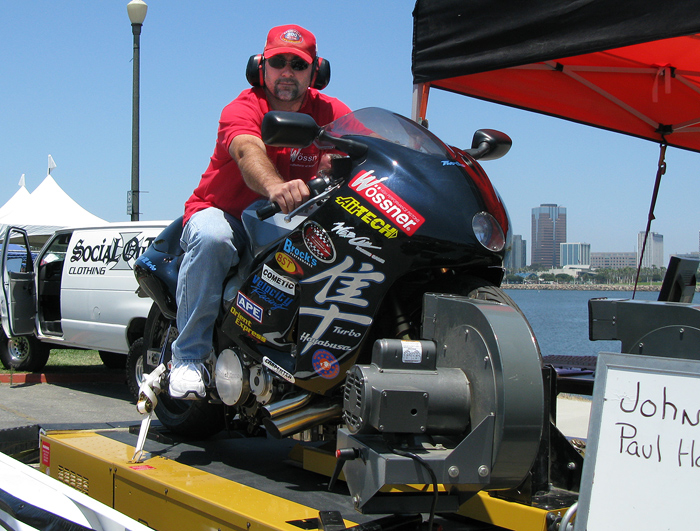 The Calendar Show's exclusive L&L Motorsports produced World Championship Horsepower Dyno Shoot Out was open up to everyone to see just how strong their streetbike really was with Classes & Awards for all stock and modified American V-Twin and Metric Sportbikes. Taking home top prize again this year was former 545hp record holder John Noonan, posting this year a lower, but still impressive 469.69hp with another turbocharged Suzuki Hayabusa.
The Calendar Girl Music Festival portion of the Show with its beautiful girl performers headlined the day with recording artist Emily Jaye and her band Frentik. Making a popular return engagement was the AC/DC Tribute rock band Whole Lotta Rosies, plus new Australian singer songwriter Katie Cole teaming up with another Show favorite Elizabeth Nicole, plus the world renown Purrfect Angelz song and dance group. The stage activities were hosted by Elizabeth Nicole who is also a TV and movie actress, and assisting Elizabeth with Awards Presentations at the end of the day was the legendary Keith "Bandit" Ball from Bikernet.com.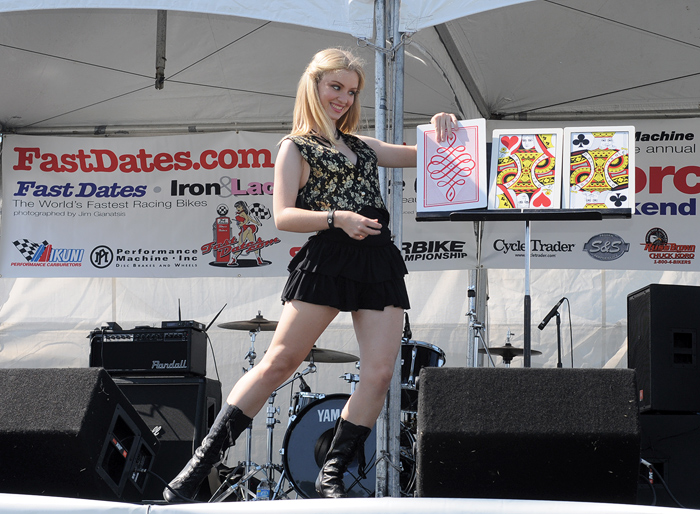 | | | | |
| --- | --- | --- | --- |
| | | | Jim Giuffra and Krystan Lambert |
A special treat was 18-year old Krystan Lambert - the World's Most Beautiful Magician and star on Fox TV's "Masters of Illusion".
Krystan performed on the Main Stage during band change overs and in the Calendar Bike Builder's Seminar Tent between classes with the famed FastDates.com Calendar builders. And if making a live rabbit appear out of thin air wasn't enough, for Krystan's final performance at the end of the day she made the Queen Mary ocean liner disappear, then reappear again before anyone noticed it was missing! Now that's hare raising magic!
Beautiful Calendar Kitten Laya Bella was working the Show for Niko Moto Helmets. Look for her soon in Playboy and in the next 2012 FastDates.com Calendars!

The Show itself celebrates the annual world premier of the new 2011 FastDates.com Motorcycle Pin Up Calendars, with Calendar Kittens Melody Schuster & Candise Lakota on hand to meet with fans and autograph the new calendars.
Show hostess, actress and singer Elizabeth Nicole, magicain Krystan Lambert, Bikernet's Keith Ball, Calendar Kitten's Melody Schuster and Candise lakota award Jim Giuffra and the AFT girls 1st Place Metric Custom for "Kimosabe".
| | | | |
| --- | --- | --- | --- |
| AFT Calendar Builders Seminar | | | Jim Giuffra and Krystan Lambert |
The Calendar Bike Building Championship again featured many of the world's top Pro and Amateur street bike builders competing for cash, awards, and the coveted FastDates.com Calendar Best of Show Trophy. The 10 Calendar Bike Building Championship Classes include the premier Radical Pro Builder Class sponsored by Iron Works magazine, plus 9 other classes for American V-Twin Custom and Street Bikes, Vintage Bikes, as well as Metric Sportbikes and Cruisers
Chris Flechtner / Speed Shop Design returned to the 2010 Show with an all new, completely unique and quite controversial design to take Best of Show. The special construction bike named "Beezerker" features a stock mid 1960s BSA A65 engine in a fully hand built chassis and bodywork. The bike has such original features as parallelogram front forks and a frame which houses the oil tank and the hidden exhaust pipes routed up through the rear of the frame to exit at the rear of the seat cowling.
Just like Kenji Negai of Ken's Factory, Japan, who took 1st Place Pro Builder in 2008 and returned with an all new and even more exciting bike to take 2009 Best of Show, Chris also returned for blood the 2nd time around after taking 1st Pro Builder with his retro styled Speed Shop Special #6 last year. Chis is an experienced professional designer who has devoted the last 2 years to build two completely different custom bikes to premier at the LA Calendar Motorcycle Show.
Because "Beezerer" isn't powered by a the prerequisite American V-twin engine like most major bike show winners are, the internet bogs were abuzz the next day questioning the validity of the Calendar Show's Best of Show winner. But then the LA Calendar Show has never been know for its conventionality having awarded its top trophy in the past to other then other unknown builders with unconventional builds, and now well-respected builders: Dreamcraft Studios, Jesse Rooke, Shiny Kimura, Roland Sands, Russell Mitchell and Kenji Negai.
Although Chris may have been an unknown builder on the national scene before his emergence at last year's Calendar Show, he explains, "I've made more than a dozen custom bikes as well as modified and restored numerous classic motorcycles. I have also built a number of ground up custom cars. Most recently I have been working part time at my day job as a furniture designer, now devoting most of my time with my own custom bike building company Speed Shop Design the past year to get it moving along faster. The "Beezerker" intentionally pushes the boundaries of design and blurs time to give you a bike you simply can not place in a particular era, it's meant to be timeless like all good design should be."
"Beezerker" was Chris' first attempt in working with aluminum which he used to build the bike's fuel tank and 1930's Metropolis style bodywork. He also built all the hand and foot controls from scratch, including the foot mechanically actuated rear sprocket brake. The bike's originality defies description, if not classification, and could have been entered in nearly every one of the Show's Calendar Bike Building Championship's 10 classes from Modern and Classic Twin, to Street Custom and Sportbike. For 2 years now Chris has entered the Pro Builder Class in the Calendar Bike Building Championship, winning first the Pro Builder Class, and now this time around Best of Show.
Speed Shop Special #6 is featured in the just released 2011 Iron & Lace Calendar and in the FastDates.com Calendar Bike Garage.Beezerker was photographed by Jim Gianatsis on Monday after this year's Show to also appear on the FastDates.com website shortly, and in the next FastDates.com Calendars.
A Big supporter of the LA Calendar Show and all local bike events is Tom Hicks with his girls from SoCal Ducati, Triumph and Victory Motorcycles.

Russ Brown & Chuck Koro Motorcycle Attorneys present the Los Angeles Calendar Motorcycle Show with Associate Sponsors Iron Works Magazine, Mikuni Carburetors, California Harley-Davidson / Los Angeles Indian, CyceTrader.com, Bikernet.com, Meguiar's Car Care Products, Budweiser beer and the FastDates.com Calendars.
For additional LA Calendar Motorcycle Show & Calendar Girl Music Festival weekend photos and information, and to purchase the new 2011 FastDates.com Calendars go to: www.FastDates.com.
Iron Works Sportster Class winner Caleb Owens / CROcustoms.com

2010 Calendar Bike Building Championship & Dyno Results:
FastDates.com Calendars Best of Show: Chris Fletcher / SpeedShopDesign.com, "Beezeker" special construction with BSA A65 Engine.
Iron Works Pro Builder: 1. Charlie Montgomery / U.S. Kustoms, Trike based on 1961 H-D; 2. Scotty Cox and Cecil Bond Kyte, Special construction aluminum bike featured on Discovery Channel w/S&S 124ci; 3. Russell Mitchell / ExileCycles.com, 2006 H-D Street Bobber.
Mikuni Street Custom: 1. Todd Silicato / ToddsCycle.com, "SpeedKing"; 2. Gino Ilacqua/ 2007 Custom Pro Street w/ S&S 124ci, Baker 6-speed; 3. Doug Ide / I-Off, 2010 H-D Softaul w/ 96ci modified.
Mikuni Street Performance: 1. Paul Binford/ BCC Chopper Softail w/ 110ci; 2.Billy Swope / Reno Chop Shop, 1993 H-D Heritge Softail w/ S&S 124ci; 3. Paul Binford, 2010 H-D Roadking w/ 131ci.
Mikuni Street Chopper: 1. Paul Binford/ BCC Chopper, H-D Roadglide w/ 124ci, Bonneville racer; 2. Sam Baldi, Softail Air ride w/ S&S 113ci; 3. Jeff Chirno, "Scarface" 2010 Special Construction w/S&S 100ci.
Iron Works Bar Hopper: 1. Nick Stringer / Metal Head Fabrication, special construction w/Yamaha XS650 twin; 2. Rudy Martinez, "Bloody Mary" 1969 Triumph Hardtail; 3. Joe Acevedo, H-D.
Iron Works Classic Early Pre 1956: 1. Shinya Kimura / ChabottEngineering.com, 1948 H-D Knucklehead Dry Lake Racer; 2. Keith Ball / Bikernet.com, H-D Evo Retro Board Tracker; 3. Gilbert Martus, H-D Springer w/ 103ci Screamin' Eagle.
Iron Works Classic Late Post 1956: 1. Julio Martinez, 1978 H-D Shovelhead; 2. Julio Martinez, 2001 H-D Fatboy w/ 95ci.; 3. Karl Davis, 2006 H-D Electro Glide with matching 1955 Nomad Trailer.
Iron Works Sportster: 1. Caleb Owens & Conrad Leach / CROcustoms.com, 1986 H-D Sportster Retro Boardtrack Custom.
Metric Custom: 1. Jim Giuffra / AFTcustoms.com & Model Agency, "Kimosabe" modified 2010 Honda Bobber Bonneville Racer w/ 2010 VT750B engine full race.
Fast Dates Sportbike: 1. Chris Redpath / MotoGPwerks.com, 1981 Suzuki Katana Retro-Mod Superbike with MotoGP suspension and telemetry, traction control, w/ 836cc Yoshimura GSXR Race Engine; 2. Ryan Torgeson, 2007 Suzuki Hayabusa air ride custom w/Garret Turbo; 3. Ryan Babcock & Tony Sesto / Sesto Customs / 2005 Suzuki GSXR600 Custom.
L&L Motorsports Calendar Show World Record Dyno: 1. John Noonan, Suzuki Hayabusa turbocharged, 469.69hp.
Some fans just couldn't wait for this year's Calendar Show to get started! 2Kute Ballerina Princess and Boy Racer arrived 2 days early when the Queen Mary Park was still empty and my niece / assistant Jessica and I were just beginning to measure and marked it out on the grass! - Jim Gianatsis, producer
The Los Angeles Calendar Motorccyle Show is produced by Gianatsis Design Associates