Sam Baldi with his Jimmy Todorovitch / Profile Cycle custom "Lost Angel" Best of Show winner receives his Mikuni Carburetor Trophhy from FastDates.com Calendar Kitten Sara Horvath, producer Jim Gianatsis, and Kitten Jessica Harbour.
Sam Baldi Takes Calendar Bike Building Championship Best of Show
2013 LA Calendar Motorcycle Show & Calendar Girl Music Festival
Los Angeles, July 14th, 2013 - The 22nd edition of the annual LA Calendar Motorcycle Show marked its return to the Queen Mary Seawalk Village in Long Beach, CA with Southern California's Sam Baldi continuing his domination of 2013 season West Coast bike events by taking the Calendar Bike Building Championship's Best of Show and one of the coveted Mikuni Carburetor Trophies with his latest Jimmy Todorovith / Profile Cycles built Big Twin custom named "Lost Angel".
This year's Calendar Motorcycle Show continued it's long standing tradition of showcasing top Celebrity Builders in the Calendar Bike Building Championship, selected Vendors and Exhibitors, together with Calendar Girl Music live performances. And as always, this year's Show celebrated the world premier of the new 2014 FastDates.com Motorcycle PinUp Calendars photographed by Show producer Jim Gianatsis featuring the world's top SBK World Superbikes, sport and cafe bikes, and custom motorcycles with the beautiful Calendar Kittens. On hand throughout the day to meet with fans and pose for pictures were Calendar Kittens Apple Price, together with official SBK World Superbike grid girls, Jessica Harbour and singer songwriter Sarah Horvath.

Sara also performed her music throughout the day and and served as stage hostess for the Calendar Girl Music Festival. Headlining the entertainment this year was Lily Elise, a native Southern Californian, recently featured on NBC TV's The Voice, Season One. With an incredible vocal range voice in the style of Christina Aguilera, Lily performed two incredible sets with her full 7-person band. And retiring by popular demand for the second year was the all-girl Japanese rock band Nylon Pink, just having returned from a world music tour.

Sam Baldi first premiered his Calendar Best of Show winner at the 2013 Grand National Roadster Show at Pomona earlier this year, where he took top prize for the 3rd year in a row with different builds. "This bike took about a year and a half to build. Jimmy Todorovitch at Profile Cycles built the entire bike in his garage as he did with our other two bikes. He did all design and fab work and did everything by hand while some of the machine parts were done in my shop. The bike was supposed to be unveiled at Sturgis last year, but at the time I really had no direction on what to do about the paint job. Then we had a tragedy in the family. My daughter lost her first unborn child, so I conceived the bike's paint design with a dedication it to our family's "Lost Angel".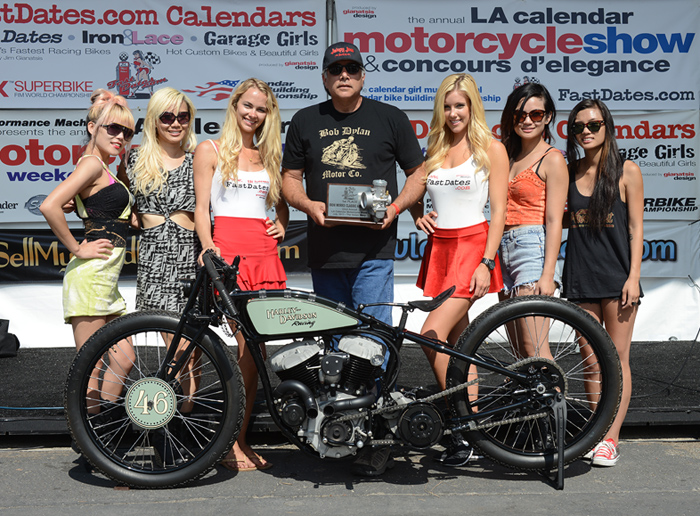 Ron Boldonado and his Classic American Class winning replica Board Track race with girls from the band Nylon Pink
and Calendar Kittens Sara and Jessica.

Another notable build in contention for Best of Show at this year's Calendar Bike Building Championship was former Bobber Class winner Ron Baldonado / Rock Bottom Customs, Thousand Oaks, CA with a brand new ground up custom fabrication of a 1920's style board tracker racer that took 1st Place in this year's Classic American Class. "I build my bikes specifically to premier and win at the LA Calendar Motorcycle Show each year", he told us. "The frame is a 1930 Harley VL design, mated to a 1920 Girder style front end, rolling early on 1923 Harley JD wheels. The front headlight lantern houses a modern carbonate bulb, the grips are wooden as from bicycles in the 1900's, and the saddle comes from an 1800's blacksmith shop where he sat at his grinding stone."

Judges for this years Calendar Bike Building Championship included Dave Edwards, editor / Bike Craft Magazine, Jim Giuffra, builder / AFT Customs, Craig Boone / Collector, and Jim Gianatsis / Show Producer and FastDates.com Calendar Photographer. On Monday following the Calendar Show, producer Jim got to photograph these two incredible custom bikes at his Gianatsis Design Studio, along with four other class winners, together with 3 beautiful Calendar Kittens, for the next editions of the FastDates.com Calendars.

Exciting attractions at this year's Show included the new Yamaha Star Bolt Motorcycle Road Tour to showcase the Japanese manufacture's new affordable $7,999 list base price Bolt V-twin custom in a cafe/bobber style that is easy to ride and designed for easy and affordable customizing. The Bolt Tour display included product giveaways and the opportunity to register to win a free Bolt motorcycle.


Other major Show attractions included the return of legendary West Coast builder Ron Simms / RonSimms.com with his big rig truck display back on the road for the first time in years to unloaded a baker's dozen of beautiful new customs and rare museum quality V-Twins from his personal collection. Keith Ball of Bikernet.com fame showing off his latest V-twin custom project bike and a new line of Bikernet Apparel. Tom Hicks of Southern California Motorcycles, the biggest supporter over the years of many local bike events, together with his sales staff and pretty models to showcase their great line of Triumph, Ducati, Victory and Royal Enfield motorcycles.

Also in attendance were former Bike Show winners Jim Giuffra of AFTcustoms with his beautiful AFT bike building spokes models Shelby and Lalani to present the AFT Customs Visionary Award Trophy for the most innovative and exciting bike at the event. That award would go to Chris Redpath / MotoGPwerks.com who premiered a custom built Suzuki TL1000 V-Twin naked streetfighter that would take the Sportbike Class win. Richard Pollock / Mule Motorcycles with latest Triumph Streetmaster build. And Steve Storz / Storz Performance premiering his beautiful new Storz SP1200RR Cafe Racer that is all the bike and more that Harley's now discontinued XR1200 streetbike should have been.

The selected partners for the 2013 LA Calendar Motorcycle Show included Russ Brown Motorcycle Attorneys, Barnett's Bike Craft Magazine featuring retro and cafe bikes, and the regional bike events newspaper Thunder Press, one of the Show's longest running supporters. Joining the Show this year as an Associate Sponsor is Ghost Rider Cycles with their new companies KevlarRiding Jeans.com and SellMyUsedHDparts.com.

For complete coverage and photos of the 2013 LA Calendar Motorcycle Show, and to order the new 2014 FastDates.com Calendars go to to: http://www.FastDates.com/BIKESHOW.HTM

Classic Metric
Adam & Lisa Gaspic /
Gasser Customs

Classic American
Ron Baldonado /
Rock Botom Customs

Sportbike
Chris Redpath /
MotoGPwerks

Bar Hopper
Alan Beatty

Street Custom
Jack Kirkpatrick

Pro Builder
Lenny Meyer

FastDates.com Calendar
Mikuni Trophies

2013 Calendar Bike Building Championship Results
Best of Show: Sam Baldi, "Lost Angel" Air Ride Monoshock Custom by Jimmy Todorovitch / Profile Cycle, Patrick Racing 113ci V-Twin.
Pro Builder: 1. Lenny Meyer - Big Boy Choppers, Buell; 2. Ron Simms Red/Black Custom; 3. Bruce Ivfursfen - Boss Hoss, 383ci Chevy.
Street Custom: 1. Jack Kirkpatrick, H-D Road Glide Bagger Custom: 2. Rich Robertson / Chuck Zettner, Custom, STD Shovelhead 132ci; 3. Bryan Cossette, H-D Electra Glide Custom Bagger.
Bar Hopper: 1. Alan Beatty, Retro Custom Brown/Tan H-D Sportster; 2. Denny Nelson, Red/Black H-D Softail, El Bruni 127ci; 3. Mark Dugally, Yamaha Vino 125ccRat Scooter.
Sportbike: 1. Chris Redpath, Custom Suzuki TL1000 Streetfighter; 2. P&M Racing, Harley Drag Bike; 3. Jason Moore, Honda CB 350 Cafe Bike.
Classic American: 1. Ron Baldonado / Rock Bottom Customs ph 805-497-3470, Full Custom Board Track Replica H-D Flathead; 2. Frank "The Rat" Romero, H-d Classic Chopper; 3. Rick James, H-D 1983 XLCR.
Classic Metric / European: 1. Adam & Lisa Gaspic / Gasser Customs Honda CB350 Cafe Bike; 2. Rick James, Yamaha Warrior; 3. Christopher Warhop, Yamaha R1.

Sara and Jessica with the P&M Racing Drag Bike.
Return to LA Calendar Motorcycle Show Home Page

Ron Boldonado's previous Calendar Bike Building Championship Show winning Bar Hopper "Nasty"

The LA Calendar Bike Show scene in the Queen Mary Seawalk Village.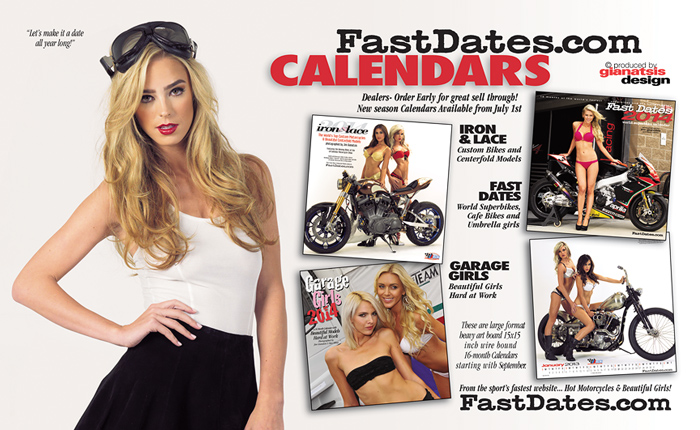 The LA Calendar Motorcycle Show celebrated the premier of the new 2014 FastDates.com Motorcycle Pinup Calendars
featuring the winning Calendar Bike Buiding Championship machines from last year's Show, together with the beautiful
Calendar Kittens in attendance.

Jim Giuffra, Lelani and Shelby present the AFT Customs Visionary Award to Chris Redpath, with help from Calendar Kittens
Sara and Jessica.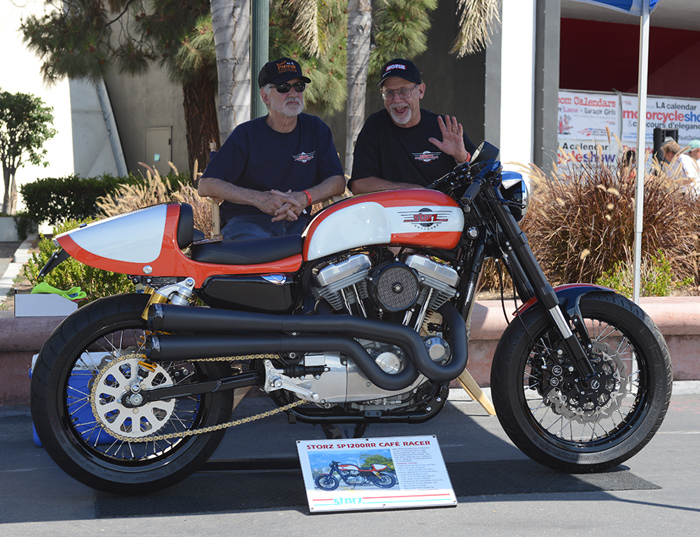 The new Storz Performance SP1200RR Sportster cafe racer retails for $28,000 complete, or the components can be ordered individually to modify your own doner bike.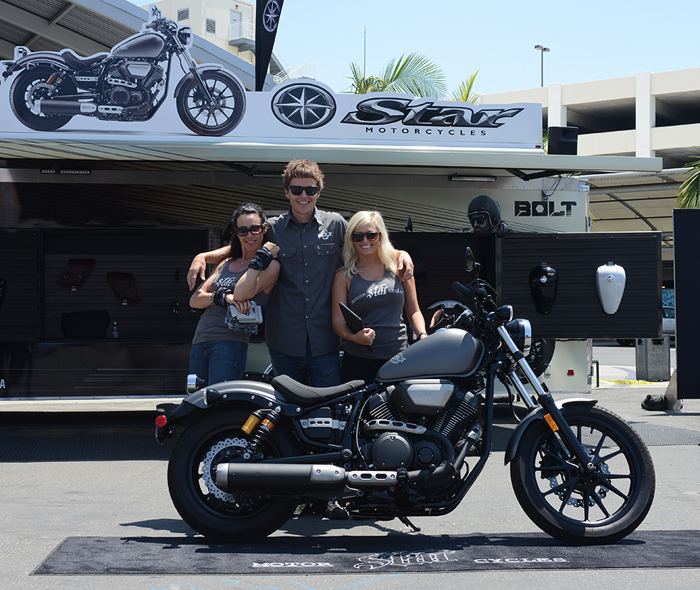 The new Yamaha Star Bolt in primer grey retails for just $7,995 and is the perfect base for your next custom bike project.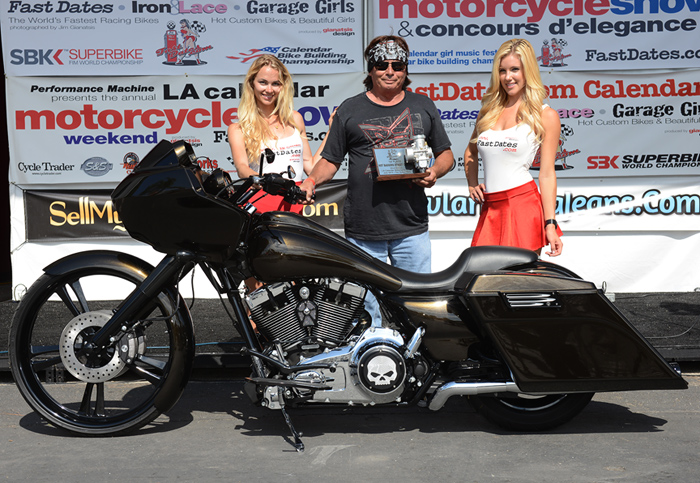 Jack Kirkpatrick's awesome Harley Road Glide Bagger won the Street Custom Class.