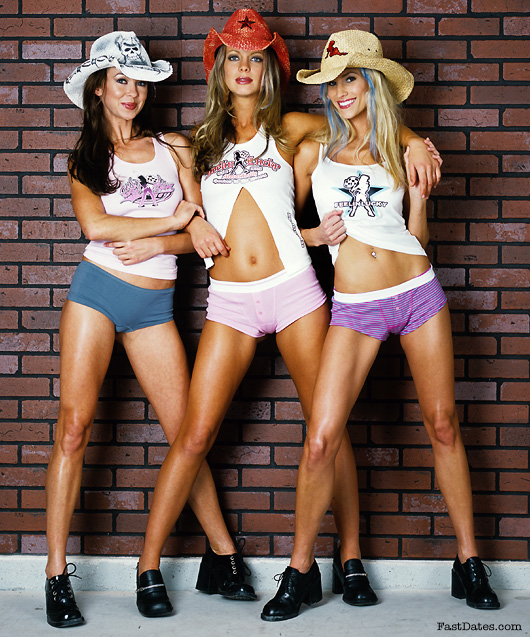 Our favorite tag team, SBK Fast Dates World Superbike girls (left to right) Andra Cobb, Taylor McKegney and Chandi Mason got together with us last month for the shooting of the 2006 Garage Girls calendar sponsored by Feelin' Lucky. All three girls are profiled in FastDates.com's Meet the Models and featured in Members Corner.
Our SBK Fast Dates World Superbike Angels are Feelin' Lucky
SBK Corona World Superbike Championship
Renews Fast Dates Calendar Endorsement
Feelin' Lucky apparel sponsors Garage Girls

Los Angeles, CA, Jan 1st 2005: The FastDates.com Calendars and Website is proud to announce that FGSport has renewed its SBK World Superbike Championship's endorsement of the the Fast Dates Racebike Pinup Calendar for 2005 to cover the upcoming 2006 Fast Dates Calendar, currently in production. The endorsement is part of a mutual promotion between SBK and FastDates.com in which the new 2005 SBK Corona Extra Superbike World Championship logo and the top factory superbikes will be featured in the 2006 Fast Dates Calendar, on the FastDates.com Website and in all related advertising for the calendar.
In return, along with SBK's endorsement of the Fast Dates Calendar,
the beautiful FastDates.com Calendar Angeles calendar models are the officially SBK Fast Dates Calendar Girls. And the Fast Dates Calendar and FastDates.com Website featuring in Pit Lane News its excellent coverage of World Superbike coverage will continue to bea featured banner link on the official SBK webite at WorldSBK.com.
Along with SBK, the Fast Dates Calendar is sponsored by Performance Machine, the leader in aftermaket billet machined wheels and controls for motorcycles; and Jardine Performance, manufacturer of high performance motorcycle exhaust systems as used by Team American Honda.
The mutual endorsement between The SBK World Superbike Championship and Fast Dates continues the friendship between both parties which first began with the 1997 Fast Dates Calendar, as explained by FastDates.com Calendar publisher Jim Gianatsis.
"We are excited to continue our close relationship with the world's most excing and important production based roadracing series," said Jim. "The upcoming 2005 SBK World Superbike Championship is already shaping up to be one of the most exciting season's ever with the return of all the major Japanese factory supported teams. It's unfortunate there will not be an SBK round in America this year, but we look forward to World Superbike returning to America for 2006.
In the meantime, it gives us a great reason this year to travel to one of the other international rounds of the SBK World Championship to photograph the next Fast Dates Calendar. I'm looking at getting our crew together for the Brands Hatch, British round on August 5-7th. It should be pretty wild as the race there draws close to 100,000 fans. I'll have to remember to get an air horn, and keep the models out of the pubs"
While SBK superbike fans can still look forward to complete race coverage throughout 2005 on the FastDates.com and WorldSBK.com websites, on SpeedTV with same day broadcast, while enjoying the top factory superbikes and beautiful SBK Fast Dates Angels featured in the Fast Dates Calendar.
We are also excited to announce that Feelin' Lucky apparel will be the title sponsor of the upcoming 2006 Garage Girls Calendar. Feelin' Lucky is a well known manufacturer and retailer of motorcycle event apparel which is a favorite at major street bike events like Laughlin, Daytona and Sturgis. Sponshorship of the popular FastDates.com Garage Calendar will provide Feelin' Lucky with lots of additional promotional exposure as they continue to grow in all sections of the motorcycle market.
Gianatsis Design Associates just concluded the photo shoot for the 2006 Feelin' Lucky Garage Girls Calendar featuring 3 very beautiful current and former SBK Fast Dates Calendar Angels: Andra Cobb (2006), Chandi Mason (2005) and Taylor McKegney (2000). The shoot took place on a garage style set in the Gianatsis Design studio with photographer Jim Gianatsis, makeup and hair by Lisa Rukus, adhearing to the reknown Garage Girls theme of sweaty and grimey, yet very beautiful pinup models in skimpy apparel "...hard at work without the motorcycles getting in the way!"
Adult film star Justine Jolie is just one of the beautiful models in Garage Girls 2005.

Making Garage Girls 2005 with photographer Jim Gianatsis
I think Garage Girls 2005 featured one of my best lineup of beautiful models ever, so I am really happy with with the pictures you see here. As is sometimesthe case for Garage Girls, I began this year's photo selection with models I had also shot for my other calendar shoots ,in this year's case from Iron & Lace 2005.
| | |
| --- | --- |
| The actual working garage shots inside Garage Girls 2005 of pretty brunette Laura Niles and blond bombshell Michelle LaVoie were taken inside my buddy Marc Norris' BMW Workshop garage in Canoa Park, CA, during another Iron & Lace Calendar shoot with top custom bike builders Jesse Rooke and Don Chica. Sweet Laura was so adoreably cute in her Iron & Lace photos I knew I want her to be our Garage Girls cover model, but her school girl outfit from the Iron & Lace shoot just wasn't right for the Garage Girls cover, so I brought her back later in the year to my studio to shoot her in mechanic's wear, a matching bra and pany set from victoria's Secret, and smudged with makeup grease for her killer cover shot. | Click for bigger view and to order. |
The picture of Penthouse Pet centerfold and cover girl, 19-year old British model Martina Warren posing on an oil pipeline was taken inside a huge security restricted Los Angeles County power generating facility, during an Iron & Lace shoot with a Performance Machine custom which was also filmed by SpeedTV for the American Thunder TV show. After the TV crew packed up and left the scene, I took Martina off to the side where we did shots for Garage Girls, plus some topless photos for Martina's Member's Corner Gallery.
Then there is 'Not Barely Legal' 16-year old Jessica Fife who I met at Marc's garage on a Saturday morning when Jessica came by with her dad to have her BMW Roadster checked over. Jessica had just driven out from her home in North Carolina to move to Los Angeles on her own (at 16 with her parents' consent )in the hopes of becoming a Hollywood movie star. It was the legendary story of "being discovered as she stepped off the bus" or in Jessica's case, pulling into town in her topless BMW convertable. I booked Jessica for her first ever modeling job.
Beautiful Texas blond Andra Cobb was a happenstance of serendipity in that we booked her sight unseen on the phone as a last minute replacment for another model who stood us up. Andra immediately dazzled me with her beauty, photogenic results, and positive personality. I would bring Andra back for many more calendar shoots including the 2006 Fast Dates calendar shoot at Laguna Seca World Superbike, and for 2006 Garage Girls.
The strikingly beautiful redhead is adult film star Justine Jolie whom I had been trying to track down to shoot for nearly a year. I really thinkJustine (also known as Swan) is the most beautiful girls today in adult film, and if you've ever seen any of her movies i'm sure you'll agree. Justine only works with other girls, and to see how she enjoys making love to other girls is truley incredible.
Shooting with adult film stars like Justine is a treat because they have no hangups about nudity whatsoever, normally walking around nude inthe studio all day rather than cover up between shoots. Plus they never need any posing direction for the camera. Once Justine knew I was ready to shoot she began immediately undressing and caressing herself, pausing only long enough with the next provocative pose until she heard the camera "click'. You can see Justine's fully explicit nude shots from our Garage Girls shoot in the
Member's Corner Justine Jolie / Swan Gallery.
---
More Calendar Girl News
Click to visit Members Corner for very sexy Calendar Angel pictorials....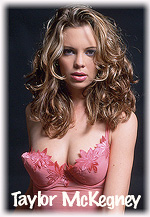 ---
LA Calendar
Motorcycle Show
FastDates.com
Model Search Pageant
CaliforniaHostess.com
the official agency for spokesmodels for our
Bike show Show Exhibitors
and producer of the
FastDates.com Calendar Girl
Model Search Pageant
both days!
Revealed

Unfortunately despite a million dollar budget to hire the world's top and upcoming supermodels and photographer Demarchelier, Pirelli ran out of money when it came to buying swimsuits for the girls. Oh well.....
The black and white photographs investigate the most mysterious aspects of the models seeking out the invisible source of their allure: alongside the already mentioned Naomi Campbell (Victoria's Secret, America's Next Top Model) are Filippa Hamilton and Isabeli Fontana (already chosen by Bruce Weber for the 2003 edition), Adriana Lima (the current featured model for Victoria's Secret and Maybeline cosmetics), Diana Dondoe, Erin Wasson, Euguenia Volodina, Julia Stegner, Liliane Ferrarezi, Marija Vujovic, Michelle Buswell, "Valentina" and Valeria Bohm.
It's an international cast with three brazilians, two Americans, one Romanian, one Swede and one German ranging in age from just turned 17 to the legendary Naomi Campbell in her mid '30s. For the inside story on the very sexy and very revealingh Pirelli Calendar go to Pirelli 2005.