2008 Calendar Kitten News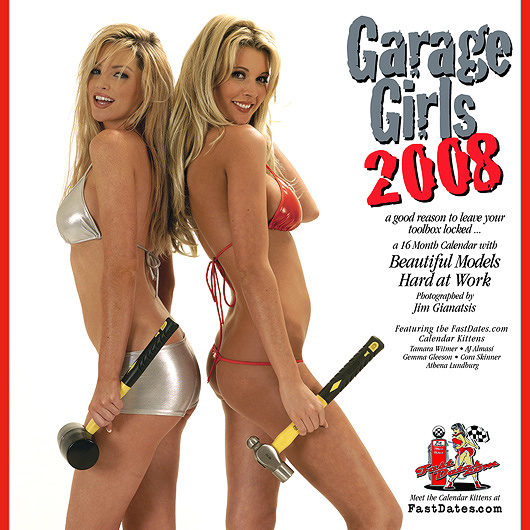 LA Calendar Bike Show Hostess and Playboy Playmate Tamara Witmer featured in the
Introducing the new 2008 Garage Girls Calendar

World Premier July 1st 2007 -"All Killer, No Filler" is the only way to describe the exciting 2008 Garage Girls Calendar photographed by Jim Gianatsis which features a close-up look at the beautiful FastDates.com Calendar Kittens without the bikes getting in the way! This year's sexy felines include Playboy Playmates Tamara Witmer and Athena Lundburg, Miss Hooters National Swimsuit Pageant finalist Cora Skinner, supermodels Gemma Gleeson and A.J.Almasi. Order Here!
Tamara and A.J. Shoot for Fast Dates & Garage Girls 2008
Jan 2007 - We've hard at work getting ready the next edition 2008 Fast Dates, Iron & Lace and Garage Girls Calendars so you'll have something to look forward to again, this time next year. One of our latest shoots took place in our studio with beautiful Playboy Playamate Tamara Witmer (above left) and A.J. Almasi (above right). Our calendars need to ship to the printer in March in order to have them ready for their world premier at our big combined LA Calendar Motorcycle Show and Calendar Girl Music Festival in July where Tamara will be hosting all of our on stage activities throughout the weekend. More Here

Calendar Kitten and Bike Show MC Tamara Witmer live with Kari Kimmel on the 97.1 FM microphones.

$70,000 in Cash and Awards at the
The Biggest & Best Custom & High Performance Street & Sportbike Event in America!
Performance Machine presents the
LA Calendar Motorcycle Show Weekend July 14-15th 2007

Tamara and Kari Go On Air with Conway and Whitman 97.1 FREE FM
Los Angeles' Number One Nightime Talk Show to promote the Calendar Motorcycle Show
June 20th, Los Angeles, CA - Beautiful Playboy Playmate and FastDates.com Calendar Kitten Tamara Witmer was joined by the incredibly talented singer songwriter Kari Kimmel at the CBS Radio Studios in Los Angeles on Wednesday June 20th at 8:30pm for a live on-air interview with the Conway and Whitman Show on KLSX 97.1 FREE FM. The evening talk radio show is hosted by Tim Conway, Jr, son of famed comedian Tim Conway, together with partner Brian Whitman. The radio show is the number one evening talk show in the Los Angles market. Our girls where there in a full 15 minute live segment with Conway and Whitman to promote the upcoming LA Calendar Motorcycle Show Weekend July 14-15th 2007 at the Queen Mary Event Park in Long Beach, CA.
Tamara Witmer, Playboy Playmate August 2005, is the featured Calendar Kitten in all 3 editions of the new 2008 FastDates.com Motorcycle Pinup Calendars (Fast Dates, Garage Girls, Iron & Lace) which make their world premier at the Calendar Motorcycle Show where Tamara is serving as the on-stage Master of Ceremonies throughout the weekend.
Kari Kimmel is one of the hottest new musical talents in America, with the very attractive young singer songwriter having her songs featured in many popular Hollywood movies and TV shows. Kari will be performing music from her newly released CD "a life in the day" both days at the Calendar Show as she headlines the 2-Day Calendar Girl Music Festival featuring all girl bands and dance shows which is included with the Bike Show admission.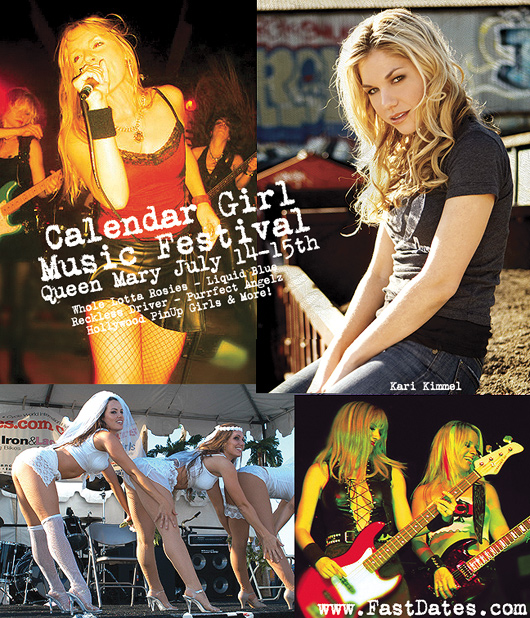 ---
Calendar Kitten and Playboy Playamte Tamara Witmer hosts
2007 LA Calendar Motorcycle Show Weekend July 14-15th
Welcomes 3 New Important Associate Sponsors and Activities

Star Motorcycle Metric Midway, S&S Cycle World Record Horsepower Dyno Shootout,
Iron Works Magazine Calendar Bike Building Championship
LA Calendar Motorcycle Show Movie - Hot Bikes and Sexy Girls!
Long Beach, CA, January 25, 2007 - The Performance Machine sponsored Los Angeles Calendar Motorcycle Show Weekend welcomes three major new Associates Sponsors, Star Motorcycles, S&S Cycle and Iron Works magazine, to America's premier custom and performance streetbike event scheduled for July 14-15th 2007 at the Queen Mary Event Park in Long Beach, CA.
"I am really excited to have these three great names in the motorcycle industry joining us beginning this year," said Jim Gianatsis of Gianatsis Design Associates, producer of the LA Calendar Motorcycle Show Weekend. "No other motorcycle show in the America offers both its manufacturers and visitors so much excitement, entertainment and media coverage. This will be our 16th year for the Show and it only continues to get bigger and better thanks to great partners like these."
Yamaha's street cruiser Star Motorcycle line will be join the Calendar Show beginning this year as title sponsor of the Star Motorcycles Metric Midway which featuring activities, exhibitors and the Calendar Bike Building Championship Contest classes for all makes of metric Twin cruisers, sportbikes, along with a new Star Motorcycle Contest Class with awards.
S&S Cycle is the world's leading manufacturer of high performance American V-twin engines and performance partsis our new exclusive sponsor of our World Championship Horsepower Dyno Shootout makes a perfect partnership to showcase the S&S Cycle performance image. Along with running the S&S Cycle World Championship Horsepower Dyno Shootout exclusively with a Super Flow Dyno, S&S Cycle president Brett Smith is expected to be on hand with his and his staff and a product display to answer attendee's engine, performance questions.
IronWorks magazine returns this year, after a brief one year hiatus, as the Calendar Motorcycle Show's exclusive American Twin magazine associate sponsor. Well respected editor, Dain Gingerelli will assist with judging and awards presentations on Sunday for the Calendar Bike Building Championship and the IronWorks sponsored Pro Builder, Sportster, Bobber Classes, and other classes to be announced. Show attendees can stop by the IronWorks magazine display throughout the weekend, meet Dain and the rest of the magazine staff, and sign up for a specially priced Iron Works subscription discounted for show attendees and enter to win the IronWorks/Lickscycles Bobber Motorcycle Giveaway.
Playboy Playmate Tamara Witmer, featured in the 2007 Show adverting campaign (above) will be hosting all stager actitities throught the weekend, and along with other beautiful FastDates.com Calendar Kittens like A. J. Almasi (below) will be there as well to meet fans, and personally autograph their photos in the new 2008 FastDates.com Fast Dates, Iron & Lace and Garage Girls Calendars. Go to: Calendar Bike Show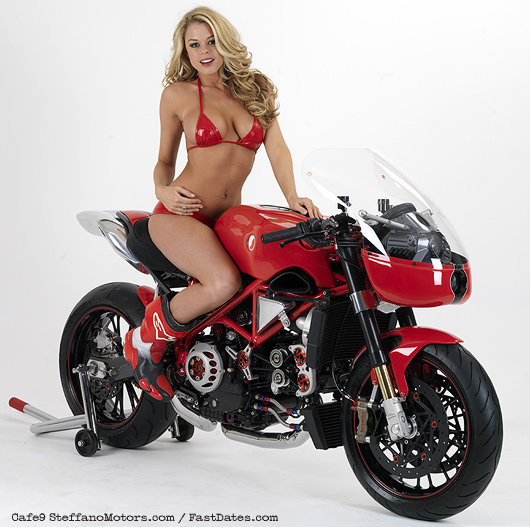 A.J. Almasi and the SteffanoMotors.com Cafe 9
While the rest of the country was buried in snow this January, things were heating up here in Los Angeles even more than usual as our newest FastDates.com Calendar Kitten A.J. Almasi hung out in the Gianatsis Design studios for the day to shot an advertising campaign for the new Cafe 9 limited edition sportbike built by Robert Steffano of SteffanoMotors.com. The bike is built on a donor Ducati 999 Superbike and features unique bodywork and many special components like the superbike forks and brakes, polished aluminum exhaust system, and the beautiful multi-spoke back anodized alloy wheels. For more details go to SteffanoMotors.com
You'll find a complete feature pictorial of Cafe 9 in the Iron & Lace Garage. While A.J. Almasi will be featured in the upcoming 2008 Garage Girls Calendar and will be appearing at our big LA Calendar Motorcycle Show on July 14-15th, as will the Cafe 9 and other exciting new custom sportbike projects from Robert Steffano.
---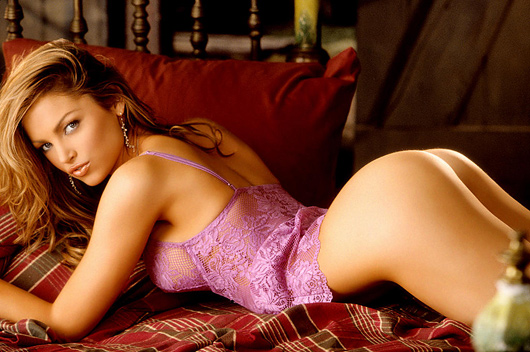 Calendar Kitten and Playboy Playmate Tamara Witmer is featured extensively in Members Corner and in the upcoming 2008 Fast Dates, Iron & Lace and Garage Girls Garage Calendars. Tamara will also be hosting this year's LA Calendar Motorcycle Show Weekend on July 14-15th where you can meet her in person signing the new FastDates.com Calendars.

FastDates.com Members Corner Updates
Much More New Content, New Lower $9.95 Monthly Price
If you've never joined our Members Corner before, or it's been a while since you have been a member, now's the time to join us. Along with a new low monthly membership rate, we've got a lot more content you don't want to miss! Included with your Membership is:
• Members Corner - Sexy and Reveal photos of the prettiest fastdates.com calendar Kittens including Playboy Playmates Tamara Witmer, Athena Lundburg, and the world's sexiest actresses and models Jamie Pressly, Joanna Krupa and LeeAnn Tweeden. Archives of Fast Dates, Iron & Lace, Garage Girls Calendars.
• Met-Art Affiliate Model Galleries - Europe's beautiful younf supermodels fully nude!
Normally $29.95 a month to join Met-Art alone!
• Paddock Garage - Sportbike and V-Twin Engine Tuning and Suspension Se Up.
• Iron & Lace Garage - Feature custom bike pictorials including our beautiful Calendar Kittens
• FastDates.com Calendar Screen Savers - The hottest Bikes, Riders and Calendar Kittens
Tamara says "Don't get left out!" - Join Members Corner now!
---
More Calendar Girl News

Visit Members Corner for very sexy Calendar Kitten pictorials....


Some of our Calendar Girls can also be seen at Playboy's website...
The most beautiful girls in Europe can be seen here...