Calendar Kitten News January - February 2009
2010 Fast Dates Calendar Shoot News!
After shooting the principal photography for the 2010 Fast Dates Calendar with all the World Superbike team bikes at Miller Motorsports SBK back in May/June 2008, photographer Jim Gianatsis return to the studio to shoot a sexy 2-girl cover shot that would blow the socks of anything we had ever done before. And if one Calendar Kitten is hot, why not burn up the cover with 2 girls! Meet beautiful brunette Sabella Shake and blond Paris Hilton look-a-like Rachel Bernstein. The bike is my awesome new Ducati 1098R which is the best Ducati superbike yet, the homologation base for Troy Bayliss' and Ducati's 2008 World Superbike Championship Rider's & Manufacturer's Titles. It just doesn't get any better than this! Enjoy this preview glimpse of the 2010 Fast Dates Calendar cover.
| | |
| --- | --- |
| | Rachel |
---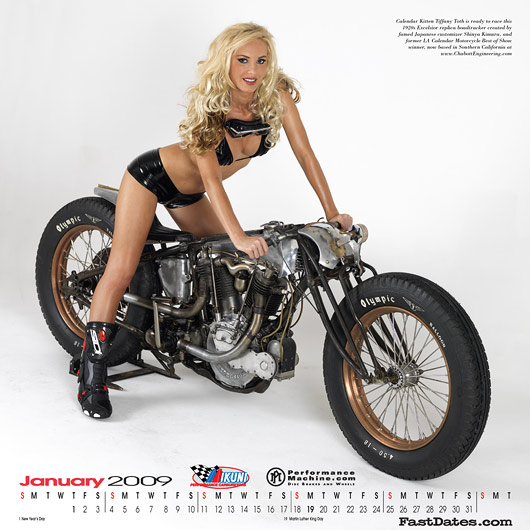 In the 2009 Iron & Lace and Fast Dates Calendars ....
FastDates.com Calendar Kitten Tiffany Toth gets ready to ready to race this 1920s Excelsior V-Twin replica board track racer created by famed Japanese customizer and LA Calendar Motorcycle Best of Show winner Shinya Kimura / ChabottEngineering.com. The above picture is featured in Iron & Lace for Januray, with a similar shot of thebike with Tiffany in the 2009 Fast Dates Calendar for October 2009.
Buy the 2009 Fast Dates Calendar • Download Big Screensaver Photos in Members Corner
Oh, and did we forget to mention that Tiffany was recently photographed by Playboy to be a new upcoming Playboy Playamte centerfold! You'll find large size screensavers of all our past and present Calendar pages and lots of very revealing pictures of our Calendar Kittens including Tiffany in Members Corner.
Our newest Calendar Kittens featured in the 2009 FastDates.com Calendars:
| | | |
| --- | --- | --- |
| Carrie Ann Stroup | Tiffany Toth | Rhian Sugden |
---
Beautiful Tamara Wasson on location at the classic Texaco service station in Hollywood, California, with Kevin Schwantz's 1994 GP World Championship Suzuki RG500 in the photo featured on the cover of the 1996 Fast Dates Calendar.
First Time Ever! FastDates.com Calendar Images Available for Sale!
Photo Prints, Posters, Canvas Wall Murals
Now, for the first time you can have my favorite, most memorable FastDates.com Calendar photos reproduced to museum qualty standards for your home, garage, office or store, thanks to our new partnership with one of America's premier online photo labs. Choose from photo prints on quality photo paper, to huge poster and mural size Giclee' photo prints on archival rag paper or canvas mounted to wooden frames or display boxes.
Now you can enjoy my best photos of the the world's finest motorcycles with beautiful models! - Jim Gianatsis
---
More Rachel B!
2009 LA Calendar Bike Show Hostess and new 2010 Calendar Kitten

January 1st, 2009 - She's our newest and one of the most beautiful FastDates.com Calendar Kittens ever!
Southrn California based supermodel and makeup artist Rachel Bernstein has been shooting with Calendar photographer Jim Gianatsis since this past summer of '08 for our upcoming 2010 FastDates.com Calendars where she'll appear in all 3 editions: Fast Dates, Iron & Lace and Garage Girls with some just as beautiful girlfriends including sexy brunette Sabella Shake and red haired adult film star and Hustler centerfold Jayme Langford. We promise you are in for a real treat!
The above Calendar shoot with Rachel, taken dockside at the Queen Mary historic ocean liner in Long Beach, CA, and featuring a Performance Machine customized Haley Softail, is also being featured in July 18-19th 2009 LA Calendar Motorcycle Show Weekend marketing campaign. Rachel will be at the Show all weekend to assist us with on-stage hosting duties and to meet with fans to autograph all 3 of her 2010 FastDates.com Calendars making their World Permier at the Show. We hope you will join us there!
LA Calendar Motorcycle Show Weekend set for July 18-19th 2009 Details HERE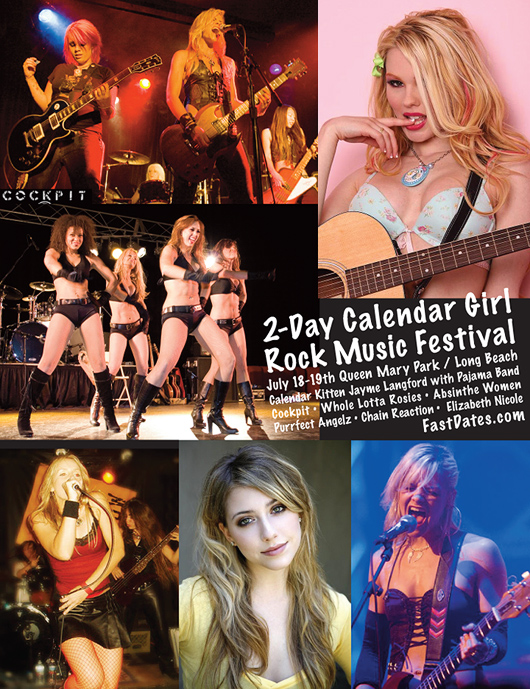 America's Exciting New Showcase for Hot New Female Singers & Bands
2-Day Calendar Girl Music Festival Weekend
Queen Mary Event Park, Long Beach, July 18-19th 2009
Our second annual 2-Day Calendar Girl Music Festival July 12-13th 2008 at the Queen Mary Event Park on the shore of the beautiful Pacific Ocean in Long Beach Harbor, CA, featured some of the world's most beautiful and talented female singers and girl bands. The Music Festival is part of, and included with admission to the 17th annual LA Calendar Motorcycle Show Weekend, America's premier custom, performance, cruiser and sportbike event.
The all female Calendar Girl Music Festival headlines with contemporary pop rock singer songwriter and recording artists Kari Kimmel on Sunday and actress Elizabeth Nicole on Saturday, two of the most talented and skilled new young singer songwriters in America.
Kari Kimmel has written and recorded songs for numerous Hollywood movies including Disney's Ella Enchanted and the Wayan Brother's White Chicks, and TV shows The Gilmore Girls, Laguna Beach, The Bold and the Beautiful.
Elizabeth Nicole, just turned 21, got her start as a 10 year old child actor on TV soaps like Port Charles and 7th Heaven. Later In high school she turned her attention to music writing, singing and playing on keyboards some very sexy pop rock ballads in a style uniquely her own. She currently appears as a backup singer in the current hit comedy Walk Hard - The Dewey Cox Story. Has just completed costarring and singing in the feature musical scene teen drama - All Ages Night, and in the drama thriller Cornered! with Steve Guttenberg.
Included with the weekend's bill both days on the main stage are heacy rockers rockers Cockpit . While Classic rock fans will have more than their fix of heavy metal as the all-girl tribute bands Whole Lotta Rosies. And if that's not enough sexy girls to rock your world, The Purrfect Angelz musical dance troupe, a favorite of our U.S. Military Troops in the Middle East and at Bike Events across America, will be shaking, kicking and dancing their scantly clad bodies both days.
Spectators also get complimentary weekend admission aboard the historic Queen Mary Ghost Ship, and entry to the Saturday Night Iron & Lace Calendar Builders party with the cover band Reckless Driver and lead singer Mary Falls in the ship's Observation Bar. Free shuttle bus rides are provided to the Queen Mary from the downtown Long Beach Parking Garages, plus there are paid Taxi Boat rides from Shoreline Marina direct to the Show.
For additional LA Calendar Motorcycle Show & Calendar Girl Music Festival weekend details including the show schedules, hotels and parking information visit www.FastDates.com/BIKESHOW.HTM
---
More... Rosie
---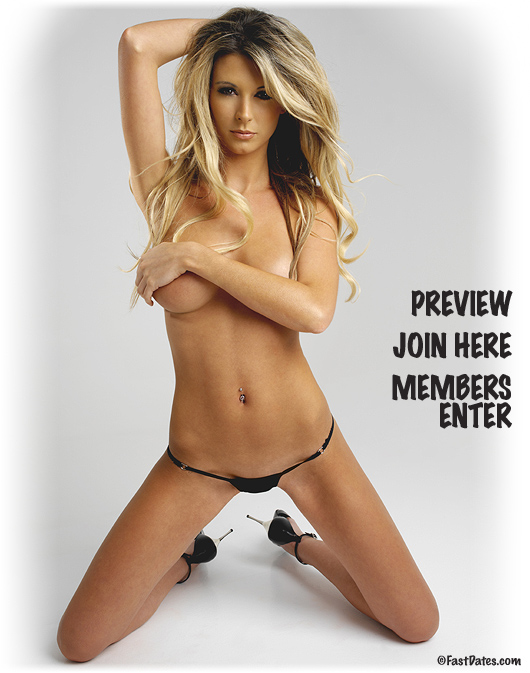 FastDates.com Members Corner Updates
Much More New Content, New Lower $9.95 Monthly Price
If you've never joined our Members Corner before, or it's been a while since you have been a member, now's the time to join us. Along with a new low monthly membership rate, we've got a lot more content you don't want to miss! Included with your Membership is:
• Members Corner - Sexy and Reveal photos of the prettiest fastdates.com calendar Kittens including Playboy Playmates Tamara Witmer, Athena Lundburg, and the world's sexiest actresses and models Jamie Pressly, Joanna Krupa and Gemma Gleeson.. Archives of Fast Dates, Iron & Lace, Garage Girls Calendars.
• Met-Art Affiliate Model Galleries - Europe's beautiful younf supermodels fully nude!
Normally $29.95 a month to join Met-Art alone!
• Paddock Garage - Sportbike and V-Twin Engine Tuning and Suspension Se Up.
• Iron & Lace Garage - Feature custom bike pictorials including our beautiful Calendar Kittens
• FastDates.com Calendar Screen Savers - The hottest Bikes, Riders and Calendar Kittens
---
More Calendar Girl News

Visit Members Corner for very sexy Calendar Kitten pictorials....


Some of our Calendar Girls can also be seen at Playboy's website...