Calendar Kitten News May - June 2009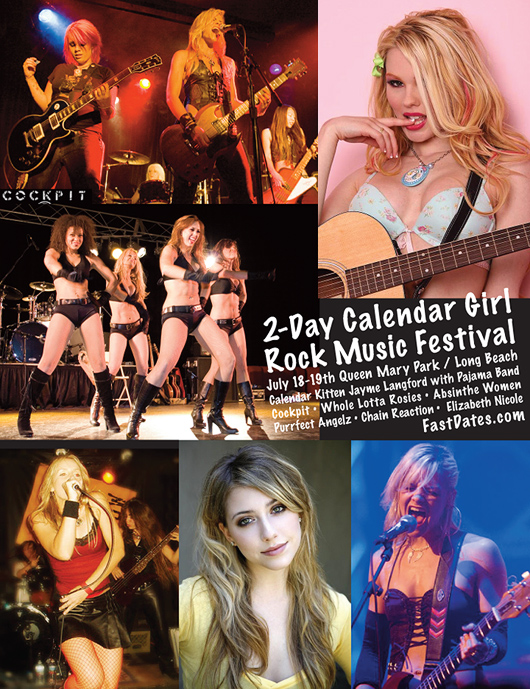 Calendar Kitten & AVN Best New Actress Nominee Jayme Langford's
Pajama Band Joins the LA Calendar Bike Show / Music Festival Weekend!
May 15th 2009 - The Los Angeles Calendar Motorcycle Show, in our never ending quest to provide wholesome family entertainment while enhancing the quality of artistic and cultural experience for our visitors, is excited to announce the addition of Pajama Band to our performance lineup with the Calendar Girl Music Festival which is included with July 18-19th 2009 event weekend at the Queen Mary Event Park in Long Beach, CA.
We're in LOVE! Jayme shows what she'd like to do to us!

A unique entertainment experience, Pajama Band features the vocal talents of beautiful new 2010 FastDates.com Calendar Sex Kitten, Hustler Honey and AVN Starlet Jayme Langford / JaymeLangford.com. Between her extensive modeling and acting career, being a pre-Med University student and exhibiting precision Hula-Hoop skills, Jayme figured she also has what it takes to be an accomplished lead singer, guitarist and trumpeter in time for this year's Calendar Bike Show Weekend.
Jayme is not new to music, having taken music and pianno lessons all her life. But after picking up a new pink guitar and plastic trumpet from Guitar Center on Hollywood Boulevard just a few months ago she thought, "Damn, I'm not busy enough, why don't I start a girl porn star rock band as well!" Who were we to talk her out of it?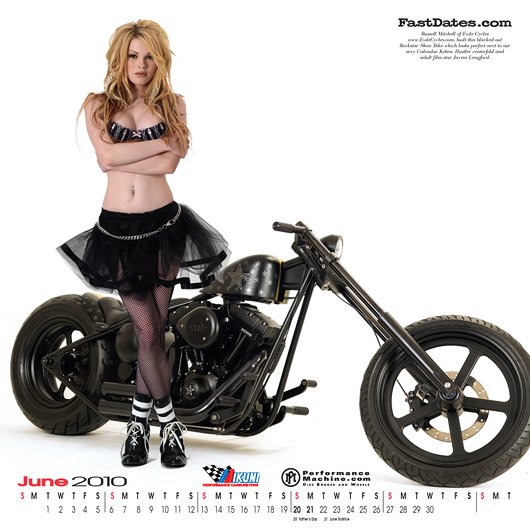 Jayme Langford and celebrity builder Russell Mitchell will rock your world by personaly autographing for you their new 2010 Iron & Lace Calendar featuring Jayme and Russell's Exile Rockstar custom available at the 2009 LA Calendar Motorcycle Show and Calendar Girl Muisc Festival Weekend July 18-19th. Jayme's PajamaBand will be performing on Sunday, with Russell holding a Calendar Bike Building Seminar.
Performing with Jayme in Pajama Band are her famous adult starlet girlfriends, Jana Jordan / ClubJannaJordan.com also a Hustler Honey and Penthouse Pet, and Louisa Lanewood / LouisaLanewood.com. The band will be making its professional world premier debut at the 2009 LA Calendar Show Weekend on Sunday the 19th performing their exciting new hit "Fuck You Until You Die" which has music critics raving, in what can only be described as pornicopia of visual and audio excitement guaranteed to leave their many new found fans breathless on the verge of cardiac arrest. Music critics are already raving that these girls have given new meaning to the genre "Hard Rock"!
For Jayme's Calendar Kitten profile go to Meet the Models - Jayme Langford
For more about PajamaBand visit MySpace.com/PajamaBandMusic
For more about the LA Calendar Motorcycle Show
Nude pictorial of Jayme in Memebers Corner
Below: Jayme's girlfriend Janna Joran beats the drums in PajamaBand which makes its world premier at the 2009 Calendar Show . On Mondy after the Show, Jayame and Janna will shoot with the winning Calendar Bike Building Championship bikes for the next FatDates.com Calendars.
---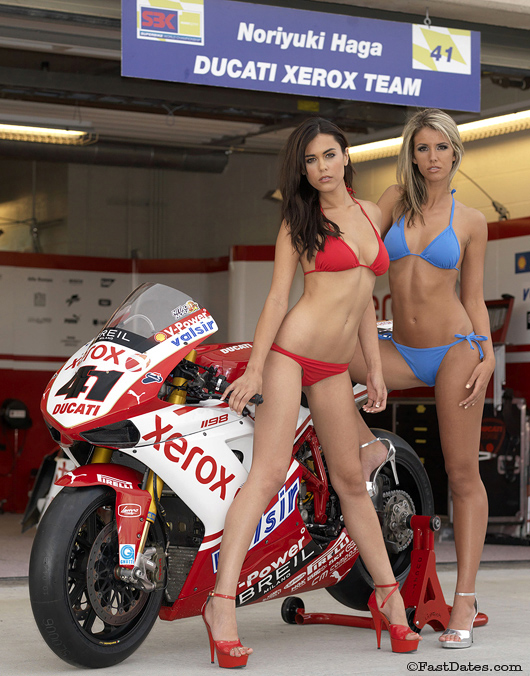 What's Red, White and Blue and Hot all over? Our Fast Dates Calendar shoot in the Team Ducati Corse garage with points leader Nori Haga's 999RS at the Miller USA round of the Hanspree World Suerbike Championship
2009 SBK Fast Dates World Superbike Calendar Shoot, Round 7 of 14, Miller USA
Marking the 20th Anniversary of the Fast Dates Calendar!
Kittens Shoot Fast Dates World Superbike Calendar
with Top Factory Teams at Miller USA Race Weekend
By Jim Gianatsis
Miller Motorsport Park, Tooele, Utah, 29- 31 May 2009 - It's unreal to think it's been 20 years we've been producing the Fast Dates Racebike Swimsuit Model PinUp Calendar. The first 1991 edition of the then Mikuni Fast Dates Calendar premiered in the summer of 1990 featuring a then unknown Playboy Playmate on the cover named Pamela Anderson, posing in a pink bikini in the saddle of Miguel Duhamel's Yoshimura Suzuki GSX-R750L AMA Superbike. Then published by Mikuni American, still one of my advertsing cleints today, the Calendar was used as a promotion to show all the top racing bikes of the time which used Mikuni carburetors.
Playboy Playmate Pamela Anderson with all-natural enhancements was featured on the cover of the first Fast Dates Calendar whicd we photographed 20 years ago. The bike is Miguel Duhamel's Yoshimur Suzuki GSXR750 running Mikuni RS Flatside Carburetors. A few new copies of the 1991 calendars are still available for sale in Collectors Corner.
A little know fact, but there actually were earlier Mikuni Calendars, but the public never got to see them. In the 1980s Mikuni purchased pre printed nude model calendars from a printer in Japan imprinted with Mikuni's company name on them, and sent them out to distributors and friends at Christmas time. I became their ad agency around 1987 and convinced them it might be fun to publish our own nude calendar and incorporate the Mikuni carburetors in the pictures. The first original Mikuni Calendar was published for 1990 and featured my photo of Playboy Playmate Terri Lynn Doss on the cover holding a Mikuni carburetor, with purchased stock photos of nude Penthouse models inside. We advertised the calendar in Cycle News the fall and sold out the complete print run of 1,000.
For 1991 we wanted to try and offer them retail in motorcycle dealers through Mikuni distributors, but we knew we could sell nude pinup model calendars in a family visited motorcycle dealership, so I shot the next calendar with all the models in swimsuits or lingerie with top racing bikes that used Mikuni carburetors and Fast Dates was born. In successive years other Mikuni Calendars were made for their other markets: Berm Busters motocross, Hot Waves personal watercraft, Iron & Lace custom bikes, Ripped Pavement roadracing action and Garage Girls pinups. As the markets have changed, and sexual harassment laws became established and enforced in America, some of those titles have come and gone, Mikuni American gave their Calendar program to Gianatsis Design.
It might be noted that back in the 1970s and early 1980's even major American motorcycle distributors U.S. Suzuki and Yamaha USA published and gave away pinup model calendars featuring Playboy Playmates and Hawaiian Tropic girls. Today both of them and American Honda have corporate policies that their team race bikes can not be photographed with swimsuit models. One of the main reasons why Fast Dates is now only photographed at World Superbike races and is endorsed by SBK, a european based organization on a continent where beautiful women are allowed to be admired, not labeled as exploitation and pornography.
2011 Fast Dates Calednar Kittens Sabella Shake, left, and Leanna Pareja, right, shooting at Miller. But don't wait for next years calendar... Sabela is featured in the all three new 2010 FastDates.com Calendars which go on sale July 1st 2009 and are availble right now for downloading in Members Corner.
Flash forward 20 years and I'm flying into Salt Lake City Utah with beautiful FastDates.com Calendar Kitten Sabella Shake who is featured in all three editions of the new 2010 Calendars which released for sale on July 1st. Traveling with us is a case of the new Fast Dates Calendars with brunette Sabella on the cover together with her girlfriend, blond Paris Hilton look-a-like Rachel Bernstein. We will be handing out the new Calendar to the factory teams at riders on Thursday afternoon at the Miller Motorsports USA round of the SBK World Superbike Championship as a thank you for last year's Miller shoot, and to remind them to have their bikes ready for us to photograph that evening for the 2011 Fast Dates Calendar

Joining us at the track on Friday at Miller was the Sugar Blond to our spicy Miss Pepper, southern California swimsuit model and beauty pageant winner Leanna Pareja. Her own business in wireless sales and a boyfriend brought Leanna to Salt Lake City about 2 years ago, but we can tell you she's already planning her return to much missed SoCal.
The rest of the 2009 FastDates Calendar Shoot story at Miller WSB story continues HERE

2009 Miller USA World Superbike Race Report • Fast Dates Calendar News Home
---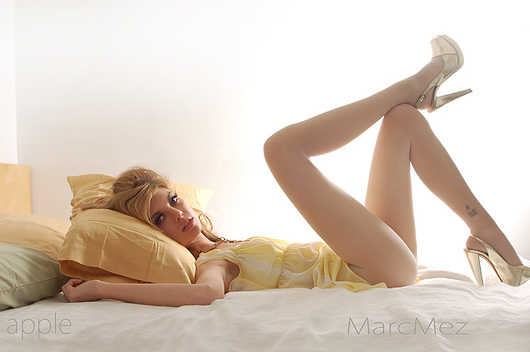 Meet hot new FastDates.com Calendar Kitten Apple
Professional Model, FastDates.com Calendar Kitten
March 1st - FastDates.com Calenndar Photographer Jim Gianatsis found Apple Price through an online modeling agency search and fell in love with her young, fressh beauty, her freckled face and supermodel runway beauty which is similar to a Kate Moss. Her photoshoot for the 2010 FastDates.com Calendars took place in the back alley behind Beverly Hills Ducati with an exotic BiMota Tesi and an Ecosse V-Twin superbike, and with Apple alone against an old garage door. The phos of wich are featured in all our 2010 Calendars: Fast Dates, Iron & Lace and Garage Girls. Click to vist her profile: Apple Price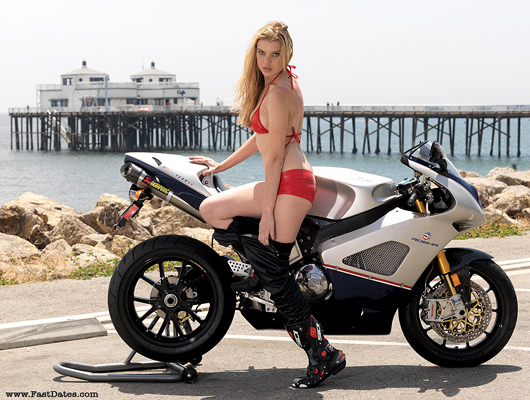 Calendar Kitten Apple strips down at Malibu Beach with the new Roehr Superbike.
And now for something a little different...
Apple Kitten shoots for Fast Dates Calendar with the $60,000 Roehr
V-Rod Superbike with World Premier at the LA Calendar Show in July!
Los Angeles, CA, May 1st - Don't think we've been relaxing indoors here during the bitter cold of our Southern Californian winter here, just waiting for our printer in China to ship us the new 2010 FastDates.com Calendars so sleazy perverts like you can gum up the pages.... hell no! We've already been hard at work shooting the next 2011 FastDates.com Calendars with beautiful Calendar Kittens like Apple, shown here at the Malibu Beach Pier astride the hot new supercharged Harley V-Rod powered Roehr Superbike.
Apple is also featured in all 3 of the new 2010 FastDates.com Calendars which premier here in July online and at the 2009 LA Calendar Motorcycle Show Weekend July 18-19th. Oh, did we tell you both Both Apple and the Roehr will also be at the Show? You don't want to miss them.
Apple's Test New Sportbikes Roehr • The LA Calendar Motorcycle Show July 18-19th
---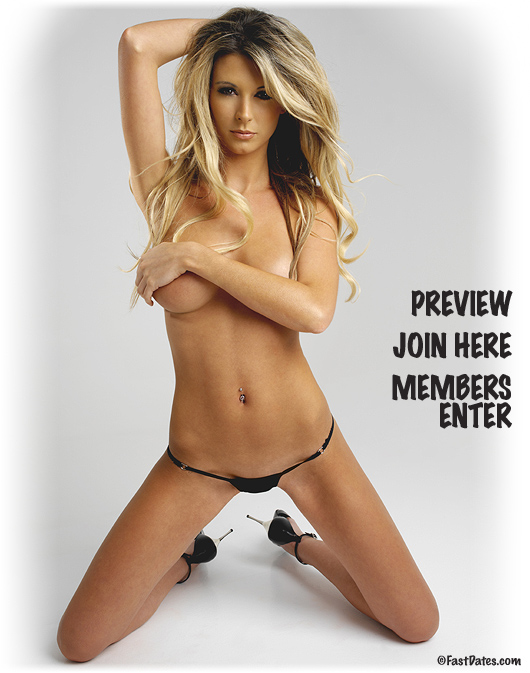 FastDates.com Members Corner Updates
Much More New Content, New Lower $9.95 Monthly Price
If you've never joined our Members Corner before, or it's been a while since you have been a member, now's the time to join us. Along with a new low monthly membership rate, we've got a lot more content you don't want to miss! Included with your Membership is:
• Members Corner - Sexy and Reveal photos of the prettiest fastdates.com calendar Kittens including Playboy Playmates Tamara Witmer, Athena Lundburg, and the world's sexiest actresses and models Jamie Pressly, Joanna Krupa and Gemma Gleeson.. Archives of Fast Dates, Iron & Lace, Garage Girls Calendars.
• Met-Art Affiliate Model Galleries - Europe's beautiful younf supermodels fully nude!
Normally $29.95 a month to join Met-Art alone!
• Paddock Garage - Sportbike and V-Twin Engine Tuning and Suspension Se Up.
• Iron & Lace Garage - Feature custom bike pictorials including our beautiful Calendar Kittens
• FastDates.com Calendar Screen Savers - The hottest Bikes, Riders and Calendar Kittens
---
More Calendar Girl News

Visit Members Corner for very sexy Calendar Kitten pictorials....


Some of our Calendar Girls can also be seen at Playboy's website...