Calendar Kitten News May - June 2010


This Month in the 2010 FastDates.com Garage Girls Calendar
Calendar Kittens on a work strike! Playboy Playmate Athena Lundburg, lingerie model Rachel Bernstein and barely legal adult film star Jayme Langford look ready to tighten some big nuts in the 2010 Garage Girls Calendar. These Kittens also purr-fect in Fast Dates & Iron & Lace .
---
Playboy Playmates, red haired Jamie Edmonson left and blond Heather Rae Young right, are FastDates.com's newest Calendar Kittens. Photo by Josh Ryan.
Playboy's hottest new Playmates become FastDates.com Calendar Kittens
Jamie and Heather appearing at 2010's Miller USA World Superbike May 31st with team Ducati Corse and at the LA Calendar Motorcycle Show July 18st!
Los Angeles, CA, April 1st, 2010 - Playboy magazine's beautiful new 2010 Playmates, Miss January Jamie Faith Edmonson, and Miss February Heather Rae Young, have been confirmed by FastDates.com Calender producer Jim Gianatsis to be the official SBK World Superbike Fast Dates Calendar Kittens at the Miller Motorsports USA World Superbike round May 29-31st 2010 to photograph the next Fast Dates World Superbike PinUp Calendar with all the top factory team race bikes. Both Calendar Kittens have also been confirmed by multi-time SBK World Championship winning team Ducati Corse to be their official grid girls on race day for their two factory riders, Noriyuki Haga and Michel Fabrizio.
The beautiful Calendar Kittens will also be hosting the LA Calendar Motorcycle Show & Calendar Girl Music Festival at the Queen Mary Event Park in Long Beach Sunday July 18th. They will be premiering the new 2011 FastDates,com Calendars, meeting with Calendar fans throughout the day, and hosting on-stage activities including the the Calendar Girl Music Festival and the Calendar Bike Building Championship awards ceremony.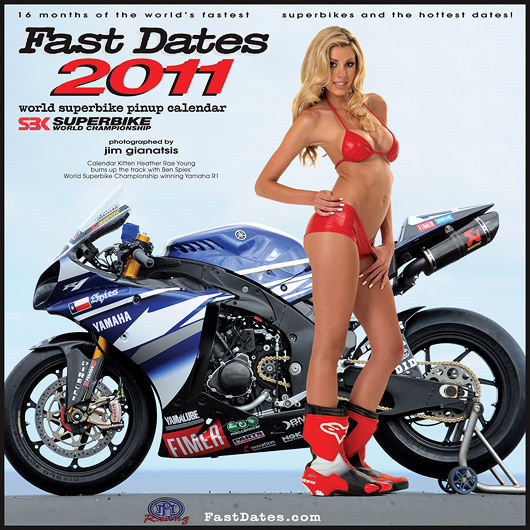 Heather Rae Young has already been shooting with the FastDates.com Calendars since last fall and will be featured on the covers and inside of all three editions of the 2011 Fast Dates.com Calendars which will be premiering at the LA Calendar Motorcycle Show in July. In the new 2011 Fast Dates World Superbike Calendar, Heather is posing with American Ben Spies' 2009 World Superbike Championship winning factory Yamaha YZF R1 World Superbike and with Casey Stoner's Ducati GP09 MotoGP bike.
Heather is good friends with Jaime Edmonson from their various promotional duties together as Playboy Playmates, and it didn't take much effort for Heather to convince Jim Gianatsis that Jaime needed to join FastDates.com for both these exciting event weekends and too shoot for the Calendars.
Jaime Faith Edmonson was recently the fourteenth-season contestant on TV's "Amazing Race" where finished in second place with girlfriend Carla Rosenthal. Last summer Jaimie moved to Los Angeles from her home state of Florida for her modeling and acting career, having been a former City of St. Petersburg Police Officer and Miami Dolphins Cheerleader. Originally from Ft. Lauderdale, FL, Jaime moved into the famed Playboy Bunny House while shooting her Playmate pictorial and to appear as a cast member on the E! Channel's hit reality TV Series "The Girls Next Door".
Both Heather's and Jamie's photo shots this year at Miller USA World Superbike with Jim GIanatsis will be featured in the 2012 FastDates.com Calendars for release on July 1st. next year 2011. But you can meet both Kittens together this year as they premier the new 2011 Calendars at the July 18th 2010 LA Calendar Motorcycle Show & Calendar Girl Music Festival at the Queen Mary Event Park, Long Beach, CA.
---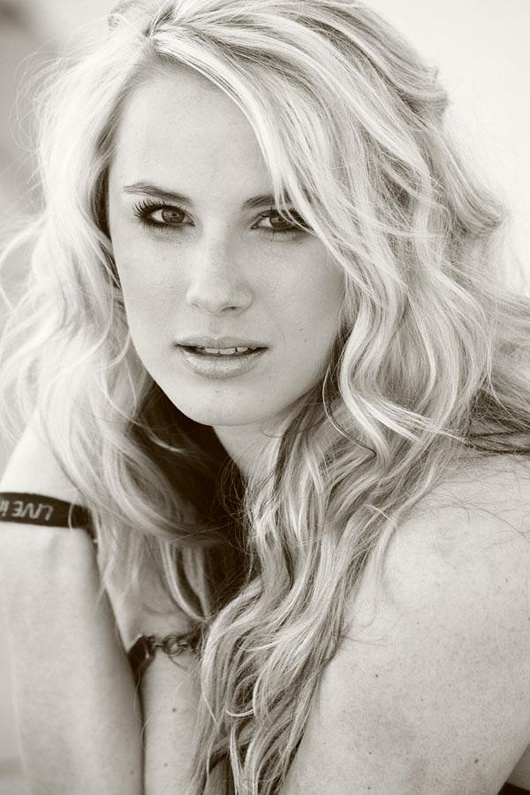 Singer Songwriter Sara Haze Headlines July Calendar Girl Music Festival
Preview Calendar Girl Music Festival, Queen Mary Event Park, Long Beach CA July 18th 2020
Releasing her first major album at the age of 19 has been a long time coming for songstress Sara Haze who headlines this year's Calendar Girl Music Festival which is included with admission to the 2010 LA Calendar Motorcycle Show at the Queen Mary Park in Long Beach on Sunday afternoon July 18th. The beautiful Southern California singer songwriter had penned fan favorites like "Lovely" and "My Own Hands To Hold" years earlier. Wise beyond her age, Sara writes about growing up in the modern teenage world in a way that connects. "When one of my songs touches someone it means the world to me," exclaims Sara who's had over 30 songs placed in films and television shows.
When we wake up to a beautiful day with the sun shining, it's easier to focus on the positive things in our lives. "You have the option to look at your life and see the good," says Sara Haze, explaining the title to her new album My Personal Sky. The line comes from her song "Beautiful Day" in which she states she's "already been through the rain" and now there's "not a cloud" in her "personal sky." While that's where she may have ended up, this sun-bleached blonde Southern California girl explores the whole journey through her music.
Wanting to be just like her vocalist mother, Sara was singing for crowds by age five. Her self-proclaimed big break came at the young age of 12 when she answered an ad to cut vocals for a song that needed "a girl with soul." Expecting an adult to match the voice, industry veteran Dave Woeckener was shocked when the 12-year-old arrived at his beachfront studio proudly dressed to the nines with her parents in tow.
Nailing the vocals in only 30 minutes, Sara made an impression. "I was floored," says Woeckener. The song was used in television placements 20 times in four years including The Young and the Restless. Woeckener hired Sara for more demos and, at the age of 15, signed her to a management contract. "Many of my colleagues looked at me strangely," Woeckener says of signing the young talent. "We did a showcase and when Sara sang the whole room went silent. Nobody looked at me strangely anymore."
Sara impressed industry executives everywhere she went including PEN Music Group President Michael Eames, APA Executive Vice President Troy Blakely and former ASCAP Senior Vice President of Creative John Alexander who invited her to perform at Canadian Music Week (CMW). "Sara came to my office and I asked her why she was there," Alexander describes. "She closed the door and sang a couple of songs. Then I knew why she was there and that I wanted to be involved with this talented songwriter/artist." At CMW, Sara was joined on-stage by GRAMMY® Award Winning Producer Glen Ballard (Alanis Morissette, Dave Matthews, No Doubt) who performed one of her songs with her.
More invitations came taking Sara to South By Southwest (SXSW) as a headlining act and the international music festival Popkomm in Berlin. Quickly she caught the attention of Ted Cohen, considered one of the foremost authorities on entertainment and technology and a 30 year music industry veteran. In his early career, Cohen developed artists including Prince, Van Halen, Fleetwood Mac and Al Jarreau. "Working with another artist is the last thing I thought I'd do until I saw Sara," says Cohen. "She is not only really talented, she is dedicated."
Although Sara is surrounded by industry giants with everyone from Randy Jackson to Gene Simmons consulting on her music, it's Sara herself running the show. Most notably, Sara is writing the music. Collaborating with Nashville songwriter James T. Slater ("In My Daughter's Eyes" for Martina McBride), Canadian writer/producer Justin Gray and writer/producer Eric Fraley, Sara's album has a personal touch that makes the listener wonder if Sara hasn't written the songs just for them."
Fans of MTV's reality phenomenon The Hills responded en masse with over 300,000 hits on Sara's MySpace page when her song "My Own Hands To Hold" was used to illustrate a scene depicting a rocky relationship. Sara sings "you're bringing me down" in the chorus, describing a relationship gone bad. With piano-driven chords and a haunting melody line, this song speaks to anyone who didn't get a storybook ending to a relationship.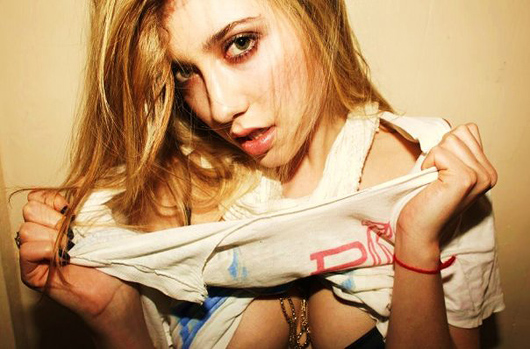 Calendar Show hostess, actress and singer singwriter and ballerina Elizabeth Nicole will also be performing,
hopefully with her clothes on?

Sara will be performing two shows with her full band at 12 noon and at 3pm at the Calendar Girl Music Festival on Sunday afternoon July 18th in the Queen Mary Event Park. Long Beach. Also on stage during the afternoon will be fan favorites The Purrfect Angelz dance and music show, and AC/DC tribute band Whole Lotta Rosies. Returning Calendar Show hostess, actress, signer songwriter and former Jeoffrey ballerina Elizabeth Nicole will also be performing, and sharing a few songs with new Australian singer songwriter Katie Cole.
The Calendar Girl Music Festival includes admission to the annual LA Calendar Motorcycle Show, and complimentary admission aboard the historic Queen Mary Ghost Ship, all of which kick off at 10am and runs until 6pm. Additional event details are available at www.FastDates.com/BIKESHOW.HTM.
Tickets at www.EventBrite.com
The Making of the FastDates.com Calendars now on DVD!
Sure, we may be slow getting around to some things, one of those being the re mastering of our infamous Making of the FastDates.com Calendars movies to DVD. But now thanks to the help of Amazon.com we've entered the 21st century and you can stuff into your Computer or Big Screen DVD player the fastest, hottest, wettest, sexiest motorcycle movies ever made.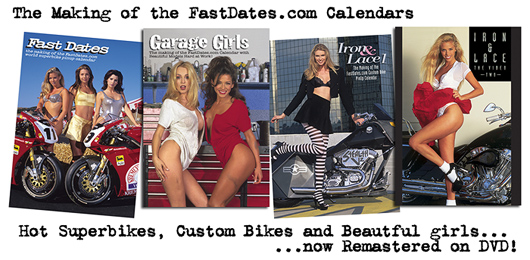 We guarantee you'll be left breathless by the incredible bikes, locations and beautiful girls. But don't wait to get those sticky rental copies of these exciting new FastDates.com Calendar DVD s from your your local rental dive. Be the hero of the next Race Watch or Bachelor's Party by getting your very own DVD copies over night from Amazon.com to hide under your bed from your mom, or download them now directly to your computer. The making of the FasDates.com Calendars DVD movies are available from Amazon.com and in the FastDates.com Video Store.
---
Order Garage Girls HERE
You'll also find our Garage Girls in some very revealing pictorials in MEMBERS CORNER
More Calendar Girl News

Visit Members Corner for very sexy Calendar Kitten pictorials....


Click for a Free Met Art Sample Model Gallery Updated Each Day!



Some of our Calendar Kittens can also at Playboy's website...