Calendar Kitten News September - October 2010
Hot New Calendar Kitten Shoots!
Los Angeles, CA,September 1st 2010 - While many of you have been off on summer vacation and attending bike events like the LA Calendar Motorcycle Show, Sturgis, the World Superbike and MotoGPs, our FastDates.com Calendar photographer Jim Gianatsis has been hard at work schouting and shooting some of the West Coast's most beautiful girls to be the next Calendar Kittens. Look for these georgeous girls in the next 2012 FastDates.com Calendars, in Meet the Models and in sexy new pictorials in Members Corner.
Sara Baliant


We discovered beautiful Sara on a Model Listing website and were immediately smitten by her sexy casual portfolio of incredible pictures. Immediately we contacted her and set up a shoot at the Gianatsis Design studio to photograph her for the next 2012 FastDates.com Calendars in all 3 editions.



"I have always known that modeling and acting is what I want to do. There is something about modeling and acting that draws me in and leaves me wanting more.

I enjoy life to the fullest and make the best out of everyday. I keep positive, healthy and strive to be the best I can be.

Success is not the key to happiness. Happiness is the key to success. If you love what you are doing, you will be successful."

Home: Los Angeles, California
Measurments: chest 34C, waist 24, hips 34
Height: 5 feet 7 in
Weight: 108 lbs
Age Range: 20 – 29
Physique: Athletic
Hair Color: Blond(e)
Eyes: Brown
Ethnicity: Caucasian, Hungarian and French

Official Webiste: http://www.sarabalint.net
Below: Sara cleans up the studio at her smokin' hot FastDates.com Calendar shoot!
World Premier!
2011 Garage Girls Calendar - Beautiful Models Hard at Work!
"All Killer, No Filler" is the only way to describe each year's of the exciting Garage Girls Calendar photographed by Jim Gianatsis featuring a close-up look at this year's most beautiful FastDates.com Calendar Kittens, but without the bikes getting in the way! This is the perfect calendar for any motorsports enthusiast who appreciates fine bodywork and a hot running engine. And it's the perfect 2nd Calendar to keep up to date in in the Garage or the House if you also have one of the FastDates.com Motorcycle Calendars!
The sexy 2011 Garage Kittens include two beautiful cover models from the other FastDates.com Calendars, sexy Playboy centerfold Heather Rae Young with beautiful fashion model
Tarah Tobiason. Add in men's magazine cover supermodel Joanna Krupa, plus swimsuit supermodels Sabella Shake, Cora Skinner and Gemma Gleeson for the winningest pit crew ever! They may not know how to change a wheel, but they'll certainly have you jacked up in a hurry and steaming up your face shield!
Calendars feature a full 16-months starting in September preceding the cover year for an extended selling season. Full color 15"x15" large format design on high quality art card stock, spiral wire bound with hang hook, clear plastic envelope sealed w/ cardboard insert for protection. UPC and ISBN bar coded.

< Click on Cover to Order Now

You'll also find our Garage Girls in very revealing pictorials in MEMBERS CORNER
This Month in the 2010 FastDates.com Garage Girls Calendar
This is definetly a wild threesome for September! From left to right are Calendar Kittens and Playboy Playmate Anhena Lundburg, cover model Rachel Bernstein and Hustler Honey Jayme Langford are fatured in the the 2010 Garage Girls Calendar.
These Kittens also purr-fect in the 2010 editions of both Fast Dates & Iron & Lace .
---
Layla Bella and Candise Lakota shoot for 2012 FastDatescom Calendars
Before this year's 2010 Calendar Show to premier the new 2011 FastDates.com Calendars, we werw alreay hard at work shoot for the next 2012 Calendars! We were excited to get into our studios 2 beautiful new Kittens to shoot for all three Calednar editions, blondy and busty Laya Bela, toether with sultry brunette Candise Lakota. One of the bikes they shot with was this bad-ass Black 3-wheeled Trike from Russell Mitchell at Exile Cycles. Then 3wweks later we had the girls join us at the Calendar Show. Look for these georgeous Kittesn in the next 2012 Calendars!
Magicain Krystan Lambert, Calendar Kitten's Melody Schuster and Candise Lakota with Chris Flechtner's Best of Show winning bike "Bezerker".
2010 LA Calendar Motorcycle Show & Calendar Girl Music Festival
Long Beach, CA, July 18th 2010 - The 19th annual Los Angeles Calendar Motorcycle Show & Calendar Music Festival presented by Motorcycle Attorneys Brown & Koro, America's premier streetbike event marked its returns to the Queen Mary Event Park in Long Beach on Sunday July 18th 2010. The Show's return to it's original 1-day format proved to be a big success, both in reducing production costs for everyone involved from the bike product manufacturers and vendors, to the builders and spectators traveling from out-of-town and having to book hotels. The 1-day format also helped to reduce reduce production costs for producers Jim Gianatsis and the Queen Mary. Visitor attendance was up for this year's new 1-day Show format, higher than the daily totals seen at the Show the last two years.
Spectators got to meet top celebrity custom bike builders including past Show winner Jim Giuffra and the AFT Motorsports Models who were premiering an all-new bobber race bike named "Kimosabe" which the girls will be racing at Bonneville in August. They conducted a Builder's Seminar with their sponsors Miller Electric and JE Pistons to explain the details of the bike build. Miller also held a raffle drawing on Stage at the end of the day, giving away a $2,150 Miller TIG Welding Kit to one lucky spectator, as well as giving $75 cash-back gift certificates towards Miller equipment purchases to every spectator who stop by their booth. Another great value for the low admission price to the Show.
Other top FastDates.com Calendar builders holding free Calendar Builder Seminars during the day were Russell Mitchell / Exile Cycle and Todd Silicato / Todd's Cycle. While former Best of Show winner and builder to the stars, Shinya Kimura / ChabottEngineering.com showed off two of his latest bikes, one an old Knucklehard powered alloy faired racer (featured in the 2009 Iron & Lace Calendar) still coated in the dust from the past week's high speed run at El Mirage Dry Lake, and the other a commissioned custom bodied Ducati 999S Superbike named "Edge". Also at the Show in the Metalsport Wheels display signing posters was celebrity custom car builder Chip Foose of Chip Foose Designs.
A special treat was 18-year old Krystan Lambert (above) - the World's Most Beautiful Magician and star on Fox TV's "Masters of Illusion".
Krystan performed on the Main Stage during band change overs and in the Calendar Bike Builder's Seminar Tent between classes with the famed FastDates.com Calendar builders. And if making a live rabbit appear out of thin air wasn't enough, for Krystan's final performance at the end of the day she made the Queen Mary ocean liner disappear, then reappear again before anyone noticed it was missing! Now that's hare raising magic!

The Show itself celebrates the annual world premier of the new 2011 FastDates.com Motorcycle Pin Up Calendars, with Calendar Kittens Melody Schuster, Layla Bella & Candise Lakota on hand to meet with fans and autograph the new calendars.
Complete 2010 LA Calendar Motorcycle Show & Calendar Girl Music Festival Coverge Here
---
The Making of the FastDates.com Calendars now on DVD!
Sure, we may be slow getting around to some things, one of those being the re mastering of our infamous Making of the FastDates.com Calendars movies to DVD. But now thanks to the help of Amazon.com we've entered the 21st century and you can stuff into your Computer or Big Screen DVD player the fastest, hottest, wettest, sexiest motorcycle movies ever made.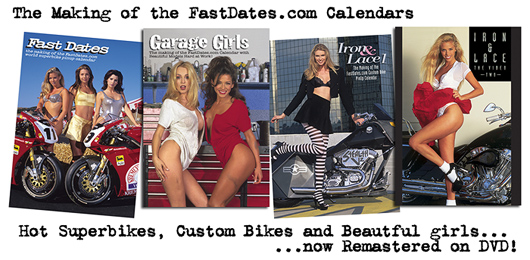 We guarantee you'll be left breathless by the incredible bikes, locations and beautiful girls. But don't wait to get those sticky rental copies of these exciting new FastDates.com Calendar DVD s from your your local rental dive. Be the hero of the next Race Watch or Bachelor's Party by getting your very own DVD copies over night from Amazon.com to hide under your bed from your mom, or download them now directly to your computer. The making of the FasDates.com Calendars DVD movies are available from Amazon.com and in the FastDates.com Video Store.
---
More Calendar Girl News

Visit Members Corner for very sexy Calendar Kitten pictorials....


Click for a Free Met Art Sample Model Gallery Updated Each Day!



Some of our Calendar Kittens can also at Playboy's website...