Calendar Kitten News March - April 2011
This Month in the 2011 Garage Girls Calendar...;
Gemma Gleeson and Tamara Witmer strip down to go to work....
Our World Superbike grid girl from Ireland, Gemma Gleeson, gets frisky with Playboy Playmate Tamara Witmer.
in the 2011 Garage Girls Calendar and in some very sexy revealing pictorials in Members Corner.
---
Laya Bella heats up the FastDates.com Calendar studio in a wet T-shirt shoot for Garage Girls 2012 available July 1st, 2011.
New Calendar Kitten Laya Bella
scores big with Playboy and Hot Rod magazine!
March 1st 2011 - Last May we discovered discovered beautiful glamour girl Laya Bella at an online modeling website. We loved her sexy '50's pinup girl looks so much so that we booked her right away for the upcoming 2012 Garage Girls Calendar shoot with another new hottie we found online, Candise Lakota. It was also quite a coincidencethat both Laya and and Candise lived within just a few miles of our studio and office in Woodland Hills, CA.
The photographs of Laya and Candise came out so well from our Garage Girls shoot, and because they were so fun and easy to work with, we continued to use and refer them for other modeling jobs. Both Laya and Candise worked at our 2010 LA Calendar Motorcycle Show where fans got to meet them in person.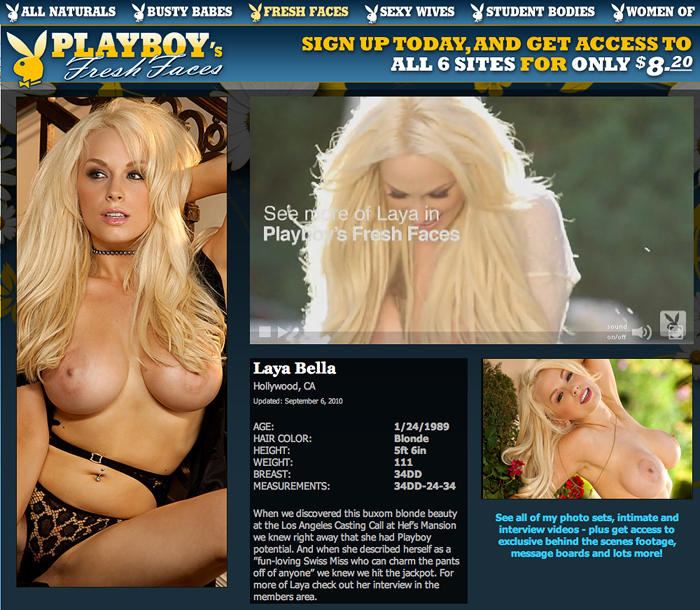 Click to see more of Laya nude on the Playboy Spedial Editions websites.
Laya is a big fan of the world's most famous glamour girl, Marilyn Monroe, and has pictures and posters of Marilyn all over her apartment. Laya told us her own dream was to shoot for Playboy magazine. We know Playboy photographer Josh Ryan, boyfriend of one of our other Calendar Kittens, Heather Rae Young. So we E-mailed some of our Calendar shoot pictures of Laya to Josh, and within weeks Laya was shooting with Josh for Playboy's Newstand Special Editions and Website, where you can find her now in the online edition PlayboysFreshFaces.com.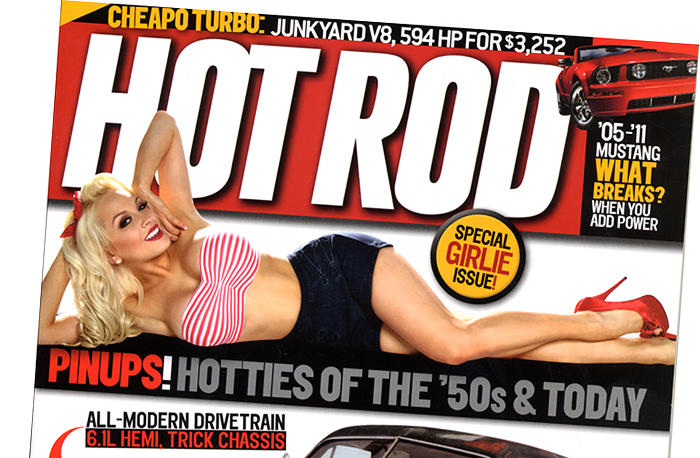 Now Laya's modeling career has really taken off, and we've been seeing her everywhere! Her latest appearance is this month's Hot Rod magazine April 2012 cover and inside to highlight their special edition on famous automotive PinUp Girls! We did even better though, in that we photographed both Laya and Candise together for the Garage Girls Calendar working on an old 1946 MG TC - classic!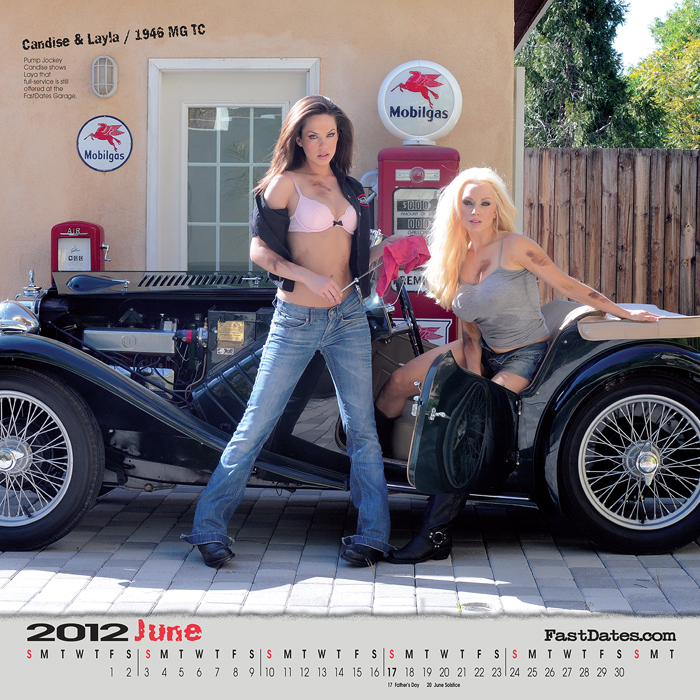 It's too bad there's such a long lead time in shooting an annual pinup calendar like Garage Girls, but we're sure this preview of beautiful Laya will get you primed and ready for when her edition of the new 2012 Garage Girls is realeased on July 1st 2011. In the mean time you can keep up with all of Laya's appearances, live and in print at Facebook.com/LayaBella - Jim Gianatsis
---
Sports Illustrated Swimsuit Issue 2011
Tuesday Feb 15th - The 2011 edition of the annual Sports Illustrated Swimsuit Issue hit the newstands this week, again with some of America's most beautiful models shot in exotic locations around the world by top sports and fashion photographers. Our favorite model in this year's issue is newcomer Kat Upton pictured above and below. Kate, just 18 years old , is a Midwest native who always dreamed of being a model. Fantasy became reality three years ago when she walked into an open call and booked her first job. Since then she has been the face for Guess Lingerie and appeared on the cover of Cosmopolitan Bride.
The models and photo shoots from the 2011 SI Swimsuit Edition will be featured in all the different editions of the 2012 Sports Illustrated Swimsuit Calendars which will be availble this summer as always, here at FastDates.com in the Calendar Collector Store

You can order the 2011 Sports Illustated Swimsuit Edition magazine now from us here online by clicking on the cover at right .

We're excited to say that beautiful 5' 9" tall Kate Upton (below) is also just one of four SI models who was also nude body painted by our FastDates.com Calendar makeup artist Joanne Gair to appear nude in the Bodypaint section of the magazine and their next SI Bodypaint Calendar. You can find out much more about this year's 2011 SI Swimsuit edition and the models with pictures and videos at SportsIllustrated.cnn.com/swimsuit/



2011 SI Magazine
Sports Illustrates Swimsui

t

On Location with Sauvage Swimwear for the 2011 Sports Illustratated Swimsuit Magazine / 2012 Calendar Shoot
| | |
| --- | --- |
| | Kate Upton in nude bodypait by Joanne Gair |
| | |
---
Calendar Kittens host "Last Night a DJ Saved by Life" benefit
Los Angeles Fashion District , CA, Feb 14th 2011 - It was an exciting evening of glitz, glamor, paint and canvas, and beautiful Calendar Kittens as the world renown charity FeedAModel.com held their annual artwork and music gala on a warm mid-winter evening in the adv-ant garde Fashion District of downtown Los Angeles. The event took place at Haute Olive on 838 S. Spring Street, a vintage fashion boutique on the cutting edge of what's now and hip. Hosted by the charity's founders, FastDates.com Calendar Kittens and multi media artists Apple Price and Melody Schuster, FeedAModel.com is dedicated to keeping beautiful young models off the streets, out of trouble, and from going hungry by giving them the opportunity to learn and express their artistic skills, and then a safe and exciting venue to showcase and sell their artwork. You won't find these dedicated, talented and smart young ladies partying with Charlie Sheen in Las Vegas or Girls Gone Wild on Spring Break!
Both models Apple and Melody have been featured in recent editions of the FastDates.com Motorcycle PinUp Calendars, and they appeared at the last two LA Calendar Motorcycle Shows to help premier their new Calendars. "Feed A Model gives nice young ladies the opportunity to be productive citizens and great role models in a town run amuck with the inebriated divas and substance abused actors you see showcased every night on the 6 O'Clock News", explains Schuster. "It's something we are passionate about, to give back to the community which has helped us to become successful models, multi media artists and world famous FastDates.com Calendar Kittens!"

The guest list at the "Last Night a DJ Saved by Life" benefit included Great Britain's Price William and his fiancee Kate Middleton, actresses Amanda Seyfried and Emma Stone, sports icons David Hamilton, David Beckham and Maria Sharapova, and former American president Bill Clinton.

At right: the paper mache collage "Very Hollywood" created by Calendar Kitten Apple which Jim Gianatsis purchased for his collection, helping to support the efforts of FeedAModel.com keeping starving models off the Sunset Strip at night. Click to enlarge.

Below: Jim Gianatsis with his two Calendar Kittens, FeedAModel.com Founders, Board Directors and Contributing Artists Apple Price (left) and Melody Schuster (right).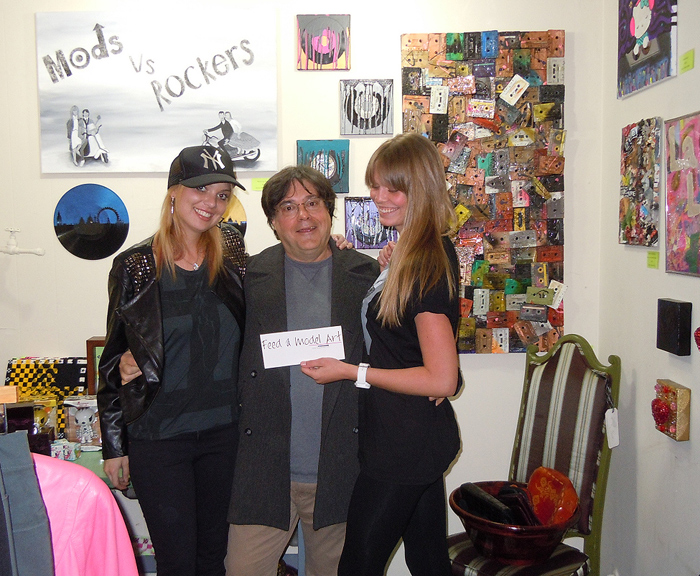 Making a not too unexpected appearance was FastDates.com Calendars and Website publishing magnate and photographer Jimmy "The Greek" Gianatsis. The Calendar Kittens first greeted Jim with hugs and kiss outside at the curb when he arrived in his limo, then brought him inside the store gallery to meet the other models and guests, and then a guided tour of the art exhibition. The artwork and guests spilled out onto the sidewalk where a live DJ was spinning tunes to add to the fun party atmosphere. After plying "The Greek" with a few glasses of champaigne, the girls soon had him pulling out his checkbook to add some of their incredible artwork to his noted collection back at the Calendar Kitten Mansion.
In all it was quite an incredible evening and everyone had a great time. You can find out more about FeedAModel, their incredible charity work, shop their artwork and find out when their next excitig event is by visiting www.FeedAModel.com

You can also hang with Apple and Melody on your walls by ordering their Fast Dates, Garage Girls, and Iron & Lace Calendars at www.FastDates.com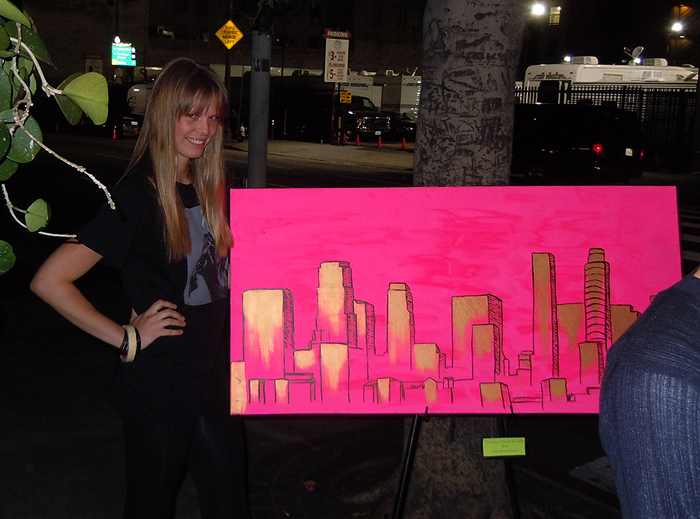 Melody with her latest piece of incredible art "LA with Tree". The painted canvas alone, without the tree, can be purchased online at FeedAModel.com
---
The Pretty Reckless "Light My Fire" Record Release Tour photography by Jim Gianatsis
Los Angeles, CA, February 11th -We've been telling you for about a year now about one of the most exciting and talented girl fronted rock bands to come on the music scene in decades, Taylor Momsen in The Pretty Reckless, who we've featured in our Chicks That Kick Ass section. This under age goody-goody Gossip Girl TV show actress, now gone bad girl has one of the most beautiful sexy and energy charged voices ever heard, back by an incredible band with some very edgy and and well written songs that are guaranteed to be top hits in the coming months if they can get past the radio station sensors. It's hard to describe Taylor's singing style because there's never been anyone like her, but imagine an Avril LaVigne pop rock princess with vocals like Ann Wilson of Heart. The Pretty Reckless band has been together for just a little over a year now when Taylor first turned 16 years old. She's now 17 and will turn 18 in July. We first saw them on the Van's Warped Tour last summer and picked up their great 4-song EP 'The Pretty Reckless". This past fall their first full-length album "Light My Fire" was released in Europe where it quickly topped the charts.
The Pretty Reckless EP
click to order

We're guessing the delay by Interscope Records to release "Light My Fire" in America was due to a number of factors including the explicit lyrics and adult content of songs on the album like "Going Down" and "My Medicine" which promote sex and addiction, and are definitely very hot topics for an under legal age 17 year old girl to be promoting in the conservative religious right America these days when the charts are topped by Taylor Sift and Justin Beiber singing about puppy dog high school crushes. Taylor was also busy under contract shooting the Gossip Girl TV series which made it difficult to send her out in America on a record release tour to promote the sales of a new album.
And now she's just 5 months away from becoming an adult.

Light Me Up CD


click to order
A few months ago Taylor was put on "Hiatus" by the TV show producers for her "difficult attitude" on set. Perhaps a ploy? Which quickly allowed Interscope to put a national tour together for "Light My Fire" which was released this week in America as The Pretty Reckless kicked off a 24 -stop tour across America in just 8 weeks. Their record release tour kicked off to a sold out audience of teenage Gossip Girl fans and middle aged Joan Jet era gothic rock music fans at the beautiful old art deco El Ray Theatre in Los Angeles on February 11th. We were there to take it all in as huge Pretty Reckless fans, where we were treated to one of the best rock and roll shows ever headlines by Taylor's amazing vocals and stunning good looks with the still underage teen star on stage in revealing scant lingerie her trademark, and performing all the incredible songs on their new album To find out more about Taylor and The Pretty Reckless check out their Girls That Kick Ass! page here, check out their Music Videos here and on YouTube.com, and definitely buy "Light My Fire". We guarantee you will be blown away. Tour dates at www.The PrettyReckless.com.
---
This Month in the 2011 FastDates.com Garage Girls Calendar
Fast Dates Calendar Kitten Joanna Krupa is the world's hottest cover model having been featured on the cover of every major men's magazine
around the world from Playboy, to Maxim, to GQ. We discovered her first for the FastDates.com Calendars including
2011 Garage Girls Calendar and some sexy pictorials in Members Corner.
The Making of the FastDates.com Calendars now on DVD!
Sure, we may be slow getting around to some things, one of those being the re mastering of our infamous Making of the FastDates.com Calendars movies to DVD. But now thanks to the help of Amazon.com we've entered the 21st century and you can stuff into your Computer or Big Screen DVD player the fastest, hottest, wettest, sexiest motorcycle movies ever made.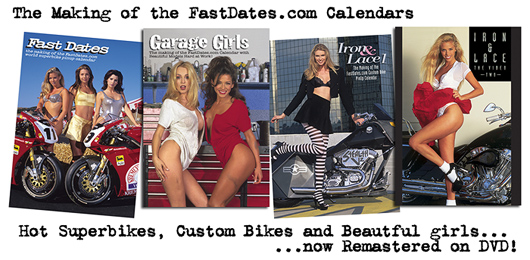 We guarantee you'll be left breathless by the incredible bikes, locations and beautiful girls. But don't wait to get those sticky rental copies of these exciting new FastDates.com Calendar DVD s from your your local rental dive. Be the hero of the next Race Watch or Bachelor's Party by getting your very own DVD copies over night from Amazon.com to hide under your bed from your mom, or download them now directly to your computer. The making of the FasDates.com Calendars DVD movies are available from Amazon.com and in the FastDates.com Video Store.
---
More Calendar Girl News

Visit Members Corner for very sexy Calendar Kitten pictorials....


Click for a Free Met Art Sample Model Gallery Updated Each Day!



Some of our Calendar Kittens can also at Playboy's website...