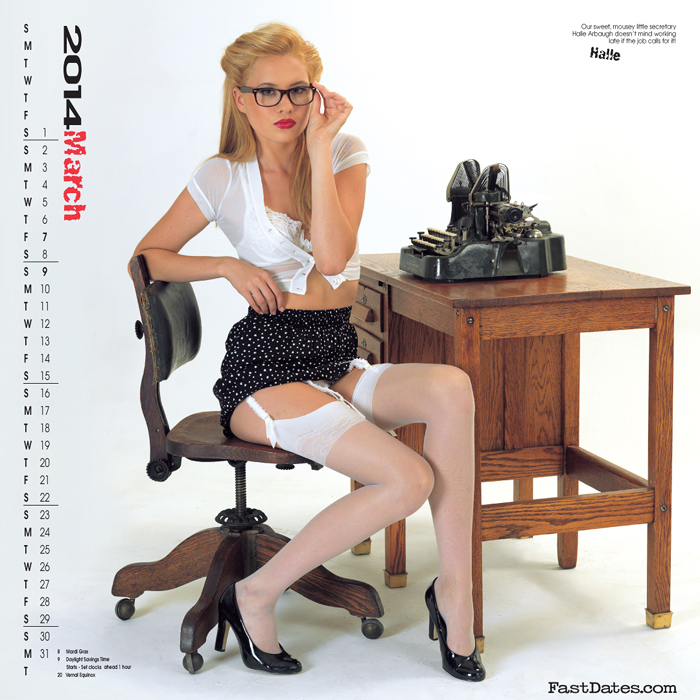 This Month in the 2014 Garage Girls Calendar...
Calendar Kitten and Official SBK World Superbike Umbrella Girl Halle is ready to get down to business!

Calendar Kitten & Garage Girls News March - April 2014
More News Here

Click to Order Online

2014 Garage Girls
15-inch Spiral Bound
ISBN 1578651638


Click to Order Online

2013 Garage Girls
15-inch Spiral Bound
ISBN 1578651530


Click to Order Online

2014 Iron Lace
Centerfold Models and Custom Bikes
15-inch Spiral Bound
ISBN 157865162X


Click on Cover to Order Now

2014 Fast Dates
SBK Racebike Pinup Calendar
SBK World Superbike, Performance Machine
ISBN 1578651611
Order Online Now or by Phone!
Click on the Small Calendar Covers Above or the Amazon.com Link below:

Phone (01) 800-461-1226
Mon-Fri 8am - 5pm Los Angeles time
Van Leeuwen USA 1-800-461-1226 / International (01) 818-896-2200
also Mid-USA 1- 800-527-0501/ 1-800-632-0024 0000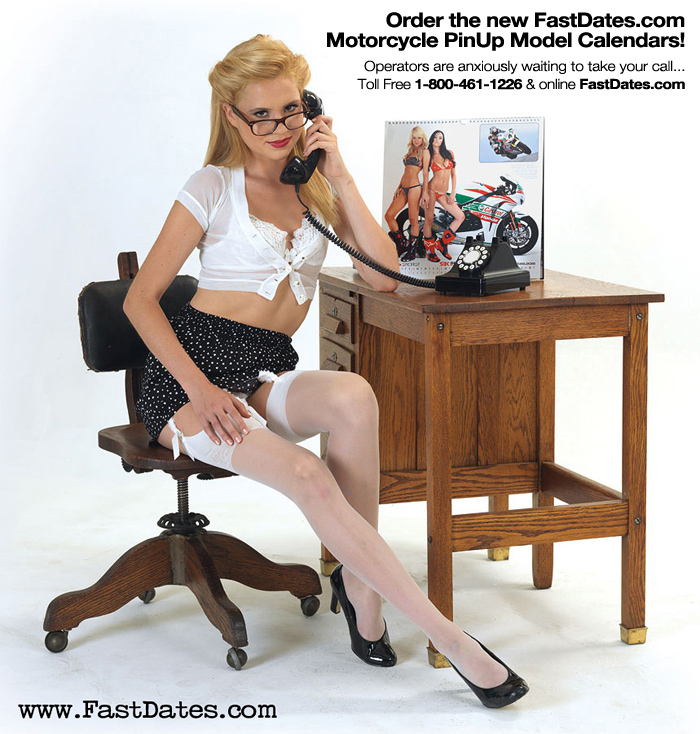 Meet FastDates.com Webite cover model Halle who wants to remind you it time to order your 2013 and 2014 Calendars.
Weekdays 8am - 5pm Pacific Cost Time phone Van Leuween Distributing at 1-800-461-1226 or ORDER ONLINE HERE.
NEW! FAST 2014 Digital Calendar Magazine Annual
The Bikes, the Builders, the Riders, the Kittens,the Calendar Bike Show, the World Superbike races all the 2014 Calendar Pictures, and Special Features... For the first time every we take you around the world in 120 exclusive pages for the making of the 2014 FastDates.com Calendars! Now in Members Corner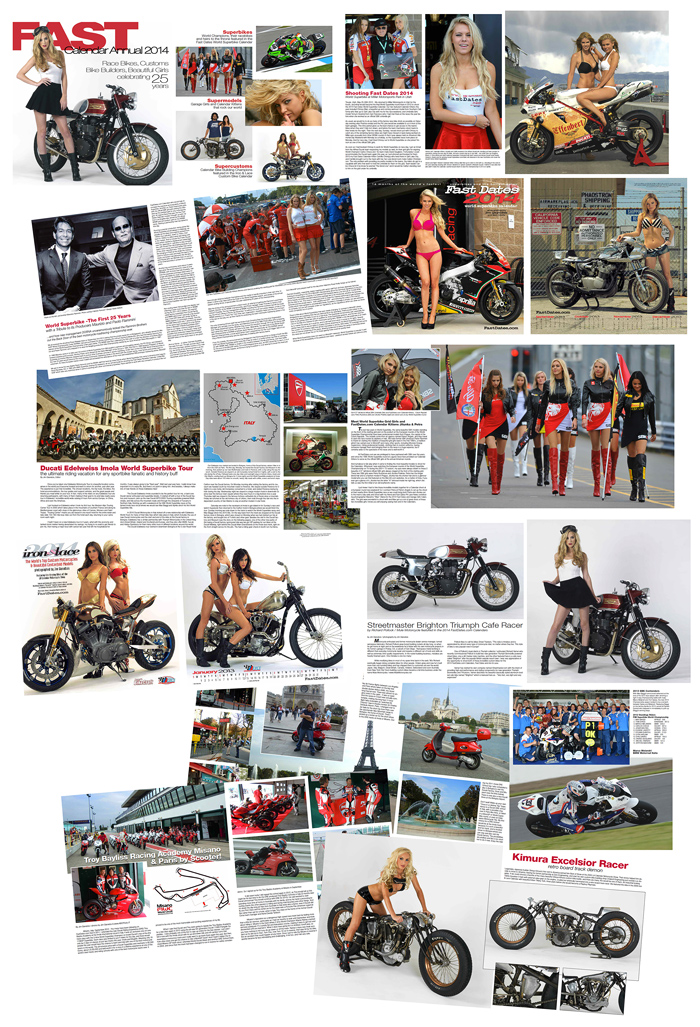 Shooting the 2014 FastDates.com Calendars!
Go behind the scenes with newest Calendar Kitten Lizzie as she shoots with Jim Gianatsis for the new 2014 Fast Dates, Iron & Lace, and Garage Girls Calendars with some cool custom bikes form Richard Pollock, Mule Motorcycles!
See more revealing pictorials of the 2014 Calendar Kittens including Christy in Members Corner
Order the Fast Dates Calendars • Calendar Screensavers in Members Corner
---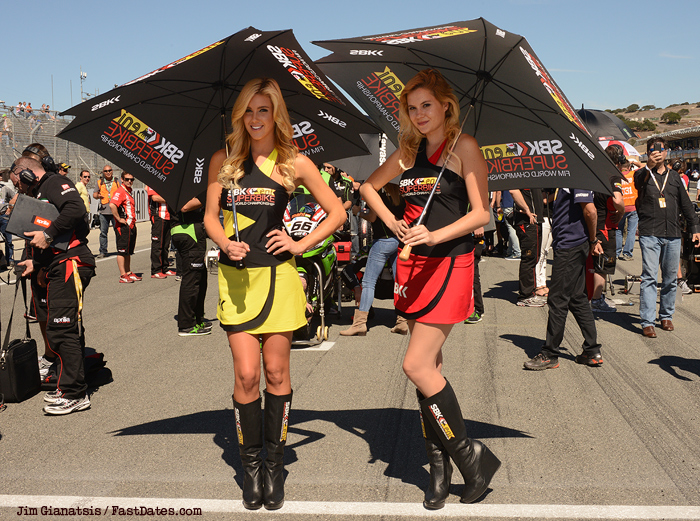 Above, FastDates.com Calendar Kittens Jessica Harbour and Halle were the official SBK Umbrella Grid and Race Podium girls at Laguna Seca.
Five beautiful FastDates.com Calendar Kittens headlined the
2013 SBK World Superbike Laguna Seca USA Starting Grid on Sept 27-29th
Los Angeles, CA, September 29th, 2013 - The FastDates.com Calendars & Website, in association with Umbrella Girls USA, was excited to have SBK World Superbike and reigning SBK World Champions Team Aprilia has selected three beautiful Fast Dates Calendar Kittens to grace the front of the starting grid when the World Superbike Championship returned to the Monterey Peninsula at Mazda Laguna Seca Raceway the weekend of September 27-29th 2013 after an 8 year absence.

Our offical SBL Calendar Kittens for the SBK race weekend included Torunn Sivesind and Rebekah Davis serving as the official SBK Pirelli Girls, with Halle and Jessica Harbour as the official SBK podium models, and transplanted Irish super model Hannah Flattery who served as the official Team Aprilia Umbrella Girl for rider Sylvain Guintoli. It's a wrap! Jessica, Hannah and Halle mug for a group Twitter picture in the Pedercini Kawasaki garage after a shoot.
Click to go BIG

Selecting photos and designing the next 2015 Fast Dates World Superbike Calendar with a little help from Sky Ferreira's music Videos on YouTube! 28-inch monitors help a lot. Calendars have to be photographed and produced a year in advance of the sale date to allow time for marketing, printing and distribution. Here's a preview of the FastDates World Superbike Calenar shot at SBK Laguna Seca last month.
More 2013 FastDates.com Calendar shoot coverage at Laguna Seca WSBK HERE
---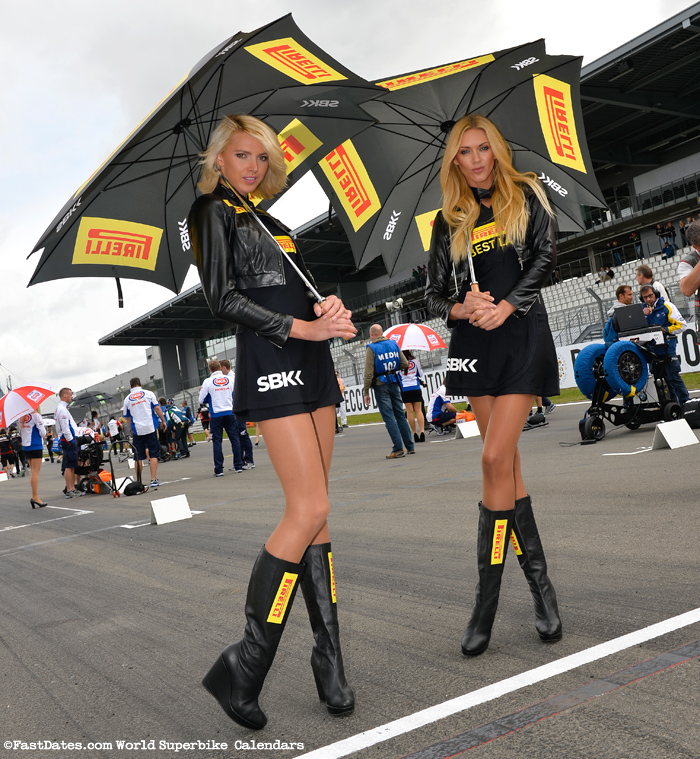 FastDates.com Calendar Kittens and official SBK World Superbike Umbrella Girls, Jitka (left) and Petra (right) are featured in the
2014 Fast Dates World Superbike and Garage Girls Calendars, and the new 2014 Fast Calendar Digital Magazine.
Fast Dates brings Czech SBK girls Jitka and Petra to
Laguna Seca World Superbike and the LA Calendar Motorcycle Show in July 2014!
2014 - The FastDates.com Calendars and producer / photographer Jim Gianatsis are excited to announce an agreement with SBK World Superbike and the international model agencies PetrasAngles.com and UmbrellaGilrsUSA.com to bring beautiful Czech Republic SBK grid girls Jitka and Petra to the United States this July 2014 to appear at Laguna Seca SBK World Superbike round and the LA Calendar Motorcycle Show.
These two 6-foot 2-inch tall long legged, blond hair professional supermodels hail from the capital of the Czech Republic, Prauge, and have been featured on SBK world TV race broadcasts the last 3 years standing at the front of the SBK World Superbike starting grid towering above the race bikes and riders in their uniforms with umbrellas to showcase SBK's title sponsors Pirelli Tires, Agip Fuels and Lubricants, and Alfa Romeo Automobiles. In their official uniforms with 6-inch heels on their platform boots, Jitka and Petra tower nearly 7 feet tall and can intimidate the bravest factory racers and experienced photographers!

Both these Czech mates are already official FastDates.com Calendar Kittens having shot for the Calendars with contributing Italian photographer Max Oliana at the 2012 and 2013 SBK rounds at Bruno and Silverstone for the current 2014 and upcoming 2015 Fast Dates World Superbike and Garage Girls PinUp Calendars.
Meet the offical SBK Fast Dates World Superbike Girls Here!
2014 LA Calendar Motorcyc;e Show Moves to the Malibu Golf Cours on July 20th
The 2014 LA Calendar Motorcycle Show continues its now 23rd year tradition as the premier outdoor streetbike event in America with the Calendar Bike Building Championship & Concours d' Elegance, top Celebrity Builders, selected Vendors and Exhibitors, and the Calendar Girl Music Show. The Show always kicks off the world premier of next year's new 2015 FastDates.com Motorcycle PinUp Calendars featuring the world's top road race and custom motorcycles with the beautiful Calendar Kittens featured in the Calendars in attendance at the Show.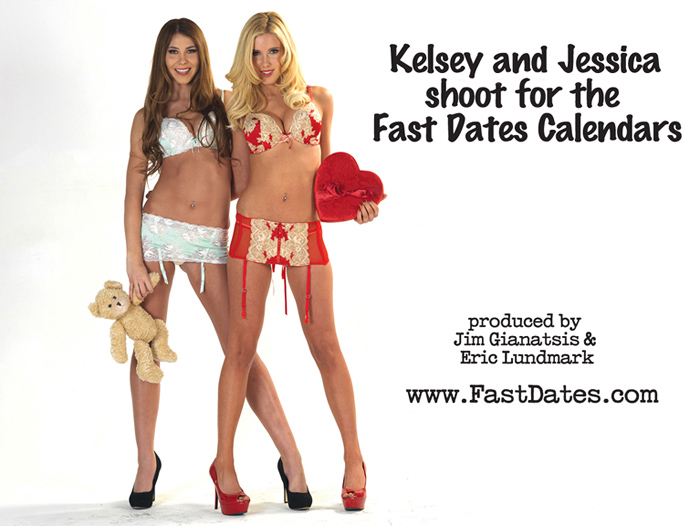 New 2015 Fast Dates.com Calendar Video Shoot!
Go behind the scenes at the glamorous Gianatsis Design Studios with beautiful new Calendar Kittens Jessica Harbour and Kelsey as they shoot for the FastDates.com Motorcycle PinUp Calendars with photographer Jim Gianatsis. And look for the new 2015 Calendars available right here on July 1st. Order the Calendars!
Videographer: Eric Lundmark; Video Editing and Still photography: Jim Gianatsis; Models: Jessica Harbour, Kelsey Silwinski; Make Up: Victoria Rubell, Music: Special thanks to Neil Sedaka for our theme song Calendar Girl; Modeling Agent: Umbrella Girls USA.
---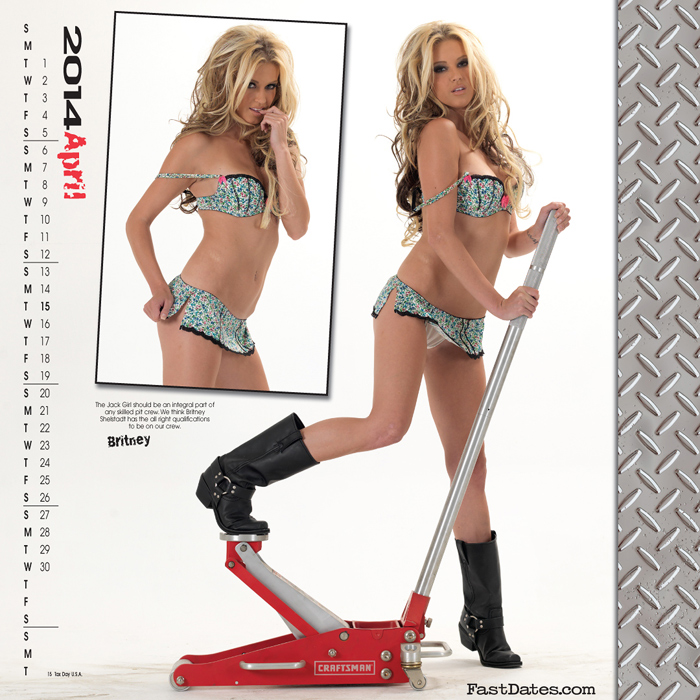 This Month in the 2014 Garage Girls Calendar...
Calendar Kitten Britney Shelstadt has us all jacked up!
Order the latest Garage Girls Calendars now, and see our Kittens very revealing sexy pictorials in Members Corner.
---
More Calendar Girl News
Visit Members Corner for very sexy Calendar Kitten pictorials....


And Visit These Our Great Affiliate Partner Websites:
Some of our Calendar Kittens can also be seen at Playboy's website...


Click for a Free Met Art Sample Model Gallery Updated Each Day!