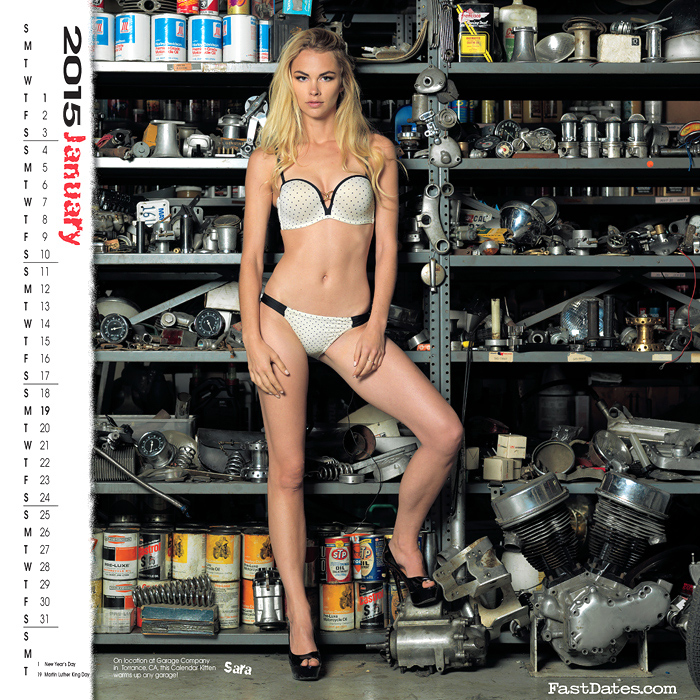 This Month in the 2015 Garage Girls Calendar...
Beauitful FastDates.com Calendar Kitten Sara Horvath gets caught in the parts room at The Garage Company, Torrance, CA.
See more of our beautiful Models and Calendar bikes in the Calendar Bike Garage and in Members Corner.


Calendar Kitten & Garage Girls News January - February 2015
More Garage Girls News Continued HERE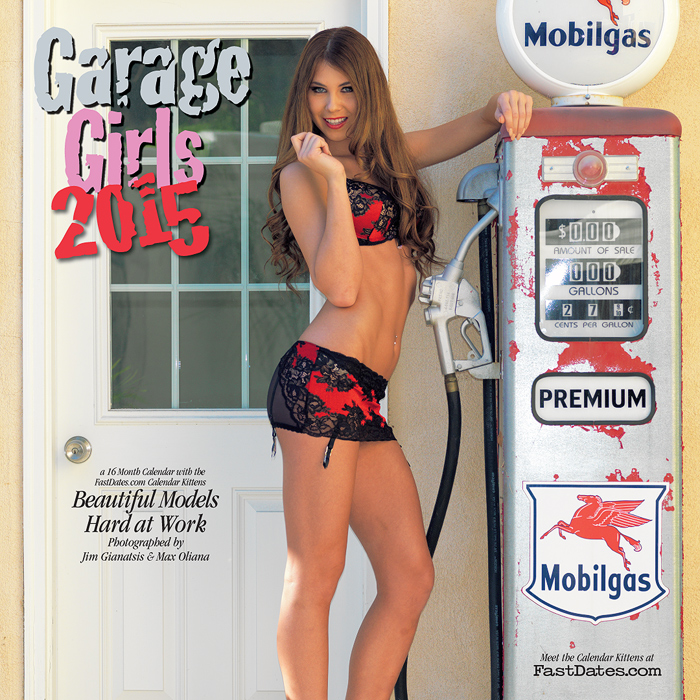 2015 Garage Girls Calendar - Beautiful Models Hard at Work!
"All Killer, No Filler" is the only way to describe the exciting Garage Girls motorsports themed pinup Calendar photographed by Jim Gianatsis and Max Oliana featuring a close-up look at this year's most beautiful FastDates.com Motorcycle Calendar Kittens, but without the motorcycles getting in the way! The perfect 2nd Calendar to keep up to date in the Garage, in the House or at work! Our beautiful Garage Girls cover model this year is beautiful brunette Kelsey Sliwinski. Featuring the hottest, sexiest new FastDates.com Calendar Kittens including beautiful SBK World Superbike 6'2" tall Grid Girls Jitunka and Petra from the Czech Republic as seen on TV race coverage, plus Jessica Harbour, Halle,
Hannah Flannery plus Kelly Sliwinski and Sara Horvath. You'll also find these beautiful models featured in
the other 2015 Fast Dates and Iron & Lace Motorcycle Calendars. They can't change a flat tire, but does it realy matter!
This is your exclusive 16-month pit pass to some of the world's sexiest models in revealing swimwear and lingerie.
Calendars are highest quality full color 15 x 15" wire spiral bound printed on heavy art stock
revealing 16 months beginning with September. $17.95 each - Click on the Calendar Covers below to Order Now

SOLD OUT!
January 1st, 2015 -The new 2015 Garage Girls Calendar is now sold out, but the same Calendar Kittens are also featured
in the new 2015 Fast Dates and Iron & Lace Calendars wihich are still available. You can also view and download large screen saver size pages of the 2015 Garage Girls Calendar from the Calendar Galley in Members Corner.
You'll also find our Garage Girls in revealing pictorials in MEMBERS CORNER

Click to Order Now

2015 Garage Girls
The FastDates.com Calendar Kittens play dirty without the bikes getting in the way!
ISBN 1578651735


Click to Order Online

2014 Garage Girls
15-inch Spiral Bound
ISBN 1578651638


Click to Order Online

2015 Iron Lace
Centerfold Models and Custom Bikes
15-inch Spiral Bound
ISBN 578651727


Click on Cover to Order Now

2015 Fast Dates
SBK Racebike Pinup Calendar
SBK World Superbike & Cafe Bikes w/Models
ISBN 1578651719


Click to Order Online

2014 Iron Lace
Centerfold Models and Custom Bikes
15-inch Spiral Bound
ISBN 157865162X


Click on Cover to Order Now

2014 Fast Dates
SBK Racebike Pinup Calendar
SBK World Superbike, Performance Machine
ISBN 1578651611
Order Online Now !
Click on the Small Calendar Covers Above or the Amazon.com Link below:
Calendar Kittens Jessica and Kelsey are offical Rockstar Girls at the Supercross races, SBK World Superbike Grid Girls.
Watch the 2015 Fast Dates.com Calendar Video Shoot with Jessica & Kelsey!
Go behind the scenes at the glamorous Gianatsis Design Studios with beautiful new Calendar Kittens Jessica Harbour and Kelsey as they shoot for the FastDates.com Motorcycle PinUp Calendars with photographer Jim Gianatsis. And look for the new 2015 Calendars available right here on July 1st. Order the Calendars!
Videographer: Eric Lundmark; Video Editing and Still photography: Jim Gianatsis; Models: Jessica Harbour, Kelsey Silwinski; Make Up: Victoria Rubell, Music: Special thanks to Neil Sedaka for our theme song Calendar Girl; Modeling Agent: Umbrella Girls USA.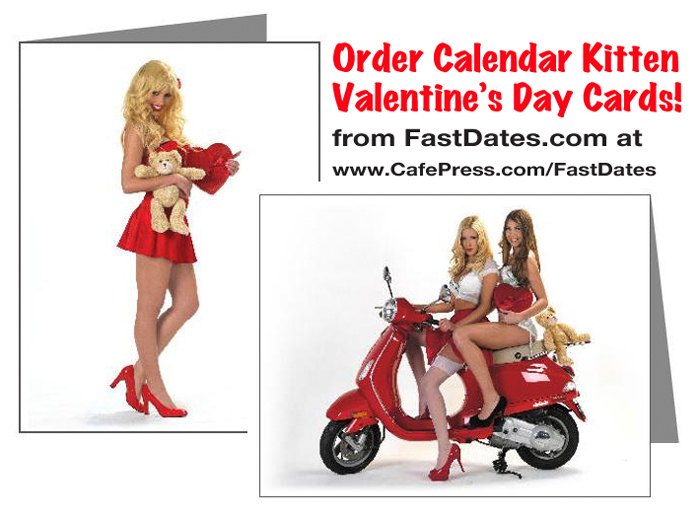 ---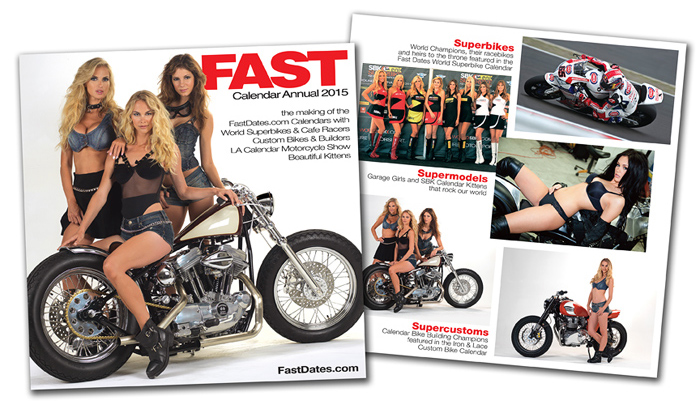 NEW! FAST 2015, 2014 Calendar Digital Yearbook
Go behind the scenes of the FastDates.com Calendar photo shoots at the SBK World Superbike races, the Los Angeles Calendar Motorcycle Show & Concourse d' Elegance, and inside the FastDates.com Studio of famed photographer Jim Gianatsis. Meet the official SBK World Superbike Calendar Kittens who also serve as the official SBK podium and grid girls, the top factory riders of World Superbike, and America's top custom bike builders. You'll find detailed editorial photo features on the Calendars' top Custom and Race bikes, and on the Calendar Kittens.
Did we forget anything? - Oh yes! The new FAST 2015 Calendar Yearbook Digital Edition features in high resolution every page in the new 2015 Fast Dates World Superbike, Iron & Lace Custom Bikes, Garage Girls and Cafe Racers Calendars featuring the world's top race and custom bikes and the beautiful Calendar Kittens!
---
FastDates.com Calendar Holiday Greeting Cards, Mugs, Mouse Pads!
Jack Frost might be nipping at your toes, but a sure way to warm up the holidays is with the sizzling hot FastDates.com Calendar Greeting Cards featuring the Calendar Kittens from the legendary Fast Dates Race Bikes, Iron & Lace Custom Bikes and Garage Girls Motorcycle PinUp Calendars. Order now to receive them well in time to send out to your deserving freinds for this Holiday season. Order online at - http://www.FastDates.com/Apparel.01.HTM
---
Shooting the 2015 and 2016 Fast Dates World Superbike Calendars!
Click Above and Below on the Pictures to go behind the scenes with us at Laguna Seca World Superbike...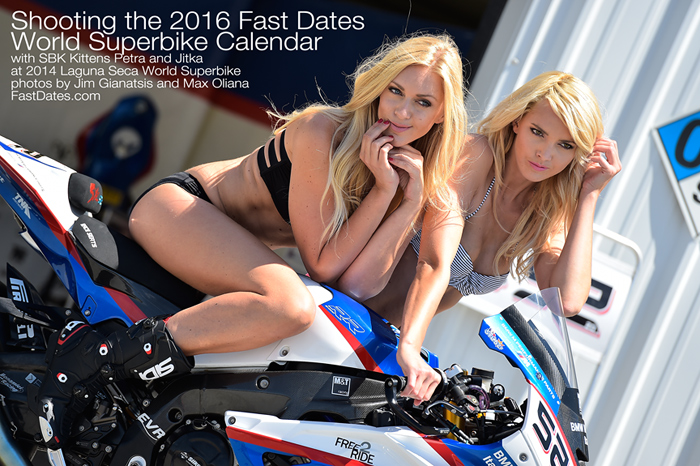 Fast Dates Calendar Celebrates 20 years by bringing
Czech SBK Calendar Kittens Jitka and Petra to 2014
Laguna Seca World Superbike and the LA Calendar Motorcycle Show
By Jim Gianatsis Photos by Jim Gianatsis, Massimo Oliana and Sabrina Mosca

California, USA, July 15-22nd 2014 -The FastDates.com Calendars and myself, producer / photographer Jim Gianatsis were excited to announce an agreement with SBK World Superbike and the international model agencies PetrasAngles.com and UmbrellaGirlsUSA.com to bring beautiful Czech Republic SBK grid girls Jitka Pralinka and Petra Ruzinka to the United States during July 2014 to work for SBK and shoot with me at the Mazda Raceway Laguna Seca United States SBK World Superbike and AMA National race weekend July 11-13th, and the LA Calendar Motorcycle Show in Malibu on July 20th.

– Complete Story and Photos Here –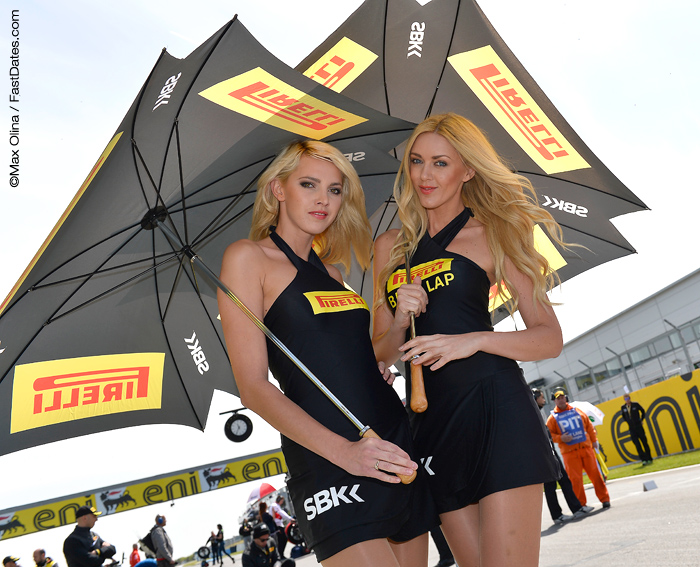 FastDates.com Calendar Kittens and official SBK World Superbike Umbrella Girls, Jitka (left) and Petra (right) are featured in the
2014 Fast Dates World Superbike and Garage Girls Calendars, and the new 2014 Fast Calendar Digital Magazine.
FastDates.com Calendar Kitten Peta Ruzickova
Our offical Fast Dates SBK World Superbike Calendar Kitten Petra from the Czech Republic
is featured in the 2013, 2014, 2015, 2016 FastDates.com Calendars.

See more revealing pictorials of the FastDates.com Calendar Kittens in Members Corner
Order the Fast Dates Calendars • Calendar Screensavers in Members Corner
---
| | |
| --- | --- |
| Click for more about The Pretty Reckless | Click to Order from Amazon.com |
The Pretty Reckless in a Fucked up World!
Our favorite rock band The Pretty Reckless with lead singer and cute teen actress turned bad girl Taylor Momsen is
Going to Hell in their new ablum being released in March 2014, and we're happy to take the ride with her.

"Rock & roll needs to make a resurgence," insists Taylor Momsen, speaking to her belief that the genre has slipped from the mainstream. "It needs to come back in a big way and take over again." The 20-year-old singer, whose band the Pretty Reckless broke out in 2010 with their alt-rock debut Light Me Up, says she's fully prepared to hold up her end of the bargain. "We're really trying to come to something unique and different," she says of Going to Hell, the band's long anticipated second album, released early in 2014 on Razor and Tie.
Check out The Pretty Reckless' lasted music video fortheir song "It's a Fucked Up World"
The dard haired girl with sunglasses in the video is Taylor's girlfriend, porn star Jena Haza who often comes out on stage with Tayor during her concerts and pretends to go down and give her oral sex. Sweet!


---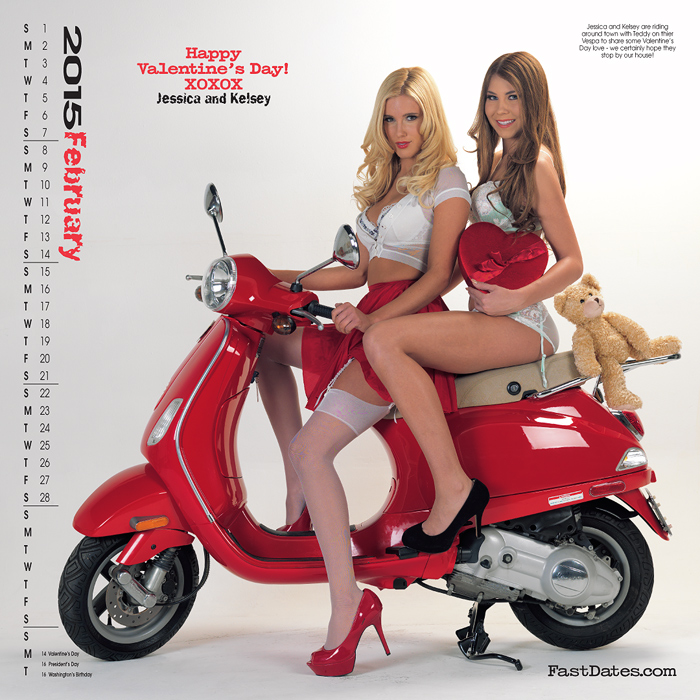 This Month in the 2015 Garage Girls Calendar...
Beautiful SBK Fast Dates Calendar Kitten Jessica Harbour takes girlfreind on a special Valentine Day's delivery for
someone special. You'll find bikes like this with the beautiful Calendar Kittens featured in the
Calendar Bike Garage with full specifications and screensaver size pictures.

And check out this 2014 Calendar shoot...
---
Angels
Victoria's Secret Catalog
advertising photographer Russell James shoots
the Victotia's Secret Supermodels nude.

The Victoria's Secret Angels have become an iconic representation of female beauty and sensuality that is unparalleled in popular culture. Russell James has spent 15 years being the primary photographer for the lovely and fascinating women who have been featured by Victoria's Secret over the years. The list certainly is an impressive one, including such headline names as Gisele Bundchen, Adriana Lima, and Alessandra Ambrosio, to name a few. This ample volume showcases these heavenly representations of womanhood in all their splendor. Subtly provocative in a tastefully seductive manner, these portraits capture each model's individual blend of physical attractiveness and beguiling personality. The array of images reflects playfulness and adventure, and the innovative compositions and technically perfect photography add to the overall captivating effect. Readers will truly feel as if they've stepped into their own little piece of paradise,

Click Cover to Order



---
More Calendar Girl News

More Calendar Motorcycle & Calendar Kitten News
Go to: Fast Dates • Garage Girls • Iron & Lace• Meet the Models

Click to see even more of our sexy Fast Dates Calendar Kittens...




MotorcycleSuperstore.com
---
WARNING - The Banner Links Below Display Websites With Explicit Nudity
Some of our Calendar Kittens can also be seen at Playboy's websites...


Click for a Free Met Art Sample Model Gallery Updated Each Day!