This Month in the 2016 Garage Girls Calendar...
FastDates.com Calendar Kitten Jitka keeps up classic 1946 MG TC in top tune!
You'll also find our Calendat Kittens in the 2016 Fast Dates and Iron & Lace Calendars.
And go behind the scenes below shooting the FastDates Calendars with photographer Jim Gianatsis.
Order the Garage Girls Calendar Here

See more of our beautiful Models and Calendar bikes in the
Calendar Bike Garage and in Members Corner.

Calendar Kitten & Garage Girls News May - June 2016
More Garage Girls News CONTINUED HERE


World Premier! New 2016 Garage Girls Calendar
Beautiful Models Hard at Work!

"All Killer, No Filler" is the only way to describe the exciting Garage Girls motorsports themed pinup Calendar photographed by Jim Gianatsisfeaturing a close-up look at this year's most beautiful FastDates.com Motorcycle Calendar Kittens, but without the motorcycles getting in the way! The perfect 2nd Calendar to keep up to date in the Garage, in the House or at Work! Our beautiful Garage Girls cover model this year is beautiful Jacqueline Pabst featured in Playboy magazine's College Girls of the Pac10!
Featuring the hottest, sexiest new FastDates.com Calendar Kittens including beautiful SBK World Superbike 6'2" tall Grid Girls Jitunka and Petra from the Czech Republic as seen on TV race coverage, plus Jessica Harbour and Kelly Sliwinski and Sara Horvath, Lindsay Hancock, Jacqueline Pabst and Caitlin O'Conner. You'll also find these beautiful models featured in
the other 2016 Fast Dates and Iron & Lace Motorcycle Calendars. They may not be able to change a flat tire, but does it realy matter?
This is your exclusive 16-month pit pass to some of the world's sexiest models in revealing swimwear and lingerie.
Calendars are highest quality full color 15 x 15" wire spiral bound printed on heavy art stock
revealing 16 months beginning with September. $19.95 each - Click on the Calendar Covers below to Order Now
You'll also find our Calendar Kittens and Motorcycles in revealing pictorials in MEMBERS CORNER

Click on the Covers Below to Order the Current Calendars
Order Past Edition Calendars in Collectors Corner
NOTICE CUSTOMERS - We are having a problem with Amazon.com right now, not wanting to stock our Calendars in Bulk,
and they are showing them as not in stock. If you see this on the Amazoncom Order Link please use the PayPal Buttons
on the Main Calendar's Sales Page to order the Calendar direct from FastDates.com,
or by check through the US Mail. Or from out other distributors listed there. Sorry for the Inconvience.

Click to Order Now

2017 Garage Girls
The FastDates.com Calendar Kittens playing
dirty without the bikes getting in the way!
ISBN 1578651931


Click to Order Now

2016 Garage Girls
The FastDates.com Calendar Kittens playing
dirty without the bikes getting in the way!
ISBN 1578651832


Click to Order Online

2017 Iron Lace
Centerfold Models and Custom Bikes
15-inch Spiral Bound
ISBN 1578651921


Click to Order Online

2016 Iron Lace
Centerfold Models and Custom Bikes
15-inch Spiral Bound
ISBN 1578651824


Click on Cover to Order Now

2017 Fast Dates
SBK Racebike Pinup Calendar
SBK World Superbike & Cafe Bikes w/Models
ISBN 1578651913


Click on Cover to Order Now

2016 Fast Dates
SBK Racebike Pinup Calendar
SBK World Superbike & Cafe Bikes w/Models
ISBN 1578651816


Watch the Fast Dates.com Calendar Video Shoot with Jessica & Kelsey!
Go behind the scenes at the glamorous Gianatsis Design Studios with beautiful new Calendar Kittens Jessica Harbour and Kelsey as they shoot for the FastDates.com Motorcycle PinUp Calendars with photographer Jim Gianatsis. And look for the new 2015 Calendars available right here on July 1st. Order the Calendars!

You'll find all the pages of the Garage Girls Calendars in larger Screen Saver Size
our Calendar Kittens in revealing pictorials in MEMBERS CORNER
---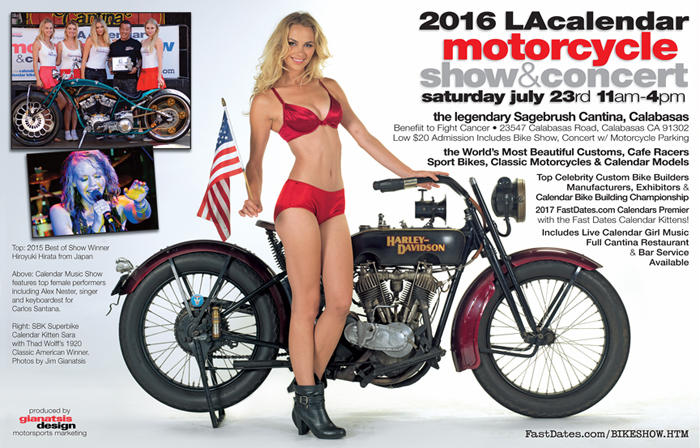 2016 LA Calendar Motorcyel Show returns to the Sagebrush Cantina on Saturday July 23rd
Mark your Caledar now to join us - More Information Here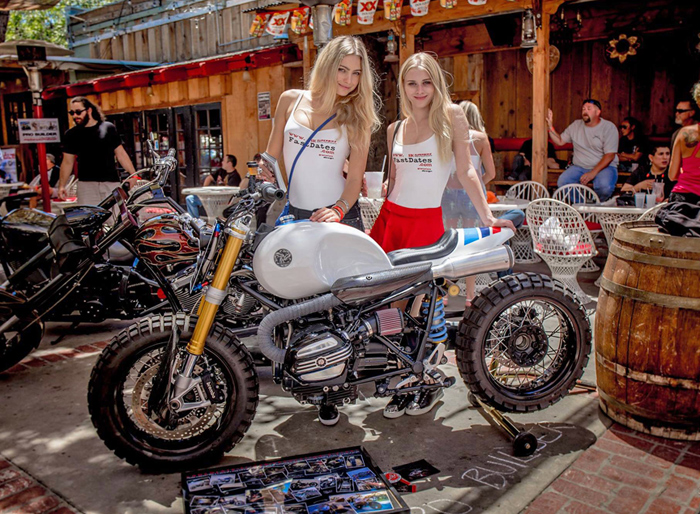 Calendar Kittens and part time Russian Mobsters Helena and Alana with Samuel Kao / JSK Custom Design's cool BMW R9T Retro Custom with legendary BMW Martini Racing paintwork. The bike took 2nd Palce in Pro Builder and won the AFT Customs Visionary Award for the most inovative bike at the Show.
Click HERE for Complete Coverage of the 2105 LA CalendarMotorcycle Show

---
| | |
| --- | --- |
| | |
Meet beautiful Alissa Bourne & Kaustin Rose,
our newest SBK Fast Dates Calendar Kittens for Laguna Seca World Superbike and the LA Calendar Motorcycle Show this July 2016

June 1st 2016 - Beautiful New York based model Alissa Bourne and Los Angeles based Kaustin Rose have been selected as the newest FastDates.com Calendar Kittens by Calendar producer and photographer Jim Gianatsis booked through Umbrella Girls USA to shoot the next 2018 edition FastDates.com Calendars during July 2016 at Mazda Raceway Laguna Seca SBK World and AMA Superike Weekend July 8-19th and the LA Calendar Motorcycle Show on Saturday July 23rd at the Sagebrush Cantina, Calabasas, CA.

Alissa Bourne is as athletic as she is beautiful, first going from high school to attend the University of Maryland on a Soccer scholarship, graduating with a with a degree in Accounting. But before settling down to a boring corporate office job as an account, this beautiful 5'9" blond who resembles the legendary Marilyn Monroe, thought she'd first give modeling and acting a try, moving to New York where she has found success in both commercial and fashion modeling, and acting. Her credits include an appearance this season on the TV show "Younger" and featured int he interesting short story movie called "Audrey" which  can be found on YouTube.com and was recently nominated for the 2016 New York Short Films Awards.

Kaustin Rose is from Phoenix, Arizona, and is a huge motorsports enthusiast. She grew up working in her father's business of buying, repairing and selling cars and motorcycles. Having motorcycles parked in the house was just part of the norm for her, and she was always rebuilding car motors with her dad. Caustin rode a KTM dirt bike in the desert, and got heavily into building up and driving cars in Drifting competition. But after destroying her Nissan drift car into a wall, and then her new 2012 BMW M3, she tell us she's taking a break from owning cars for a while to "settle down".

We hope she doesn't settle down too much, and will keep her driving passion focused on safer race tracks like Mazda Raceway Laguna Seca with ample runoff area where the consequences aren't as serious or expensive. Kaustin moved to Los Angeles just a year ago to get into glamour and fashion modeling. Her credits include magazine covers like Penthouse March 2016.

The girls' exciting and busy month of FastDates.com Calendar shoots begin with a drive from Los Angeles up the California Coast on Highway 1 to Monterrey California for the 2016 Laguna Seca USA World SBK & AMA Superbike round July 8-10th to shoot the Fast Dates World Superbike Calendar and will join other Umbrella Girls USA models to serve as official SBK Podium and Gird Girls at Mazda Raceway Laguna Seca.
Following the Laguna Seca Superbike weekend, Alissa and Kaustin will return to Los Angeles to stay at the Fast Dates Calendar Mansion and Studio and enjoy the sights and shoot with Jim Gianatsis for the Garage Girl Calendar. Then on the weekend of July 23-24th they will be in attendance at the Saturday July 23rd LA Calendar Motorcycle Show at the Sagebrush Cantina in Calabasas to help premier the new 2017 FastDates.com Calendars and help with the Calendar Bike Building Championship awards. Then the following day Sunday the 24th, the Kittens will be at Jim's home and studio to shoot with all the the top custom motorcycles from the Show for the next 2018 Iron & Lace Custom Motorcycle Calendars, and host a house party and concert with the winning bike builders and Show staff. Tickets for the Bike Show are available on the Calendar Show web page here - http://www.FastDates.com/BIKESHOW.HTM


Below is a short freature movie which Alissa recently starred in. Is this Kitten talented or what!
---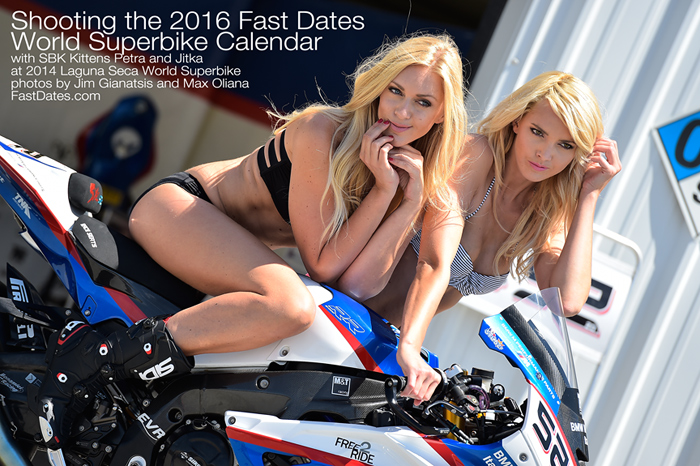 Fast Dates Calendar Celebrates 20 years by bringing
Czech SBK Calendar Kittens Jitka and Petra at
Laguna Seca World Superbike and the LA Calendar Motorcycle Show
By Jim Gianatsis Photos by Jim Gianatsis, Massimo Oliana and Sabrina Mosca

California, USA, July 15-22nd 2014 -The FastDates.com Calendars and myself, producer / photographer Jim Gianatsis were excited to announce an agreement with SBK World Superbike and the international model agencies PetrasAngles.com and UmbrellaGirlsUSA.com to bring beautiful Czech Republic SBK grid girls Jitka Pralinka and Petra Ruzinka to the United States during July 2014 to work for SBK and shoot with me at the Mazda Raceway Laguna Seca United States SBK World Superbike and AMA National race weekend July 11-13th, and the LA Calendar Motorcycle Show in Malibu on July 20th.

– Complete Fast Dates Photo Shoot Story & Photos with Jitka and Petra Here –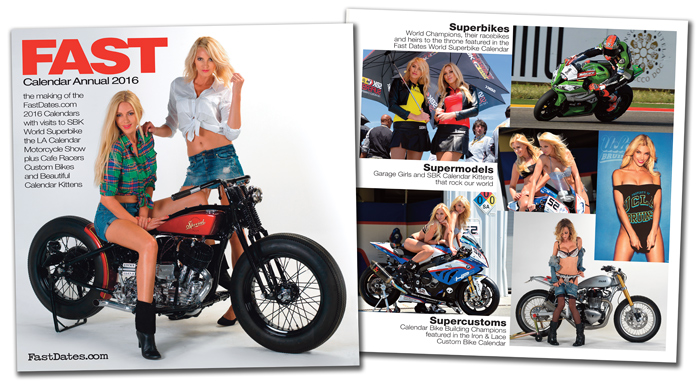 FAST 2016, 2015, 2014 Digital Calendar Yearbook
Go Behind the Scenes for the Making of the FastDates.com Calendars!
Each year's FastDates.com Calendar Digital Yearbook features 120 pages of exciting hi-resolution digital photography that
takes you with us behind the scenes to our photo shoots at SBK World and AMA Superbike, the LA Calendar Motorcyle Show,
and in our photo studio. You'll meet the beautiful Calendar Kitttens in sexy biography pictorials, the top Factory Racers and Custom Bike Builders,and see detailed photo features on the top calendar and race bikes. Take a track day with World Superbike Champion Troy Bayliss at Misano, take an Edelsweiss Ducati World Superbike tour of the Ducati Factory & Museum and across Italy, ride a Vespa scooter around Paris and party at the Crazy Horse and the Moulon Rouge. Hang with beautiful teen rock star Taylor Momsen of the Pretty Reckless. Did we forget anything?
Oh yes, and you'll see every page in the new Fast Dates, Garage Girls, Iron & Lace Calendars!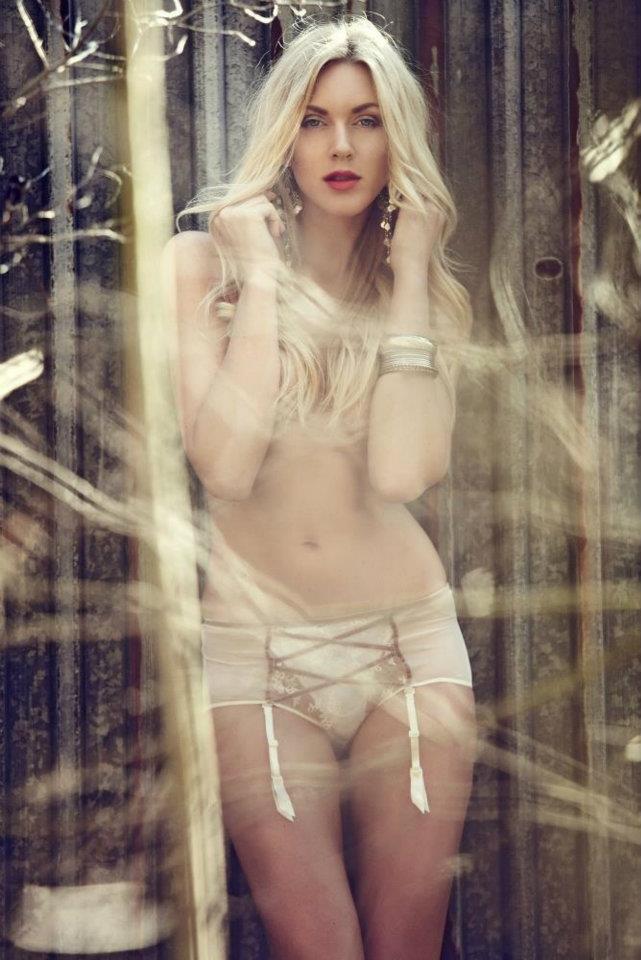 FastDates.com Calendar Kitten Peta Ruzickova
Our offiical Fast Dates SBK World Superbike Calendar Kitten Petra from the Czech Republic
is featured in the 2013, 2014, 2015, 2016 FastDates.com Calendars.

See more revealing pictorials of the FastDates.com Calendar Kittens in Members Corner
Order the Fast Dates Calendars • Calendar Screensavers in Members Corner
---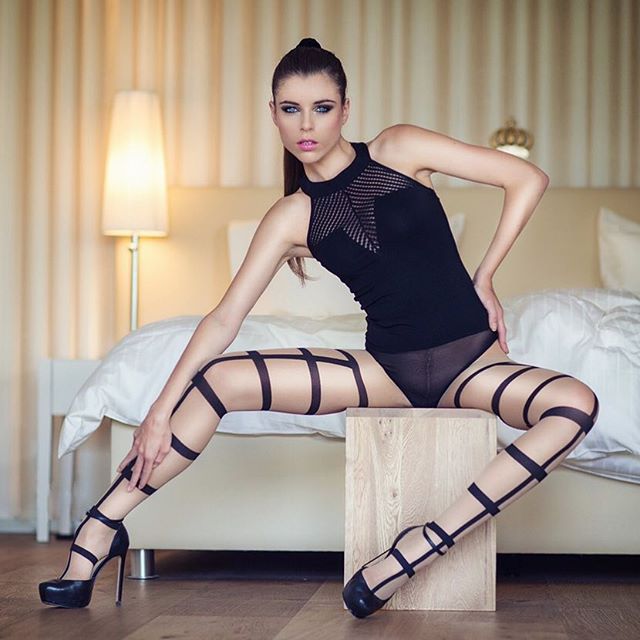 FastDates.com shoots with beautiful Ukrainan model Aleksa Slusarchi from X-Art.com!
Calendar photographer Jim Gianatsis was excited to host and work in Los Angeles recently with beautiful adult model and gymnist Aleksa Slusarchi from the Ukraine. The photos they shot together over the course of two weeks with motorcycles will appear in the next editions of the FastDates.com Calendars, while you can find more explicit pictures and videos of a very naked Aleska now in Members Corner.

Aleksa is featured under the name "Jessica" on the popular adult website X-Art.com where she likes to pleasure herself a lot,
have some really hot girl-girl encounters, and enjoys really exciting love making her boyfriend Alex. You won't want to miss any of this. CLICK HERE to Visit Jessica on X-Art.com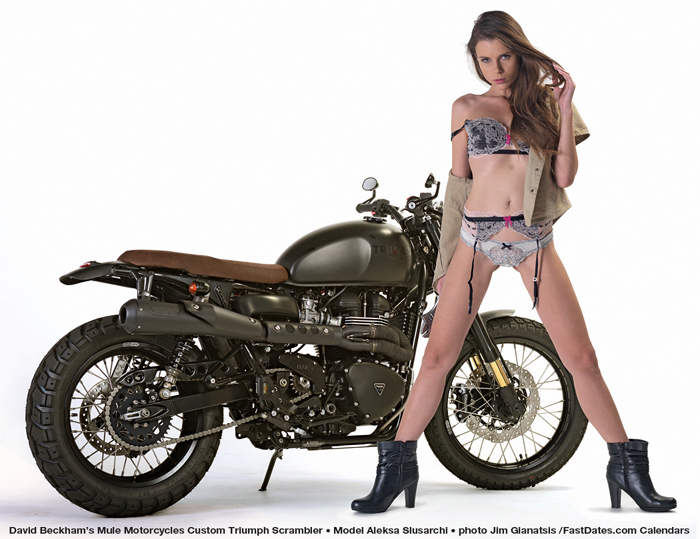 This photo shoot of Aleksa with celebrity David Beckham's Triumph Amazon adventure bike built by Rickard Pollock / Mule Motorcycles.net is featured in the Calendar Bike Garage.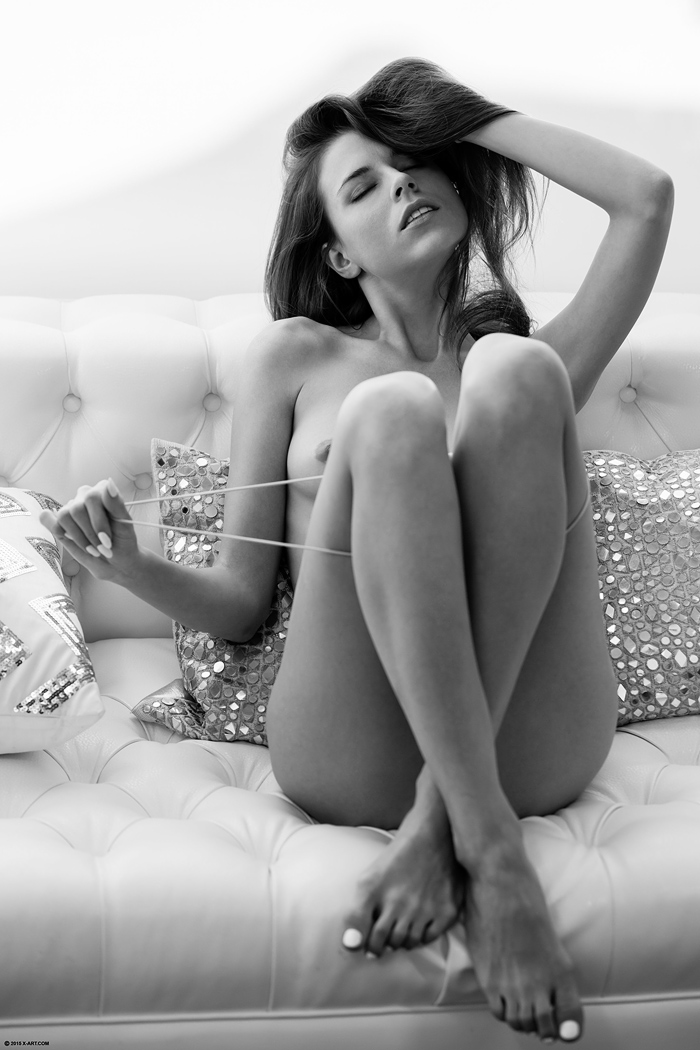 ---
Angels
Victoria's Secret Catalog
advertising photographer Russell James shoots
the Victotia's Secret Supermodels nude.

The Victoria's Secret Angels have become an iconic representation of female beauty and sensuality that is unparalleled in popular culture. Russell James has spent 15 years being the primary photographer for the lovely and fascinating women who have been featured by Victoria's Secret over the years. The list certainly is an impressive one, including such headline names as Gisele Bundchen, Adriana Lima, and Alessandra Ambrosio, to name a few. This ample volume showcases these heavenly representations of womanhood in all their splendor. Subtly provocative in a tastefully seductive manner, these portraits capture each model's individual blend of physical attractiveness and beguiling personality. The array of images reflects playfulness and adventure, and the innovative compositions and technically perfect photography add to the overall captivating effect. Readers will truly feel as if they've stepped into their own little piece of paradise,

Click Cover to Order



---
2016 Calendar Kitten Lindsay
2016 FastDates.com Calendar Kittens Lindsay Hancock is also
featured in Meet the Models and in more revealing pictorials in Members Corner
---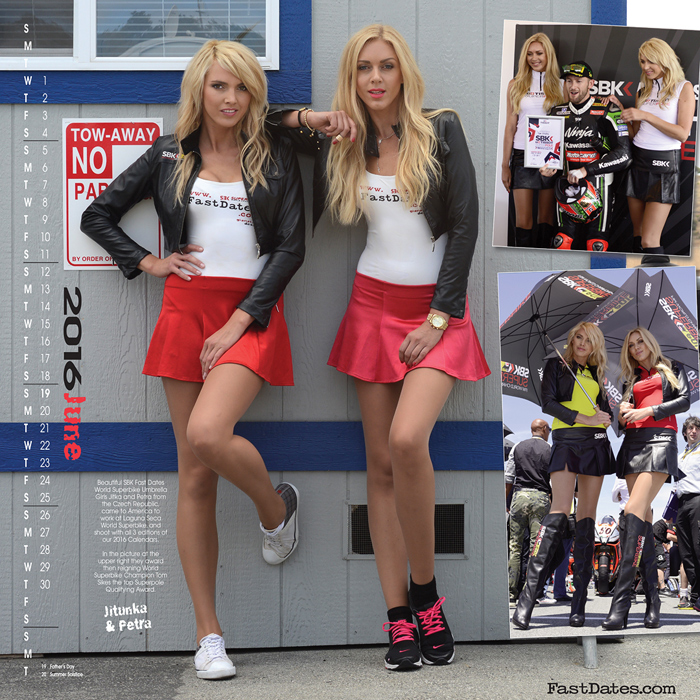 This Month of April in the 2016 Garage Girls Calendar...
Beautiful Fast Dates Calendar Kittens Jitka and Petra are featured on the strating grid and race podium
at many of the SBK World Superbike rounds,
See our Calendar Kitten Pictorials in the FAST 2016 Calendar Magazine in Members Corner.
Order the Garage Girls Calendar Here
---
More Calendar Girl News

More Calendar Motorcycle & Calendar Kitten News
Go to: Fast Dates • Garage Girls • Iron & Lace• Meet the Models

Click to see even more of our sexy Fast Dates Calendar Kittens...




Amazon.com Top Brand Motorcycle Apparel & Parts


---
WARNING - The Banner Links Below Display Websites With Explicit Nudity
Some of our Calendar Kittens can also be seen at Playboy's websites...


Click for a Free Met Art Sample Model Gallery Updated Each Day!