The hottest, sexiest Superbabe Music
Order our favorite babe music at FastDates.com at low discount prices!
(just click on the CD covers to find out more and to order online)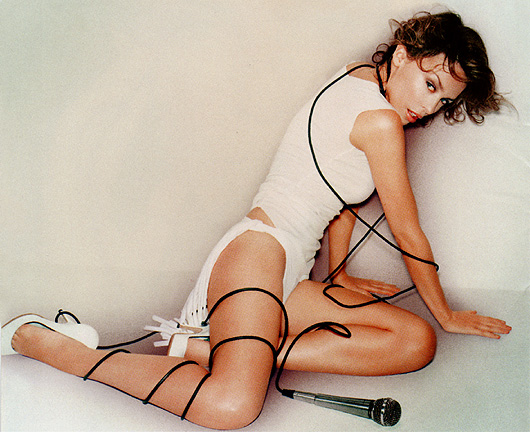 Featuring Kylie Minogue
Can't Get you Out of My Head, her last single
selling 2.5 million to date & going to No.1 in 20 countries.
Ok America, so who the heck is this beautiful girl who has had some 37 top 20 listed hits in Great Britain?
Hailing from Australia, you may remember Kylie's first music video "The Locomotion" (Top 10 in US, No.1 all over the world) which kick started her career & the world became smitten with this diminutive siren whose music has improved with age. Kylie then disappeared to England where she was signed by smaller record distributors there, and she had a recurring role on a British sitcom TV show. Kylie's Great Hits Album will catch you up on the dozens of her top hits which we somehow never got to hear over here in America and you can listen to the chronological track-listing which has sold Kylie MILLIONS of records & garnered 20 UK Top 20 Hits by 1992 alone. Story continued at bottom of page.......................
There's much more Kylie than shown here. Just click on these album covers for links to more CDs.



Kylie Minogue - Kylie CD


Kylie Minigue - Light years. CD


Kylie - Can't Get to You. CD


Kylie Minogue - Hits+


Her top selling British hits, includes lots of pretty easy listening balads. CD




Kylie's Greatest Hits

Christina Aquilera
STRIPPED!




Christina
-Hot 2 CD Set!

Shakira
CLOTHING OPTIONAL

Shania Twain
-:) UP!




Lillix - Sexy and Great Sounding


Mandy Moore - In My Pocket


Mandy Moore - So Real


Mandy Moore -Be with You




Jennifer Paige...awsome




Katy Perry


The Coors





The Corrs -Forgiven, Not Forgotten




The Corrs -Talk on Corners




T

he Corrs -In Blue




The Best of The Coors Videos




17 incredible Music Videos on DVD, most never seen on American TV






Corrs - Live in London




Awsome -one of the best produced music DVDs ever! The world's best girl band ever!


Corrs - Live at
the Royal Albert Hall.

Another great live show from one of the world's best bands. DVD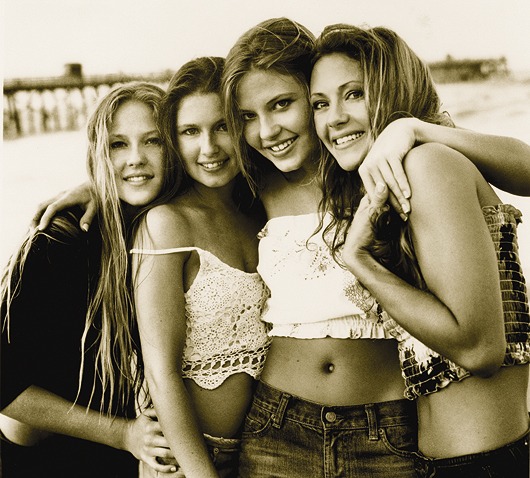 Left to right: Danielle, Candice, Christie and Jilaine, four beautiful sisters harmonizing with the best melodies and great original songs. Talk about talented, Christi is also a NSSA Women's east Coast Surfing Champion and Candice is a commerical artist. Ranging in age from 15 to 26 years old, they write their music together.
The Beu Sisters featured at our Los Angeles Calendar Motorcycle Show!
These four young teenage girls are the hottest, best new girl group on the music scene since the Coors. If you miss the harmonies of Wilson-Phillips and like the pop rock ballads of the Coors, these four beautiful young Beu sisters will totally blow you away. Songs like "I was only Seventeen" might get us arrested, "Stop! Stay away from my Sister!" tells us they'll kick our butt, but then they lead us into temptation with 'Why Don't You Just Kiss Me."
| | |
| --- | --- |
| | We were excited to feature the Beu Sisters in their first major national concert appearance at our Los Angeles Calendar Motorcycle Show in July 2003 following the release of their critically acclaimed first album The Beu Sisters. Be sure to join us every July at the Queen Mary Park in Long Beach, CA, for the most incredible weekend ever of awesome streetbikes, wild party action, beautiful girls and the Beu Sisters! |
And there have been many more Kylie Minogue since then, with Can't Get you Out of My Head, her last single selling 2.5 million to date & going to No.1 in 20 countries. These trax chronicle the Stock Aiken & Waterman years, some of the most important highlights being I Should Be So Lucky, which is quite cringeworthy but a mammoth hit, Especially For You, which spent 9 weeks alone in the UK Top 2 & was a mammoth hit worldwide.
The best tracks on the album come in the form of Kylie's mature image, from the timeless Better The Devil You Know (also covered by noe defunct Brit-ABBA type band Steps), the 70s retro of Step Back In Time, the extra mature & catchy What Do I Have To Do & Shocked; then moving on to her Let's Get To It album with another 4 Top 11 singles. Add to that a wonderful rendtion of Celebration & the extra-catchy What Kind of Fool, & you have what is perhaps a legitimately brilliant
Greatest Hits. 21 hits crammed onto one meltdown!!
Kylie has since moved on & become one of the world's leading superstars - her last 2 albums Light Years & Fever are by far her best & best-selling - & have earned her a greater fanbase transcending several generations of girls, teens & gay men. Many of these songs still fare in her live! shows, demonstrative of the fact that Kylie still loves them, her fans still lap them up & the timelessness of the era that was Kylie. She has now started a brand new era which seems to be even more thrilling & one which even Madonna cannot refrain from acknowledging. She may be small in stature, but Minogue's musical importance is immeasurable. Here you can see why. Check out the bonus Non-Stop Greatest Hits cd - makes you smile! -FastDates.com