Fast Dates Calendar Model News
Calendar Girls go wild for Superbike and MotoGP
Official Calendar of the SBK World Superbike Championship

WORLD EXCLUSIVE FIRST TEST! Our own SBK
Ducati Corse Fast Dates World Superbike girl Janelle Perzina tests the- 2004 Aprilia Mille


Laguna Seca World Superbike 2003 - Our own Miss Great Britain 2003 Nicki Lane served as Ducati Corse umbrella girl for British National Champion and 2003 World Superbike Champion Neil Hodgson. Nicki's photo shoots from the race weekend with all the top factory racebikes will appear in the 2005 FastDates Calendar sponsored by Performance Machine, Jardine Performance and MotoWheels.com.
Performance Machine and Jardine Performance sponsor the
Los Angeles Calendar Motorcycle Show and FastDates.com Calendars
December 8th, Los Angeles, CA - Two of the leading motorcycle aftermarket product manufacturers in America, Performance Machine and Jardine Performance, have just just signed long term multi-year sponsorship agreements for The Los Angeles Calendar Motorcycle Show and the related FastDates.com Calendars. Beginning in 2004 the agreement sees both manufacturers being major participants of The Los Angeles Calendar Motorcycle Show -the largest custom and performance streetbike show in America, and the FastDates.com Calendars -the world's most popular line of motorcycle pinup calendars and the leading streetbike website in America.
The new agreement extends Performance Machine's previously established title sponsorship of the Los Angeles Calendar Motorcycle Show with the continued participation of the popular Performance Machine big rig display truck, and the Performance Machine Best of Show Award for what is the premier custom bike contest on the West Coast. PM is the leading manufacturer of streetbike custom and racing wheels, handlebar and foot controls in America.
The new agreement sees Jardine Performance joining The Los Angeles Calendar Motorcycle Show as one of the event's important associate sponsors, with the hugely popular Jardine West Coast Horsepower Dyno Shootout which premiered at the Show in 2003, now becoming an annual major component of the Bike Show weekend. Jardine Performance is a leading manufacturer of automotive performance exhaust systems, and the leading American manufacturer of custom and performance cruiser and sportbike exhaust systems, and the official exhaust system supplier to American Honda's Roadracing Team.

Jardine also joins Performance Machine, together with the SBK World Superbike Championship and MotoWheels.com as associate sponsors of the Fast Dates Racebike Pinup Calendar produced by FastDates.com. The world's most popular racebike calendar, Fast Dates features the top factory race bikes of the SBK World Superbike Championship and AMA Superbike Championship, photographed together with the beautiful SBK Fast Dates World Superbike Girls. Featured in the upcoming 2005 calendar will be 2003 World Superbike Champion Neil Hodgson's Ducati 999F03 together with Miss Great Britain 2003 and SBK Fast Dates Ducati Corse umbrella girl Nicki Lane.

FastDates.com sponsored Nicki in the Miss Britain pageant.

Miss Great Britain Nicki Takes on the World
She's off to Venezuela for Miss World Finals
London GB, Dec 1st: Our own Fast Dates and Iron & Lace Calendar cover model and official SBK World Superbike Fast Dates.com Ducati Corse umbrella girl Nicola Lane is off to Venezula this month to take on the world! Our beautiful Miss Great Britain 2003 will be competing in the Tourism World sponsored Miss World finals. Nicki writies us-

"I'm on on the mend from being sick the last 2 months and back to evil exercise again!!! Ha! I've done five bikram yoga classes in five days to get ready. The final for Miss Tourism World isn`t in Hong Kong anymore for two reasons: Loads of girls wouldn`t go 'cos of the SARS scare, and China came in with a massive bid with the condition that Miss China would be placed in the top five! I am therefore off to Venezuela, home of the beauty pageants for the finals Dec. 12th to 21st. You should look at Miss Europe. the winner was a Russian girl, only 16 but absolutely stunning, tall slim and a model.All the info is on their website www.misstourismworld.com."
For More Nicki go: Meet the Models • Fast Dates News

" I saw our Fast dates model Chandi in the ad pages in British Cosmo! She was advertising some bizarre strapless bra thing, but she looked as gorgeous as ever. Tell her I want her teeth!"
For sexy photos of Chandi, Nicki and Janelle's romp at Carmel Beach during World Shuperbike weekend just visit Members Corner.
---
Jolleen "JoJo" Farmer
of Las Vegas Extremes
appearing at the
LA Calendar Bike Show
July 17 & 18th, 2004
The world's most talent and beautiful woman stunt rider, 19 year old JoJo Farmer will bemaking her first SoCal appearance with debonaire Pauly Sheer will be appearing both days as just one of the many attractions at our big Los Angeles Calendar Motorcycle the July 17-18th weekend. Wild riding antics and smolkey burnouts, dyno shootouts, live bands, cool bikes, hot chicks, what more is there to life? Mark your calendar and join us there! Details Here
. . . Going Fast!
Nicki Lane is featured on the covers and inside the 2004 Calendars


Iron Lace 2004

USA order Online Now: Calendars.com



Garage Girls 2004
World Superbike Girls!
Our official SBK Fast Dates World Superbike girls are featured in
Member's Corner!
Get FREE Access with your
Paddock Garage membership.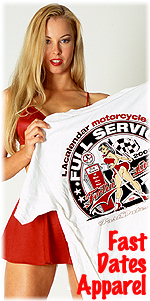 Get the shirt off
Nicki Lane's back!
---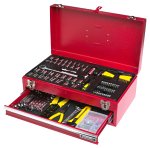 Great Tool Sets
Low prices $$$$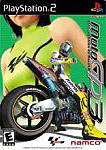 MotoGP3
Realistic and Exciting!