Fast Dates Calendar News January-February 2007
Camilla and Katie Heat Up the Ducati Pits
World Superbike Champion Troy Bayliss Wins Last 990cc MotoGP
Here's our new 2008 Fast Dates Calendar Kittens (left to right) Camilla Tranter and Katie Pugh heating things up in the Ducati Corse garage at Brands Hatch World Superbike this past summer were we photographed the upcoming 2008 calendar. Camilla and Katie also served throught the weekend as Ducati's official umbrella girls for Lorenzo Lanzi, and Troy Bayliss who went on to secure the 2006 World Superbike Championship at Magney-Cours on October 8th 2006, repeating his 2001 WSB title.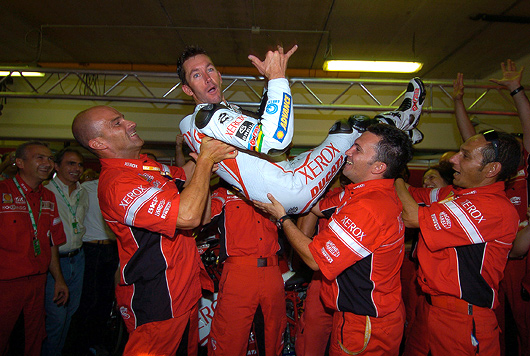 Then 3 weeks later on October 29th at Valencia, Spain, after securing his 2nd World Superbike crown, Troy Bayliss filled in for injured Ducaci MotoGP rider Sete Giberneau on the Desmosedici 990cc V-4 to run away with the last ever race of the 990cc formula, and became the fist rider ever to win both World Superbike and MotoGP races in the same season. Congradulations Troy!
---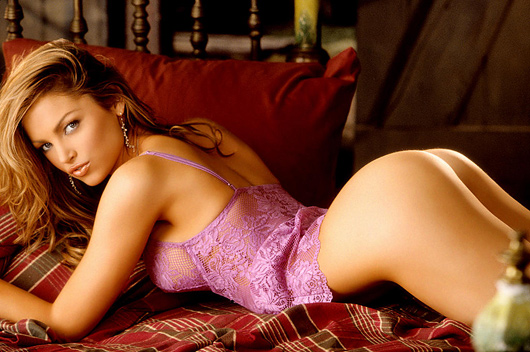 Calendar Kitten and Playboy Playmate Tamara Witmer is featured extensively in Members Corner and in the upcoming 2008 Fast Dates, Iron & Lace and Garage Girls Garage Calendars. Tamara will also be hosting this year's LA Calendar Motorcycle Show Weekend on July 14-15th where you can meet her in person signing the new FastDates.com Calendars.

FastDates.com Members Corner Updates
Much More New Content, New Lower $9.95 Monthly Price
If you've never joined our Members Corner before, or it's been a while since you have been a member, now's the time to join us. Along with a new low monthly membership rate, we've got a lot more content you don't want to miss! Included with your Membership is:
• Members Corner - Sexy and Reveal photos of the prettiest fastdates.com calendar Kittens including Playboy Playmates Tamara Witmer, Athena Lundburg, and the world's sexiest actresses and models Jamie Pressly, Joanna Krupa and LeeAnn Tweeden. Plus archives of all the Fast Dates, Iron & Lace, Garage Girls Calendars.
• Met-Art Affiliate Model Galleries - Normally $29.95 a month to join Met-Art alone!
• Paddock Garage - Sportbike and V-Twin Engine Tuning and Suspension Se Up.
• Iron & Lace Garage - Feature custom bike pictorials including our beautiful Calendar Kittens
• FastDates.com Calendar Screen savers - The hottest Bikes, Riders and Calendar Kittens
Tamara says "Don't get left out!" - Join Members Corner now!
2007 LA Calendar Motorcycle Show Weekend July 14-15th
Welcomes 3 New Important Associate Sponsors and Activities
Star Motorcycle Metric Midway, S&S Cycle World Record Horsepower Dyno Shootout,
Iron Works Magazine Calendar Bike Building Championship
Long Beach, CA, January 25, 2007 - The Performance Machine sponsored Los Angeles Calendar Motorcycle Show Weekend welcomes three major new Associates Sponsors, Star Motorcycles, S&S Cycle and Iron Works magazine, to America's premier custom and performance streetbike event scheduled for July 14-15th 2007 at the Queen Mary Event Park in Long Beach, CA.
"I am really excited to have these three great names in the motorcycle industry joining us beginning this year," said Jim Gianatsis of Gianatsis Design Associates, producer of the LA Calendar Motorcycle Show Weekend. "No other motorcycle show in the America offers both its manufacturers and visitors so much excitement, entertainment and media coverage. This will be our 16th year for the Show and it only continues to get bigger and better thanks to great partners like these."
Yamaha's street cruiser Star Motorcycle line will be join the Calendar Show beginning this year as title sponsor of the Star Motorcycles Metric Midway which featuring activities, exhibitors and the Calendar Bike Building Championship Contest classes for all makes of metric Twin cruisers, sportbikes, along with a new Star Motorcycle Contest Class with awards. Star Motorcycles will have a huge big rig display area featuring their newest bikes and exotic Star based customs from some of the Show's top name builders. Show attendees will be able to take Star Motorcycle demo rides throughout the weekend along Queens Highway parkway around Long Beach Harbor on the beautiful Pacific Ocean. All Star Motorcycle Club Members will receive special Show admission pricing and preferred Star parking in the Queen Mary's main parking lot.
S&S Cycle is the world's leading manufacturer of high performance American V-twin engines and performance parts used by many of the top custom bike manufacturers and builders in attendance every year at the Los Angeles Calendar Motorcycle Show. Direct sponsorship by S&S Cycle of the Calendar Motorcycle Show's exclusive World Championship Horsepower Dyno Shootout makes a perfect partnership to showcase the S&S Cycle performance image. Along with running the S&S Cycle World Championship Horsepower Dyno Shootout exclusively with a Super Flow Dyno, S&S Cycle president Brett Smith is expected to be on hand with his and his staff and a product display to answer attendee's engine, performance questions.
IronWorks magazine returns this year, after a brief one year hiatus, as the Calendar Motorcycle Show's exclusive American Twin magazine associate sponsor. Well respected editor, Dain Gingerelli will assist with judging and awards presentations on Sunday for the Calendar Bike Building Championship and the IronWorks sponsored Pro Builder, Sportster, Bobber Classes, and other classes to be announced. Show attendees can stop by the IronWorks magazine display throughout the weekend, meet Dain and the rest of the magazine staff, and sign up for a specially priced Iron Works subscription discounted for show attendees and enter to win the IronWorks/Lickscycles Bobber Motorcycle Giveaway.
Playboy Playmate Tamara Witmer, featured in the 2007 Show adverting campaign(above0 and other beautiful FastDates.com Calendar Kittens like A. J. Almasi (below) will be there as well to meet fans, and personally autograph their photos in the new 2008 FastDates.com Fast Dates, Iron & Lace and Garage Girls Calendars. Go to: Calendar Bike Show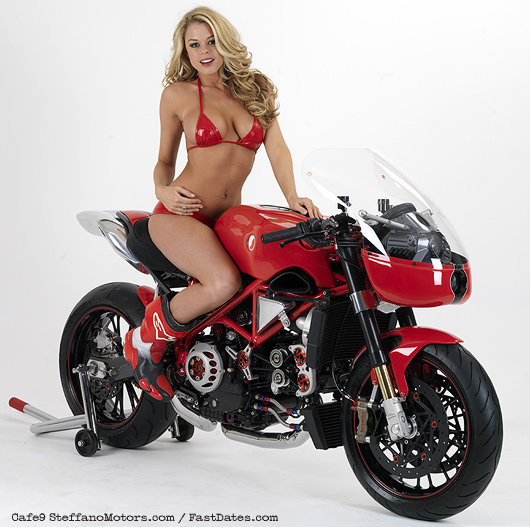 A.J. Almasi and the SteffanoMotors.com Cafe 9
While the rest of the country was buried in snow this January, things were heating up here in Los Angeles even more than usual as our newest FastDates.com Calendar Kitten A.J. Almasi hung out in the Gianatsis Design studios for the day to shot an advertising campaign for the new Cafe 9 limited edition sportbike built by Robert Steffano of SteffanoMotors.com. The bike is built on a donor Ducati 999 Superbike and features unique bodywork and many special components like the superbike forks and brakes, polished aluminum exhaust system, and the beautiful multi-spoke back anodized alloy wheels. For more details go to SteffanoMotors.com
You'll find a complete feature pictorial of Cafe 9 in the Iron & Lace Garage. While A.J. Almasi will be featured in the upcoming 2008 Garage Girls Calendar and will be appearing at our big LA Calendar Motorcycle Show on July 14-15th, as will the Cafe 9 and other exciting new custom sportbike projects from Robert Steffano.
---
There's more! Go to Fast Dates Calendar News NEXT PAGE

Hot Calendar Girl and Bike News! Go to: Fast Dates • Garage Girls • Iron & Lace

click here to see even more of our sexy Fast Dates Calendar Kittens...