September - October 2009
Playboy Playmate Pamela Anderson with all-natural enhancements was featured on the cover of the first Fast Dates Calendar whicd we photographed 20 years ago. The bike is Miguel Duhamel's Yoshimur Suzuki GSXR750 running Mikuni RS Flatside Carburetors. A few new copies of the 1991 calendars are still available for sale in Collectors Corner.
The 20th Anniversary of the Fast Dates Calendar!
By Jim Gianatsis
It's unreal to think it's been 20 years we've been producing the Fast Dates Racebike Swimsuit Model PinUp Calendar. The first 1991 edition of the then Mikuni Fast Dates Calendar premiered in the summer of 1990 featuring a then unknown Playboy Playmate on the cover named Pamela Anderson, posing in a pink bikini in the saddle of Miguel Duhamel's Yoshimura Suzuki GSX-R750L AMA Superbike. Then published by Mikuni American, still one of my advertsing cleints today, the Calendar was used as a promotion to show all the top racing bikes of the time which used Mikuni carburetors.
A little know fact, but there actually were earlier Mikuni Calendars, but the public never got to see them. In the 1980s Mikuni purchased pre printed nude model calendars from a printer in Japan imprinted with Mikuni's company name on them, and sent them out to distributors and friends at Christmas time. I became their ad agency around 1987 and convinced them it might be fun to publish our own nude calendar and incorporate the Mikuni carburetors in the pictures. The first original Mikuni Calendar was published for 1990 and featured my photo of Playboy Playmate Terri Lynn Doss on the cover holding a Mikuni carburetor, with purchased stock photos of nude Penthouse models inside. We advertised the calendar in Cycle News the fall and sold out the complete print run of 1,000.
For 1991 we wanted to try and offer them retail in motorcycle dealers through Mikuni distributors, but we knew we could sell nude pinup model calendars in a family visited motorcycle dealership, so I shot the next calendar with all the models in swimsuits or lingerie with top racing bikes that used Mikuni carburetors and Fast Dates was born. In successive years other Mikuni Calendars were made for their other markets: Berm Busters motocross, Hot Waves personal watercraft, Iron & Lace custom bikes, Ripped Pavement roadracing action and Garage Girls pinups. As the markets have changed, and sexual harassment laws became established and enforced in America, some of those titles have come and gone, Mikuni American gave their Calendar program to Gianatsis Design.
It might be noted that back in the 1970s and early 1980's even major American motorcycle distributors U.S. Suzuki and Yamaha USA published and gave away pinup model calendars featuring Playboy Playmates and Hawaiian Tropic girls. Today both of them and American Honda have corporate policies that their team race bikes can not be photographed with swimsuit models. One of the main reasons why Fast Dates is now only photographed at World Superbike races and is endorsed by SBK, a european based organization on a continent where beautiful women are allowed to be admired, not labeled as exploitation and pornography.
20 years later! Sabella and Rachel grace the cover and inside the 2010 Fast Dates Calendar on sale this month. Click to order.
---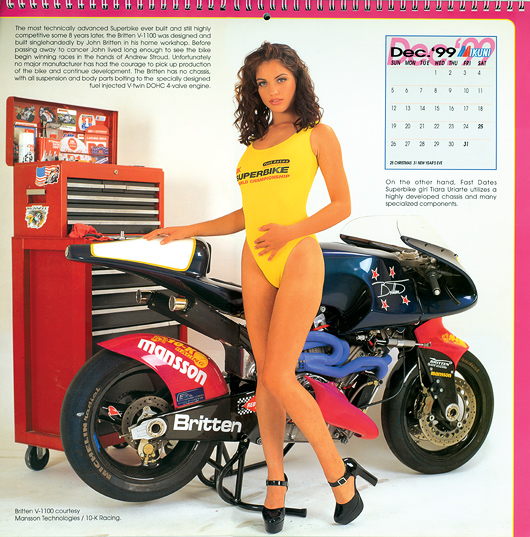 One of John Britten's rare hand built from scratch superbikes. #8 of 10 built, was featured in the
1999 Fast Dates Calendar.
New Video and Book Tribute To John Britten. Backyard Motorcycle Visionary




He was considered at the time of his death the best motorcycle engineer in the world. His Britten Superbike, today, almost 20 years later is still one of the most advanced sportbikes ever built. Designing and building motorcycles and much more, John Britten gave us a fabulous lesson of perseverance, courage, humility and creativity. Now available is this incredible this 5- part documentary on the John Britten story, shot in his home in New-Zealand is a must see for all the pros and backyard builders around the world. By the time he died of cancer in 1995, John Britten had become a household name.




Click to order the Britten Book.
Watch Video TV Series The John Britten Story • Official Britten Website: www.Britten.co.nz
---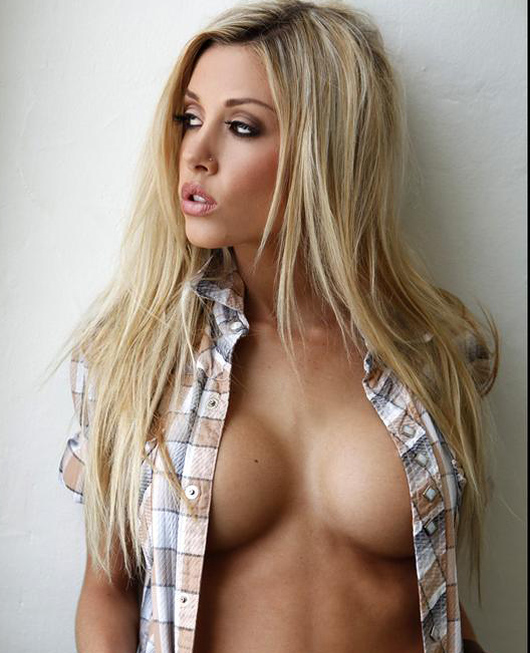 Shooting with 2 more Beautiful
new Fast Dates Calendar Kittens
Sept 2009 - We discovered beautiful up coming new Playboy Playmate Heather Rae Young (above, waiting for a stiff breeze) wondering around aimlessly at this year's 2009 LA Calendar Motorcycle Show. We couldn't help ourselves but to offer to make her even more famous by becoming a Calendar Kitten and shooting her for the next 2011 FastDates.com Calendars. Somehow she fell for our stupid pickup line.

We must be doing something right! We even convinced Heather to do a girl/girl shoot with supermodel Tarah Tobiason (at right).

Our newest Calendar Kittens shot together this month with photographer Jim Gianatsis for all three 2011 Garage Girls Iron & Lace, and Fast Dates Calendars with Valentino Rossi's YZR1 MotoGP bike and Ben Spies Yamaha R1 World Superbike. Talk about world class!
---
Awarding Ron Roth / Eye Candy Cycle Design 1st place Sportbike for their turbocharged Kawasaki Zx14 is from left: Ted Sands / Performance Machine, Elizabeth Nicole / singer songwriter actress and host, and FastDates.com Calendar Kittens Apple and Melody.
World Premier of the 2010 FastDates.com Calendars
New Shinya Kimura Retro Sportbike Customs for Brad Pitt
Plus the all girl built AFT Metric Customs bike "LoLA" wins Best Metric Custom!

Performance Machine presents the 18 Annual
2009 LA Calendar Motorcycle Show Weekend with the
Calendar Bike Building Championship &
2-Day Calendar Girl Music Festival
July 18-19th 2009, Queen Mary Event Park, Long Beach, CA - The 18th annual Los Angeles Calendar Motorcycle Show and Calendar Girl Music Festival Weekend presented by Performance Machine, America's premier custom, cruiser, performance and sportbike weekend marked its returned to the Queen Mary Event Park in Long Beach. Thousands of motorcycle and rock music fans were in attendance for the world's most exciting 2-day motorcycle event in the beautiful Queen Mary Event Park on the grass alongside the Pacific Ocean with it's cool ocean breezes to fend off California summer's scorching heat.
Spectators view the Pro Builder Class entries along the Park's shore line at Sunday's Calendar Bike Building Championship. The Show has 10 different classes dispersed throughout the Park to provide an even flow of spectators to all the venders and exhibitors.

Making their world premier at the Calendar Show are is the exciting new 2010 Fast Dates.com Calendars: Fast Dates Race Bikes, Iron & Lace Custom Bikes and Garage Girls Pinup Model Calendar sponsored by SBK World Superbike, Performance Machine and Mikuni Carburetors Photographed by renown motorsports and fashion photographerand Calendar Show promotoer Jim Gianatsis, the FastDates.com Calendars always features the word's top roadracing and custom motorcycles, together with beautiful swimsuit and centerfold models roadracing bikes. Fans got to meet and pose for pictures with Calendar Kittens Apple Price and Melody Schuster who are featured in the new Calendars premiering at the Show!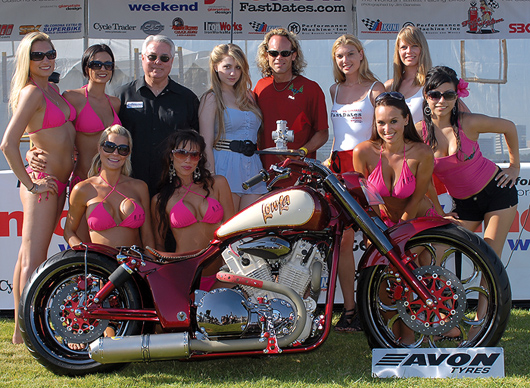 This is what custom bike building is all about! That's AFT Metric Customs guru Jim Guiffra standing (red shirt) between Elizabeth Nicole and the Calendar Kittens, and all the AFT Models who built the bike "LoLA" in pink bikinis. Click to go BIG.
Above; Richard Pollock / Mule Motorcycles took Best Sporster with this Cycle WorldMagazine. project street dirt track bike featured in the Novemebr 2009 issue. Richard had another Sportster Street Tracker featured in the 2001 iron & Lace calendar. Click to go BIG.
Cockpit, the hottest girl rock band on the planet entertained the troops both days of the Show.
Additional 2009 LA Calendar Show coverage and photos HERE
---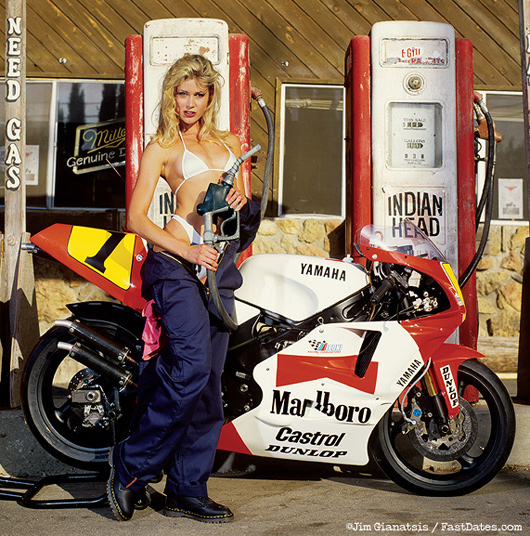 Ginger Schweizer gasses up Wayne Rainey's 1993 GP World Championship winning
Yamaha YZR500 at the Rock Store, the photo featured on the cover of the 1994 Fast Dates Calendar.
First Time Ever! FastDates.com Calendar Images Available for Sale!
Photo Prints, Posters, Canvas Wall Murals
Now, for the first time you can have my favorite, most memorable FastDates.com Calendar photos reproduced to museum qualty standards for your home, garage, office or store, thanks to our new partnership with one of America's premier online photo labs. Choose from photo prints on quality photo paper, to huge poster and mural size Giclee' photo prints on archival rag paper or canvas mounted to wooden frames or display boxes.
Now you can enjoy my best photos of the the world's finest motorcycles with beautiful models! - Jim Gianatsis
Historical! This incredible career ending photo above of Troy Bayliss in his special commerative Ducati 2008 World Championship winning livery in action blazing titanium sparks off his boot slider at the final 2008 Algarve, Portugal World Superbike round is available as a Photo Print, Wall Poster, Canvas Mural FastDates.com Calendar Photos.
---
There's more! Go to Fast Dates Calendar News NEXT PAGE

Hot Calendar Girl and Bike News! Go to: Fast Dates • Garage Girls • Iron & Lace

Click to see even more of our sexy Fast Dates Calendar Kittens...


---
And visit these great Fast Dates recommended affiliate websites...

FREE! New Met-Art Model Galley Updated Daily - Stop Back Each Day




Some of our Calendar Kittens can also be seen at Playboy's website...




MotorcycleSuperstore.com