This Month in the Iron & Lace Calendar ...
Our own SBK Fast Dates World Superbike Calendar Kittens Jessic Harbour and Halle Arbaugh kick off the New Year right with former World Superstock Champion Vittorio Iannuzzo's current Grillini Dentalmatic WSBK Team BMW 1000RR.
See more of our beautiful models and Calendar bikes in the Calendar Bike Garage and in Members Corner.
Fast Dates SBK World Superbike Calendar News
January - February 2015
MORE FAST DATES NEWS HERE

Order the 2014 and 2015 Fast Dates Calendars
Calendar Bike Photo Features, Paddock Garage Tuning, Pictorials of our Calendar Kittens in Members Corner
World Premier 2015 Fast Dates World Superbike Calendar
Fast Dates is the Official Calendar of the SBK World Superbike Championship photographed on location at the
Mazda Raceway Laguna Seca USA World Superbike round by Jim Gianatsis. Featured on the cover and inside is World Champion Tom Sykes' Kawasaki ZX10R. And inside the Calendar you'll find Sylvain Guintoli's and Eugene Laverty's Aprilia RSV4 bikes, Carlos Checa's and Ayrton Badovini's Ducati 1199RS macnines, Jonthan Rea's Ten Kate Honda, Leon Haslam's Crescent Suzuki, Marco Melandri's BMW 1000RR, and AMA Superbike Champion Josh Hayes' Yamaha R1. There's also some very cool cafe bikes from Steve Storz, The Garage Company and Richard Pollock / Mule Motorcycles.
The beautiful Fast Dates Calendar Kittens in revealing swimwear featured with the race bikes are the official umbrella girls of SBK World Superbike: Jitunka Gitka and Petra Ruzicka from the Czech Republic, Jessica Harbour an Kelly Sliwinski who are also Rockstar Supercross Girls, plus Halle Arbough and Sara Horvath.
This is your exclusive 16-month pit pass to the world's fast roadracing motorcycles and beautiful grid girls in
skimpy swimwear. Wall Calendars are highest quality full color 15 x 15" wire spiral bound printed on heavy art stock
revealing 16 months beginning with September. $17.95 each - Click on the Calendar Covers below to Order Now.

Click on Cover to Order Now

2015 Fast Dates
SBK Racebike Pinup Calendar
SBK World Superbike & Cafe Bikes w/Models
ISBN 1578651719


Click on Cover to Order Now


2015 Cafe Racers
SBK Custom Sportbike Calendar
Custom Sportbikes / No Models
ISBN 1578651751


Click on Cover to Order Now

2014 Fast Dates
SBK Racebike Pinup Calendar
SBK World Superbikes, Cafe Bikes w/Models
ISBN 1578651611


Click on Cover to Order Now

2013 Fast Dates
SBK Racebike Pinup Calendar
SBK World Superbikes, Cafe Bikes w/Models
ISBN 1578651514


Click to Order Now

2015 Garage Girls
The FastDates.com Calendar Kittens play dirty without the bikes getting in the way!
ISBN 1578651735


Click to Order Now

2014 Garage Girls
The FastDates.com Calendar Kittens play dirty without the bikes getting in the way!
ISBN 1578651638
Order Online Now !
Click on the Small Calendar Covers Above to Order from Amazon.com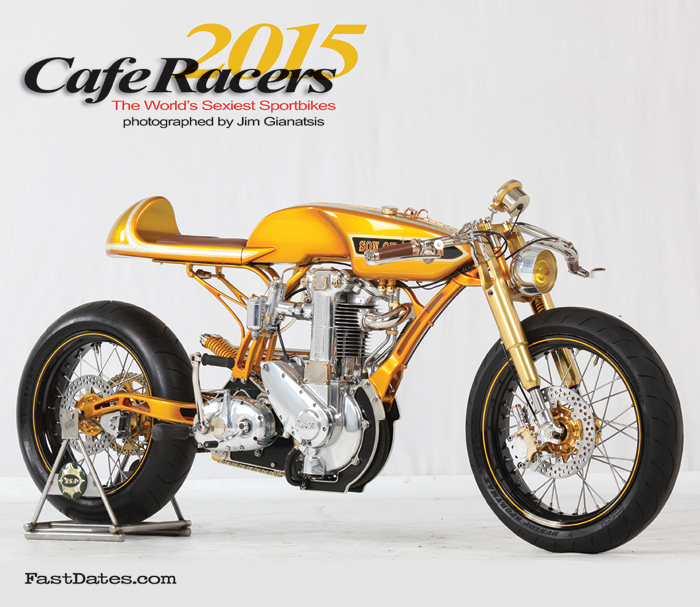 Premier! New 2015 Cafe Racers 2015 Calendar
New this year is the Cafe racers motorcycles only Calendar featuring some of the world's best custom cafe racer bikes which have also been featured in the Fast dates and iron & Lace Calendar s with models the last few years. Now we have a Calendar for guys and girls who don't want to hang up a pinup Calenar at home or work.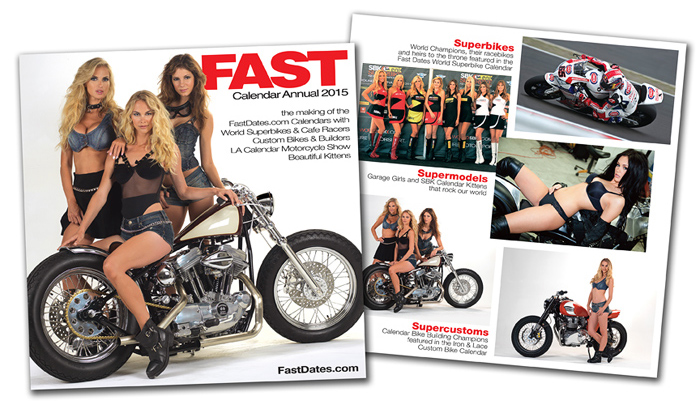 NEW! FAST 2015 and 2014 Calendar Digital Yearbooks
Go behind the scenes of the FastDates.com Calendar photo shoots at the SBK World Superbike races, the Los Angeles Calendar Motorcycle Show & Concourse d' Elegance, and inside the FastDates.com Studio of famed photographer Jim Gianatsis. Meet the official SBK World Superbike Calendar Kittens who also serve as the official SBK podium and grid girls, the top factory riders of World Superbike, and America's top custom bike builders. You'll find detailed editorial photo features on the Calendars' top Custom and Race bikes, and on the Calendar Kittens.
Did we forget anything? - Oh yes! The new FAST 2015 Calendar Yearbook Digital Edition features in high resolution every page in the new 2015 Fast Dates World Superbike, Iron & Lace Custom Bikes, Garage Girls and Cafe Racers Calendars featuring the world's top race and custom bikes and the beautiful Calendar Kittens!
---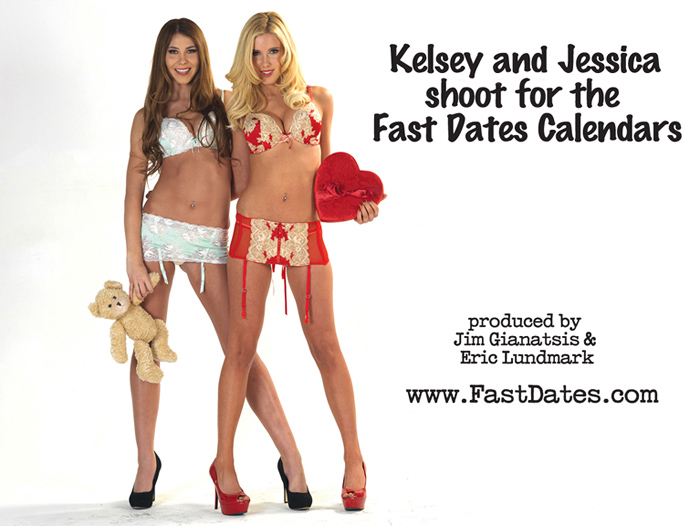 2015 Fast Dates.com Calendar Shoot with Jessica and Kelsey!
Go behind the scenes at the glamorous Gianatsis Design Studios with beautiful new Calendar Kittens Jessica and Kelsey as they shoot for the FastDates.com Motorcycle PinUp Calendars with photographer Jim Gianatsis. And look for the new 2015 Calendars available right here on July 1st. Order the Calendars!
Videographer: Eric Lundmark; Video Editing and Still photography: Jim Gianatsis; Models: Jessica Harbour, Kelsey Silwinski; Make Up: Victoria Rubell, Music: Special thanks to Neil Sedaka for our theme song Calendar Girl; Modeling Agent: Umbrella Girls USA.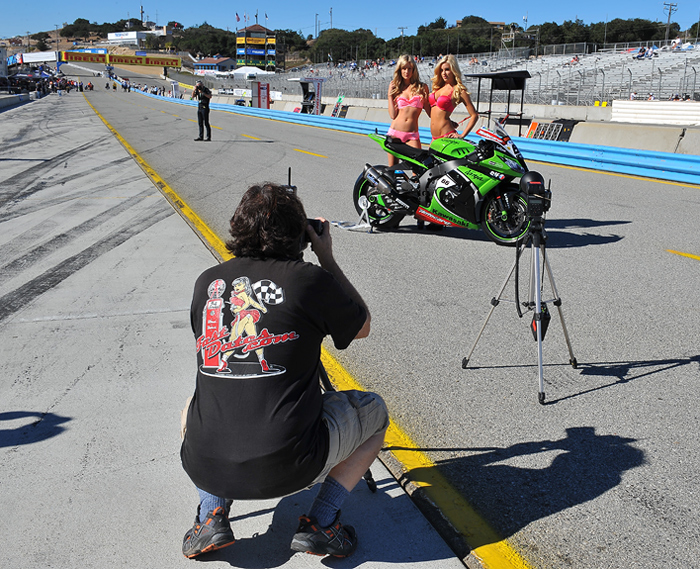 Shooting the 2015 Fast Dates World Superbike Calendar!
Click above to go behind the scenes with us at Llaguna Seca World Superbike...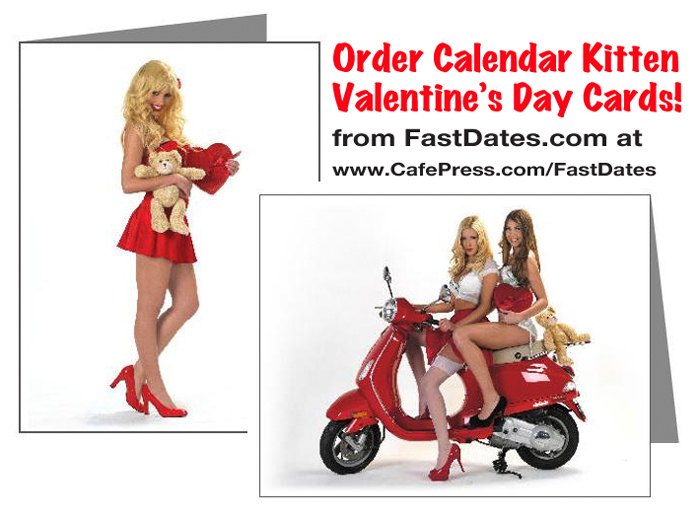 ---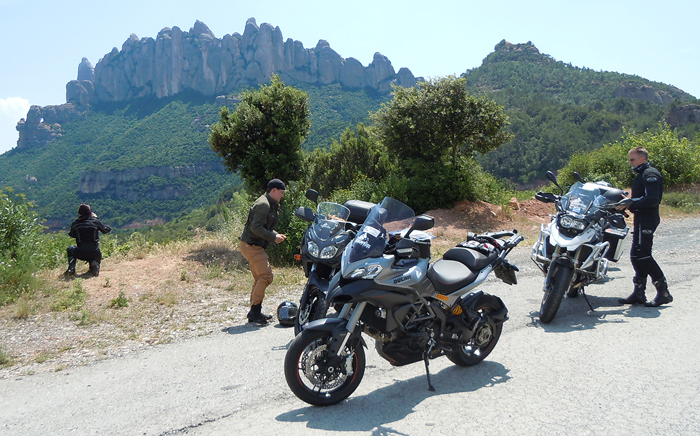 Edelweiss Motorcycle Tour of the Pyrenees
By Jim Gianatsis / photos by Jim Gianatsis
Barcelona, Spain, June 2014 - For me, there's no more beautiful, educational and exciting place in the world to visit than Western Europe. And to visit parts of it on a world class motorcycle on perfect riding roads without traffic, unencumbered by baggage, with experienced tour guides who know all the best roads and places to stop, is nothing short of nirvana.
This is the definition of an Edelweiss Bike Travel tour. And while they have a tour catalog chock full of motorcycle tours taking place around the world from the far reaches of Africa and Asia, to Australia and America, every one of their European tours is on my bucket list. Especially when they partner their rides up with motorcycle manufacturers like BMW, Ducati and Triumph, with a Start and End point at the company's factory for a visit or at a World Superbike or MotoGP round. Complete Story Here
---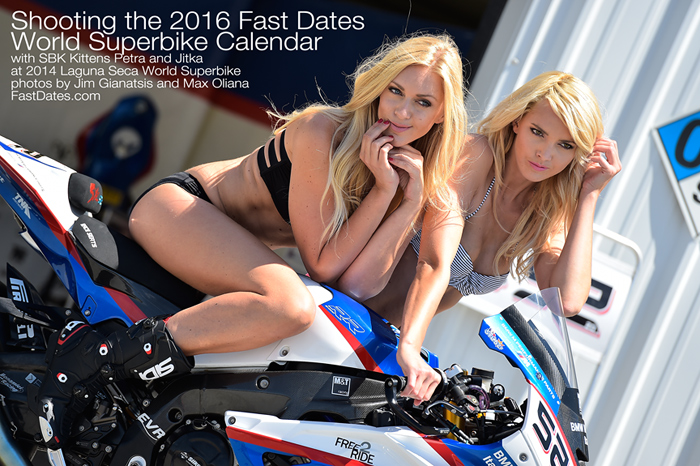 Fast Dates Calendar Celebrates 20 years by bringing
Czech SBK Calendar Kittens Jitka and Petra to 2014
Laguna Seca World Superbike and the LA Calendar Motorcycle Show
By Jim Gianatsis Photos by Jim Gianatsis, Massimo Oliana and Sabrina Mosca

California, USA, July 15-22nd 2014 -The FastDates.com Calendars and myself, producer / photographer Jim Gianatsis were excited to announce an agreement with SBK World Superbike and the international model agencies PetrasAngles.com and UmbrellaGirlsUSA.com to bring beautiful Czech Republic SBK grid girls Jitka Pralinka and Petra Ruzinka to the United States during July 2014 to work for SBK and shoot with me at the Mazda Raceway Laguna Seca United States SBK World Superbike and AMA National race weekend July 11-13th, and the LA Calendar Motorcycle Show in Malibu on July 20th.

– Complete Fast Dates Photo Shoot Story & Photos with Jitka and Petra Here –
Team Pata Honda's Jonathan Rea was happy to step in for a few pictures with the Kittens where we were shooting his team Ten Kate Honda CBR1000R in front of their pit garage.
And you can...
Meet the offical 2014 SBK Fast Dates World Superbike Girls Here!
Meet the offical 2013 SBK Fast Dates World Superbike Girls Here!
SBK World Superbike Championship, Losial Qatar, Season Finale Round 12 of 12
THIS MAKES 54 WORLD CHAMPIONSHIPS FOR APRILIA AND 104 FOR THE PIAGGIO GROUP
Sylvain Guintoli Is 2014 World SBK Superbike Champion on his Aprilia RSV4
Aprila Doubles Its Triumph as Manufacturer World Champion

Losail, Qatar, November 2nd 2014 - It is a triumph, a double world championship win that was unimaginable just a few races ago. On the Losail track in Qatar Sylvain Guintoli completed a comeback that will go down in Superbike history and with two brilliant and undisputable wins in the two night races on the desert circuit he overtook Tom Sykes, earning the World Champion crown for the first time in his career.

Aprilia doubles the celebration by becoming the Manufacturer World Champion for the third consecutive year, reaffirming the undisputed technical superiority of the RSV4, the Italian bike that has rooted the best competition in the world since its rookie year in World SBK (2009), winning 7 World titles (three Rider and four Manufacturer). This world championship combination (Rider and Manufacturer) is the third one for the Aprilia RSV4 after sweeping the competition in 2010 and 2012 with Max Biaggi.
Complete Race Coverage Here
---
COMPLETE EICMA 2014 COVERAGE HERE
COMPLETE IMS 2014 COVERAGE HERE
---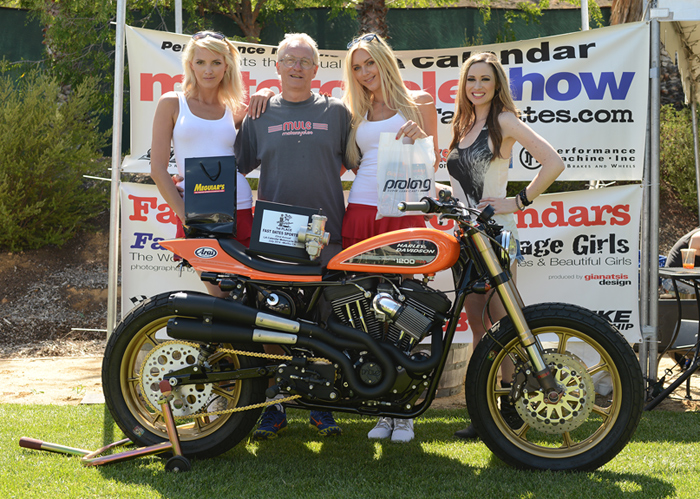 2014 LA Calendar Show Sportbike Class winner Richard Pollock / Mule Motorcycles with a replica Harley 1200XR Street Tracker.
New Builder Image Vehicles International takes Best of Show
with a radical Honda CBX 6-Cylinder Cafe Racer
2014 LA Calendar Motorcycle Show Concourse & Calendar Girl Music Festival

Malibu, CA, Sunday July 20th 2014 - The 2014 edition of the LA Calendar Motorcycle Show continued its now 23rd year tradition as the premier outdoor streetbike event in America with producer photographer Jim Gianatsis moving the Show this year to the beautiful green lawns of the Malibu Golf Course among the twisty canyon roads in the Santa Monica Mountains alongside the Pacific Ocean. Highlighting this year's exciting activities was the emergence of another new and soon to be renown custom bike builder to the sport for which the Calendar Show is known for cultivating.
– Complete 2014 Calendar Bike Show Coverage Here –
Imagine Vehicles Honda CBX1100 Best of Show Winner
Now in the Calendar Bike Garage
Featuring big close-up screen saver size detail phtos of our 2014 LA Calendar Motorcycle Best of Show winner with
beautiful Fast Dates World Superbike Calendar Kitten Petra. Go to: Calendar Bike Garage
---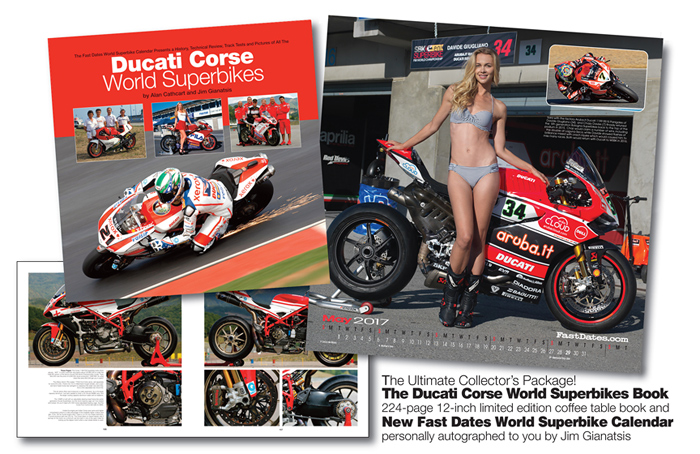 Exclusive Autographed Collector's Package!
The all new Ducati Corse World Superbikes 224-pg book and the 2013 Fast Date World Superbike Calendar
Personally autographed to you (or the name you request on the PayPal.com Order Form) by Jim Gianatsis and shipped direct from Gianatsis Design to you. ORDER COLLECTOR'S PACKAGE

To order the Ducati Corse World Superbike Book or the Fast Dates Calendar individually, unsigned, go to the
Sportbike Books and Fast Dates Calendar Order Pages.
---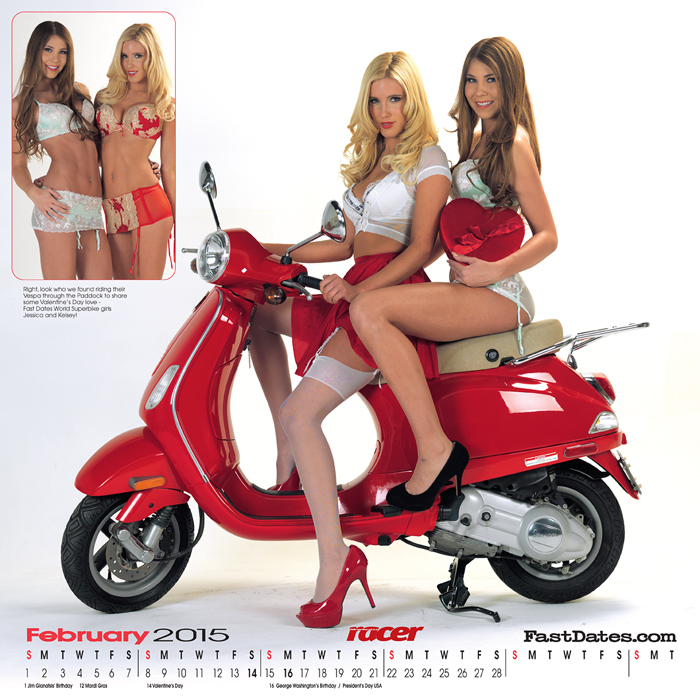 This Month in the Fast Dates World Superbike Calendar ....
Beautiful SBK Fast Dates Calendar Kitten Jessica Harbour takes girlfreind on a special Valentine Day's delivery for someone special. You'll find bikes like this with the beautiful Calendar Kittens featured in the
Calendar Bike Garage with full specifications and screensaver size pictures.

See more revealing pictorials of the Calendar Kittens and the Calendar Bikes in Members Corner
Order the Fast Dates Calendars
---
There's more! Go to Fast Dates Calendar News PREVIOUS PAGE

More Calendar Motorcycle & Calendar Kitten News
Go to: Fast Dates • Garage Girls • Iron & Lace• Meet the Models

Click to see even more of our sexy Fast Dates Calendar Kittens...




MotorcycleSuperstore.com
---
WARNING - The Banner Links Below Display Websites With Explicit Nudity
Some of our Calendar Kittens can also be seen at Playboy's websites...


Click for a Free Met Art Sample Model Gallery Updated Each Day!