This Month in the Fast Dates World Superbike Calendar ....
SBK Fast Dates World Superbike Calendar Kitten Kaustin Rose with
with Czech rider Karel Abraham's Milwaukee BMW S1000R.
Order the Fast Dates Calendars HERE.
Fast Dates SBK World Superbike Calendar News
for September - October 2018

See more of our beautiful Kittens and Calendar Bikes in the
Calendar Bike Garage and in Members Corner.

MORE FAST DATES NEWS HERE

The new 2019 Iron & Lace Calendar again features the world's top custom motorcycles which premiered at the
2017 LA Calendar MotorcycleShow with Best of Show winner / Max Hazan's Supercharged KTM Single Cafe Racer
featured on the Calendar cover and inside with beautiful brunette Corle Bunch.

Other Show winning bikes include Richard Jones' British Vincent Black Shadow theme custom H-D Sportster, a Jim Giuffra / AFT Customs Honda CB350 Cafe Racer, David Bird / DB Fabrication Triumph Cafe Race, Richard Pollock / Mule Motorcycles Yamaha 500 Street Tracker, John Meade / Azzkiker Customs Bagger, Todd Silicato / ToddsCycle.com Sportster Bar Hopper, Sam Kao / JSK Design / JSKmoto.com Sportster Streetfighter, Yuichi Yoshizkwa / Custom Works Zon / CW-zon.com Sporster Sportbike, a Ron Simms Customs / RonSimms.com Custom Big Twin, Anthony Robinson's reversed head Triumph Bar Hopper, and Todd Daniel's BX Custom Design Big Red Bagger.

The bikes are featured with beautiful FastDates.com Calendar Kittens Corle Bunch, Sara Balint, Brittini Palmer,
Alena Pyshnaya, Brennah Black, Paulina Johnson and Camilla Hahn Chiniquy all in revealing lingerie!
Here's your chance to see why custom iron and beautiful girls in sexy lingerie go so well together in Iron & Lace!
This Calendar couldn't get any steamier without an "X" rating - This is your exclusive 16-month pit pass to the world's fast roadracing motorcycles and beautiful grid girls in revealing swimwear and lingerie. Wall Calendars are highest quality full color 15 x 15" wire spiral bound printed on heavy art stock revealing 16 months beginning with September. $22.95 each - Click on the Calendar Covers below to Order Now

You'll also find our Calendar Kittens and Calendar Bikes in editorial story and photo features
in the FAST Calendar Yearbooks in MEMBERS CORNER Order Direct from FastDates.com
Be sure to specify USA or International Shipping

Click on Cover to Order Now

2018 Fast Dates
SBK Racebike Pinup Calendar
SBK World Superbike & Cafe Bikes w/Models
ISBN 1578652014


Click on Cover to Order Now

2017 Fast Dates
SBK Racebike Pinup Calendar
SBK World Superbike & Cafe Bikes w/Models
ISBN 1578651913




Click on Cover to Order Now



2016 Fast Dates
SBK Racebike Pinup Calendar
SBK World Superbike & Cafe Bikes w/Models
ISBN 1578651816


Click to Order Online

2019 Iron Lace
Centerfold Models and Custom Bikes
15-inch Spiral Bound
ISBN 1578652i2X


Click to Order Online

2018 Iron Lace
Centerfold Models and Custom Bikes
15-inch Spiral Bound
ISBN 1578652022


Click to Order Online



2017 Iron Lace




Centerfold Models and Custom Bikes




15-inch Spiral Bound




ISBN 157865192


Click to Order Now

2019 Garage Girls
The FastDates.com Calendar Kittens playing dirty without the bikes getting in the way!
ISBN 1578652138


Click to Order Now

2018 Garage Girls
The FastDates.com Calendar Kittens playing dirty without the bikes getting in the way!
ISBN 1578652030


Click to Order Now



2017 Garage Girls




The FastDates.com Calendar Kittens playingdirty without the bikes getting in the way!




ISBN 1578651931
---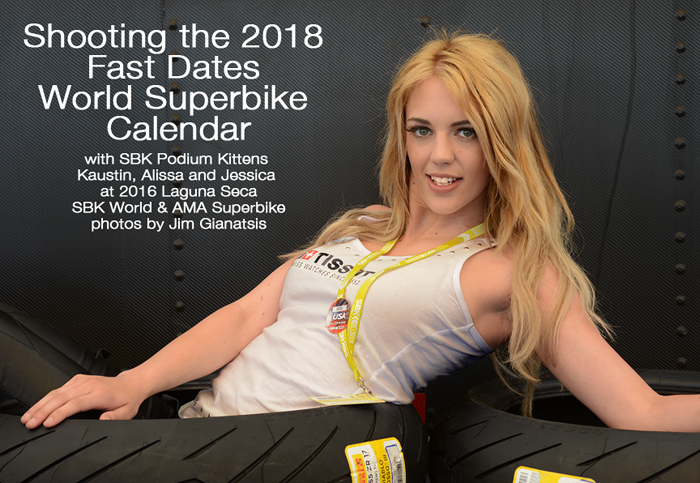 By Jim Gianatsis Photos by Jim Gianatsis • Clink on any Photo to Enlarge It

California, USA, July 17-20th 2016 - For the 22nd year since SBK World Superbike first came to America at Laguna Seca Raceway in 1995, the FastDates.com Calendars and myself, producer / photographer Jim Gianatsis were excited to continue
our ongoing association with SBK World Superbike and the UmbrellaGirlsUSA.com to bring 2 more beautiful FastDates.com Calendar Kittens; Kaustin Lanae and Alissa Bourne to
shoot with me at the 2016 Mazda Raceway Laguna Seca United States SBK World Superbike and AMA National race weekend July 8-10th. There they served as the official SBK Podium Girls and helped me shoot the next Fast Dates World & AMA Superbike Calendar. Then, two weekends later the Kittens would also be with us at the 26th annual LA Calendar Motorcycle Show and Calendar shoot in Los Angeles on July 23-24th.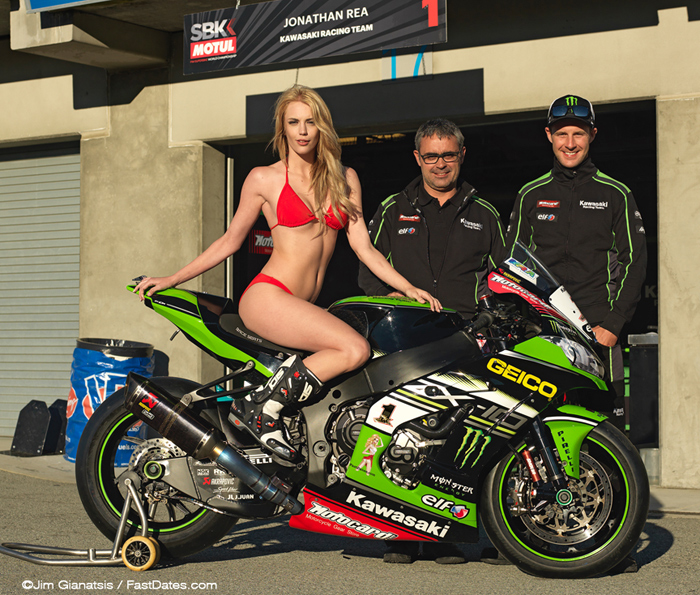 The winningest team combo in SBK World Superbike, now 3-time 201-2016-2017 SBK World ChampionJonathan Rea with his
crew chief Pero Riba. And you know who Kaustin Lanae and the Championship dominating Kawasaki ZX10R are!

Complete 2018 FAST DATES SBK World Superbike Calendar Shoot Coverage HERE
---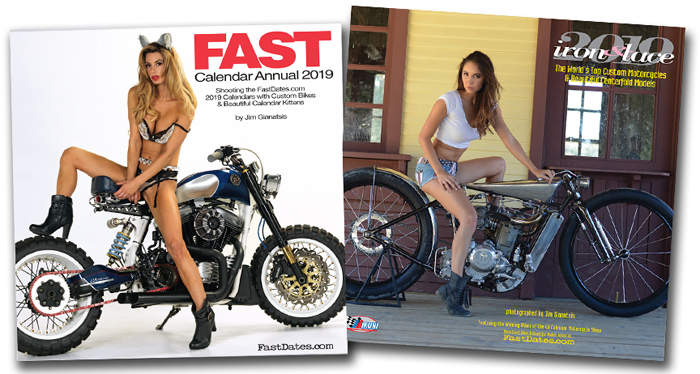 NEW! FAST 2018, 2017, 2016, 2015, 2014 Calendar Digital Yearbooks
Go behind the scenes of the FastDates.com Calendar photo shoots at the SBK World Superbike races, the Los Angeles Calendar Motorcycle Show & Concourse d' Elegance, and inside the FastDates.com Studio of famed photographer Jim Gianatsis. Meet the official SBK World Superbike Calendar Kittens who also serve as the official SBK podium and grid girls, the top factory riders of World Superbike, and America's top custom bike builders. You'll find detailed editorial photo features on the Calendars' top Custom and Race bikes, and on the Calendar Kittens.
Did we forget anything? - Oh yes! The new FAST Calendar Yearbook Digital Editions features in high resolution every page in the new 2015 Fast Dates World Superbike, Iron & Lace Custom Bikes, Garage Girls and Cafe Racers Calendars featuring the world's top race and custom bikes and the beautiful Calendar Kittens!
Read and Download it now in MEMBERS CORNER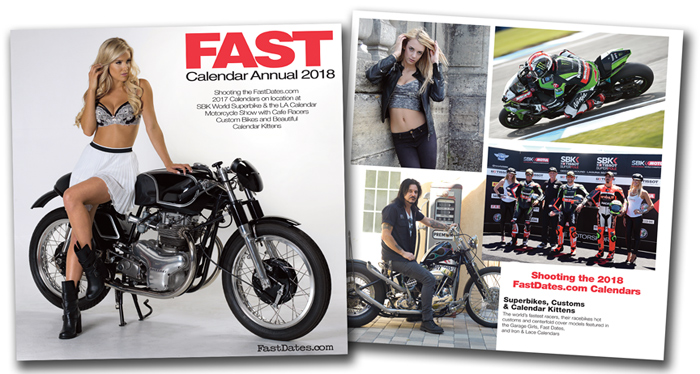 ---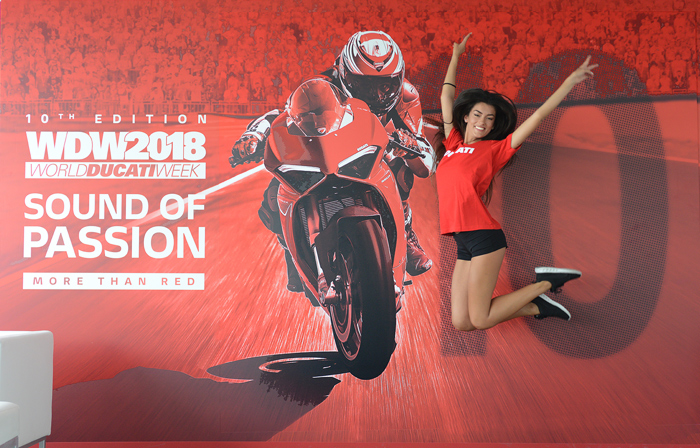 Fast Dates goes to World Ducati Week 2018!!

By Jim Gianatsis and Elia Mirashi 
photos by Jim Gianatsis, Ducati Communications Dept. - Click on any Photo to Enlarge it 


The Adriatic Coast and Misano World Circuit, Italy, July 20-22nd 2018 - What better way for a hard core Ducatista to spend their summer vacation than attending the 10th edition of World Ducati week for 2018 at Misano Adriatico on the north east coast of Italy at the famous race circuit Marco Simoncelli. This was my 3rd visit to a World Ducati event weekend which normally takes place every 2 years, having last attended when the event was less well known back in 2004 and then in 2012 when it had really grown. Needless to say, this year's 2018 event was even bigger and offered up more activities and sights than you could handle during the expanded 3 day weekend. Making it even more enjoyable, i always fly in a few days early from my home in Los Angeles to Ducati's home in nearby Bologna, Italy, to tour the factory, its museum, its factory retail store for bikes and official apparel, and now a cool American 1960's diner restaurant named Cafe America with a full menu of American burgers, diner food classics and drinks.
Complete WDW2018 Coverage HERE
To make this year's WDW2018 week even more exciting I wanted to have someone to share it with and make the pictures more fun, so I booked beautiful local Italian model Elia Mirashi to join me. It was cool to discover that Elia's boyfriend owned a Ducati, and that she worked at a local Rimini nightclub that is often frequented by famous riders including Valentino Rossi who she knows! Above, Elia and I are joined by Ducati CRO Claudio Domeniciali.


You'll never see more Ducati Paniagle V4S in one place at one time!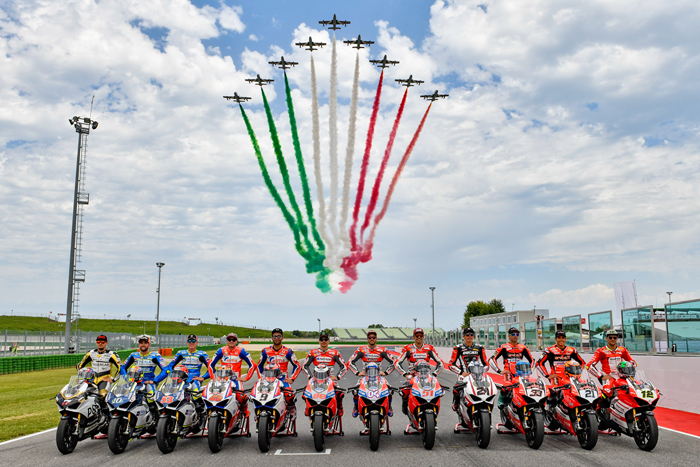 Ducati invoted a few of it closest friends which this year included MotoGP race winners Jorge Lorenzo and Andrea Dovizioso, superbike riders Chaz Davies and Marco Melandri, along with legendary retired riders included Casey Stoner and Troy Bayliss, to meet with fans and put on display races. On Friday the riders took to the track for a few exhibition laps on their race bikes. Then on Saturday they returned to the Misano track for a 12 lap race on the new production Panigale V4S Superbikes in the "Race of Champions".
Complete WDW2018 Coverage HERE
---

Beautiful Sara Balint, builder Richard Pollck and photographer Jim Gianatsis having fun in the studio!

Richard Pollock and Sara Balint Calendar shoot
Los Angeles, CA , February 23rd 2018 - Legendary FastDates.com Calendar Bike Builder Richard Pollock of Mule Motorcycsles.com brough two of his newest customer buiulds by the Photo studio this week for Jim Gianatsis to shoot for the eswbsite and Calendars. The bikes included this old school Triumph Bonneville, and a newer Harey-Davidson Sportster, both customized in Pollock's Streetmaster styyle. Our Calendar Kitten was beautiul Sara Balint who was first featured in the 2012 Calendars, and who shot with us this past fall for the new 2019 Calendars released in July 2018.

Look for photo features of both Richard Pollock Mule bikes with Sara in the Calendar Bike Garage.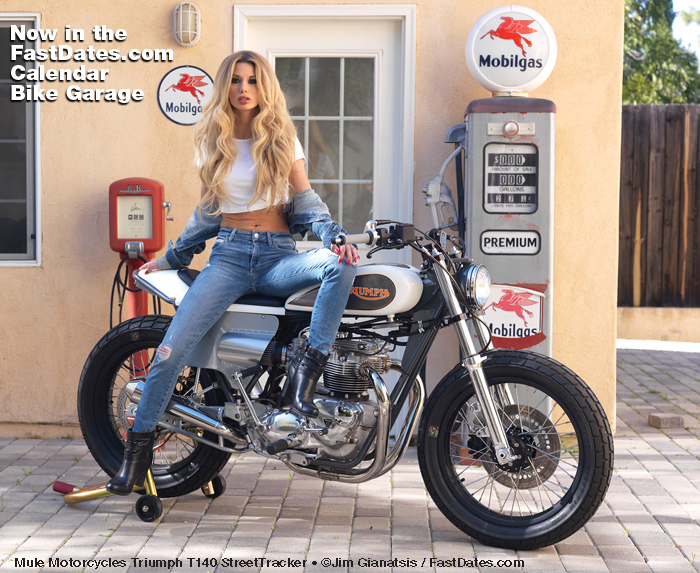 ---
Calendar Kitten Corle and Max Hazam's Show Winner! See complete detaisl of this radical custom cafe racer with full size screensavers pictures in the Calendar Bike Garage.

Max Hazan's Supercharged Husqvarna Replica Board Track Racer
Takes Best of Show at the October 15th Rider RoundUp at the Ranch

Report and Photos by Jim Gianatsis • Click on any Picture for Hi-Resolution
Paramount Movie Ranch State Park, Agoura, CA, October 15th, 2017 - Our Calendar Bike Building Championship joined the Rider RoundUp at the Ranch produced by celebrity Calendar Bike builder Russell Mitchell and wife Rachel / Exile Cycles at the Paramount Western Movie Ranch in Agoura, CA, just down the road from the legendary Southern California biker hangout The Rock Store on Mulholland Highway. It was an exciting day of beautiful Custom Motorcycles, Activities, great tasting Food Truck, BBQ and Craft Beer, Venders, Manufacturers and Live Music. The Rider Round Up at the Ranch was the second year celebration of Exile Cycles' 20th Anniversary Party held at Paramount Ranch the year before, now continuing on an annual basis. And again it was a benefit to raise money to Fight Leukemia by auctioning off products and services, together with money donated by the Vendors and Sponsors, this year raising $7000 for the Cause.
Taking Best of Show at the 2017 Rider RoundUp Calendar Bike Building Championship was Max Hazan's hand crafted Supercharged KTM Single Cafe Racer. Max, who has a storefront custom bike shop in Venice Beach, CA, built this latest customer consigned bike bike from scratch around a 420cc KTM / Husqvarna 4-stroke single cylinder dirt bike engine. Max fabricated a belt drive system off the engine's crankshaft to run a mini dual rotor Supercharger fed by a Keihin FCR39 Racing Carburetor.
The KTM single's steel tube rigid frame chases hosing the water-cooled motor was built around 26-inch classic car tires with
custom built spoked wheels. The tiny rear disc brake located behind the rider's right foot, operates a shaft through the frame
with a fixed primary sprocket on the other side, engaged with the drive chain, to slow the rear wheel down when the foot bake
is pressed. Very original! The hand made springer front forks with hydraulic damping and a front headlight that turns with the
steering stem is also unique. The bike is finished off with a beautiful had made aluminum fuel tank, handlebars and many other components. It was unanimous by anyone who saw it, that Max's Supercharged KTM Board Track Racer Replica was the Show
winner, one of the Calendar Bike Building Championship's best ever builds in its 26 year history.
Additional Coverge of the 2017 Calendar Bike Building Championhip Here
---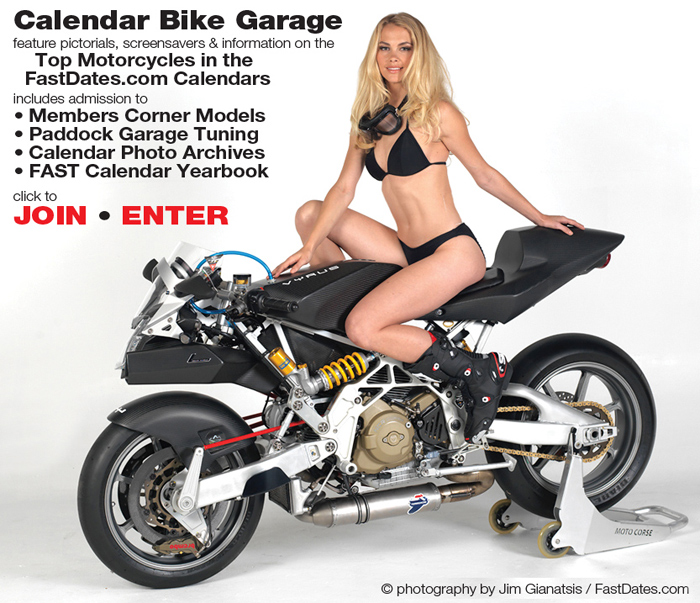 In the Calendar Bike Garage... The World's Coolest Naked Ducati!
Beauitful FastDates.com Calendar Kitten Sara takes us for a ride on the world's most exotic and expensive Ducati streetbike
ever - a $110,000 Vyrus NCR 983 Superleggera in the Calendar Bike Garage and in Members Corner.
Now in the FastDates.com Calendar Bike Garage!
David Beckham's Amazon Triumph Scrambler build by legenday Calendar Bike Builder Rickard Pollock / Mule Motorcycles, photographed with Calendar Kitten and Penthouse Pet Aleska in BIG full screen saver size photos.
David Beckham stars in "OUTLAWS" - a Belstaff Triumph Movie Short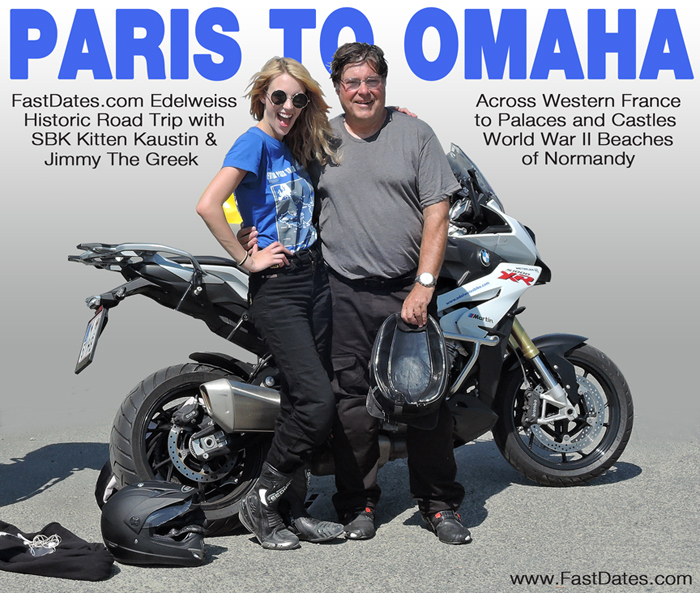 Riding the Edelweiss Motorcycle Tour - From Paris to Omaha, France
with SBK World Superbike Fast Fast Dates Calendar Kitten Kaustin

Versailles, France, August 2016 - How we spent our summer vacation! On the exciting Edelweiss Bike Travel 2016 Paris to Omaha Beach 10-day motorcycle tour across western France visiting the histroric battle sites of World War II where editor Jim Ginatsis father, B26 bomber pilot Capt. James Gianatsi played a pivital role in te D-say invasion and liberating France. We rode 2-up two-up with awesome FastDates.com SBK World Superbike Calendar Kitten Kaustin "Kaussie" Rose in a story for the FastDates.com Website. Our bike of choice would be the newly introduced BMW R 1000 XR Sport Tourer, based on the potent BMW R 1000 RR Superbike. For the Complete Story Click on the Photos or Check Out the Complete Story Here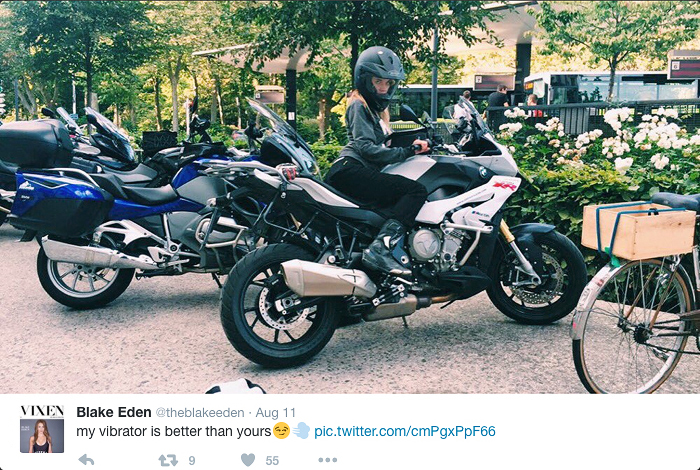 Kaustin Rose (aka Blake Eden) is from Phoenix, Arizona, and is a huge motorsports enthusiast. She grew up working in her father's business of buying, repairing and selling cars and motorcycles. Having motorcycles parked in the house was just part of the norm for her, and she was always rebuilding car motors with her dad. Caustin rode a KTM dirt bike in the desert, and got heavily into building up and driving cars in Drifting competition. But after destroying her Nissan drift car into a wall, and then her new 2012 BMW M3, she tell us she's taking a break from owning cars for a while to "settle down".

We hope she doesn't settle down too much, and will keep her driving passion focused on safer race tracks like Mazda Raceway Laguna Seca with ample runoff area where the consequences aren't as serious or expensive. Kaustin moved to Los Angeles just a year ago to get into glamour and fashion modeling. Her credits include magazine covers like Penthouse March 2016.

The girls' exciting and busy month of FastDates.com Calendar shoots begin with a drive from Los Angeles up the California Coast on Highway 1 to Monterrey California for the 2016 Laguna Seca USA World SBK & AMA Superbike round July 8-10th to shoot the Fast Dates World Superbike Calendar and will join other Umbrella Girls USA models to serve as official SBK Podium and Gird Girls at Mazda Raceway Laguna Seca.
---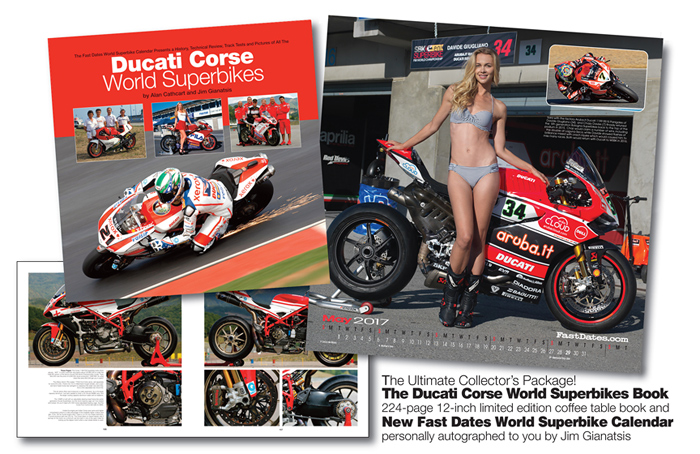 Exclusive Autographed Collector's Package!
The all new Ducati Corse World Superbikes 224-pg book and the latest Fast Date World Superbike Calendar
Personally autographed to you (or the name you request on the PayPal.com Order Form) by Jim Gianatsis and shipped direct from Gianatsis Design to you. ORDER COLLECTOR'S PACKAGE

To order the Ducati Corse World Superbike Book or the Fast Dates Calendar individually, unsigned, go to the
Sportbike Books and Fast Dates Calendar Order Pages.
---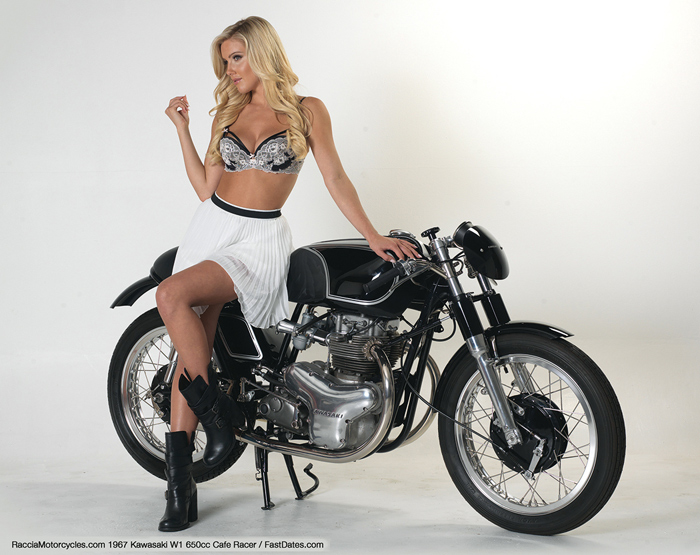 Calendar Show Winner in the Calendar Bike Garage!
Mike LaFountain's 2016 LA Calendar Bike Show class winning 1967 Kawasaki W1 Cafe Racer with SBK Fast Dates World Superbike Calendar Kitten Jessica Harbour in Big Screen Saver Size Pictures and bike details - http://www.FastDates.com/IronLaceGarage.HTM
This Month in the Fast Dates World Superbike Calendar ....
SBK Fast Dates World Superbike Calendar Kitten Kaustin Rose with
2015 MotoAmerica Champion Cameron Beaubier's 2016 Graves Yamaha R1 Superbike.
Order the Fast Dates Calendars HERE.

See more of our beautiful Kittens and Calendar Bikes in the
Calendar Bike Garage and in Members Corner.

You can see all the current and past Calendar Pages in Members Corner.
Order the Past Editon Calendars in Collectors Corner
There's more! Go to Fast Dates Calendar News
PREVIOUS MONTH'S NEWS

More Calendar Motorcycle & Calendar Kitten News
Go to: Fast Dates • Garage Girls • Iron & Lace• Meet the Models

Click to see even more of our sexy Fast Dates Calendar Kittens...

Amazon.com Top Brand Motorcycle Apparel & Parts

---
WARNING - The Banner Links Below Display Websites With Explicit Nudity
Many of our Calendar Kittens can also be seen on these partner websites...




Click for a Free Met Art Sample Model Gallery Updated Each Day!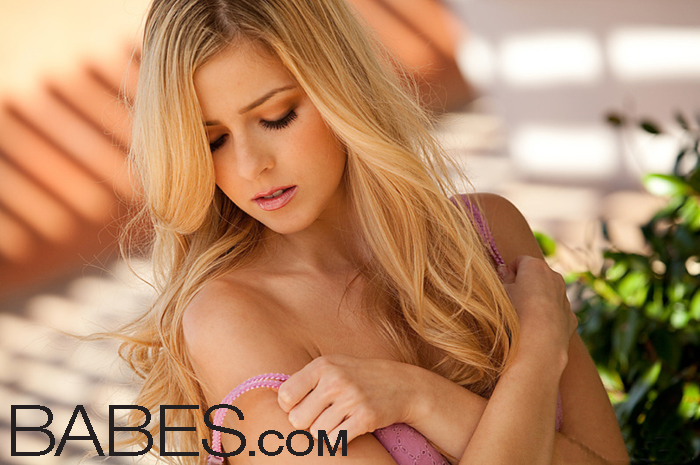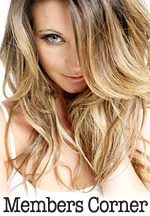 Hot Bikes, Sexy Kittens
Your Exclusive Grid Pass
also includes....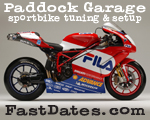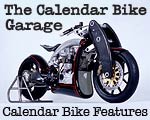 ---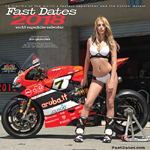 More
New 2018 Calendars in
Calendar Corner
Shop Now!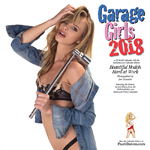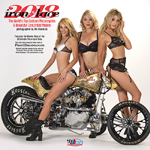 2018 PinUp Calendars!
Sports Illustrated
Swimsuit Magazine
and Calendars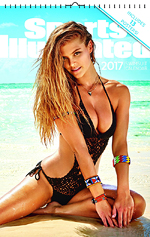 2018 PinUp Calendars!
---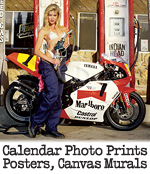 ---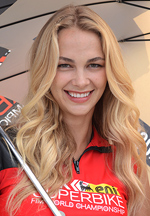 Sara Horvath

Meet the offical SBK
Fast Dates World Superbike Calendar Kittens!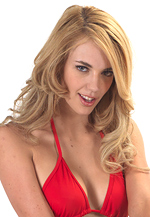 Kaustin Rose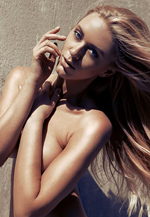 Petra Ruzickova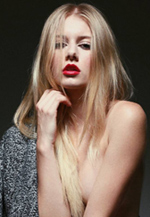 Alena Savostikova

Meet all the
Calendar Models in
Meet the Calendar Kittens!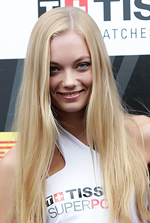 2013 SBK Race Season

Meet More Offical SBK
World Superbike Girls!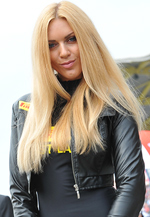 2014 SBK Race Season
---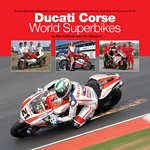 Click to Order from Amazon.com

Ducati Corse
World Superbikes
by Alan Cathcart
& Jim Gianatsis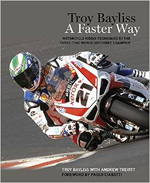 New! Troy Bayliss
A Faster Way
Street & Track Riding Book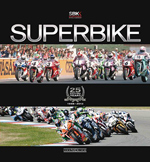 The Official SBK
World Superbikes
1987-2012
25 Year History Book




The Official SBK
2017-2018 Yearbook
These SBK Yearbooks are the Best Books Ever about World Superbike. They feature wesome color photography of the riders, bike and racing action. The feature a deailed revue of the past season in pictures and stactics, awith a detailed look at the bikes and riders.

Plus a technical look data all the bikes, a preview of the upcoming season's Championship!
We buy this every year ourselves and highly recommend it!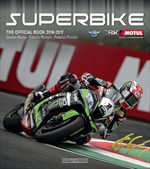 The Official SBK
2016-2017 Yearbook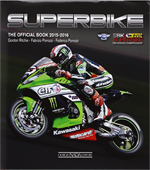 The Official SBK
2015-2016 Yearbook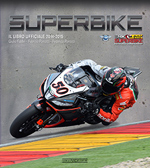 2014-2015 Yearbook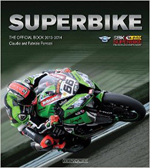 2013-2014 Yearbook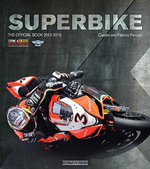 2012-2013 Yearbook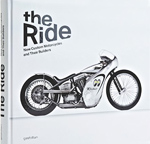 The Ride
The new generation
of sport customs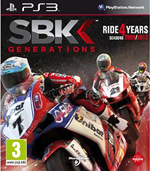 SBK World Superbike Video Game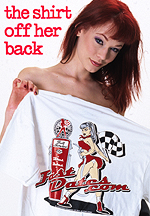 Order Your Own
FastDates.com
T-Shirt! There's More
FastDates.com Gear!
Greeting Cards, Shirts, Mugs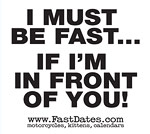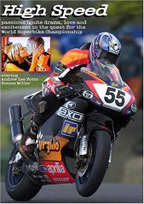 High Speed - the Movie
The best motorcyce racing movie ever made! Filmed on location at the World Superbike races , this an exciting romantic drama staring beautiful British actress Sienna Miller.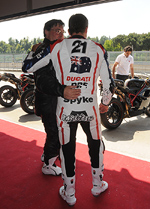 Fast Dates Does
World Superbikes with
Troy Bayliss in Italy!
We're off to Italyfor a jam packed 3-day press whirl! On Sunday May 8th qw took in the action at Monza World Superbike, on Monday the 9th we hve a special invite at NCR in Bologna that morning to see their newest exotic sportsportbike and tour their facility, then in the afternoon we visit the Ducati factory for a private press invite to meet the project designer of the Ducati Diavel at the factory and take a spin on the new bike.. Then on Tuesday the 10th at Imola race circuit we did an exclusive exclusive 4-rider track day with 3-time World Superbike Champion Troy Bayliss aboard Ducati 1198SPs. Coverge here in Pit Lane News.