2023 Gasoline Girls Calendar - Beautiful Motorsports Models!

After 25 years of bringing you our popular Garage Girls Calendar featuring the prettiest Calendar Kittens from our other FastDates.com Calendars, we have changed it up this year creating Gasoline Girls featuring Italian fashion photographer
Simon de Ranieri's romantic motosports themed photos of beautiful Italian girls on location with motorcycles and cars.
Not just a pinup calendar, Ranieri's magazine editorial look makes Gasoline Girls a truly artistic calendar
that both guys and girls will appreciate and can be displayed anywhere!


This is your exclusive 16-month pit pass to some of the world's sexiest models in revealing swimwear and lingerie.
Calendars are highest quality full color 15 x 15" wire spiral bound printed on heavy art stock
revealing 16 months beginning with September. $24.95 each - Click on the Order Direct or Calendar Covers below to Order

You'll also find our Calendar Kittens and Calendar Bikes in editorial story and photo features
in the FAST Calendar Yearbooks in MEMBERS CORNER

Order Direct from FastDates.com
Please Support Us by Buying Direct
Use Add to Cart Button Below. Specify Calendar Name / Year in Comment Box, USA or International Shipping




OR Click on the Covers Below to Order Current Calendars from Amazon.com


For Additional Ordering World Wide see Our Distributors Below
Also Order Current & Past Edition Calendars in Collectors Corner



Click to Order at Amazon

2023 Iron Lace
Centerfold Models and Custom Bikes
15-inch Spiral Bound
ISBN 1578652624


Click to Order at Amazon

2022 Iron Lace
Centerfold Models and Custom Bikes
15-inch Spiral Bound
ISBN 1578652525


Click to Order at Amazon

2021 Iron Lace
Centerfold Models and Custom Bikes
15-inch Spiral Bound
ISBN 1578652421


Click to Order at Amazon

2023 Gasoline Girls
The FastDates.com Calendar Kittens playing dirty without the bikes getting in the way!
ISBN 1578652631


Click to Order at Amazon

2022 Garage Girls
The FastDates.com Calendar Kittens playing dirty without the bikes getting in the way!
ISBN 1578652532


Click to Order at Amazon



2020

Garage Girls




The FastDates.com Calendar Kittens playing dirty without the bikes getting in the way!




ISBN 1578652332


Click to Order at Amazon

2020 Iron Lace
Centerfold Models and Custom Bikes
15-inch Spiral Bound
ISBN 1578652324


Click to Order at Amazon

2019 Iron Lace
Centerfold Models and Custom Bikes
15-inch Spiral Bound
ISBN 1578652i2X


Click to Order at Amazon



2019

Garage Girls




The FastDates.com Calendar Kittens playing dirty without the bikes getting in the way!




ISBN 1578652138
Order Online Now!
FastDates.com Calendars are a high quality 15 x 15" wire spiral bound calendar printed in full color
on premium art card stock revealing 16 months beginning with September preceeding the cover year,
sealed in clear plastic with carboard insert.

Click on the Small Calendar Covers Above to Order from Amazon.com
or Use the Order Button Above to Order Direct from FastDates.com :
Order by Postal Mail: Please specify the calendar name, year, quantity, your name, address, and phone number.
Postal Mail Orders should include Check or Money Order - ONLY, No Charge Cards by mail. Current Year Calendars
are $24.95 each, Past Year Calendars are $19.95 each, plus USA Priority Mail $14 S&H for any quanity.
International orders require a higher USD $27.00 air shipping cost per order.
Email us with any specific questions - Contact (at) FastDates.com.

Send USA Postal Mail Orders to:
FastDates.com Calendars, c/o Gianatsis Design, 4801 Reforma Road, Woodland Hills, CA 9136
Additional Sources USA and World Wide:

Amazon.com
Online Ordering

USA 1-800-366-3645
United Kingdom & Europe:
Zodiac, Europe +31 (0) 297 28 86 21 • W&W Cycles, Germany +49 (0) 931-250-6116
New Distributor inquires go HERE
Current & Past Edition Calendars Available: Visit Collectors Corner for Calendar Details
When Ordering Past Edition Calendars include Calendar Name / Year in Order Comments Box
Above: Off roading in a classic Landrover with beautful twin sisters.
Changing ito something more comfortable.





Sixteen months of beautiful Italian girls playing with Bikes and old Cars.

---
New FAST Calendar Digital and Print Yearbooks!
Go behind the scenes for the shooting of the FastDates Motorcycle PinUp Calendars from 2014 to 2023 with photographer Jim Gianatsis and the Calendar Kittens. Each year's Calendar Yearbook features 124-pages of exciting photography and detailed stories featuring the Calendars' custom and race bikes, and the beautiful centerfold Calendar Kittens posing with the bikes. Plus you'll see every page in the Iron and Lace Custom Motorcycle PinUp and Garage Girls / Gasoline Girls Calendars.
All the Digiital Editions are in FastDates.com Members Corner for One Low Price!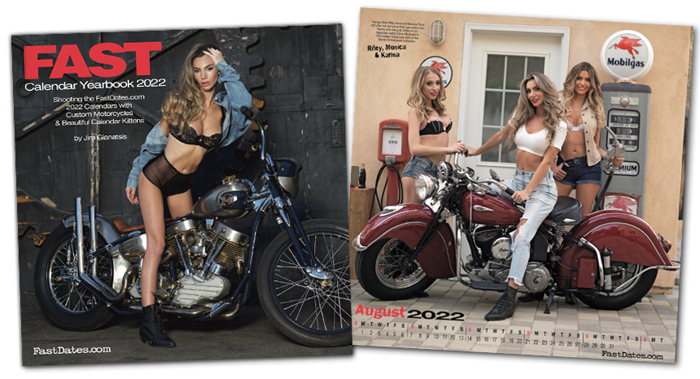 NEW! FAST Printed Coffee Table Calendar Yearbooks
Go behind the scenes of the FastDates.com Calendar photo shoots around the world, at the Los Angeles Calendar Motorcycle Show, and inside the FastDates.com Studio of famed photographer Jim Gianatsis. Meet the official SBK World Superbike Calendar Kittens and Magazine Centerfolds together with the World'ss top custom motorcycles and builders. You'll find detailed exciting editorial photo features on the Calendar's Custom and Race bikes and on the beautiful Calendar Kittens.

Available Digitally as a Flip-Book and PDF Download in Members Corner,

and in Printed Hard Cover CoffeeTable Books on Amazon and BLURB PDFs available below:
Order 124-page 12x12-in High Quality Print Coffee Table Yearbooks $199.95 -or- PDF Downloads $9.99 ea

FAST 2023 Yearbook - http://amazon.com/exec/obidos/ASIN/B0B1LHTS3H/fastdatescomcale - PDF Download
FAST 2022 Yearbook - http://amazon.com/exec/obidos/ASIN/1006901469/fastdatescomcale - PDF Download
FAST 2021 Yearbook - http://amazon.com/exec/obidos/ASIN/1715068939/fastdatescomcale - PDF Download
FAST 2020 Yearbook - http://amazon.com/exec/obidos/ASIN/0464529050/fastdatescomcale - PDF Download
FAST 2019 Yearbook - http://amazon.com/exec/obidos/ASIN/1578652049/fastdatescomcale - PDF Download

Did we forget anything? - Oh yes! The new FAST Calendar Yearbooks features every page in the year's Iron & Lace Custom Motorcycle PinUp and Garage Girls Calendars featuring the world's top custom bikes and the beautiful Calendar Kittens!
Now in Members Corner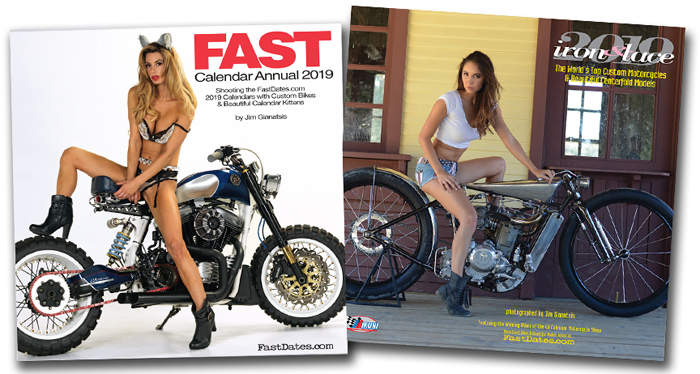 Find out more about the making of the Iron & Lace Calendars in Pit Lane News.
You can view and download all the FastDates.com Calendar pages as full size screensavers,
and see many of our Calendar Kittens in very revealing sexy pictorials in Member's Corner
Contents • Iron & Lace News • Iron & Lace Garage • LA Calendar Motorcycle Show
Click here to see even more Calendar Bikes and Calendar Kittens...