---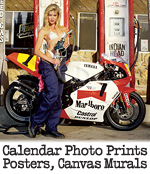 Stock Calendar Photography of
Motorcycles and Models
is available for Editorial, Advertsing and Commercial Llicensing use. Click
---
The FastDates.com
Calendar. Book &
Pinup Model Store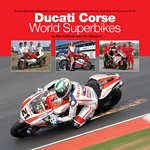 Retail $69.95 ea.
Click to Order

Ducati Corse
World Superbikes
by Alan Cathcart
& Jim Gianatsis
The most extensive book ever on the history of the winningest bikes in SBK World Superbike. Covers all 5 Generations of the Desmoquatro factory Ducati Corse World Superbikes from the first 851 prototype to the new 5th generation 1199 Panigale with technical details and photos, interviews with all the engineers and factory riders, track tests of every bike, and full page photos of the bikes from all the Fast Date Calendars with the official Ducati Corse and SBK Calendar Kittens.
Photography by the world's top roadracing photographers including Gold & Goose, Kel Edge, Fabrizio Porrozzi, Max Olina.
This is a high quality Collectors hard cover coffee table book, 224-pages in large 12x12-inch format printed on 100# dull coat art paper.

Click on the cover above to order individual copies from Amazon.com. Retail $69.95 ea

Also at Amazon.com.uk .


Art of the Chopper
featuring many of the top
Iron & Lace Calendar
Builders and Bikes
Sands vs. Rooke
Calendar Bike Build Off
See the world's two hottest custom sportbikes featured in the 2008 Fast Dates and Iron & Lace Calendars being built and raced by Roland Sands and Jesse Rooke for Discovery Channel's Biker Build Off
Roland Sands builds the
KR Tracker Calendar Show Bike
New Blood DVD
features Roland Sands building and riding the extraordinary Roland Sands Design / Kenny Roberts KR 990cc 5-cylinder MotoGP powered Retro Board Track Racer. The bike is also featured in the 2008 Fast Dates race bike and Iron & Lace custom bike Calendars with beautiful Playboy Playmate and Calendar Kitten Tamara Witmer in one of our best calendar shots ever and ,featured in the LA Calendar Motorcycle Show advertsing campaigns
and T-Shirt.
---

Warning: Shows Nudity