This is your exclusive 16-month pit pass to the world's fast roadracing motorcycles and beautiful grid girls in
revealing swimwear and lingerie. Wall Calendars are highest quality full color 15 x 15" wire spiral bound printed on heavy art stock revealing 16 months beginning with September. $22.95 each - Click on the Calendar Covers below to Order Now

Go behind the scenes for the shooting of the FastDates.comMotorcycle PinUp Calendars with photographer Jim Gianatsis and the Calendar Kittens. Each year'sCalendar Digital Yearbook features 124- 138 pages of exciting hi-resolution digital photography that takes you with us behind the scenes to our photo shootswith the world top custom and race bikes with beautiful centerfold Calendar Kittens. Travel to Laguna Seca World Superbike with the official SBK Umbrella Girls, the LA Calendar Motorcycle Show with the Top Custom Bike Builders, and take an Edelweiss Bike Tour across France from the Palace of Versailles to the World War II beaches at Normandy, and go to World Ducati Week in Italy. Plus Editorial features on the Calendar Bikes and Kittens, and see every page in the new 2018 Fast Dates Superbikes, Iron & Lace Custom Bikes and Garage Girls Calendar.
All the Digiital Editions are in FastDates.com Members Corner for One Low Price!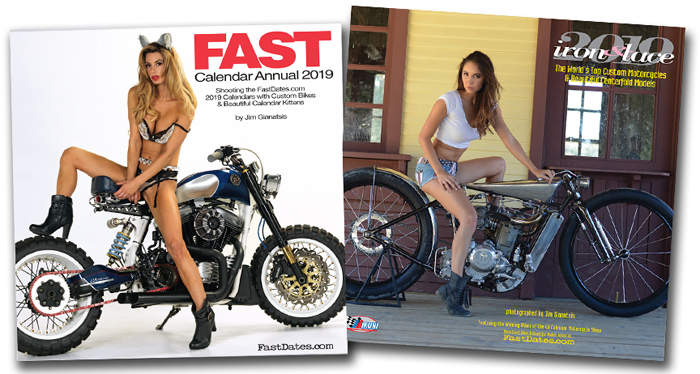 Large 12x12 inch Hard Cover Coffee Table Photo Books 124 pages on 100# Art Paper, with beautiful photos and detail features of the would's top Custom and Racing Motorcycles, the beautiful Calendar Kittens and the photo shoots behind the FastDates.com Calendars. Available as a high quality Digitally Printed Art Book, and as a HD Digital Download flip book download onr your Computer or Tablet. Order Books and Downloads here: 

Order from BLURB Printed Coffee Table Books and Digital Downloads here:
FAST 2021 Yearbook - https://www.blurb.com/b/10150329-fast-2021-calendar-yearbook
FAST 2020 Yearbook - https://www.blurb.com/b/9750303-fast-2020-calendar-yearbook
FAST 2019 Yearbook - https://www.blurb.com/b/9311625-fast-2019-calendar-yearbook
---
Richard Pollock and Sara Balint 2020 Calendar shoot
Legendary FastDates.com Calendar Bike Builder Richard Pollock of Mule Motorcycsles.com brough two of his newest custom builds to the FastDates.com photo studio this week for Jim Gianatsis to shoot for the Website and Calendars. The bikes included this old school Triumph Bonneville, and a newer Harey-Davidson Sportster, both customized in Pollock's Streetmaster style. Our Calendar Kitten was beautiul Sara Balint who was first featured in the 2012 Calendars, and who shot with again fall for the 2019 and 2020 Calendasr.
Look for photo features of this and other Richard Pollock Mule bikes with Sara in the Calendar Bike Garage.

Beautiful Sara Balint, builder Richard Pollck and photographer Jim Gianatsis having fun in the studio!
---
Laser Ink Jet Printed on wooden frame mounted canvass up to 24in high x 36in wide, perfect for your living room, office, bike display or man cave.This is my actual living room where I have part of my Ducati Superbike R models on dislay. - Jim Gianatsis. Look through all my available Fastdates.com Calendar and Classic Motocross photography and choose your print and canvas size here - http://www.FastDates.com/CalendarPhotos.HTM
---
Calendar Kitten Centerfolds and The King of Cool
February 2020 - This past month FastDates.com Calendar producer Jim Gianatsis put together a photo shoot for the next 2022 Calendars with three of the most beautiful models on the planet and some pretty cool bikes. Here's a sneak peak to wet your appetite for the 2022 Iron & Lace and Garage Girls Calendars and FAST 2022 Calendar Yearbook. Our threenew Calendar Kittens are magazine cover centerfolds (from left) Riley Anne / Penthouse, Karina Valez / Maxim, and Monica Sims / Playboy. Their bike parked in front of the Calendar Kitten Full Service Station is legendary actor Steve McQueen's 1943 Indian Scout from the Daniel Schoenewald Collection. Mark your Calendar for July 1st 2021 to come back here and order the new 2022 FastDates.com Calendars.
---
Triumph Motorcycles Best of British Tour with Birds of Prey
and Kitten Sara at House of Machines in Downtown Los Angeles

Photos and Report by Jim Gianatsis with FastDates.com Calendar Kitten Sara Balint
CLICK FOR COMPLETE COVERAGE HERE

Los Angeles Arts District, CA - January 10th 2020 - Who could turn down an Eventbright ad that popped up in my Facebook feed saying "This is your exclusive invitation to experience the best of British motorcycling. Triumph Motorcycles is hosting an unforgettable evening of food, drinks, entertainment and the world's finest British motorcycles as we offer a VIP preview our our stunning new 2020 model lineup. Space at each party is extremely limited, so reserve your spot on the guest list today!
Visit www.TriumphOnTour.com for more details."

Calendar Kitten Sara on a Triumph 675 Streetbike featured in the new movie Birds of Prey.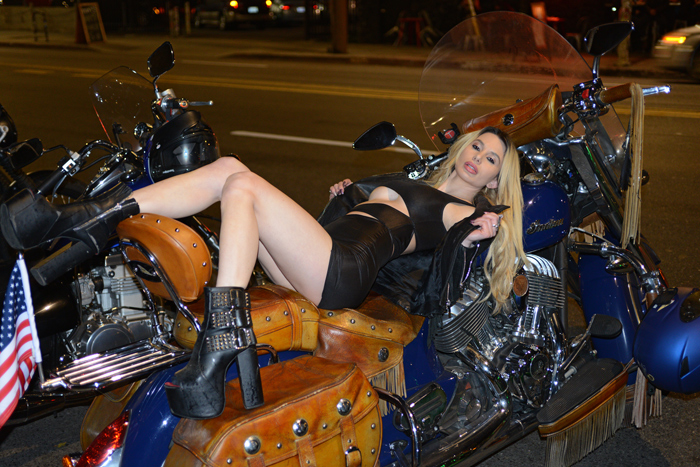 ---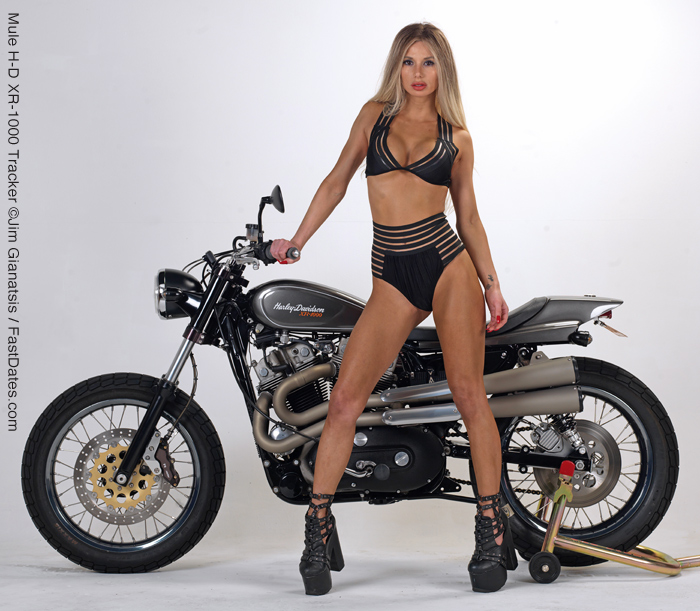 Richard Pollock and Sara Balint 2019 Calendar shoot
Los Angeles, CA , May 2nd, 2019 - Legendary FastDates.com Calendar Bike Builder Richard Pollock of Mule Motorcycsles.com brougth two of his newest custom Street Trackers to the FastDates.com photo studio this week for Jim Gianatsis to shoot for the Websire and Calendars. Richard's two newest bikes included thisbautil Harley_Davidson XR-1000 custom, and a cool Yamaha SR500 single, both customized in Pollock's Streetmaster style. The Calendar Kitten wasagain beautiul Sara Balint who was first featured in the 2012 Calendars, and who again shot with us last year and for the new 2019 and 2020 Calendars.
This Bike and Sara are Featued in the Calendar Bike Garage
Richard Pollock's XR-1000 Harley-Davidson with Sara Balint
Congradulations to beautiful Calendar Kitten Sara Balint and custom bike buider Rochard Pollock / MuleMotorcles.net for scoring the cover of the the 2021 Iron & Lace Calendar and Kustom World magazine in Italy in a photo shoot by Calendar photographer Jim Gianatsis. You can see detailed screen saver size photos of the bike and Sara, along with the magazine story in theFAAT 2021 Calendar Yearbook available in Members Corner.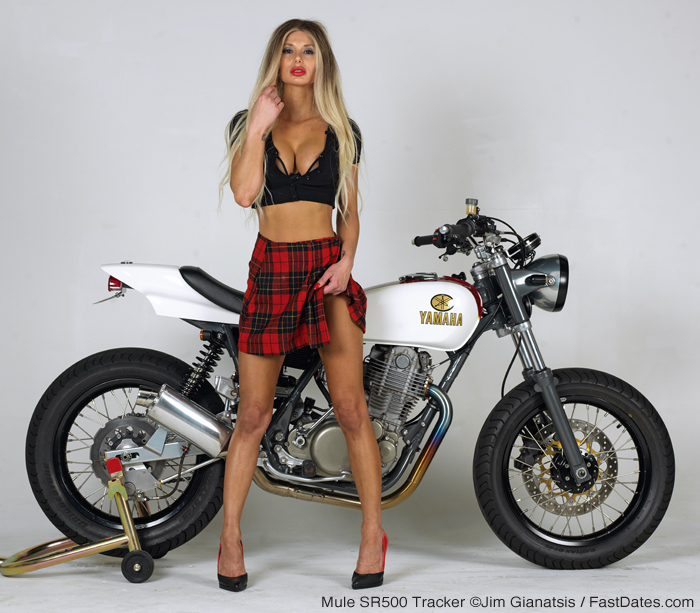 ---
Karina Valez shoots with Powerplant for FastDates.com Calendars
October 15th 2020 - FastDates.com Calendar producer Jim Gianatsis got to shoot on location this month at Powerplant Choppers on Melrose Avenue in Hollywood, California with beautiful new Calendar Kitten Karina Valvez. We phtographed Karina with two cool Powerpalnt custom bikes, this custom Harley-Davidson Evo Softail, and an old Panhead Street Bobber. This particular Softail features a new line of Powerplant bolt-on custom parts that will be sold through Harley-Davidson dealers.
Our photo shoot with the Powerplant bikes and Karina will be featured in the next 2022 Iron & Lace and Garage Girls Calendars.

You can seeour Calendar Kittens Pictorials in MEMBERS CORNER
---

Harley-Davidson 750cc Prototype
Long Beach, CA - Nov 22-24th 2019 -The annual Progressive Insurance sponsored (IMS) International Motorcycle Show makes its way across America every winter, with 3-day weekend stops in every major city. It's the perfect time for motorcycle enthusiasts to come in from the cold and see the latest new 2020 bike offerings from all the major motorcycle manufacturers and fill out your Christmas wish list.

With much of the the motorcycle industry and media based in Southern California, the opening weekend of the IMS tour now kicks off in Los Angeles at the Long Beach Convention Center. It's a great reason to get together with our motor head industry friends, celebrity builders and racers, and even some of the FastDates.com Calendar Kittens working the bike displays for the top manufacturers.
---
Hanging out with biker girl Leticia Cline at her Dive Bar in Cave City, Kentucky, and the new Curtis (formerly Confederate Motorcycles) Zeus Zadial V8 Electric Cafe Racer. The V8 Cylinders are actually the Lithium batteries.
---


Coverage of the 2019 Outliers Guild Moto Show 
Report & Photography ©Jim Gianatsis / FastDates.com
Complete Report Here
Los Angeles Downtown Arts District, CA - Saturday March 23rd 2019 -The 3nd annual Outlier's Guild Moto Show was again held in the old warehouse district of downtown Los Angeles, now being revitalized by the City as the "Arts District" with upscale Apartments,Restaurants and Art Galleries. It continues to be a well produced event featuring the retro / custom / cafe bike scene, drawing a good turnout of spectators and the nicest turnout of custom built bikes on the West Coast since the heyday of the legendary LA Calendar Motorcycle Show, when the 2008 Economic Recession ended America's big ticket custom bike industry. 
Continued Here...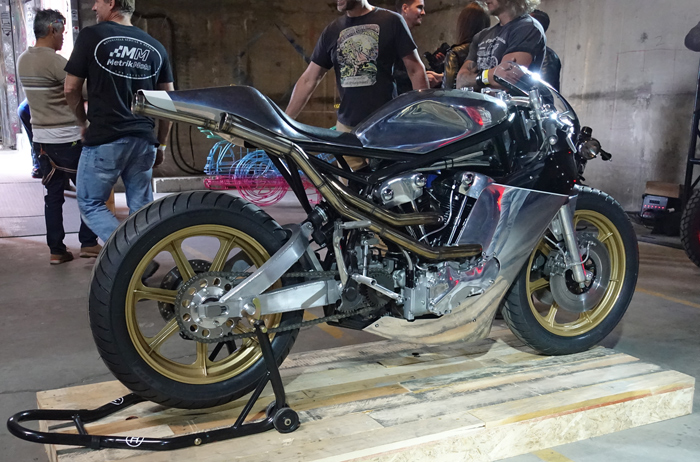 ---
The 2018 LA Calendar Motorcycle Show's Calendar Bike Building Championship continues its now 28-year tradition as the premier outdoor streetbike event in America in partnership with legendary Calendar Bike Builder Russell Mitchell / Exile Cycles's Rider RoundUp at the Ranch at Paramount State Ranch western movie set in Calabasas, California on Sunday October 17th.

Events will feature top Celebrity Custom Bikes & Builders, selected Vendors and Exhibitors, Live Music performances. And the world premier of next year's new 2019 FastDates.com Motorcycle PinUp Calendars featuring the world's top Sport and Custom Motorcycles with the beautiful Calendar Kittens in attendance at the Show. Select Builders and their Bikes will be invited for Monday the 8th after the event to be photographed by producer Jim Gianatsis for the next FastDates.com Calendars.
Calendar Kitten Corle Bunch with Anthony Robinson's 2018 Calendar Bike Building Championship Best of Show Winner

Complete Coverge 2018 Rider RoundUp Calendar Bike Building Championship HERE

---
Calendar Kitten Corle and Max Hazam's Show Winner! See complete detaisl of this radical custom cafe racer with full size screensavers pictures in the Calendar Bike Garage.

Max Hazan's Supercharged Husqvarna Replica Board Track Racer
Takes Best of Show at the October 15th Rider RoundUp at the Ranch

Report and Photos by Jim Gianatsis • Click on any Picture for Hi-Resolution
Paramount Movie Ranch State Park, Agoura, CA, October 15th, 2017 - Our Calendar Bike Building Championship joined the Rider RoundUp at the Ranch produced by celebrity Calendar Bike builder Russell Mitchell and wife Rachel / Exile Cycles at the Paramount Western Movie Ranch in Agoura, CA, just down the road from the legendary Southern California biker hangout The Rock Store on Mulholland Highway. It was an exciting day of beautiful Custom Motorcycles, Activities, great tasting Food Truck, BBQ and Craft Beer, Venders, Manufacturers and Live Music. The Rider Round Up at the Ranch was the second year celebration of Exile Cycles' 20th Anniversary Party held at Paramount Ranch the year before, now continuing on an annual basis. And again it was a benefit to raise money to Fight Leukemia by auctioning off products and services, together with money donated by the Vendors and Sponsors, this year raising $7000 for the Cause.
Taking Best of Show at the 2017 Rider RoundUp Calendar Bike Building Championship was Max Hazan's hand crafted Supercharged KTM Single Cafe Racer. Max, who has a storefront custom bike shop in Venice Beach, CA, built this latest customer consigned bike bike from scratch around a 420cc KTM / Husqvarna 4-stroke single cylinder dirt bike engine. Max fabricated a belt drive system off the engine's crankshaft to run a mini dual rotor Supercharger fed by a Keihin FCR39 Racing Carburetor.