Apple
Professional Model, Artist, Promoter & FastDates.com Calendar Kitten
Jim Gianatsis found Apple Price through an online modeling agency search and fell in love with her young, fresh beauty, her freckled face and supermodel runway beauty which is similar to a Kate Moss. Her photo shoot for the 2010 FastDates.com Calendars took place in the back alley behind Beverly Hills Ducati with an exotic BiMota Tesi and an Ecosse V-Twin superbike, and with Apple alone against an old garage door. The photos of which are featured in all our 2010 Calendars: Fast Dates, Iron & Lace and Garage Girls.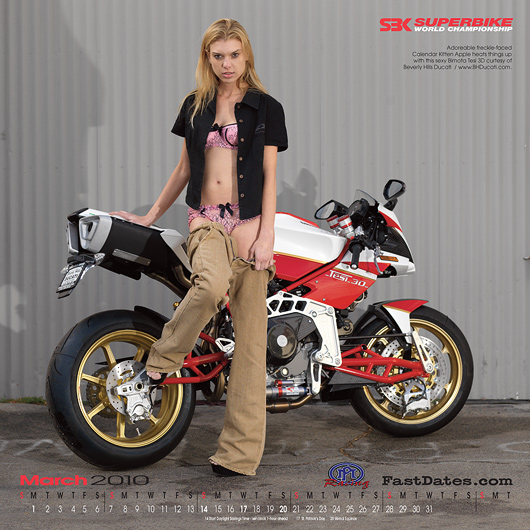 "I am a working model based out of LA. I love what I do as a model, and as an all over artist.... love life, love the runway, and love being in front of the camera. I am totally easy to work with, and believe that it is important to keep growing, learning, and to keep the creativity flowing. I take my job seriously, I am reliable, and professional, and I expect the same from anyone I work with."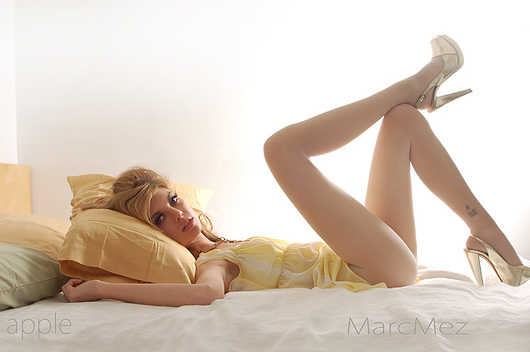 .. .. .. .. .. .. .. "Fuck the past, make love to the Future" I'm a Texan girl GONE Cali Style. grew up in College station...wooop...(oh god...did I really just say that???!!) Now Live in bad ass Los Angeles...where the weather is always perty. I moved here to continue my modeling career....Texas is a lil limited in the area of fashion...and NYC has really sucky wheather...which brought me here :) ..b.t.w...if you are reading this and you are like.." apple...what is apple" then you probably haven't spokent o me in a long time....so FYI Angela = Apple ..... some adjetives:) Sweet, loyal, fun, fashion fanatic, runway stomper, Dog Lover, shopping addict, kind, trustworthy, laidback, a little mysterious, Honest, genuine, focused (ummm..sometimes), good friend, a lil shy sometimes, super-fun, girlie-girl! intuitive, deep, thoughtful, insightful, open-minded, REAL. you MUST know....I have 2 dogs...a boston terrier named Princess (if you know me...you probably already know her too), and an American Bulldog named Boo (cuz she is MY Boo).... oh and a 3rd (Leon's boston terrier) Winston. " - Apple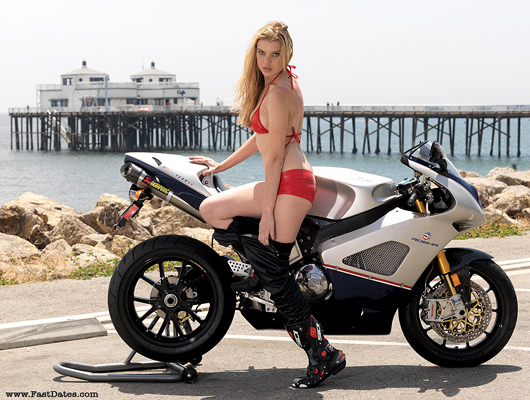 Appe returns in the 2011 Fast Dates and Iron & Lace Calendars wearing a red hot swimsuit photographed with a supercharged Roeher 1200cc superbike at the Malibu Pier.
See More of Apple Now in Member's Corner!

Return to Meet the Models • Members Corner Pictorials


Copyright Notice: Images on this website are the property of FastDates.com and may not be displayed on other websites or used for any commercial or non commercial purpose without express written consent. Images may only be downloaded by Members for personal viewing on their own computers.
FeedAModel.com
Apple and her model girlfriends are also aspiring artists and have formed an art company called FeedAModel.com that helps put food on their plates, as well as donating to various charities.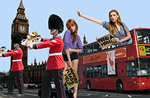 "We want to inspire you! We want to inspire you to tap into everything that you know and feel, and turn it into art. We want you to spread the word, and have the same beautiful experience with your friends and loved ones as we do every time we paint together.
We also want you to buy our art! We're "hungry" and have expenses, after all, and despite what you've heard, models need to eat too!!
A portion of all proceeds will be donated to the following charities":

Changing the Present
www.changingthepresent.org
Operation Smile
www.operationsmile.org
The Boys and Girls Clubs of America
www.bgca.org
The American Society for the Prevention of Cruelty to Animals
www.aspca.org
Apple's Modeling Portfolio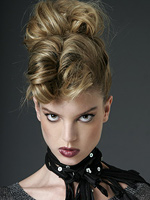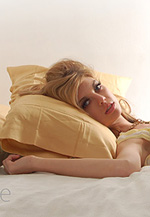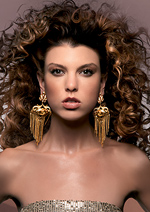 Apple in KittenMagazine.com