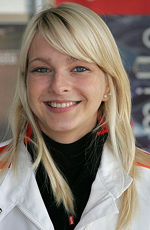 Aprilia Endurance rider Samuela De Nardi
The twenty-two year old from Vittorio in the Veneto region of Italy is looking forward to riding an Aprilia RSV 1000 in the2007 Italian and European Women's Championships

Noale, 15th March 2007 - Aprilia and Samuela de Nardi are looking forward to another great season together. The twenty-two year old from the Veneto region has been confirmed as official rider for Aprilia in the 2007 Italian and European women's championships.
This will be de Nardi's fourth season with Aprilia and hopefully a more satisfying one than that of 2006 when she was plagued with tendonitis, now cured by an operation. Even in 2006, however, despite the discouraging circumstances, de Nardi still managed to add a win in Rijeka to her list of victories.
This year De Nardi will be back in the saddle of an RSV 1000 R Factory, the bike on which she won the European Women's Championship in 2005, finished second in the Italian Women's Championship, and obtained a best of class in the legendary Suzuka 8 Hours in combination with Aliverti and Veghini.
De Nardi spoke to us of her ambitions. "Last season I recorded a number of pole positions but failed to capitalise on them. This year I'm determined to do at least as well as I did in 2005 when I achieved some really great results with Aprilia. I'm delighted to be riding an RSV 1000 again. It's my favourite bike to ride and the one that brings out the best in me in terms of personal performance."
Aprilia Brand manager Leo Francesco Mercanti agreed with her. "Samuela has amply demonstrated her competitive skills. She's fast and she's got a very strong, determined character too.
She's won us a lot of positive press in recent years, and made a great contribution to consolidating Aprilia's sporting image with the female public. She's done really well, sometimes even better than we expected, so I've got absolutely no hesitation in confirming her as official rider."

Samuela De Nardi was born in Vittorio Veneto on the 19th March 1984, and began her motorcycle racing career at just 4 years of age, in minimoto. After a period in motocross, De Nardi began GP racing in 2000, and finished overall thirteenth in the Aprilia 125 Challenge. The next year she won the Alpe Adria 125 Trophy.
After a season in Honda GP 125, in 2003 she made her debut with an Aprilia Tuono 1000. This bike helped focus the spotlights on her for a well deserved fourth place (with Stefano Cordara) in the Rijeka meeting of the European Endurance Championship and a third place in the Italian Women's Championship, even though she missed a number of races. At the end of the season Aprilia rewarded her brilliant performance by granting her a ride in the MotorShow Superbike Trophy on a supermotard world championship winning Aprilia SXV. In 2005 de Nardi moved up to an RSV 1000 Factory and won the European Women's Championship, finished second in the Italian Women's Championship and became the first Italian woman in history to ride in the Suzuka 8 Hours, winning the Superstock class together with her team mates.
In 2006 De Nardi came third in the European Championship, winning the Rijeka race and finishing fifth in the Italian meeting. Over the season she obtained four pole positions and recorded four fastest laps out of five races.
WOMEN'S CHAMPIONSHIP, NARDI SOLID WITH A 2ND PLACE OVERALL FINISH
10-27-2007 - The 2007 edition of the Italian Women's Championship concluded at the final race in Misano. With the 3rd place earned on the circuit in Romagna, the Aprilia rider reinforced her standing and secured 85 points to finish second in the final classification of the Superstock 1000cc (behind Paola Cazzola with 120), finishing the difficult and tricky championship with optimal results. With tenacity, determination, and continual professional development, Samuela was able to achieve the goal she was presented with at the start of the year; good results even in the European field, where the Venetian champion was able to walk away satisfied even in men's races, including the 7 th place finish she obtained at a European UEM men's championship race in Rijeka.
The results and classifications are at the link below.