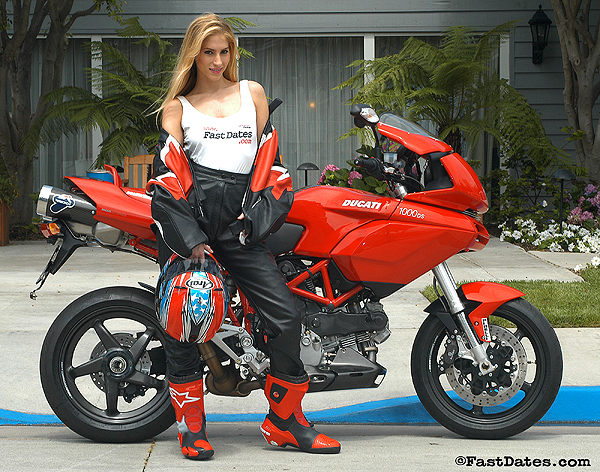 We call it the Multistrada Competitizone, Ducati just calls it the Multistrada with selected Sport Accessories. Chandi calls it red hot and sexy and ready to romp!
Exclusive First USA Test!
SBK Fast Dates Calendar Girl goes wild
Chandi Mason practices her multi tasking on the new
Ducati Multistrada 04 1000DS
With Chandi Mason
Official SBK FastDates.com World Superbike and Ducati Corse Umbrella Girl

June 2003: Multistrada, loosely translated, means "all roads" or "many roads" -a fairly bold statement of intent. And by extension we have to surmise this is a bike for all reasons. Ducati did intend for the Multistrada to be all things for all people. Take a dual purpose bike big twin, mount sportbike suspension and wheel/brake assemblies on it and hit the pavement.
Legend has it there is a road that starts from Bologna near the Ducati factory and weaves its way over the Apennine Mountains to Florence. It is called Passo della Futa and it is the birthplace of the Multistrada. The "Futa" as it is known by locals, has become a sacred destination for motorcyclists from all over Italy (forget the Pope and the Vatican). The road challenges you with every type of turn and road surface imaginable. For much of its 30 miles, the tarmac is smooth and race-track-like. Knee down, eyes up, you sweep through the most extreme hairpins. Further on, road conditions vary dramatically (like downtown San Francisco?) from wet in the shadows to bumpy in the turns. Speeds slow as rugged mountain switchbacks swing you from side to side.
Ducat engineers have long dreamed of creating the ideal to rise to the challenges of the Futa Pass. That bike is the Multistrada. Chief engineer Pierre Terblanche had initially described the bike to us and showed us his first prototype pictures back at Ducati Revs USA in October 2001.
Not since Yamaha's legendary DT1 250cc 2-stroke single trail bike from 1969 has their been such a concept bike. A bike that our publisher endlessly tells us he use to roadrace on Saturday, motocross or scrambles race on Sunday, and then ride to work during the week. That concept of a do everything motorcycle was soon lost in the age of specialization and the growing power of the motorcycle media where fickled motojournalists beriddled or ignored any bike that was less than cutting edge perfect for an intended purpose, the readers and manufacturers reacted and the public soon found itself without any universal or any entry level motorccyles in America.
It would take a small manufacturer like Ducati, run by serious motorcycle enthusiasts at its heart, to re-invent the multi-purpose bike some 35 years later. The same manufacturer that has humbled the world's major manufacturers at their own game in World Championship Superbike and MotoGP roadracing. But is the MultiStrada pure genius, or is it a Jack-of-All-Trades and Master-of-None?

To see what an important role the Multistrada will play in the future on Ducati, the bike's press introduction to America took place at the ritzy Laguna Cliff's Marriott Resort in Dana Point, CA. It was attended by all the Ducati top brass including Ducati Motor president Frederico Minoli from Italy, Andrea Foreni their chief test engineer, Pirelli 'stop tire technician, and all the new management from Ducati North America including Michael Locke general manager, John Porter director of marketing, and press dude Joey Madrigal.

The fact that all the top brass including company president Frederico joined us on our Friday morning press blast up Ortega highway in the rain shows that Ducati is back in the capable hands of true sportbike enthusiasts


Frederico Minoli address the assembled multitudes from the moto media about Multistrada.
With a seat height of 850mm (33.5 ins.) the MultiStrada is tall, and it is a bitch to get your leg over it. But once in the saddle the long travel suspension settles to it's ride height and you can just touch the ground. Front wheel travel is 6.5 ins./ Rear is 5.6 ins. compared to the Ducati 999 Superbike at 4.7 / 5.0 ins. Once on board and moving all the ungainley height is almost forgotten.
Flick on the ignition switch and the digital dashboard springs to life, the engine springs instantly to a smooth idle without the need to fiddle with a choke lever or the throttle. That duty is taken care of by a plunger in the injectors operated by a stepper motor that is told what to do by and advanced new ECU system employed by Ducati that makes quicker calculations than ever before from all its sensors on the engine and its pherifrial systems. The "carburetion" and ridability proved to be incredibly perfect whether the engine was cold or hot, in any riding situation from sea level up into the mountains along Ortega Highway.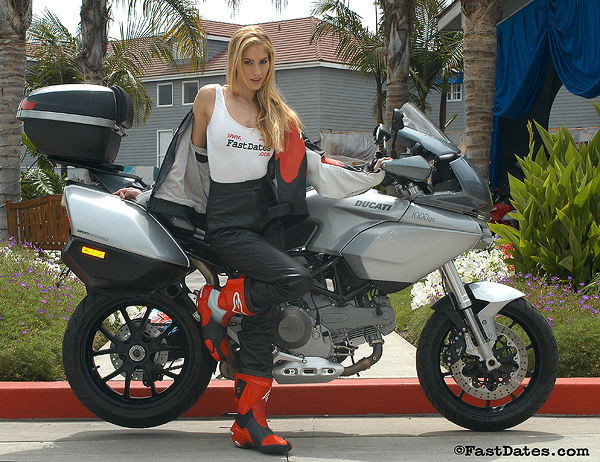 We call it the Multistrada Bagger, Ducati just calls it the Multistrada with selected Tour Accessories. Chandi calls it a perfect date for her dream vacation ride up the Pacific Coast Highway or down through the Smokey Mountains. Note the taller Windscreen, Hand Warmers, lockable Hard Luggage, and the forged Marchesinni 12 spoke wheels.

The 1000DS motor is extreamely quiet for an air cooled design. Note the fuel injectors in the cam cover, feeding fuel directly into the combustion chamber. Spark plugs on both side of the heads, shown poking through the belt cam covers here.

This is pretty trick stuff for what is basicly an old style 2-valve air-cooled motor in a trellis frame. But there's a lot more to it than that. This is an all-new 90 degree 1000cc dual spark (DS) Desmo twin that's also finding gainful employment in the big Monster and the 1000DS Supersport. The DS designation implies there are 2 spark plugs per cylinder an that, combined with a narrower valve angle allowing a more optimal combustion chamber design with bigger valves, improves efficiency and performance. The engine is rated at 84 horsepower at 8000 rpm, with 62 ft. lbs. of torque at 5000 rpm which feels like a smooth, broad plateau of cruising power in any gear.

The power is more than enough for most riding situations, but once in the roadracing mode at higher speeds you will need to start dancing with the flawless 6-speed transmission. Our test bike was brand new with just 4 miles on the digital readout when we left on our 3 hour test ride through town and then up into the mountains. It instantly felt like an old friend idling through town, then bouncing off the rev limiter as we attacked the twisty highways. Break in? What's that?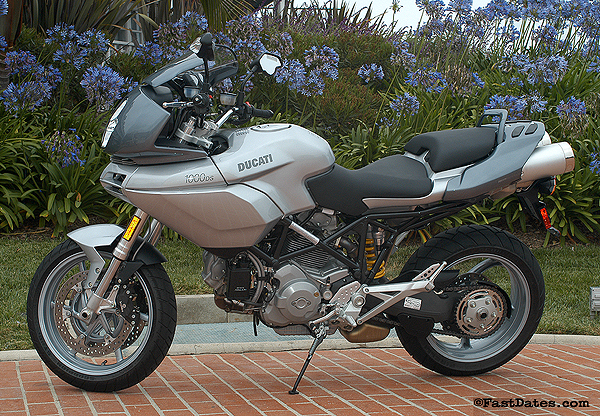 This is the standard Multistrada, sans accessories, available in Ducati Red or the 2-tone Silver/Grey shown here. Note the new lightweight wheels that eliminate the brake rotor carriers by mounting the floating rotors directly to the wheel's lattice hub design on front. Plush seats for rider and passeger with grab handle. Front turn signals mount inside rear view mirrors.
One note, the Ducati Multistrada Press Intro brought us to our first ride on Southern California's "famed" Ortega Highway, which we soon discovered really sucks as a sportbike road with far too much traffic, not too many good corners or any safe runoff areas. Our condolences go out to the locals there who have to ride Ortega for their adrenaline fixes. Being from north of Los Angeles we are spoiled rotten with the myriad of traffic-free, endless miles oflow and high speed canyon roads in the Santa Monica and Angeles Forest mountains. Plus there's a lot of great great roads in Northern California like Skyline Drive near San Francisco and Ducati NA's offices in Cupertino.
Continued Next Page • Ducati Multistrada page One • Two • Three • Multistrada S page Four
---
Added bonus! Chandi and Ducati Multistrada FastDates.com Screensavers
Click on the links to these pics and then save to your computer hard drive. You'll find more pictures and profile features of Chandi and Robin in Meet the Models and in Members Corner.
Chandi tests the Multistrada: Page One • Page Two • Page 3 • Robin Page 4
Return to Ducati 2003 • Ducati • Pit Lane News