2007 Ducati New Motorcycles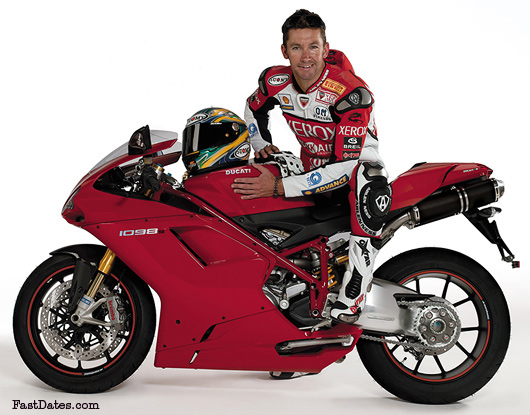 World Superbike Champion Troy Bayliss and the new generation 1098 which you'll be able to buyin the next few months. Troy won't get to race the bigger twin in SBK until 2008. SCREENSAVER
Ducati Reveals the New Generation 1098 Superbike Family
(November 8, 2006) - Ducati has introduced its new generation 1098 Superbikes this week at the Milan Motorcycle show in Italy. Th new machine produces 160hp and 90.4lbs/ft of torque, which results in making the 1098 the most powerful twin-cylinder motorcycle in the world, with the highest torque-to-weight ratio of any sport bike. In addition,Ducati claims the 1098 is also the lightest open class Superbike available, weighing in at 381 pounds.
With one dramatic step Ducati has introduced a new generation Superbike, the base 1088 model of which produces significantly more horsepower and is significantly lighter in weight than the out going top rated 999R model, at a price which is less than half. It's something old, something new, something borrowed and something very red from the Bologna mafia who need a winner in the showroom to match their winning on the track. And this is it.
The 1098 will be available in three versions starting in February. The 1098 Biposto will carry a manufacturers suggested retail price of $14.995 (reduced $3,000 from the current generation 999). The 1098 S will be priced at $19,995 (reduced $3,000 from the current generation 999S), while a limited edition 1098 S Tri-Colore will be $24,995. More Ducati 1098 Superbike details and photos
The base model 1098 with Showa suspension. The new bodywork s a little bit Desmosedici MotoGP, a little bit retro 916-998 Superbike. SCREENSAVER
The 1098 will be available in three versions starting in February. The 1098 Biposto will carry a manufacturers suggested retail price of $14.995 (reduced $3,000 from the current generation 999). The 1098 S will be priced at $19,995 (reduced $3,000 from the current generation 999S), while a limited edition 1098 S Tri-Colore will be $24,995.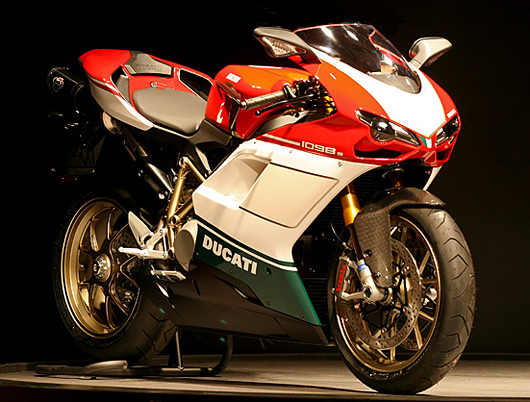 The 1098 S Tri-Colore is a special commerative version for the new Superbike's introduction at the 2006 Milan Motor Show featuring a special 'Tricolore' (red, white and green) livery celebrating the Italian style of the project by using the colours of the national flag. an 'S' version of the 1098 with the added feature of a gold coloured frame and a complete racing exhaust system with dedicated ECU.
Prices in Canada will be $19,995 for standard version, while the 1098 S will be $24,995 and the Tri-Colore will be $29,995.

The new Ducati 1098 Tri Color special edition has full Ohlins suspension, lighter weight forged wheels compared to the base model 1098, and additional lightweight Termignoni racetrack carbon fibre silencers included along with with the stock mufflers. From the photos, all models will have the same stock header exhaust system.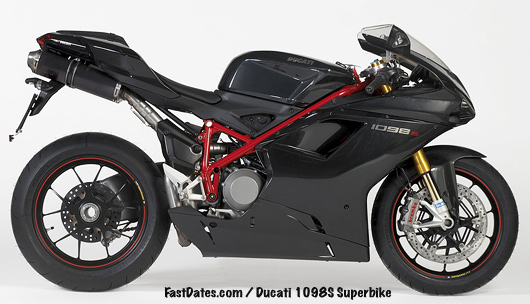 The new Ducati 1098 model "S" Superbike in Black also has full Ohlins suspension, lighter weight forged wheels and black painted mufflers compared to the base model 1098.
TriColor • Black Screensaver • Yellow Screensaver • Red Screensaver

Retro front air intake scoops like the old 916-998 Superbike and the previous 999's gawd-awful front windscreen center running light is now gone!
1098 Superbike Specifications Released and Compared
Nov 14th - Ducati has just released the technical specs (see below) for the new generation 1098/1098S Superbike and here's what we've discoved in comparison to the outgoing 999 generation bike
• Power: Both the 1098 and 1098S models now get the samespec tune Testastretta engine rated 160hp @ 9750 rpm with a 104 x 64.7 mm Bore x Stroke. The previous 999 Superbike's 998cc Testastretta engine was rated differently in each model at 140hp (999), 143hp (999S), 150hp (999R) @ 9750 with a 100 x 63.5 mm Bore x Stroke.
• Weight: Bike weight has dropped 29lbs which is significant, but we'll still need to wait for a future 1098R model to get down to fighting weight with the Japanese class leader, the Suzuki GSXR1000. The new 1098 Superbike weighs in at a factory stated 381lbs dry with no liquids or battery, compared to 410lbs for the 999/999S and 399lbs for the 999R (with carbon fibre bodywork and magnesium compnents). The weight savings is attributed to the 1088's lighter machined alloy wheels as stock (up from 5.50x17 to 6.00x17 at the rear) compared to the old style cast alloy wells on the previous models. And a lighter twin carbon fibre bodied silencer exhaust system replacing the 999's heavier single unit under seat silencer.
• Size: We are suprised to find the new bike is actually bigger overall than the old bike. We expected it to be downsize more like the MotoGP bike and the shorter 916-998 generation to help save more weight and quicken-up the handling. Unfortunaterly the new 1098's wheelbase is now longer 1430 mm / 56.3 in, and increase of 0.5 in over the 999's 1420 mm / 55.9 in wheelbase. And seat height is increased as well, up from 780 mm / 30.7 in on the 999, to 820 mm / 33.5 in on the 1098 . That a huge height increase of nearly 3 inches on a bike that didn't need to get any taller. We will wait to see if Ducati explains this as needed for additional cornering clearance on the track, possibly?
And we are disappointed to see the 1098 does not come with a slipper clutch like many of the newer Japanese sportbikes. It hardly costs much more to manufacturer a slipper club and today you'ld expect it to be origional equipment on the worlds premier Superbike, but its not. Ducati would prefer you buy their optional $1,000 Ducati Performance slipper clutch and pay your dealer another $300 to install it. I guess well have to be happy with the overall $3,000 decrease of the purchase price of the bike instead.
The 1098 S model with Ohlins suspension. SCREENSAVER
2007 Ducati Superbike 1098, 1098S

ENGINE
Type L-Twin cylinder, 4 valve per cylinder Desmodromic, liquid cooled
Displacement 1099 cc
Bore x Stroke 104 x 64.7 mm
Compression Ratio 12.5:1
Power* 119.3 kw - 160 hp @ 9750rpm
Torque* 90.4 lb-ft - 12.5 kgm @ 8000rpm
Fuel injection Marelli electronic fuel injection, elliptical throttle bodies
Exhaust Lightweight 2-1-2 system with catalytic converter and lambda probe. Twin stainless steel mufflers
Emissions Euro3

TRANSMISSION
Gearbox 6 speed
Ratios 1st 37/15, 2nd 30/17, 3rd 28/20, 4th 26/22, 5th 24/23, 6th 23/24
Primary drive Straight cut gears; Ratio 1.84:1
Final drive Chain; Front sprocket 15; Rear sprocket 38
Clutch Dry multiplate with hydraulic control
* = Data calculated using an inertia dynamometer

Instruments Digital MotoGP derived unit displaying: Speedometer, rev counter, clock, scheduled maintenance warning, warning light for low oil pressure, fuel level, oil temperature, fuel reserve, trip fuel, neutral, turn signals, average speed, average fuel consumption, remaining fuel metre, immobilizer. Ready for DDA system

CHASSIS
Frame Tubular steel trellis frame in ALS 450
Wheelbase 1430 mm / 56.3 in
Rake 24°30' / 24,5°
1098 Front Suspension: Showa 43mm with TiO fully adjustable upside-down fork
1098S Front suspension: Öhlins 43mm fully adjustable upside-down fork with TiN
Front wheel travel 120 mm / 4.7 in
Front brake 2 x 330 mm semi-floating discs, radially mounted Brembo Monobloc calipers 4-piston, 2-pad.
Front wheel 5-spoke in light alloy 3.50 x 17
Front tyre 120/70 ZR 17
1098 Rear Ruspension: Progressive linkage with fully adjustable Showa monoshock. Aluminium single-sided swingarm
1098S Rear suspension: Progressive linkage with fully adjustable Öhlins monoshock with top-out spring. Aluminium single-sided swingarm
Rear wheel travel 127 mm / 5 in
Rear brake 245 mm disc, 2-piston caliper
Rear wheel 5-spoke forged light alloy 6.00 x 17
Rear tyre 190/55 ZR 17
Fuel tank capacity 15.5 L (of which 4L reserve) / 4.1 US gal (of which 1 US gal reserve)
Weight * 173 kg / 381lbs
Seat height 820 mm / 33.5 in

Warranty 2 years unlimited mileage
Color combinations:
(Tank-Frame-Wheels) (Red-Red-Black)
Versions Dual seat
* = The weight excludes battery, lubricants and, where applicable, cooling liquid.

SCREENSAVER
"We are very pleased to announce not only a radical new Superbike family, but also a brand new competitive pricing structure. We have worked very long and hard to make this happen, and we are excited to introduce this motorcycle to the American public at the Seattle round of the International Motorcycle Shows, which happens December 1-3," said Michael Lock, CEO of Ducati North America.
Ducati NA and Ducati SpA have tried very hard to put their new generation Superbike on equal, if not better footing with the newest Japanese in-lone 4 -cylinder Superbikes and it seems they have done an incredible job.
SCREENSAVER
Ducati fans will rejoice in the return to the single sided swingarm which helped make Ducati Superbikes unique, and certainly makes rear wheel changes and chain adjustments much easier. The new bike has a much prettier, cleaner look over the somewhat controversial Pierre Terblanche designed 999 and returns to it's previous 916-998 roots. We are are slightly disapointed to see that the new 1098 is not physically smaller than the 999,as we had hoped it would return back to shorter 916-998 specs to help with quicker handling.
But even more disapointing than the sheer size of the new bike, there is no longer an adjustable 23.5/24.5 degree steering head on the new 1098, as they was all all previous 916-999 generation Ducati Superbikes. We always have run our previous model Ducati Superbikes at the quicker 23.5 degree adjustable setting, as does the Ducati Corse race team. And 23.5degrees is the fixed steering angle found on all Japanese 1000cc superbikes. The Ducati 1098's steering angle is now fixed at the slower setting of 24.5 degrees (to reduce cost), which is great for straightline touring, but it will make the bike handle like a truck on tight roads and at the track.
As for the release of a 1098 R model version, as is usual Ducati practice that could be another 9-12 months down the road. And it might reflect any new FIM Superbike technical rule changes expected for 2008 and beyond, allowing a 1200cc limit for V-twins. After dominating the 2006 World Superbike race season you might think the factory race team shouldn't be needing more than the additonal 1098 displacement any time soon. But rumor is the new 2008 R model Ducati Superbike will be a full-on 1198cc rocket ship. Hopefully it will offer an adjustable steering head assembly with a 23.5 degree setting as well.
Go to:
• 2007 Ducati Page 2 - Hypermoto, Monster
• 2007 Ducati 2007 page 3 - Sport Classics
• 2007 Ducati 1098S Tri Colore Test by FastDates.com
• 2008 Ducati 1098R 08 Superbike
Return to Ducati Index • New Bike Index • Pit Lane News