Superleggera - Ducati's Limited Edition New Project 1201 Production Superbike
October 9-18th, 2013 - If the Ducati 1199 Panigale R with its Titanium connecting rods wasn't enough, the Bologna firm has introducd the 'Superleggera' version under the code name "Project 1201".The Superleggera (meaning superlight in Italian), is an invite-only lightweight version of the already extreme Panigale R. However the Superleggera will come with a £60,000 price-tag, making the £26,550 Panigale R look like a budget option. The 1199 Superleggera is the most exclusive and extreme Ducati ever made.
An unprecedented 200+ horsepower in homologated configuration (205+ with included racing exhaust) and a 166Kg weight ready-to-ride without gas (around the same as a Superbike in full racing trim) give it the best, by far, power to weight ratio of any homologated motorcycle. Accordingly, Ducati's test rider Alessandro Valia has obtained with the 1199 Superleggera the best time ever for a street Ducati around the Tuscan Mugello circuit, an incredible 1'54"9.
The high-end Panigale Superbike will be limited to 500 units in total and features the state-of-the-art electronics package derived from the Ducati Corse WSBK setup. Rumors have been suggesting the Superleggera has been developed with the new WSB EVO and Superstock 1000 racing category in mind, but we now know this to be more of a gold Rolex for collectors rather than a homologation street Superbike. BMW's HP4 is another example of a heavily-tweaked standard model, produced in limited numbers to give an advantage in 'stock' racing. We'd expect an updated viersion of the next 1199R to have many of these same performance upgrads and light chassis parts, although the Supperleggera will serve homologate these parts for now.
The Superleggera shares very little with the £80,000 Panigale RS race bike -the bike only available to top racing teams, with the 1201 featuring an all-carbon-fibre fairing and the monocoque frame is made from ultra-expensive, lightweight magnesium. The Superleggera is quoted to produce 200+ bhp at the crank and weigh 15kg less than the R which the scales at 180kg / 196 lbs wet. Our own 1199S streetbike already tips the scales at 388 lbs wet, less gas.
What the Superleggera really seems to be is an 1199S model with the full 2014 Ducati Performance Accessory Catalog thrown at it, making it by far the most expensive Ducati road bike since the Desmosedici RR. In studying the attached exposed parts picture of the bike, this looks to be essentially the 1199 S/R production bike with most of the plastic body parts replaced by carbon fibre, and some Aluminum chassis replaced by Magnesium, Titanium Exhaust Header Pipes, together with high-end Hand and Foot Lever Controls. Honestly, a lot of these lighter bolt-on Magnesium and Carbon Fibre Body Parts should have come standard on the 2013 year 1199R model which is $7,000 more expensive than an 1199S, but they didn't.
Component Weight Saved (Superleggera vs. 1199 Panigale R)
Carbon fibre fairings and assorted pieces -1.0Kg (-2.2lb)
Magnesium alloy Monoscocca mainframe -1.0Kg (-2.2lb)
Carbon fibre rear subframe -1.2Kg (-2.7lb)
Titanium exhaust system -2.5Kg (-5.5lb)
Forged and machined magnesium wheels -1.0Kg (-2.2lb)
Lithium-Ion battery -2.0Kg (-4.4lb)
Custom front fork and rear shock -1.4Kg (-3.1lb)
Superbike pistons -194g (-.4lb)
Tungsten-balanced crankshaft -396g (-.9lb)
SBK 520 chain and Aluminum rear sprocket, and various carbon fibre parts, fasteners, and machined-from-billet components -1.3Kg (-2.9lb)

TOTAL WEIGHT SAVINGS: 12Kg (26.5lb) overall (wet) weight savings vs. 1199 Panigale R
Other Superleggera components like the suspensionare similar to the stock 1199S / R model Ohlins units, and not the higher spec Ohlins racing shock and forks as found on the 1199 RS race bikes. Ducati says this new street bike with full street gear/lights is 15kg / 33 lbs lighter than the R model, but Ducati Performancecomponents like the Titanium Header pipes (which should have come with the Termignoni Full Race Exhaust System for $3,600 - but didn't) and the the Magnesium Marzocchi wheels will help shed a few more pounds. But bare in mind the Mag wheels are not FIM legal for racing, and you will have to change a lot of the carbon fibre bits like the headlight functional upper front fearing for non-headlight fairing if you do want to go racing.
And with our own Fast Dates Panaigale 1199S Project Bike being a pretty incredible bike at 388 lbs, it will be hard to justify spending twice as much and more for a slightly lighter version. If you already own or buy a used 1199S, just simple, easy changes to a lighter 520 Chain/Sprocket Kit, a Shorai Lithium Battery and a few other goodies for under $2,000 will accomplish half as much weight savings as buying the new $65,000 Superleggera, and leave you with enough money left over to by a new $51,000 Corvette C7.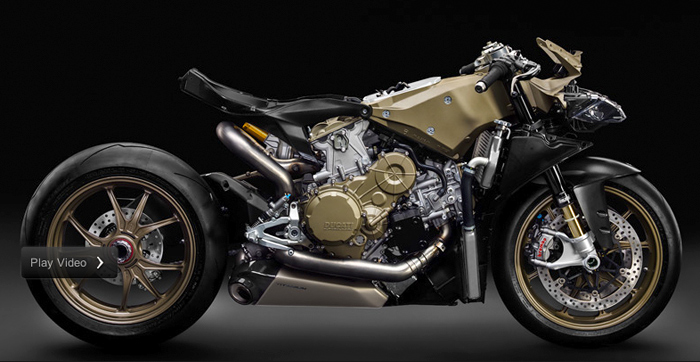 October 14th, 2013 - The Ducati Project 1201 got its naked reveal today with this comple but nude assembled picture sans bodywork. It's an exotic production street superbike, not a race bike. Note how its cast Magnesium wheels require larger, more substantial spokes compared to the forged Aluminum wheels on our 1199S above. Titanium Exhaust System is steet legal, not a full race exhaust. The bike can be club raced like any other production street bike, but is not compliant for FIM Superstock / Superbike racing. Note the 1-pound heavy handlebar ends on this expensive lightweigh, and the stock foot control assembly for $65,000- rather than the DP Adjustable Corse Raceing Foot Controls!!!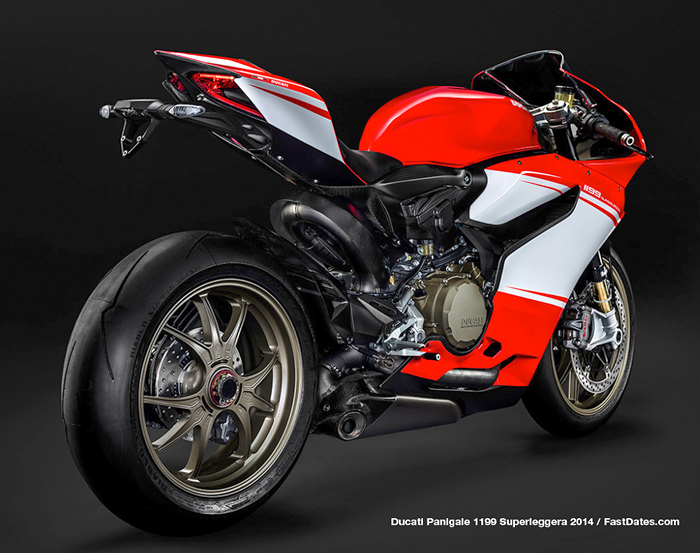 The Technology
CRANKSHAFT
Crankshaft At Project 1201's very heart spins a forged steel crankshaft of exceeding strength, precision balanced with tungsten inserts and lightened to an incredible degree (-396g / 14 ounces vs. 1199 Panigale R), beyond in fact what was previously achieved for the Superbike 1199RS. An engineering statement of ultimate performance, this super-crankshaft gives Project 1201 a free-revving character unmatched outside of a premier-class professional race bike.
PISTONS
To absolutely maximize its engine output, Project 1201 uses pistons normally found in World Superbikes. Made of an incredibly light aluminium alloy (-97g / 3 ounces each vs. 1199 Panigale R), with a short skirt and two-ring design for minimal friction, these Superbike pistons harness the furious energy of combustion and translate it into tyre-smoking power.
These new pistons in the Superleggera feature a raised 13.5:1 compression ratio, up from the 12.5:1 compression pistons found in the 1199 and 1199R models to this date. This accounts for the Superleggera;s 5 hp / 2 kg torque power increase at now a much higher 11,500 rpm compared to the earlier models' 195 hp @ 10,750 rpm.
Bare in mind these Project 1201's lightened engine parts, which will also include the R model's Titanium Connecting Rods, will increase the engine's ability to rev quicker and to higher RPMs- particularly on a future homologated race bike, but it also reduces the tractability / rideability of the Superquadro powered 1199 Superbike which Ducati riders have bee bemoaning both on and off the race track with the change from the much loved previous generation long-stroke Testastretta motor.
Innovative suspension
Incorporating Ducati's Riding Mode technology, the 1199 Panigale S and Tricolore and Superleggera are fully equipped with front and rear Ducati Electronic Suspension (DES) system by Öhlins. The 43mm Öhlins NIX30 forks are adjustable electronically in compression and rebound damping, while spring pre-load is manual. An adjustable steering damper completes the full Öhlins package.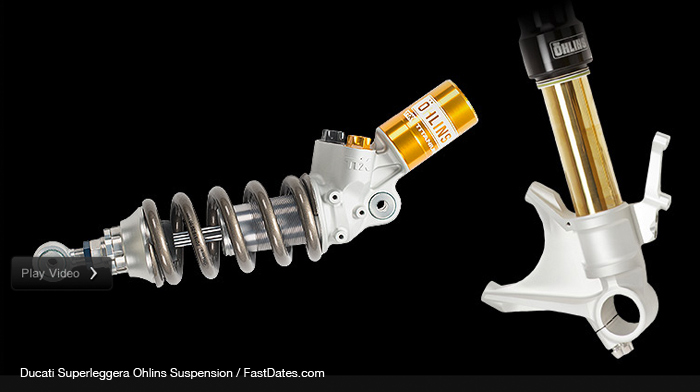 To keep it always in perfect dynamic control on any surface and at any speed, the Superleggera features customized lightweight (-1.4Kg vs. 1199 Panigale R) suspension from the world-class Swedish suppliers Öhlins, including a titanium-spring TTX36 shock and Superbike-level FL916 lightened front fork with stress-optimized outer tubes and fully machined bottoms.
The Öhlins TTX36 rear unit features twin tube technology to offer totally separate damping adjustment in compression and rebound and minimise the risk of cavitation under extreme conditions. The unit is fully adjustable electronically in compression and rebound damping, while spring pre-load is manual. The electronic suspension adjustment can be made either by using the pre-set Riding Modes, which havebeen developed by Ducati test riders and racers, or in independent mode, which allows riders to use their own personal and saveable settings. Digital damping adjustments send signals that execute the mechanicaladjustment via electronic actuators mounted in the suspension units.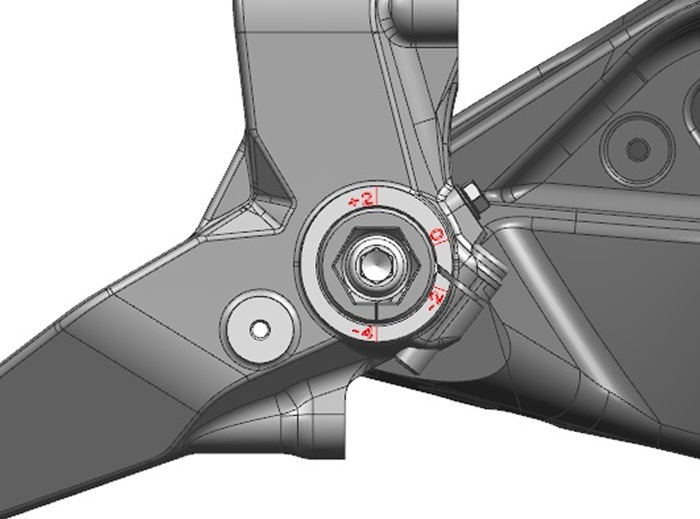 The race-oriented "R" and Superleggera models model also features a 4-point adjustable swingarm pivot, designed to enable riders a personalised and precise set-up of varying levels of pro or anti-squat to optimise traction on corner exit. The settings are dialled-in using two user-friendly eccentric adjusters that offer pivot positions at +2mm higher, - 2mm lower and -4mm lower than the standard position, each positively and accurately locked and located. The clearly marked, easy-to-use system provides optimum adjustability for competition use.
FRAME
The Monoscocca frame, already enormously innovative in its multifunctional minimalism, is transformed into a jewel by being sand-cast in magnesium alloy. Compact and rigid with excellent vibration absorption, the frame forms the ultimate lightweight backbone (-1.1Kg / 2.4 lbs vs. 1199 Panigale R) to support Project 1201's incredible performance.
SUBFRAME
Structural piece, or modern art? A complex subframe artisanally crafted in aerospace-quality carbon fibre is phenomenally light – less than a kilo (-1.2Kg vs. 1199 Panigale R) – and holds electronics as well as Project 1201's tail. Laterally and torsionally stiff, the subframe also supports the seat, providing an optimal foundation for the rider to assert full control.
WHEELS
Computer designed and optimized, expertly forged from magnesium, and machined to balanced perfection, Project 1201's wheels are an essential component of its breathtaking performance. An astonishing 1kg / 2.2 lbs lighter than the already-featherweight wheels of the 1199 Panigale S/R, their reduction in unsprung rotating mass hugely benefits Project 1201's acceleration, braking, and handling.
Electronic technology
The 1199 Panigale is equipped with many of the latest innovative electronics developed by Ducati on the race track, and they are combined, managed and displayed on full TFT technology instrumentation. First introduced to the motorcycle industry on the Ducati Diavel, the TFT display is super-enhanced on the 1199 Panigale.

The state-of-the-art electronics package features an enhanced version of the Ducati Data Analyser (DDA+), and Ducati Riding Modes, with fully integrated ABS, Ducati Electronic Suspension (DES), Ducati Traction Control (DTC), Ducati Quick Shift (DQS), Engine Brake Control (EBC), full Ride-by-Wire (RbW) and the Thin Film Transistor instrumentation (TFT).

The 1199 Panigale uses a compact version of its Ducati Quick Shift (DQS), first introduced on the 1198 SP and increases its formidable fire power with a sport-intended, adjustable ABS system and Ducati's Engine Brake Control system (EBC), designed to enhance stability during de-acceleration. Pricing for the 2013 Panigale Superleggera is USD $65,000.00.
PANIGALE 1199 SUPERLEGGERA
PRICE: USD $65,000

Component Weight Saved (vs. 1199 Panigale R)
Carbon fibre fairings and assorted pieces -1.0Kg (-2.2lb)
Magnesium alloy Monoscocca mainframe -1.0Kg (-2.2lb)
Carbon fibre rear subframe -1.2Kg (-2.7lb)
Titanium exhaust system -2.5Kg (-5.5lb)
Forged and machined magnesium wheels -1.0Kg (-2.2lb)
Lithium-Ion battery -2.0Kg (-4.4lb)
Custom front fork and rear shock -1.4Kg (-3.1lb)
Superbike pistons -194g (-.4lb)
Tungsten-balanced crankshaft -396g (-.9lb)
SBK 520 chain and Aluminum rear sprocket, and various carbon fibre parts, fasteners, and machined-from-billet components -1.3Kg (-2.9lb)

TOTAL WEIGHT SAVINGS: 12Kg (26.5lb) overall (wet) weight savings vs. 1199 Panigale R

WARRANTY
2 years unlimited mileage
Maintenance (km/months)12,000 km (7,500 mi) / 12 months
Valve clearance adjustment (km)24,000 km (15,000 mi) - street use

ENGINE
Engine
Superquadro: L-Twin cylinder, Desmodromic valve actuation, 4 valves per cylinder, liquid cooled
Displacement: 1,198 cc
Bore X stroke: 112 x 60.8 mm
Compression ratio: 13.2:1
Power: exceeds 200 hp (149Kw) @ 11,500 rpm
Torque: 134 Nm (99 ft-lbs) @ 10,200 rpm
Fuel injection: Mitsubishi electronic fuel injection system. Twin injectors per cylinder. Full Ride-by-Wire elliptical throttle bodies
Exhaust: 2-1-2 system, primary tubes in titanium. Twin titanium mufflers. 2 lambda probes and 2 catalytic converters

TRANSMISSION
Gearbox 6 speed
Primary drive: Straight cut gears; Ratio 1.77:1
Ratio: 1=37/15 2=30/16 3=27/18 4=25/20 5=24/22 6=23/24
Final drive Chain; Front sprocket Z=15; Rear sprocket Z=41
Clutch: Hydraulically controlled slipper/self-servo wet multiplate clutch with Superbike configuration

Riding Modes, Power Modes
ABS, DTC, DQS, EBC, DES, DDA+ w/GPS module, Fully RbW. DWC based on inertial platform. Dedicated buttons for rapid setting of DTC, DWC, EBC. Titanium rods. Carbon fibre parts: fairings, seat base, heel guards, air duct covers, power switch cover, rear shock cover, front and rear mudguards. Titanium bolts.

CHASSIS
Frame: Monocoque in magnesium alloy
Front suspension: Fully adjustable 43mm USD Öhlins FL 916 fork with TiN treatment, billet fork bottoms and lightweight stress-optimized outer tubes
Front wheel: 3-spoke magnesium alloy 3.50" x 17"
Front tyre: Pirelli Diablo Supercorsa SP 120/70 ZR17
Rear suspension: Fully adjustable single Öhlins TTX36 shock with titanium spring, with linkage adjustable between progressive/flat. Aluminium single-sided swingarm. Adjustable swingarm pivot.
Rear wheel: 3-spoke magnesium alloy 6.00" x 17"
Rear tyre: Pirelli Diablo Supercorsa SP 200/55 ZR17
Wheel travel (front/rear)
120 mm (4.7 in) - 130 mm (5.1 in)
Front brake: 2 x 330 mm semi-floating discs, radially mounted Brembo Monobloc Evo M50 4-piston callipers with ABS, Brembo MCS 19-21 adjustable-ratio front brake master cylinder, remote lever adjuster
Rear brake: 245 mm disc, 2-piston calliper with ABS
Instrumentation: Colour TFT display

DIMENSIONS AND WEIGHTS
Dry weight: 155 kg (342 lb)
Kerb weight without fuel: 166 kg (366 lb)
Kerb weight: 177 kg (390 lb)
Seat height: 830 mm (32.7 in)
Fuel tank capacity: 17 l (4.5 US gallons)
Number of seats: Single seat

Racing kit
Included with each 1199 Superleggera is a "track kit" to adapt the bike completely to closed-circuit use. The kit is composed of pieces which, when mounted, add to the bike an additional 5 horsepower, and shed an additional 2.5Kg. It is the finishing touch, to unleash every last bit of the 1199 Superleggera's incredible performance. Kit composition:

Racing exhaust
Racing windshield
Machined mirror block-off plates
License plate holder removal plug
Sidestand removal kit
Connectors
Also included:
Front paddock stand
Rear paddock stand
Paddock bike cover
Go to: Ducati 1199 Panigale Feature Introduction • Ducatii 1199S Track Ride • Ducati 1199R
Design of the 1199 SuperQuadro Engine • 1199 Uncompetitive in World Superbike?
Ducati 1199 Superleggera
Back to Ducati Motorcycles • New Bike Index • Pit Board Index • Pit Lane News