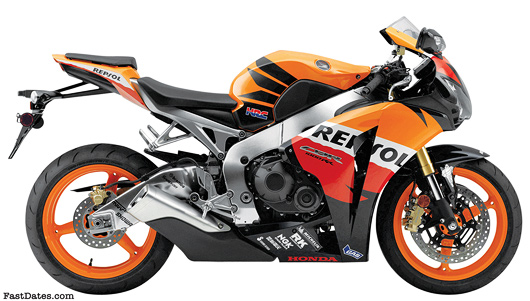 2008/2009 Honda CBRs
Updates in 2009 Honda CBR1000 RR and CBR600 RR models
There's no all-new generation changes for the Honda CBR sportbike lineup in 2009 what with the CBR1000RR having received an all-new generation change in 2008, and the CBR600RR having received it's last all-new generation change in 2007. But the '09 CBR600R does receive some significant engine and bodywork changes for 2009 to keep it up to date with the competition.
American Honda claims 2009 model CBR1000RR is "...the lightest, most compact and best performing motorcycle in its class, making it the standard against which all other literbikes are measured." And for 2009, both the CBR1000RR and CBR600RR are available with Honda's optional high-tech electronically controlled Combined ABS for "the ultimate in sportbike braking performance."
But the current CBR1000 is already looking a little long in the tooth after just one year with the release of Suzuki's all-new new generation GSXR1000 for 2009. And we'd think a few other sportbike manufacturers, most notably Suzuki and Ducati, might take exception to Honda's claim their CBR1000 is the lightest bike when its measured wet at 439 lb. / 462 lb. w/ABS, when the Ducat 1098R weighs 422 lbs. with a full tank of fuel. And should you opt for the new ABS system that adds 23 more pounds to the production bikes' already ponderous bulk? Here's the details of Honda new ABS System....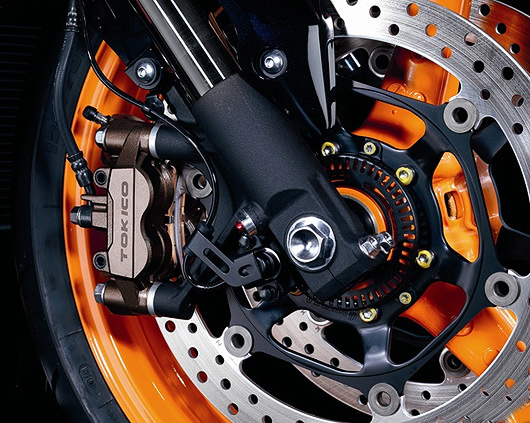 Honda's News Combined ABS (Anti-Lock Braking System)
Combined ABS is a brand-new Anti-lock Braking System (ABS) that provides an elevated level of performance suited specifically to supersport riding conditions as well as day-to-day street use. Combined ABS is offered as an optional configuration on Honda's CBR600RR and CBR1000RR for the 2009 model year.
Honda's Combined ABS represents the first use in a streetbike of a braking system that incorporates an Electronic Control Module (ECM) to manage the system and provide braking force distribution to both wheels. This ensures precise and predictable brake operation under a variety of riding conditions.
For each wheel, Combined ABS incorporates two components, an electric power unit (EPU) and a valve unit. Within each valve unit a stroke simulator replicates braking application pressure, electronic sensors detect rider input pressure on the brake lever/pedal and feed the data to the ECM. The ECM interprets the signals and sends activation commands to the front and rear EPUs. Within each EPU, a motorized gear-driven ball screw applies pressure against a piston to produce hydraulic braking pressure that is transferred to the respective wheel.
In ABS mode, the EPU react rapidly to commands from the ECM to decrease/increase braking pressure at the threshold of wheel lockup. Operation is seamless--virtually undetectable because the ECM is capable of hundreds of calculations and commands every second, and it continuously adjusts the magnitude and distribution of hydraulic pressure to each wheel. Since the pressure control valves are eliminated, the system is both simpler and lighter.
Honda's ABS System is really nothing new, it's been on most cars now for over a decade, and it has been on BMW's popular sport and touring bikes for a number of years. We've ridden BMWs with their ABS system and it is excellent and works great in streetbike applications for stopping quickly without locking up the wheels.If you are not a skilled rider, using the CBT for normal commuting in traffic, or in bad weather conditions, then by all means get it with the bike. But then, this is a hard core streetbike and why are you even using it for commuting in traffic.
What ABS is not, is traction control. Add too much throttle in a corner, causing the rear wheel to break loose, and you will go down or into a slide. Grab too much brake going into a corner, particularly on the track where you should already be on the edge of traction, and you will still go down, or the ABS backs off the braking force and you run wide and off the track. There is no factory race team in World Superbike or MotoGP that uses ABS and it has no business on a serious sportbike. The new CBRs should have some sort of race-bred traction control like Ducati, Kawasaki and Suzuki, but they don't. We don't now what Honda was thinking in offering the heavy ABS system on their hard core sportbike line, other than they know most CBRs never see the race track anyway. If you feel you need ABS on your streetbike, you should be buying it on a much more practical and comfortable street bike.
New on the for 2009 CBR1000RR:
The newest change is the availability of the optional ABS....
• CBR1000RR ABS is equipped with a patented, electronically controlled system for supersport motorcycles: Combined ABS. Combined ABS merges the benefits of a brand-new Anti-lock Braking System (ABS) and the ability to apply braking forces to both wheels into one electronically controlled system that blends the advantages of both (see Technology Section).
• CBR1000RR ABS features higher output ACG with oil jet hole for improved cooling, higher capacity battery and distinctive silver seat rails.
• New colors: CBR1000RR - Repsol Edition,White/Silver Metallic, Black, CBR1000RR ABS - Red/Black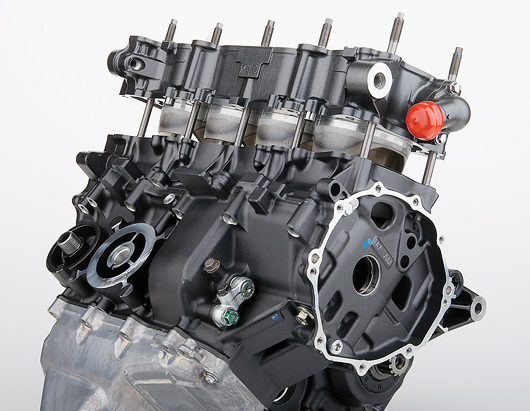 A masterpiece in modern casting technology, the CBR features a removable aluminum cylinder block with deep set Nikasil-coated cylinder liners.
Engine/Drivetrain
Compact, liquid-cooled DOHC 16-valve 999cc four-stroke inline four-cylinder engine features bore and stroke dimensions of 76mm x 55.1mm.
Removable cylinder block with Nikasil-coated cylinders.
Sixteen-valve cylinder head features 30.5mm intake and 24mm exhaust valves with a 12.3:1 compression ratio for efficient combustion and high horsepower.
Larger titanium intake valves create a lighter valve train and feature double-spring design for optimum performance at high rpm.
Intake ports use latest shot-peening technology that improves power and torque characteristics.
Cam-pulser location between the middle cylinders allows a narrower cylinder head and frame.
Direct shim-under-bucket valve actuation system ensures high-rpm durability and allows 16,000-mile valve maintenance intervals.
Forged-aluminum, thin-domed, high-strength pistons feature molybdenum coating for reduced friction.
Lightweight nutless connecting rods.
Iridium-tip spark plugs improve fuel combustion and performance.
Dual Stage Fuel Injection (DSFI) (see Technology Section).
46mm throttle bodies feature Denso injectors with lightweight valving for faster reaction time and 12 holes per injector to optimize mixture atomization, combustion efficiency and power.
Auto-enriching system is integrated into Programmed Fuel Injection (PGM-FI) module, eliminating the need for a manual choke.
Idle Air Control Valve (IACV) minimizes torque reaction and smoothes response to small throttle changes through gradual reductions of air and fuel intake when the throttle is opened and closed.
Ignition Interrupt Control system works with IACV and FI mapping to enhance derivability.
Smaller and lighter ECU provides two 3-D fuel-injection maps for each cylinder and two 3-D ignition maps for cylinder pairs, creating ideal fuel mixture and spark-advance settings for superb rideability.
MotoGP-derived twin-tunnel ram-air system allows a high volume of cooler air to the 9.7-liter airbox for linear power delivery and incredible engine performance.
Butterfly valves inside the ram-air ducts open and close depending on throttle opening and engine rpm for optimum performance.
Compact, low-mount exhaust system design reduces rear bodywork size and incorporates exhaust valve and catalyst, contributing to significantly improved mass centralization and reducing roll and yaw inertia.
High-capacity radiator incorporates twin cooling fans and allows a more compact cowl for reduced drag coefficient.
Starter gears located on the right side to produce narrow engine that allows for increased lean angle.
Patented slipper-clutch design uses a center cam-assist mechanism for easier actuation. Unlike an ordinary slipper clutch where the pressure plate moves from side to side, the Honda clutch moves both the center cam assist and the pressure plate to provide additional slipper effect.
Nine-plate clutch is compact and tough, featuring durable friction plate material.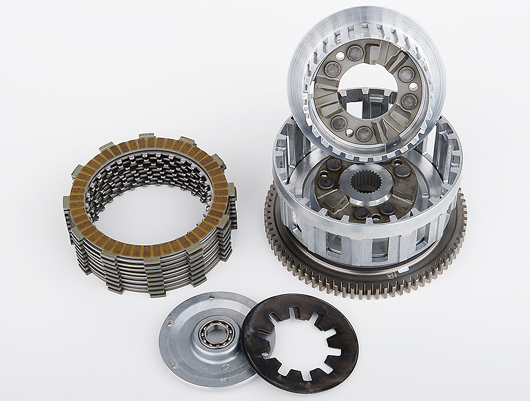 Honda's take on the slipper clutch, which uses cam cuts on the center hub's riveted-in steel center sections, is more durable for street use, but a little too heavy for racing use.
Chassis/Suspension
Lightweight four-piece Fine Die-Cast, twin-spar aluminum frame utilizes latest MotoGP technology (see Technology Section).
Aluminum subframe is lightweight and easily removed for ease of maintenance.
MotoGP-derived, next-generation Honda Electronic Steering Damper (HESD) (see Technology Section).
43mm inverted aluminum-slider Honda Multi-Action System (HMAS) cartridge front fork features spring preload, rebound and compression damping adjustability, and offers precise action and unparalleled rigidity (see Technology Section).
Exclusive, MotoGP-derived Unit Pro-Link Rear Suspension (see Technology Section).
Radial-mounted monoblock four-piston front calipers feature chromium-plated aluminum pistons and squeeze lightweight 320mm floating discs in front and a 220mm rear disc with a single-piston caliper for exceptional stopping power.
CBR1000RR ABS features Honda's electronic Combined ABS (see Technology Section). This all-new ECM-controlled (Electronic Control Module), hydraulically actuated system provides accurate braking force distribution to both wheels. ABS is controlled by a hydro electronic unit and stroke simulator to ensure precise operation. Benefits include consistent lever pressure without the pulsing often associated with ABS systems. Application of rear brake does not result in immediate front brake activation unless lock-up is sensed, allowing an experienced rider to use rear brake in a normal manner during spirited riding. Combined ABS components are smaller and lighter than conventional hydraulic ABS designs, and have been located nearer to the center of the machine, enhancing mass centralization and reducing unsprung weight.
Super-light aluminum-alloy hollow-spoke wheels feature race-spec 3.5 x 17-inch front and 6.0 x 17-inch rear dimensions.
Centrally mounted 4.7-gallon fuel tank is positioned low in the frame, increasing mass centralization and allowing a more compact design. This design positions the rider farther forward for optimum handling.


Additional Features
Iconic Honda Wing tank badge.
Lightweight aluminum sidestand.
Handlebars are repositioned forward for excellent ergonomics.
High-capacity 400-watt AC generator (non-Combined ABS model).
High-tech instrument display features tachometer and LCD readouts for speedometer, coolant temperature, odometer, two tripmeters, clock, mpg, average fuel consumption and reserve fuel used. A low-fuel LED light and shift-indicator light are located above the LCD.
Line-beam headlight features two-piece reflector design utilizing two H7 bulbs for optimum light distribution and unique compact design.
LED taillights for lighter weight and improved appearance.
Front turn signals integrated into folding aerodynamic mirrors.
Plastic tank shell cover protects tank and airbox.
Convenient ignition switch/fork lock for added security.
Convenient push-to-cancel turn-signal switch.
Maintenance-free high-capacity battery.
Transferable one-year, unlimited-mileage limited warranty; extended coverage available with a Honda Protection Plan.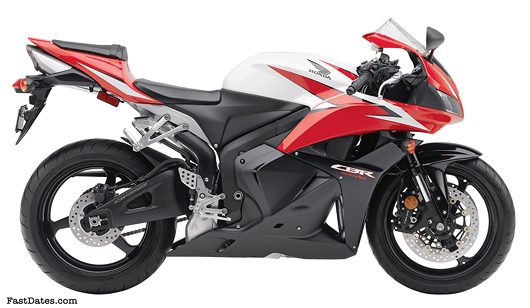 Honda CBR600 RR Updates
A winner on the racetrack and in magazine comparison tests, the light, compact and powerful Honda CBR600RR raises performance standards to new heights in the middleweight class, and is now also available with electronic Combined ABS.
New on the CBR600 RR for 2009
Increased mid-range power from crossover balance tubes on exhaust and an exhaust pressure valve in the muffler similar to the valve used in the CBR1000RR.
Intake ports use the latest shot-peening technology that improves power and torque characteristics.
New bodywork for a sleek, race-ready look.
New lightweight turn signals.
Radial-mounted monoblock four-piston front calipers.
CBR600RR ABS is equipped with a patented, electronically controlled system for supersport motorcycles: Combined ABS. Combined ABS merges the benefits of a brand-new Anti-lock Braking System (ABS) and the ability to apply braking forces to both wheels into one electronically controlled system that blends the advantages of both (see Technology Section).
Exciting new colors: Red/Black, Black/Bright Green Metallic, Metallic Black, Phoenix, Pearl White/Pearl Blue/Red (2009 special color†).
Return to Honda Index • New Bike Index • Pit Lane News