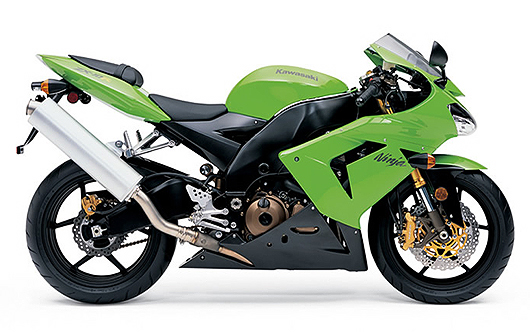 Kawasaki 2004 New Models
The all new ZX10 1000ccc Superbike
October 1, 2003: While all the other major manufacturers have released specs and some have held press intros on their 2004 sportbike lineup, Kawasaki is pretty late on information for their all new ZX10 1000cc Superbike for the 2004 season. What we do now at this point is kawasaki is claiming 170 bhp, which means it should see about 155php at the rear wheel of a dyno. With a dry weight at 170kg / 374lbs Kawasaki will certainly make a big deal about a 1:1 bhp/kg power to weight ratio which will be in the ball park withy the other Japanese manufacturers.
Radial calipers are new this season for Kawasaki as with all the superbike manufacturers, with Kawasaki matching them to the trendy wave rotors pioneered by Braking which help reduce weight and improve braking slighlty, but will certainly be a passing fad in time. That big ungainley exhaust silencer hanging off the side also looks extreamely out date, poorly positioned and vulnerable as the competition copies Ducat's more sensible underseat system.
With Kawasaki late development and release of this new ZX10 and no World Superbike race program to develop it, the new ZX10 will probably be relegated to Superstock stock racing in 2004.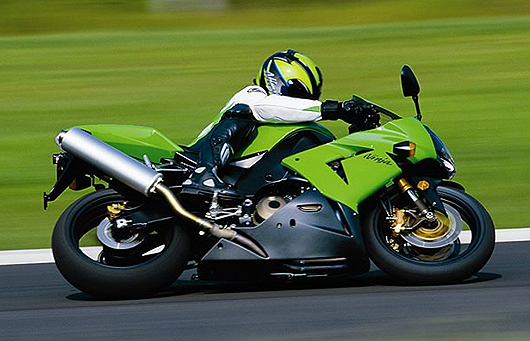 Ninja ZX10R
Engine
- Liquid-cooled, 998cc four-stroke, inline four-cylinder engine utilizes stacked layout used for compact dimensions, contributing to the ZX-10R's narrow profile
- One-piece cylinder/crankcase saves weight and is more rigid
- Forged pistons have flat top for compact combustion chamber
- Cams machined from chromoly steel billet and surface treated with soft nitride for light weight and durability
- Tappet surfaces treated with soft nitriding to help prevent wear
- Intake and exhaust valves use single springs with oval cross sections to lower overall engine height
- Flow analysis used to design cylinder head, maximizing engine breathing at high rpm
- All-titanium four-into-one exhaust system includes butterfly valve to enhance low-rpm power
- Oval-shaped aluminum muffler with internal titanium parts reduces noise and includes honeycomb catalyzer to reduce emissions
- Electronic fuel injection with sub-throttle assembly and 43mm throttle bodies provide best power characteristics and ridability
- High-speed generator is clutch driven and is positioned behind the cylinder bank to reduce engine width
- Liquid-cooled oil cooler helps to maintain consistent oil temperatures
- Sloshing analysis used to design internal structure of oil pan, reducing windage and helping to maintain low oil temperatures
- Magnesium engine covers reduce overall dry weight
Transmission
- Close-ratio six-speed transmission optimizes on-track performance
- Multi-plate wet clutch with back torque limiter prevents rear wheel hop under hard braking and deceleration
Chassis
- All-aluminum, twin-spar backbone frame utilizes thin-walled castings and pressed sheets welded together for light weight ñ provides high-speed stability and responsive handling, yet is no wider than most 600cc sportbikes
- Frame arches over the engine rather than around it, giving the ZX-10R the narrowest possible profile for excellent riding position and ride "feel"
- Fully-adjustable 43mm forks and internal aluminum parts feature circuit setting for competition
- Top triple clamp features "lightening holes" to reduce weight
- Gull-type aluminum swingarm with oval pipe brace, UNI-TRAKÆ linkage and fully adjustable shock is lightweight and torsionally rigid
- Rear suspension includes ride height adjustment
Brakes & Wheels
- Dual 300mm front disc brakes feature radial-mounted four-piston calipers and single 220mm rear disc brake ñ the first petal discs in the liter bike class enhance cooling and prevent warpage
- Cast-aluminum wheels utilize six spokes in place of the traditional three-spoke design, so rim thickness is reduced, yet the wheels are stronger and lighter
Bodywork & Ergonomics
- Front fairing is narrower than most 600cc sportbikes
- Central ram air duct provides the induction system with the coolest, densest air possible
- Pop nuts make disassembly quick and easy
- Three-dimensional computer-assisted design used to develop ergonomic and aerodynamic layout
- Three-piece front fender increases aerodynamic efficiency
- Top of the fuel tank is concave so the rider can tuck in more tightly behind the windscreen
- Fuel tank bottom is flat to provide engine with stable fuel level
- Compact rear fender is slim and light
- Inner fender's flowing design matches the shape of the swingarm to achieve unity of function and style
- Five-piece W-shaped seat cowl flows from the tank the rear tail section for an aggressive, high-quality image and is easily removed for maintenance
Additional Features
- Forged aluminum handlebars are strong and gun drilled to further reduce weight
- Powerful dual multi-reflector 55W headlights provide best possible nighttime visibility
- Digital LCD instrument panel includes tachometer, speedometer, water temperature gauge, shift indicator, clock and stop watch function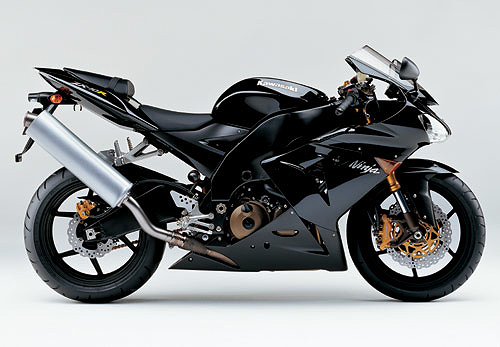 Available colors are: Green/Black, Black/Black, Blue/Black and Orange/Black. We think they should just stick to one color theme, the traditional Kawasaki Lime Green and not offer any other choices to help reinforce their struggling market identity. Thankfully full body decal kits are a think of the past.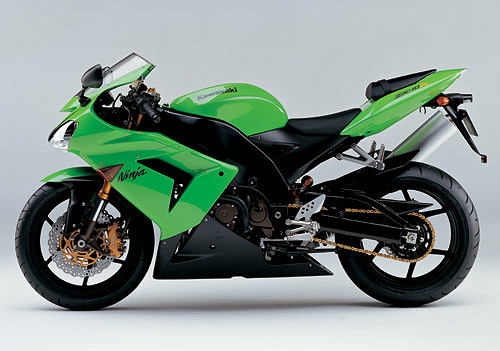 Kawasaki ZRX and ZXR Tuning and Setup Details are featured in The Paddock Garage
Return to Kawasaki Index • Pit Lane News