Meet the "good old days" with the return of a practicle comfortable to ride Superbike. Kawasaki's new Z1000 gives us older generation sportbikers reason to be happy again.
New 2010 Kawasaki Sportbikes
Kawasaki Z1000: A Return to the World's Coolest Streetbike
October 2009 - With this latest in a long line of naked Kawasaki streetbikes, Kawasaki started with a clean sheet, drawing upon more than 35 years of experience in giving the people what they want. If the new Z1000 knocks your eyeballs out, that's exactly what Kawsaki had in mind. In the naked streetbike wars, this looks to us like the perfect candidant to take on the new Ducati 1098 Streetfighter and the proven Aprilia Tuono, Triumph Speed Triple and KTM Super Duke!
A sharp new front cowl sloped back at an acute angle highlights the Z1000ís new nose, followed by a tilting instrument panel, visible through an orange lens, that can be angled to suit rider preference. Just below that a long, narrow headlight represents Kawasakiís first use of a line-beam unit. Following the lines rearward, the eyes will next encounter a dynamically designed steel gas tank, flared on the sides to let you grab it with your knees, and trim at the rear for a snug fit. The seatís low and narrow at the front to make ground contact easy, and it flows beautifully rearward to end in a futuristically retro LED taillight behind a red lens.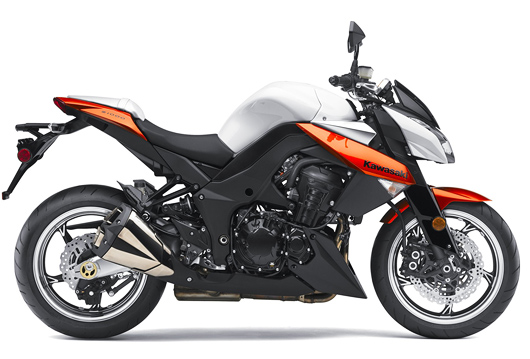 The new Kawasaki Z1000 returns us to the legendary Z1 lineage gong back to 1973 with modern superbike chassis, suspnsion and brakes.
Previous Z1000s used a steel frame, but this one gets its own all-new aluminum one. Similar in concept to the frame of the Ninja ZX10R sportbike, the frame beams curve over the engine, resulting in a narrow bike thatís easy to grip with the knees. The engine bolts in solidly, stressed-member style, at three places, and in a rubber mount at the upper rear of the crankcase for great torsional rigidity and solid handling. Wherever possible, welds were eliminated for a smooth, organic appearance. The main frame and swingarm pivot areas, for example, are cast as a single unit. The rear subframe is a three-piece aluminum die-casting, light, smooth and beautiful.
At the heart of every naked bike is its engine. We didnít just bolt it into that frame for solid handling, we did it so you won't forget what youíre riding: You'll definitely feel those 1,043cc's of fuel-injected Kawasaki four-cylinder every time you twist the throttle. A secondary balance shaft eliminates excess vibes, but on this bike, a little bit of character is designed in. In the same spirit, the bikeís cool air system uses ducts just ahead of the fuel tank to usher air into the airbox, a placement that lets the rider savor the bold sound of screaming air being sucked into the engineís downdraft intakes.
The Z1000's inline-four cylinder engine uses a longish stroke 56mm to make the most impact in the rpm range most used by naked bike riders. Long-stroke engines keep intake air velocity up for maximum midrange power whatever the displacement. From nearly any rpm, rolling the Z1000's throttle open provides the kind of instant gratification most sportbikes just canít quite muster. Having said that, this engine also spins up noticeably faster from about 7000 rpm upwards, with a silky smooth, highly intoxicating response.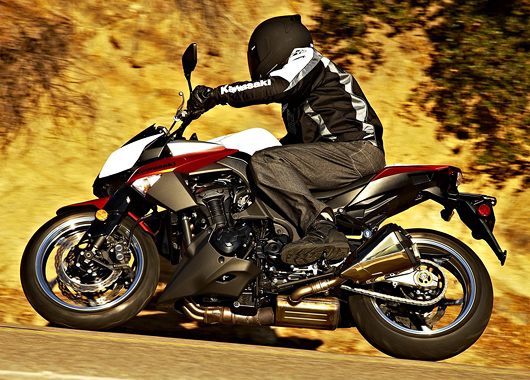 Some may like the looks, but The Z1's George Jetson styled exhaust system will definetly father some aftermarket replacements.
What more do you need? Not much. How about new five-spoke wheels, with spokes machined near the rims for a custom-wheel look. We carried forward the quad-pipe theme from the last Z1000 (and the first Z1), but an under-engine pre chamber let the engineers use shorter mufflers for great looks, better mass centralization and light, quick handling. A solid-mount handlebar and aluminum footpegs lifted from the Ninja ZX-10R complete with machined edges contribute to the Z1000ís direct feel.
Nobody scrimped on the suspension and running gear, either: A radial-pump master cylinder provides the latest in braking feel and feedback. Adding compression damping adjustability to the 41mm inverted fork gives it all-way tunability, and a completely new, horizontal placement of the rear shock provides typically UNI-TRAK-like performance.
The next time somebody complains to you that modern motorcycles have no soul, take them for a ride on a new Z1000. Everything about it is up-to-the-minute modern. But you can feel its roots every time you hit the starter. This one's classic Kawasaki all the way.
The venerable ZX10 just gets refinements this year in color choices of Green/White, or in Black.
2010 Kawasaki ZX10 Superbike
The 10R returns with a host of refinements for 2010. New more aerodynamic bodywork is designed to slice through the atmosphere cleanly at speed, and to look even better doing it. A new fairing with a stronger family resemblance to its ZX-6R sibling leads the way for the rest of the minimalist new plastic, and a new, dark gray embossed coating on the bike's titanium muffler carries the light, slick theme rearward. Inside the cockpit, new inner covers reflect the high quality and performance of the rest of the ZX-10R package.
All that power needs to be kept in check, of course, and rider feedback has led to the fitment of a new, premium 18-position Öhlins steering damper. The new damper uses sophisticated internal circuitry, including pistons and springs, to keep the Ninja tracking straight and true under the most challenging conditions.
Putting that power to asphalt is also critical, and significant upgrades to the six-speed transmission's shift mechanism handle that task with even greater efficiency. Changes to the guide hole plate, shift shaft, return and set springs and shift collar all collaborate to reduce clearances at the pivot — resulting in more precise, positive gear changes every time. Smooth downshifts are enhanced by a standard, back-torque limiting clutch.
The Ninja's 998cc, four-cylinder engine continues to crank out the kind of straight-shortening power that leaves other liter bikes in its wake. Fed by a bank of four 43mm Keihin throttle bodies with two injectors per cylinder and bristling with 16 titanium valves, the ZX-10R uses a highly advanced Kawasaki Ignition Management System (KIMS) to dole out all that power with maximum control. KIMS monitors all standard fuel injection input data (engine speed, throttle position, vehicle speed, gear position and feedback from intake air temperature, intake air pressure, engine temperature and O2 sensors), but adds one more crucial wrinkle by checking for sudden changes in rpm every 0.02 seconds. Highly sophisticated, KIMS is programmed to leave control in the rider's hands, but will retard ignition when a sudden increase in engine rpm exceeds programmed parameters.
A track-oriented fully adjustable 43mm inverted fork and advanced rear suspension are designed to work with the ZX-10R's carefully tuned aluminum frame for unparalleled feel and feedback. Diamond-like Carbon (DLC) coating on the fork tubes reduces stiction for precise action. A four-way adjustable rear shock includes low and high-speed compression damping, and controls the pressed aluminum swingarm via the latest UNI-TRAK® linkage design.
Light and stiff squeeze-cast wheels keep unsprung weight down and suspension performance high; their reduced rotational inertia further enhances the 10R's quick steering and acceleration. Radial-mounted Tokico brake calipers controlled by a radial master cylinder squeeze 310mm petal discs up front with maximum sensitivity, while the rear 220mm petal disc is stopped by a single-piston caliper.
Wrap it all in that sleek new bodywork, add fuel, and you're looking at an even more beautiful version of the most highly advanced, high-performance Kawasaki sportbike ever.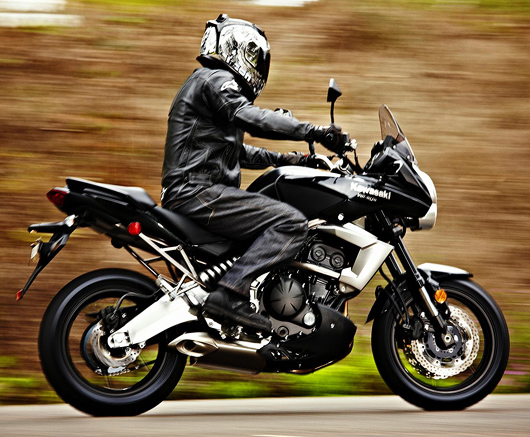 Above: The new 2010 Kawasaki KLE650 Cafe looks like the purfect around town, commuter bike.
Return to Kawasaki Index • New Bike Index • Pit Lane News