Suzuki 's National 600cc SuperSport Championship winning GSXR600.

The new 2003 Suzuki Supersport Machines
Biggest changes featured in the class leading GSXR-1000
Complete details of the GSX-R600, 750, 1000 & TL1000R
If ever there were a family of motorcycles that "owned the racetrack," then the Suzuki GSX-R line would be it. This isn't surprising, though, considering the thousands of GSX-R motorcycles sold worldwide since their inception in 1985 and their popularity at all levels of roadracing.
The complete line of high-performance GSX-Rs for 2003 are now available and include the all-new 2003 GSX-R1000, the multi-time AMA Superbike Championship-winning GSX-R750 and the 2002 AMA 600 Supersport Championship-winning GSX-R600. Rounding out the Supersport line-up is the TL1000R - a V-twin-powered machine with outstanding performance on the street and the track.
GSX-R600 - 2002 AMA 600 Supersport Champion!
Suzuki saw no need to change their reigning 600cc SuyperSport Chanion for 2003. Consider this: Aaron Yates devastated the competition and took the AMA 600 SuperSport title in style with his awesome Yoshimura Suzuki GSX-R600. Building on the proven performance of the GSX-R750, the fuel-injected GSX-R600 was designed to be the lightest, fastest and best-handling 600 on the market. From the showroom to the racetrack -- if you want to ride the best, your choice is clear: Suzuki GSX-R600.
Although the basic engine design is based on the successful GSX-R750, the GSX-R600 has many unique components, including the cylinder head and block, valves, camshafts, cam chain, crankshaft, connecting rods, wrist pins, pistons, clutch assembly and most of the transmission gears. To improve engine output and throttle response, the GSX-R600 uses an electronic fuel-injection system with the Suzuki Dual Throttle Valve (SDTV). This system incorporates two butterfly valves per throttle body and uses an electronic servo motor to control the secondary valves. As the rider opens the primary valves via the throttle, the throttle body-mounted servo motor progressively opens the secondary valves to maintain maximum intake velocity at all engine speeds.
In an effort to keep the GSX-R600 lightweight and agile, a twin-spar aluminum-allow frame incorporates a bolt-on subframe and lightweight, aluminum swingarm. The front fork is lightweight, fully adjustable and is of a conventional design. It's also positioned to reduce the frontal area of the GSX-R for maximum performance. The rear aluminum-bodied shock offers a full array of adjustability, as well as a ride-height adjuster. The 17-inch wheels are lightweight aluminum and come equipped with radial tires. Lightweight brake calipers use four aluminum pistons and dual 320 mm rotors up front, while a single 220mm rear disc works with dual-opposed aluminum-piston calipers at the rear. The 2003 GSX-R600's clean, aerodynamic package is wrapped up with twin headlights and step motor-powered instrumentation.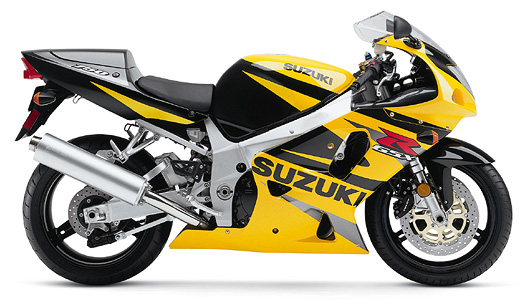 The AMA 750cc National Superbike Championship winner for 3 years running.
2003 GSX-R750: Superbike Benchmark
Once again, the Suzuki GSX-R750 is by far the fastest and most technologically advanced 750cc sportbike in its class. Motorcyclist magazine named the Suzuki GSX-R750 Sportbike Of The Year for 2002. No small feat, considering the level of competition in the sportbike category. The
impressive power-to-weight ratio, rock-solid chassis and consistent performance make the GSX-R750 the benchmark by which other 750 sportbikes are judged.

The GSX-R750 introduces two new looks for 2003, while still retaining the incredible performance and style of the GSX-R series. The four-stroke, inline four-cylinder, 16-valve, liquid-cooled engine features a lightweight, compact design. This includes narrow, 25-degree valve angles, hollow camshafts, forged pistons, shot-peened connecting rods, narrow crankshaft-journal diameter and a one-piece cylinder block and upper crankcase section. The combination of the cylinders and the upper crankcase unit creates a strong, lightweight assembly that allows for the internal routing of lubricating oil, eliminating external oil hoses. A 16-bit electronic-control module operates the precise fuel-injection system, assuring strong horsepower and smooth throttle response. The unique Suzuki dual-throttle-valve system and tapered throttle bodies provide a steep fuel-injector spray angle as well as maintain correct intake air velocity for maximum performance.
A strong engine is nothing without a strong chassis and the GSX-R750 does not disappoint. The chassis is centered around a lightweight, compact aluminum-alloy frame with a long swingarm that distributes more weight to the front wheel. The frame's optimal torsional rigidity-to-weight ratio and steering geometry provide excellent turn-in ability, rear-wheel traction and straight-line tracking on the race track. Suspension units consist of a 43mm inverted fork with 125mm of travel along with an aluminum bodied, rear-piggyback shock absorber. Front brake calipers are of a four-piston design with lightweight aluminum pistons, while lightweight 17-inch wheels and radial tires are used front and rear. Aerodynamic bodywork with large ram-air inlets, narrow one-piece headlight assembly and a compact, digital instrument cluster
complete the GSX-R750 package.
GSX-R750 (K3) AT A GLANCE
Suggested retail: $ 9,449.00
Engine Type: Four-stroke, liquid-cooled Bore and Stroke: 72.0mm x 46.0mm
Front Brake: Dual Hydraulic Disc, Rear Brake: Single Hydraulic Disc
Wheelbase: 1,410mm (55.5 in.) Dry Weight: 166kg (365 lbs.)
---

Big Brother, the GSXR1000 gets significant udates for 2003.
Updated for 2003 Suzuki GSX-R1000 - Total World Domination!
Suzuki took the sportbike world by storm with the GSX-R1000 when it debuted in 2001, winning championships and magazine comparisons in devastating fashion. Suzuki engineers have done it again in 2003, updating the GSX-R1000 with more performance, less weight, and a sleeker, more aggressive look. The result is the new 2003 GSX-R1000, revved up and ready to achieve its goal: Total GSX-R World Domination.

The first GSX-R1000's compact and powerful engine redefined high performance for liter-class sportbikes and the newest version continues in this vein for 2003. The GSX-R1000's 988cc four-cylinder engine features a liquid-cooled, DOHC layout with a 73mm x 59mm bore and stroke, forged-aluminum-alloy pistons, chrome-moly-steel connecting rods, lightweight cast-iron-alloy camshafts and Suzuki's own SCEM electro-plated cylinder bores.

Upgrades include new ventilation holes between adjacent cylinders for reduced internal crankcase pressure and equalized pressure beneath the pistons. New internal oil passageways feed the automatic hydraulic cam chain tensioner. Two sets of double-barrel throttle bodies replace the previous engine's four individual units yet still utilize the Suzuki Dual Throttle Valve (SDTV) system for smoother throttle response and power delivery. Controlling this system is an upgraded digital ECM with new 32-bit CPU and significant ROM increase, all of which calculates fuel-injection volume and ignition timing quickly and precisely for improved throttle response and reduced exhaust emissions. Finally, working in conjunction with the SDTV fuel-injection system, a Suzuki Exhaust Tuning (SET) valve matches exhaust system back pressure to engine speed, throttle position and gear selection for increased torque, and reduced emissions and noise. The GSX-R1000 also comes equipped with a new titanium exhaust system, which reduces weight by about 600 grams.

From the rider's perspective, a more compact instrument cluster incorporates LED turn signal, high beam, neutral and low-fuel indicator lights. An LCD display next to the tach features a digital speedometer, odometer, dual tripmeters, clock and water temperature gauge. A new programmable engine-rpm indicator is located beneath the speedometer.

The Suzuki GSX-R1000 was given a more aggressive appearance for 2003. While re-styling the machine, engineers also improved aerodynamics and the efficiency of the ram-air charging system. Incorporating design data from the development of the 2002 Suzuki GSV-R
MotoGP racebike, the latest GSX-R1000 is equipped with such aerodynamic modifications as reshaped front and inner fenders. But the most significant modification is the vertically stacked headlight, which allows the ram-air intake ducts to be positioned closer to the centerline of the
fairing nose, the point of highest air pressure. Compared to the 2002 model, the 2003 GSX-R1000's ram-air intake ducts are each about 20mm closer to the fairing centerline. This increases the ram-air pressure reaching the large, 10.2-liter airbox, which improves charging efficiency and, as result, increases torque. Slots in the base of the throttle-body air funnels (also known as velocity stacks) inside the airbox reduce intake pulses to smooth mid-range power delivery. Completing the aesthetics of the GSX-R1000 are a more aerodynamic and maintenance-free LED taillight and lightweight, more compact turn signals. Like the GSV-R, the new GSX-R1000 has a black-painted frame and swingarm to complement its unique profile. The fairing nose is shaped to maximize wind protection both on the road and on the racetrack. The fuel tank is narrower at the seat, allowing for additional knee room and making it easier for a rider to tuck in.
The 2003 GSX-R1000 is supported by a revamped, lighter-weight, twin-spar, aluminum-alloy frame. Although frame geometry remains unchanged and the cast-aluminum steering-head and swingarm pivot-plate sections are like the previous models', the main frame spars on each side are now extruded and reinforced with three internal ribs each. The result is, in effect, to divide the extrusions lengthwise into three separate internal compartments. The new main spar design allowed the GSX-R1000 engineers to precisely adjust overall frame rigidity, using data from the GSV-R MotoGP racebike. Similarly, the new bolt-on tail section is of a simpler construction, using four straight pieces of extruded aluminum-alloy tubing.
For racing, the 2003 GSX-R1000's swingarm-pivot position is adjustable with optional race kit parts. This will be become more important as additional sanctioning bodies around the world allow 1000cc four-cylinder racebikes into the premier Superbike classes.
Braking and suspension were improved for the '03 GSX-R1000, with race-spec components fitted for maximum performance and handling. The new GSX-R1000 features race-proven front brake calipers like those on the GSV-R MotoGP racebike and on GSX-R Superbikes competing worldwide. The radial-mounted four-piston calipers attach to the front fork with bolts aligned with the caliper centerline, as opposed to transverse-mounted bolts, and each caliper weighs 30 grams less than those used previously. Because these new calipers provide stronger braking performance, engineers reduced the front brake discs' diameters from 320mm (12.6 inches) to 300mm (11.8 inches), decreasing disc weight by 300 grams and enhancing turn-in performance. In the rear, the 2003 GSX-R1000 retains past models' opposed-dual-piston brake caliper and 220mm (8.66-inch) rotor.
The competition-worthy 43mm inverted fork features Diamond Like Carbon
(DLC)-coated stanchion tubes and internal cartridge damping, and it's fully adjustable for spring preload, and compression and rebound damping. The single rear shock is equipped with a piggyback fluid reservoir and is also fully adjustable for spring preload, and compression
and rebound damping. Wide, 3.50 x 17-inch front and 6.00 x 17-inch rear cast-aluminum-alloy wheels are shod with a 120/70 ZR17 radial front and a 190/50 ZR17 radial rear tire.
Overall, the 2003 GSX-R1000 is about 2.0 kgs. (4.4 lbs.) lighter than the previous model and will continue the trend of Total World Domination.

2003 GSX-R1000 (K3) AT A GLANCE
Suggested retail: $ 10,499.00
Engine Type: 4-cylinder, 4-stroke, DOHC, Liquid Cooled Bore and Stroke: 73mm x 59mm
Front Brake: Dual Hydraulic Disc, Rear Brake: Single Hydraulic Disc
Wheelbase: 1410mm (55.5 in), Dry Weight: 168 kg (370 lbs.)


The the now somewhat out dated and overweight TL1000r remains unchanged again for 2003.
2003 TL1000R: V-TWIN SUPERBIKE
Combine the power and performance of a high performance V-twin, with the latest in chassis and suspension technology and you have the 2002 TL1000R. The TL1000R is the perfect machine for a tractable and strong street machine while still possessing the engine and chassis adjustability needed for the racetrack.
Power is supplied by the V-twin powerplant based on the TL1000S 90-degree engine, and tuned for even more horsepower and an abundance of torque. Features like forged pistons, lightweight connecting rods, twin radiators, high capacity airbox, 2-into-2 exhaust system, larger clutch, twin injector throttle bodied fuel injection system all contribute to increased performance and durability.
The TL1000R chassis also features a race ready design centering around a short wheelbase aluminum twin-spar frame combined with a bridge-type swingarm, fully adjustable inverted forks and Suzuki's unique rotary damper rear suspension. Braking duties are accomplished with twin 320 mm front discs with six piston calipers, lightweight wheels and wide radial tires. Wrap it all up with an aggressive and aerodynamic fairing. The TL1000R is a good bike at the lowest price in the 1000c V-Twin class, but it falls behind in performance and handling compareded to the other bikes in this class from Ducati, Aprilia nad Honda.
2003 TL1000R (K3) AT A GLANCE
Suggested retail: $ 9,599.00
Engine Type: Four-stroke, DOHC 90-degree V-Twin, liquid-cooled, Bore x Stroke: 98.0mm x 66.0mm
Front Brake: Dual Hydraulic Disc, Rear Brake: Single Hydraulic Disc
Wheelbase:1,405mm (55.3 in.), Dry Weight: 197kg (434 lbs.)