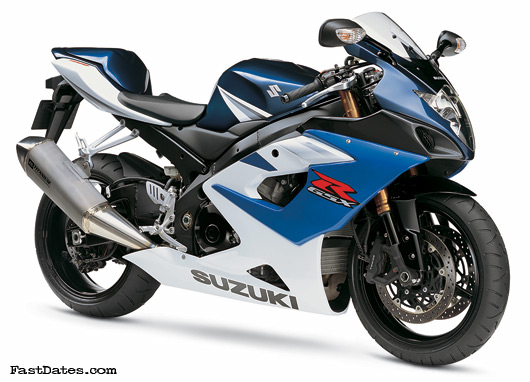 The reigning Champ gets a major redesign for 2005 - the all new GSXR1000.

2005 Suzuki Supersport Machines
Major Changes to the Class Leading GSXR-1000

The reigning 2003/2004 AMA Superbike Champion
gets ready to kick a lot more butt in 2005
Screensavers / Enlarged views: GSXR1000 in Blue • GSXR1000 in Black
Sept 13th 2004: As if Matt Mladin's winning back-to-back AMA Superbike Championships in 2004 and 2005 (well almost, with one race still remaining as we write this) on the outgong G4 generation GSXR1000 wasn't enough, Suzuki of Japan is letting loose with an all-new, from the ground-up new generatin G5 modelGSXR1000 for 2005.
The 3 other of the Big Four Japanese manufacturers, Yamaha, Kawasaki and Honda all turned loose their new generation model 1000cc Superbikes this past year 2004, and their AMA race teams pleaded they needed a race season to develop their new machines while Mladin was souldly thrashin' them on his underpowered older generation GSXR. But now, unfortunately for the other Japanese Superbike teams, the new 2005 GSXR1000 is so far ahead of their current (soon to be old) Yoshimura Suzuki winning bike, in the hands of Matt Mladin it should easily continue to dominate AMA Supertbike racing in 2005 and beyond. It is unfortunate that Suzuki will remain out of the World Superbike arena again in 2005, because Mladin and the Hamamatsu Hammer could easily rival reigning Team Ducati Corse.
The new "Hammer "is smaller, lighter, stronger, more powerful for 2005, and despite the total ground-up redesign, it is only priced $200 higher than last season at $10,849.00. A pretty incredible bargain when a comparable Italian bike will cost 2-3 times more. Check out the cool new radial front brakes, larger ram air induction framing the narrower front headlight, the huge GP style fabricated aluminum swingarm. Plus a full Titanium Exhaust System! In street legal trim this puppy tips the scales right at the FIM weight minimum of 365lbs dry. As the world's principal supplier of Ti, its nice to Russia as a world trading partner. Here are all the changes:

All New Engine:
The new GSXR1000 has an all new slightly larger displacement 998.6cc 4-stroke, 4-cylinder, liquid-cooled engine for increased power, torque and acceleration - with several new features to reduce friction and reciprocating mass. Displacement was increased slightly from last years 998cc with a 73mm bore to 998.6cc with a 73.4mmbore.The crankshaft has been reinforced to handle more power, while a new balancer shaft has been added to smooth out higher RPMs.
* Improved electronic fuel injection system features the Suzuki Dual Throttle Valve System (SDTV).- maintains optimum air velocity in the intake tract for smooth low-to-mid rpm throttle response and high torque output - includes Auto Fast Idle System (AFIS)
* Compact double-barrel throttle body design with larger 52mm bores for improved power, plus narrower pitch between outer and inner bores - allows use of narrower airbox, fuel tank and bodywork to provide more room for rider's knees/elbows
* Twin injectors per throttle body for improved throttle response and acceleration - primary injector operates under all conditions while secondary injector operates under high rpm/heavy load conditions to further increase engine output
* New cylinder head features larger 30mm intake and 24mm exhaust ports, plus smaller combustion chamber and higher 12.5 :1 compression ratio for high power output
* New Titanium intake and exhaust valves with larger 4.5mm stems for increased strength - valves are lighter overall permitting a 1000 rpm higher engine redline
* Lighter weight forged pistons featuring chrome-nitride coated upper compression and oil control rings to reduce friction and improve sealing
* New reinforced crankshaft and chrome-moly connecting rods, plus recalibrated balancer shaft for dependable high rpm operation
* Back-torque limiting clutch allows smoother downshifts, plus new rack and pinion operating system provides more positive clutch feel
* Closer transmission gear ratios for improved acceleration, plus redesigned shift forks for smoother shifting
* Larger trapezoidal-shaped radiator improves cooling capacity 17% without increasing frontal area, plus new compact cooling fan design further improves efficiency - system includes high-capacity radiator-type oil cooler
* New Suzuki Advanced Exhaust System (SAES) - all titanium system designed and positioned to keep mass low and close to the centerline of the machine, plus decrease drag and increase cornering bank angle
* Suzuki Exhaust Tuning System (SET) regulates exhaust pressure waves to suit running conditions and maintain optimum engine torque
* ECM-controlled PAIR (Pulsed-AIR) system - operation based on throttle position and engine rpm to reduce HC, CO and NOx emissions
* New-design generator is more compact and supplies power to a lighter and shorter maintenance-free battery - ECM is also narrower and shorter for weight reduction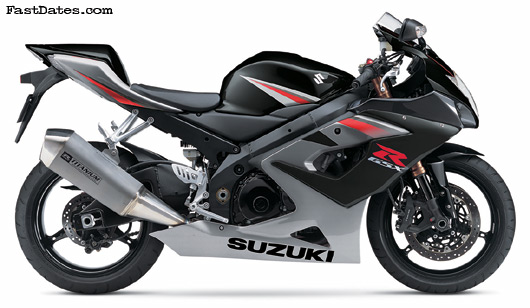 Bad new GSXR1000 in Black, Silver and Titanium
ALL NEW CHASSIS:
The chassis has been significantly redesigned as well. More compact overall chassis dimensions including shorter reach from seat to handlebars, lower footpegs, shorter/narrower fuel tank, 20mm lower seat height - all designed for improved rider comfort and mobility. The seat height has been lowered by almost and inch, and the bike is much narrower between the rider's knees.
* New wind-tunnel-developed bodywork with reshaped vertical headlights, repositioned ram-air ducts, plus turn signals integrated with mirrors and tail-section - reduces frontal area by 4% and drag by 5%
* Bright 55/65W headlight and reshaped taillight with new clear external lens
* Redesigned instrument cluster features an analog tach with rpm indicator, digital speedometer and new gear indicator - also includes LCD odometer-tripmeters, coolant temp., clock and EFI diagnostics
* All-new lightweight aluminum frame with combination cast and extruded spar construction for precisely calculated rigidity - frame design concentrates engine mass more toward the center of the machine for improved handling
* Braced aluminum swingarm is lighter weight with improved rigidity - right side arm is shaped to tuck in the exhaust for improved cornering clearance
* Fully adjustable 43mm inverted fork features Diamond Like Carbon (DLC) coated stanchion tubes to reduce friction and improve response - includes cross-mounted steering damper
* Fully adjustable piggy-back shock absorber with more linear rate linkage system for improved suspension response and feedback
* Radial-mount four-piston front brake calipers with larger 310mm rotors and new radial-mount master cylinder for improved lever feel and feedback
* Bridgestone radial tires mounted on new cast aluminum wheels featuring redesigned, thinner spokes with optimized wall thickness to reduce unsprung weight
SPECIFICATIONS GSXR1000 (K5) MSRP: $10,849.00
Engine: 998.6cc, 4-stroke, four-cylinder, liquid-cooled, DOHC, 16-valve, TSCC
Warranty: 12 month unlimited mileage limited warranty.
Bore & Stroke: 73.4 x 59.0mm
Compression ratio: 12.5:1
Fuel System: Fuel Injection
Lubrication: Wet Sump
Ignition: Digital/transistorized
Starter: Electric
Transmission: 6-speed, constant mesh
Final Drive: #530 chain

Overall Length: 2030mm (80.0 in.)
Overall Width: 710mm (28.0 in.)
Overall Height: 1130mm (44.5 in.)
Seat Height: 810mm (31.9 in.)
Ground Clearance: 130mm (5.1 in.)
Wheelbase: 1405mm (55.3 in.)
Dry Weight: 166 kg (365 lbs.)

Suspension:
FRONT: Inverted telescopic, coil spring, fully adjustable spring preload, compression and rebound damping
REAR: Link-type, gas/oil-damped, fully adjustable spring preload, compression and rebound damping
Brakes:
FRONT: Dual hydraulic disc
REAR: Single hydraulic disc
Tires:
FRONT: 120/70-ZR-17
REAR: 190/50-ZR-17
Fuel Tank Capacity: 18 liter (4.8 gal.)
Colors: Blue/White, Black/Gray, Black/Yellow
---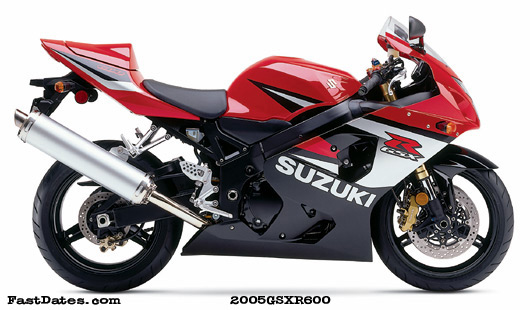 Now you can buy your GSXR in the color choise of any other Japanese manufacturer's team colors. Take off the name stickers and the GSXR600 looks like a Yamaha.
2005 GSX-R600
After an all new model change in 2004, the 2005 models GSXR600 remains essentially unchanged. The only new feature compared to last year is that the headlight switches off during startup to reduce load on battery. All model GSXRs see a small $200 suggested retail price hike over 2004
The '04/05 GSX-R600's liquid-cooled inline-four-cylinder, DOHC powerplant features four valves per cylinder, fuel injection and a precision six-speed transmission. Bore and stroke are an over-square 67.0mm x 42.5mm, producing 599.4cc of displacement. The cylinder block is integrated with the upper crankcase and the aluminum cylinder bores come plated with Suzuki's race-proven nickel-phosphorus-silicon-carbide coating, called Suzuki Composite Electrochemical Material (SCEM) for reduced weight and increased durability.
The 2005 Suzuki GSX-R600 (K4) AT A GLANCE
Suggested retail: $ 8,199.00
Engine Type: *four-stroke, liquid-cooled
DOHC, Inline four-cylinder
Bore and Stroke: *67.0mm x 42.5mm
Front Brake: *Dual Radial Mount Hydraulic Disc
Rear Brake: *Single Hydraulic Disc
Wheelbase: *54.7 inches (1390 mm)
Dry Weight: *354.9 lbs. (161 kg.)
** Specifications not final
---
The AMA 750cc National Superbike Championship winner for 3 years running, the best all round sportbike in the world, and now put out to pasture by most m ajor racing organizations. Is that a banana in your pocket, or are you just happy to see me?
2005 GSX-R750: The Superbike Benchmark takes a break
The Suzuki GSX-R750 is more than just a motorcycle -- it is the cornerstone of the GSX-R line. Indeed, it is the original GSX-R. When the original GSX-R750 was introduced in 1985, it established an entirely new class of machine. The GSX-R750 took over the grid in production-based roadracing worldwide, becoming the race bike of choice for an entire generation of roadracers. It remains today the best overall balanced sportbike in the market.
After an all new model change in 2004, the 2005 models GSXR750 remains at the top of its class and essentially unchanged. The only new feature compared to last year is that the headlightswitches off during startup to reduce load on battery
The 2004/05 GSX-R750 retains its basic race-winning layout from the previous versions. It utilizes a bore and stroke of 72.0mm x 46.0mm, producing 749.2cc of displacement. The liquid-cooled powerplant continues to use four valves per cylinder, Suzuki Dual Throttle Valve (SDTV) fuel injection and aluminum cylinder bores electro-plated with Suzuki's own nickel-phosphorus-silicon-carbide coating called Suzuki Composite Electrochemical Material (SCEM). Other competition-proven components include lightweight forged pistons mated to chrome-moly-steel, shot-peened connecting rods and a high-performance six-speed transmission
The 2005 Suzuki GSX-R750 (K4)
Suggested Retail: $ 9,649.00
Engine Type: *Four-stroke, liquid-cooled
DOHC, inline four-cylinder
Bore and Stroke: *72.0mm x 46.0mm
Front Brake: *Dual Radial Mount Hydraulic Discs
Rear Brake: *Single Hydraulic Disc
Wheelbase: *55.1 inches (1400 mm)
Dry Weight: *359.3 lbs. (163 kg)
See complete details of the 2005 GSXR600 & GSXR750 in the 2004 Suzuki New Bike Gallery