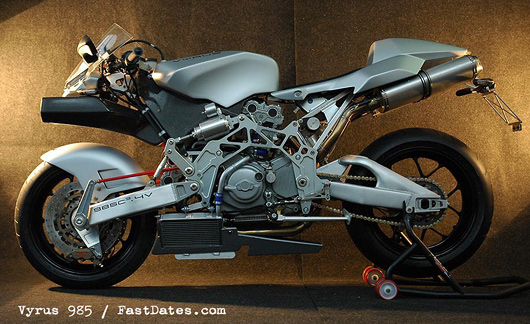 Click any picture for a bigger screensaver image.

Vyrus 985 C3 4V Superbike
It is the best of times to be a sportbike enthusiast, what with all the incredible exotics like the Ducati Desmosedici RR and the MotoCzysz C1 990, and all the World Superbike track breed low cost production Superbikes from all the big manufacturers. This is the time to step up to the plate and get one of these beauties before the impending fuel shortage, Big Brother, global warming, the crumbing roadway infastructure and over population of the planet brings an end to life as we no know it....
Heading our list of "must haves" is this beautiful conceived 2-wheel spped device premieredrecently at the International Motorcycle Exhibition in Italy. With its curiously stripped-down appearance, the Vyrus 4v is one of the most distinctive bikes on the planet. Given that the exotic Italian machine weights a claimed 157kg (346.1 lbs.) dry and is powered by the 150 bhp four-valve V-twin engine from Ducati's 999R flagship, there also not much doubt that it's also one of the fastest.
Why cover it up with a fairing when you have fascinating engineering and design to display.
This Looks Familiar
The strange, insect-like shape of the Vyrus might be vaguely familiar, even if its name is not. Two years ago Bimota unveiled a V-twin, The Tesi 2D that looked very like this. It was powered by Ducati's 992cc air cooled Monster engine, and had a chassis based on that of the Tesi 1 D, the revolutionary hub-center-steered machine whose failure bankrupted Bimota a decade ago.
This bike is similar, but different in two key respects. Firstly, its being sold under the name Vyrus - the firm that built both this bike and the Tesi 2 D (though few of those were sold). Vyrus run by racer/engineer Ascanio Rodorigo, is a Rimini-based outfit whose total staff of just five makes even Bimota seem huge.
Secondly, Ducati's 999R lump is much more sophisticated, and nearly twice as powerful as the Tesi 2D's humble air-cooled unit Vyrus buy motors directly from Ducati, and pause only to unbolt the protruding standard water pump (which is replaced by an electric pump) before bolting the 999cc V-twin into the minimalist aluminum frame.
Does It Feel As Extreme As It Looks?
Nothing quite prepares you for the sensation of riding the Vyrus. The view from the fairly tall but slim single seat is of a short perspex screen above a rectangular, high-tech instrument panel featuring a bar techo and a host of fast-moving digital numbers. A piece of tape was stuck over this prototype's row of warning lights, which were otherwise too bright - production bikes will have a more elegant Solution
The unusually slender aluminum top yoke has just a bolt-head sticking up on either side, rather than a telescopic fork-top poking through it. The clip-on bars are wide and quite low, giving a conventional sports bike-riding position. If you glance down to your right you can see a red steering rod. 0n the left a large carbon air duct stretches forward past the headlight; the front shock sits in front of your shin.
The highly-strung Vyrus sounds angry even at a standstill as its high compression Desmo motor snarls through those carbon cans. When you pull away, that sound is joined by a sharp screech as the Ducati's dry clutch struggles with the 999R's tall first gear. But once into its stride the Vyrus is very fast and responsive.
Ducati's hopped-up 999R motor is wonderfully flexible, so I don't have to pay attention to the tacho That leaves more time to concentrate on the chassis, which performs well. In hairpin bendsyou are conscious of the handlebars actually turning, because the Tesi-style steering linkage doesn't give a direct 1: 1 ratio between bar and front wheel movement. It isn't a problem, just strange and something I'm sure you'd get used to before long.
At higher speeds the cornering feel is more linear and the handling is superb, notably in the way that the reasonably soft front suspension carries on working if you brake hard into bumpy bends, keeping the bike very stable. The Vyrus's exceptional suspension control under pressure also allows maximum use of its non-radial four-caliper Brembo system, which is more than adequate for such a feather-light bike.
The air shock at the rear also does a good job, keeping the bike taut and stable when accelerating hard out of turns. Hold those clip-ons tight when I hit the occasional straight stretch and the Vyrus growls for-ward with fierce and seemingly never-ending charge. Occasional wheelies are irresistible, and inevitable given its weight and a wheelbase of just 1375mm.
When Can I Get One And What Will It Cost?
Assembly of the first batch is well under way with a couple of bikes already built. The small number of Vyrus 4v machines that will be produced this year will cost about £38,000 ($70,000 USD). At that price he's very aware that every detail has to be absolutely right.
Engineer Rodorigo is an accomplished racer and development rider, so the Vyrus 4v won't just be one of the world's most imaginative, neatly engineered, fastest, strangest looking and most expensive street bikes. It will also be one of the best. www.Vyrus.it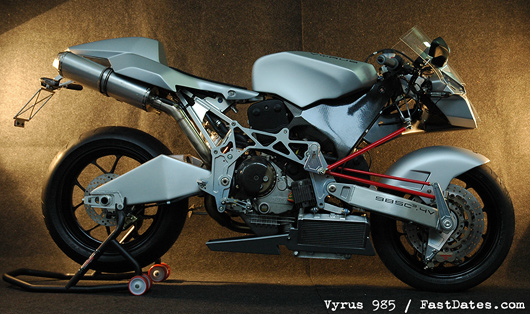 Back to Vyrus Page 1 • Return to New Bike Index