Yamaha 2002 Sportbikes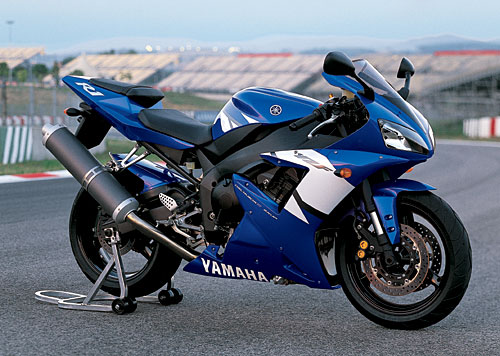 The YR1 for 2002avaialble in team race colors Bue/White, Red/White, and Silver & Black as shown below.
2002 YZF-R1
From the moment the R1 was unleashed upon the unsuspecting sport bike world four years ago, it's been
painfully obvious … to the competition, that is … that no other open-class machine holds a candle to this
incredible combination of liter-bike power, 600cc-spec handling and drop-dead gorgeous styling.

The R1 has always been famous for scalpel-sharp handling, and for 2002 this wicked carver gets an even
keener blade, thanks to an all-new Deltabox III frame. Constructed of aluminum and bathed in a Superbike-inspired black finish, this third-generation Deltabox chassis is lighter and more rigid than ever before. Couple this stiffer skeleton with a lightweight, removable subframe, an all-new, equally stiffer fully
adjustable 43mm inverted Kayaba fork, an asymmetrical-type aluminum swingarm with revised rear
shock rates, and lighter-weight wheels, and you're looking at cornering capability as planted and predictable as it is blazingly quick.

Intheir never-ending quest to stay a corner ahead of the other guys, Yamaha outfitted the 2002 R1 with all-new, suction-piston type fuel injection, a competition-tested system never before used on a production motorcycle. Mounted to shorter intake ports and featuring a unique vacuum-controlled intake system utilizing both piston and butterfly-type throttle valves, this exclusive set-up delivers the smooth, linear characteristics of a conventional carburetor coupled with the stronger low- and mid-range torque output and stronger top-end performance for which fuel injection is famous. Now add an all-new, forward-facing airbox that routes cooler, fresher air engine-ward as speeds increase, thus ensuring greater high-rpm output … and more top-end ponies.
With futuristic styling as beautiful as it is functional, the R1's newly redesigned tail section and all-new LED
taillight once again set the design pace for everyone else to follow. Retail Price $10,299
FEATURES & BENEFITS
ALL New YR1 Changes for 2002:
Completely new, ultra-sleek bodywork features a sharper front profile and headlight; more compact fuel tank; engine-revealing side cowlings; and restyled seat and ultra-sleek tailsection.
Compact, ultra-lightweight 998cc, DOHC, 20-valve, liquid-cooled, in-line four-cylinder engine features significant intake, exhaust and internal retooling to enhance low- and mid-range torque and boost top-end power!
All-new, competition-bred suction-piston type fuel injection - the first ever such system used on a production motorcycle - features shorter intake ports and a special vacuum-controlled intake system to ensure optimum low-rpm air volume andthus smoother, stronger, more linear power across the rpm range.
The fuel injection's lightweight Electronic Control Unit (ECU) adjusts injection period and timing via intake air temperature/pressure, atmospheric pressure, coolanttemperature, crankshaft position, and rpm and throttle position sensors.

All-new, forward-facing airbox routes cooler, fresher air engine-ward as speeds
increase, delivering greater high-rpm output.

All-new, higher silicon-content cylinder sleeves ensure greater heat dissipation (and reduced oil consumption) for consistent power delivery and reduced frictional powerloss.

Lightweight forged pistons feature carburized connecting rods with stronger, new-design fastening bolts for greater high-rpm durability. 4-into-2-into-1 exhaust with titanium muffler features reshaped, lighter-weight titanium header pipes for enhanced low- to mid-range torque and top-end power.

All-new, higher-efficiency radiator and ring-style cooling fan produces 20% more airflow.

Yamaha's patented Exhaust Ultimate Power (EXUP) valve, redesigned with two shafts and dual butterfly valves to be smaller and lighter, adjusts exhaust flow for maximum torque.

Increased oil capacity and larger oil cooler provide 20% better performance, while bigger sightglass ensures easy oil level inspection.

All-new direct ignition coils, iridium spark plugs and higher-output magneto delivers hotter, more reliable firing.

All-new aluminum Deltabox III frame, finished in gorgeous R7-spec black, boasts greater rigidity with reduced weight, a 600cc-class 54.9" wheelbase, and uses the engine as a fully stressed member for industry-leading handling.

Solid-mounted engine has been raised 20mm inside new frame, centralizing rider/machine mass for quicker cornering transitions.

All-new, fully detachable aluminum subframe means easier rear shock access.

Extra-long (22.9") swingarm features all-new asymmetrical design to accommodate retooled EXUP valve and muffler, as well as higher pivot axis and slant angle to match repositioned engine mounting.

Redesigned inverted telescopic front fork features 4.7" of travel and more rigid, larger-diameter 43mm tubes with higher rate springs and a wider range of damping adjustability for sharper, more responsive cornering performance.

Revised front-end geometry features reduced fork offset and increased trail for more linear response during cornering.

All-new, one-piece hollow forged aluminum clip-ons and a lighter-weight steering shaft pipe deliver enhanced balance and feel. 40mm piggyback rear shock with 5.1" of travel features higher spring rates, a wider range of full adjustability and a lighter-weight aluminum preload adjuster cam to ensure exceptional rear wheel tracking and handling performance.

Dual 298mm front disc brakes feature new gold-anodized, 4-piston calipers with all-new aluminum pistons and sintered brake pads for stronger, one-finger stopping power.

Rear brake set-up features lighter-weight, smaller-diameter 220mm disc with all-new 2-piston pin-slide-type caliper.

All-new LED taillight is lighter-weight and significantly brighter, while boasting a sleek, single-piece curved design.

All-new speedometer console with newly adjustable LCD illumination features multi-function digital (odometer, dual tripmeters, water temperature) and analog (tachometer) gauges and indicator lights.

Instrumentation also features all-new shift indicator light, adjustable for pre-selected rpm levels to suit different riding styles or roads.

Overall weight reduced thanks to lighter-weight wheels, drive sprocket cover, drive chain and front fender.
Additional Features:
Specially designed, one-piece cylinder and crankcase assembly provides tremendous engine rigidity that's lighter and stiffer than two-piece designs.

Special 3-axis gearbox design stacks input/output shafts to create a low center of gravity and keep overall engine size to 600cc-spec dimensions.

Close-ratio 6-speed transmission delivers seamless power transfer between gears for maximum acceleration.

Compact, large-capacity clutch ensures consistent, positive engagement.