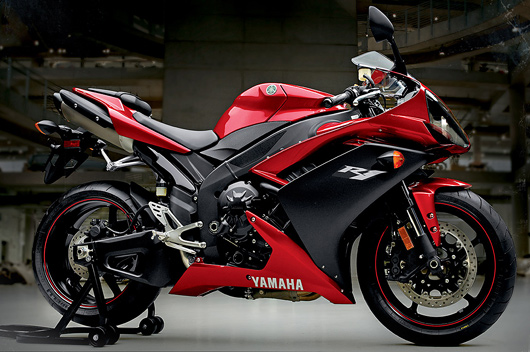 All New Action Packed Ugly Betty Yamaha R1 for 2007
January 1st, 2007 - In the never ending battle for top dog Superbike honors, Yamaha has introduced an all new generation and higher performing R1 model 1000cc class Superbike for 2007. On first look the immediate impression is that the bike in any of its three different color schemes is strikingly UGLY. It suffers from an overly clutterd and busy Batmobile like styling design, intensified with conflicting bolt-on components, and hideous paint schemes and color choices.
The styling is so hideous it gives you a headache just looking at it. Like the mismatched, winged and cut-out lower chin spoiler that doesn't match up to the front side panels. Or the black bolt-on rear muffler heat shields which could have been left off completely and the rear seat cowling extended back on in a smooth line for necessary heat protection. Why couldn't Yamaha just have styled the new R1 like their MotoGP race winner and ditched this Penny Arcade nightmare in the trash bin? If Ducati had the ugliest Superbike in 2003-2006 with their outgoing 999, then Yamaha has picked up that fallen crown with the new 2007 R1.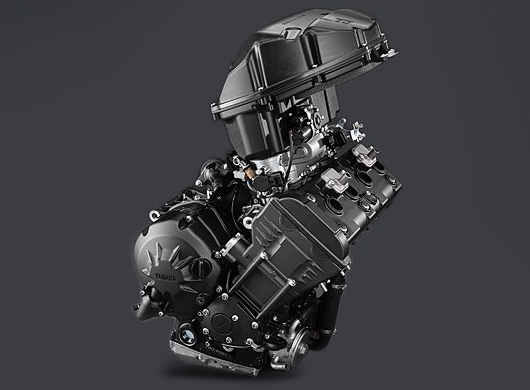 If you can get past the looks, the new R1 bristles with major changes and design innovations. Key features in
the all-new, light, powerful YZF-R1 packed with trickle-down MotoGP trickery.

Featured in the Engine Bay:
• All-new inline four-cylinder engine is the most powerful, tractable R1 power plant ever, thanks partially to the world's first electronic variable-length intake funnel system.
• Short-stroke 998cc DOHC, 16-valve, liquid-cooled inline four- cylinder engine produces more tractable power than ever.
• Yamaha Chip Control Throttle controls a 32-bit ECU fuel injection system for super-responsive, smooth, instantaneous power delivery.
• The YZF-R1 uses the YCC-T fly-by-wire throttle system for flawless response under all conditions.
• Gone is the trademark Yamaha 5-valve head design which was first introduced 20 years ago as the ultimate performance design, replaced by a more conventional 4-valve head which fill the combustion chamber, hardly leaving room for the spark plug.
• Lay-down design cylinder head optimizes weight distribution, straightens intake tracts for improved cylinder filling, and allows frame to pass over instead of around the engine for great strength and a narrow chassis.
• Closed-deck cylinder block increases strength and allows a narrow engine in spite of big, 77mm bores.
• Narrow-angle four-valve combustion chambers produce a highly efficient 12.7:1 compression ratio; 31mm titanium intake valves and 25mm exhausts controlled by new, high-lift cams flow plenty of air.
Do we really need it? Power valves continue in the exhaust system and now, MotoGP and World Superbike technology with computer controlled variable intake tracks.

• Yamaha Chip Control Intake electronically adjusts intake funnel length between either 65 or 140mm for an amazingly broad, smooth powerband.
• Light and strong nutless connecting rods with fractured big ends produce a quick-revving engine with excellent high-rpm durability.
• High silicon-content ceramic-composite cylinder sleeves ensure great heat dissipation for consistent power delivery and reduced friction.
• Close-ratio six-speed gearbox with triangulated shaft layout for great strength, compactness, and quicker acceleration.
• Ramp-type slipper clutch makes braking from speed into tight corners while downshifting smoother and therefore faster.
• Redesigned titanium underseat exhaust system (with stainless steel midpipe and catalyst) provides excellent cornering clearance and a broad, seamless powerband.
• 13-percent greater radiator capacity and an aluminum liquid-cooled oil cooler maintain stable operating temperature.
• Direct ignition coils, dual-electrode spark plugs and high-output magneto deliver extremely accurate, reliable firing.
• AC generator behind cylinder block produces a narrow engine with excellent cornering clearance.
• Two-piece ergonomically designed fuel tank carries fuel in the rear section, for good centralization of mass, while the front half contains a Ram-Air-fed airbox for increased power.
And in the Rolling Chassis:
• An all-new Deltabox frame tuned for optimal flex carries the lay-down four-cylinder stressed-member style, for great handling and efficient aerodynamic penetration.
• A new truss-type swingarm is extremely strong and tuned for optimal traction and feedback.
* New dual 310mm front disc brakes with new 6-piston radial-mount calipers and Brembo radial-pump front master cylinder with adjustable lever deliver amazing braking power and feel.
• Fully adjustable KYB inverted telescopic front fork with 43mm tubes has been revalved to complement other chassis changes.
• Piggyback rear shock now offers both high- and low-speed compression adjustability, rebound damping and a new, twist-style spring preload adjuster.
• Light, five-spoke wheels enhance acceleration, deceleration, handling and suspension action.
We will have to wait and see how the new ugly duckling R1 stands up this season in the sales department against reigning AMA Superbike Champion Suzuki's new GSXR1000R and reigning SBK World Superbike Champion Ducati's exciting new 1098 Superbike. The fact that Yamaha USA is now back in AMA Superbike racing should help with marketing, plus Troy Corser's move to Yamaha in World Superbike, and of course there's favorite Valentino Rossi in MotoGP. But the talent competition will be fierce going in, and Yamaha has already conceded the swimsuit competition. More R1 details in News Bikes



Return to New Bike Index • Pit Lane News • Performance Parts