Ben Spies and Tom Sykes, Team Yamaha Italia wil campain the all-new R1 Superbike.
Inside Yamaha's Exciting New 2009
World Superbike Team and R1 Superbike
November 2009 - Yamaha WSB riders Ben Spies and Tom Sykes enjoyed a successful two day test at Portimao with their new team on oct 26-27th after the final 2008 World Superbike race of the year. The riders used the time to develop both their relationships with their new team and also to make a start on the development of the all-new 2009 Yamaha YZF-R1 race bike.
Day one of testing was spent mostly riding the 2008 WSB machines, giving both riders the opportunity to learn the highly technical Portimao circuit which opened for the first time last weekend for the last round of the 2008 World Superbike Championship.
Click on any Photo to go BIGGER and download a screensaver
Day two saw the riders lapping on the all-new for 2009 Yamaha WSB R1. The new 998cc bike, featuring a high tech powerplant closely linked to the M1 MOTOGP bike, is currently at the very beginning of its development for the 2009 WSB season and is still relatively close to production specifications. However with the 2009 production R1 crossplane crankshaft engine and a unique uneven firing order giving linear torque and greater traction rider Ben Spies was able to come within two tenths of the race lap record set by Troy Bayliss during the inaugural race weekend two days previously. In a validation of the team's belief in the potential of the new bike both riders put in fast lap times, Ben Spies lapping consistently in the low 1.44s on the second day.
The Yamaha WSB team now move on to South Africa for the second test to take the next steps in the development of the bike.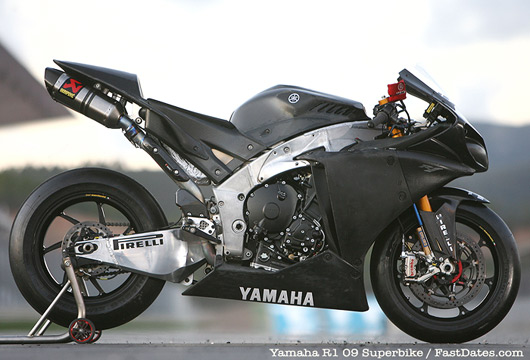 Click on any Photo to go BIGGER and download a screensaver

2009 Yamaha WSB R1
So far the team's minor modifications to the standard bike include a modified cam-shaft, an enlarged radiator for extra cooling and the addition of an oil cooler. The new bike has no rear sub-frame but incorporates a strengthened frame. The exhaust is unique, and was developed in partnership with Akrapovic. The standard fuel tank has also been replaced with an aluminium tank with increased capacity. The bike features the latest Magneti Marelli electronic systems. The new swing arm is also developed purely for the WSB race bike based on knowledge taken from the 2008 racing season.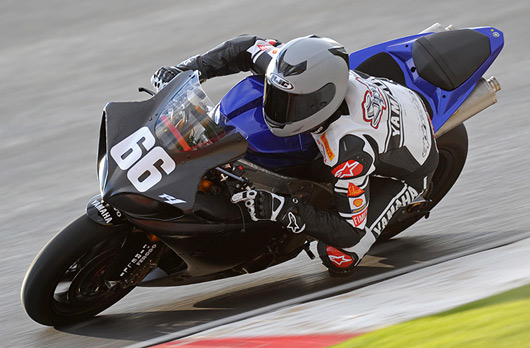 Ben Spies (1'43.9) - "The whole Superbike weekend has been great for me. Having my own crew chief here from the US joining the team is good, he really understands me and it's great to see him working well with the Yamaha Motor Italia Technical Chief Silvano Galbusera. Getting out on Nori's bike we made a couple of changes and got going, it answered a lot of questions for me on the different tyre manufacturer and riding new circuits. The 2009 bike is at the beginning of its development, but for where it's at now compared to where we will be when we line up at Philip Island it's hugely exciting. The team worked really hard on the bike this weekend and it's just going to get better and better. I'm really looking forward to next year."
Tom Sykes (1'44.5) - "For me it's been a very good test. Having done two days I now feel fully part of the team. It was quite difficult arriving on Tuesday morning for the 1st day of the test, facing a new bike, a new circuit, and a new team. It was important to me to get it right from the start. We are developing well together and we have a good understanding. I was very happy with my time on the 2008 bike, and happy with a good race pace. For the 2009 bike, considering it's at a very early stage of development, I think it's a fantastic package. The feeling coming out of the corner is unbelievably smooth, the power is so controllable, the whole bike remains incredibly stable. There is still lots to be done but the outcome is already very good. All in all it was a great weekend for me, I was really happy to get started and learning, getting on with the new team and feeling part of it."
Yamaha Motor Italia Team Manager Massimo Meregalli said, "As a first test, I think it went very well. We didn't have any problems and both riders did a very good job. The test gave us a very good feeling because the bike is very good now and we know how we can improve it even more, there is still a big gap to where we can get to, so we are just very happy. Everything went very well with the riders and the team, there's no better way to end a test for us, we are very excited about the next stage."
Inside Yamaha's All New Crossplane Crankshaft 2009 YZFR1 Superbike
In the supersport liter class, there's always lots of talk about power. You expect that. What you wouldn't have
expected – until now – is a radically superior way to deliver that power. Introducing the 2009 YZF-R1, the first ever production motorcycle with a crossplane crankshaft. Crossplane technology, first pioneered in MotoGP racing with the M1, puts each connecting rod 90° from the next, with an uneven firing interval of 270°- 180°- 90°- 180°. This uneven order does an amazing thing… it actually lets power build more smoothly. That means smooth roll-on delivery out of the corners, with outrageous amounts of torque, followed by very strong high rpm power. It's a feeling that's simply unmatched, like having two engines in one: the low-rpm torquey feel of a twin with the raw, high-rpm power of an inline 4. In fact, the new YZF-R1 is not a continuation of existing supersport development; it is breakthrough technology that represents a paradigm shift in both technology and performance
This next-generation R1 keeps all the technological superiorities developed for its predecessor: YCC-T (Yamaha
Chip Controlled Throttle) is MotoGP inspired fly-by-wire technology used to deliver instant throttle response. YCC-I is Yamaha Chip Controlled Intake which is a variable intake system that broadens the spread of power. The fuel injection system provides optimum air/fuel mixtures for maximum power and smooth throttle response.
The R1 features Yamaha D-MODE (or drive mode) with rider-selectable throttle control maps to program YCC-T performance characteristics for riding conditions. The standard map is designed for optimum overall performance. The "A" mode lets the rider enjoy sportier engine response in the low- to mid-speed range, and the "B" mode offers response that is somewhat less sharp response for riding situations that require especially sensitive throttle operation. Switching maps is as easy as pushing a button on the handlebar switch.

In keeping with this machine's exceptional cornering ability and crisp handling, the all new aluminum frame has been designed to offer exceptional rigidity balance. The rear frame is now lightweight CF die-cast magnesium, contributing the optimum mass centralization. Suspension includes new SOQI front forks which use one of the tricks developed for our winning MotoGP bikes: independent damping. The left fork handles compression damping and the right side handles the rebound damping. And the rear shock adopts new bottom linkage for optimum suspension characteristics. Want even more? For the first time, R1 comes standard with an electronic steering damper.

All new bodywork does more than add break-away-from-the- crowd styling. Completely new, the new model has a more serious, less busy look. The side fairing is smoother for a sleeker appearance. And, instead of the usual four-bulb headlight design, the '09 model now has only two projector-type bulbs mounted closer to the nose of the bike. This positions ram air ducts closer in for a more compact, smooth look. In addition, the rounded lenses are new and unique to the supersport industry.
All new for 2009 ENGINE
• Crossplane crankshaft technology proven in victory after victory on MotoGP machines provides a high-tech uneven firing interval. Unlike typical in-line-four engine design, where the two outer and two inner pistons move together in pairs with 180° intervals, the crossplane crankshaft has each piston at 90° from the next with a unique firing order of 270°– 180°– 90°– 180°. This overcomes the inherent fluctuation in inertial torque with each revolution, and peaky torque characteristics, so torque continues to build for awesome power and traction out of the corners.

• To maximize rider comfort as well as power output, this newly designed engine adopts a coupling-type balancer that rotates in the opposite direction as the crankshaft.
• This engine features new forged aluminum pistons to take maximum advantage of the power characteristics. As proven on previous models, titanium intake valves are lightweight titanium.
• A forced-air intake system is adopted to increase intake efficiency by using the natural airflow during riding to pressurize the air in the air cleaner box. This contributes to outstanding power delivery characteristics in the high-speed range, while the design also helps to minimize intake noise.
• Slipper-type back torque-limiting clutch greatly facilitates braking/downshifting from high speed.
• The exhaust system is completely new. It's meticulously designed to enhance engine output while, thanks to its
three-way catalyst technology, also reducing exhaust emissions. The silencer is a single expansion type, and, the sound coming through from the unique crossplane-crankshaft-equipped engine is unlike any other in-line four cylinder production supersport.
• This fuel-injected engine takes full advantage of YCC-T (Yamaha Chip Controlled Throttle), the MotoGP-inspired fly-by-wire technology used to deliver instant throttle response. There's also YCC-I, Yamaha Chip Controlled Intake, the variable intake system that broadens the spread of power. Fuel injectors have 12 holes
for precise fuel delivery that translates to the most power from every fuel charge.

• Have it your way, thanks to Yamaha D-MODE variable throttle control. There are three modes that control how YCC-T responds to throttle input from the rider. The selectable "A" mode puts more emphasis on acceleration in low to midrange rpm. "B" mode, on the other hand, provides less sharp response to input for riding situations that require especially sensitive throttle operation. Selecting the map you want is as easy as pressing button on the handlebars.
Chassis/Suspension:
• The frame is completely revamped, with a combination of uncompromising rigidity where needed along with carefully achieved flex for the precise rigidity balance this bike needs to give the rider the full benefit of its handling and engine characteristics. No one-technique-fits-all-needs design, it is a sophisticated combination of CF die-cast, stamping, and gravity casting…the exact technology needed for each portion of this advanced frame.

• New SOQI front forks take a page from the championship-winning design of our MotoGP weapon, the M1. Since both forks always move together, compression damping duties can be confined to the left fork, while rebound damping is precisely handled by the right fork.

• The new SOQI rear shock offers both high and low speed compression damping plus an easy-to-use screw adjustment for preload. This unit also adopts a pillow-ball-type joint for exceptional shock absorption, road hold feeling, and damper response. To achieve maximum performance, a new bottom linkage is used to work with the rest of the chassis refinements for brilliant, crisp handling characteristics.
• The press-formed fuel tank has a shape developed using 3-D simulation analysis technology. The elongated shape of the tank allows it to fit neatly within the frame in a way that promotes
concentration of mass.

• Factory racers get machines tailored to their preferences. Welcome to the club. R1 has adjustable footrests, with a 15mm height and 3mm front-to-rear adjustment.

• Long valued equipment on the track, an electronically actuatedsteering damper is standard equipment on the new R1.
• The newly designed instrumentation includes everything a rider wants to know, including gear position.
YZFR1 Specifications
Engine Type:
Bore x Stroke:
Compression:
Fueling:
Ignition:
Transmission:
Drive:
Front Suspension:
Rear Suspension
Front Brakes:
Rear Brake:
Front Tire / Wheel:
Rear Tire / Wheel:
Dimensions LxWxH:Seat Height:
Wheelbase:
Steering Rake Angle:
Steering Trail:
Fuel Capacity:
Est. Fuel Economy:
Wet Weight**:
Available Colors:


998cc, liquid-cooled 4-stroke DOHC 16 valves (titanium valves)
78.0mm X 52.2mm
12.7:1
Fuel Injection with YCC-T and YCC-I
TCI: Transistor Controlled Ignition
6-speed w/multi-plate slipper clutch
#530 O-ring chain
43mm inverted fork; fully adjustable, 4.7-in travel
Single shock w/piggyback reservoir; 4-way adjustable, 4.7-in travel
Dual 310mm disc; radial-mount forged 6-piston calipers
220mm disc; single-piston caliper
120/70ZR17M/C 58W
190/55ZR17M/C 75W
81.1 x 28.1 x 44.5 in
32.8 in
55.7 in
24.0°
4.0 in
4.8 gal
N/A
454 lb
Team Yamaha Blue/White; Cadmium Yellow; Raven; Pearl White
**Wet weight includes the vehicle with all standard equipment and all fluids, including oil, coolant (as applicable) and a full tank of fuel. It does not include the weight of options or accessories. Wet weight
is useful in making real-world comparisons with other models.

Return to
Yamaha Index • New Bike Index • Pit Lane News • Performance Parts