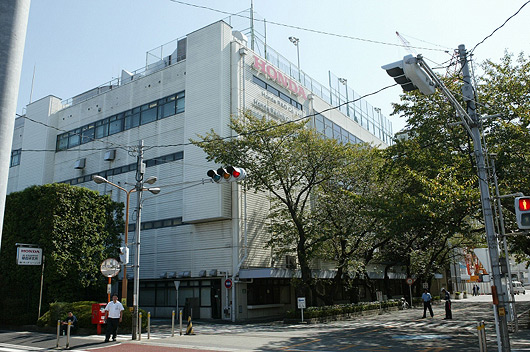 Honda's motorcycle R&D Center in Asaka Center
A Guarded Visit to Honda HRC

Sept 16,2004 - In comjunction with the Motego MotoGP round in Japan, a group of journalists were given a unique opportunity - the chance to see inside the headquarters of HRC (Honda Racing Corporation and MSD (Motor Sports Developments) at the Honda R&D Asaka Center.
Located within the boundary of Tokyo's never-ending conurbation, the HRC headquarters hosted 16 journalists, from six countries, who were given a guided tour of HRC's management offices, plus technical insights into the design, bench testing, development and assembly departments.

The front lobby at HRC has small display of current racing machines: The RC211V, a CBR1000, a Trials bke and a Mountain Bike with transmission.
With 50 HRC and 70 MSD staff on site, and the MSD staff a small part of approximately 2,000 Honda R&D workers in total, the outright scale of operations was something of a surprise to those who imagined never-ending rows of computers, personnel and top-secret ante-rooms.
The scope of operations undertaken by HRC and MSD is nonetheless unparalleled, with off road and track racing machines sharing space on the various shop floors, plus cyberspace time on the computer aided design screens.

A typical dyno room with a production bike on the dyno. No trick protypes get shown to the press.
The design floor of HRC is where the ideas generated inside the company are first given substance, albeit only as a visual 3D version in the first instance. Sophisticated software is then used to produce the final design parameters, for all components on the machines.
After production of the actual parts, the engines and complete machines are assembled, ready to be tested on one of numerous dynamometers, of rolling road, static bench test and chassis evaluation varieties.

This might be a production CBR1000 being built for a major consumer event like the Tokyo motorcycle show in December. The multi-adjustable radial front forks with racing Brembo brakes are too costly for production, but a nice touch for a show bike.
In the assembly department machines are painstaking prepared, with full factory RC211V engines brought to life alongside the ongoing meticulous assembly of a customer SWS two-stroke, or a four-stroke World Trials machine – or even a downhill racing mountain bike, complete with integral gearbox.

This naked ed RC211 was being used as a doorstop to impress the visitors. Left Side BIG • Right Side BIG
The entire visit was designed to prove HRC's modernistic philosophy, that it should be an open and approachable company, with the only real secrets being those under development by the leading edge engineering groups in HRC and MSD.
Return to: Pit Board Index • Pit Lane News