The FastDates.com Interview with Chris Vermeulen
Why did he give up a winning ride in World Superbike to go with
a struggling Team Suzuki in MotoGP?

We first really got to meet and spend time in person with Chris Vermeulen and his beautiful lovely Toni at the Brands Hatch World Superbike Round in August 2005 when we went there to photograph the next edition of the FastDates Calendar. Chris was very accommodating in letting us shoot his Ten Kate Honda CBR1000RR for the calendar, and at the after race Paddock Party on Sunday night we had a better chance to talk and get to know Chris ever better. He's really a fantastic, very likeable guy and easy going guy like many all the SBK racers are, and seeing the slight framed youngster in street clothes you 'ld never think him a racer.
While in fact, Chris Vermeulen was already a World Champion. He won the 2003 SBK 600cc Supersport Championship for Team Kate Honda at the age of 21 years old on a CBR600. Born in Brisbane, Australia, young roadracer Chris moved to Holland in year 2000 to race for Dutch Honda dealer Ten Kate in the European Supersport 600cc and Superstock 100cc classes.
Then in 2004 the team moved their youngster up into the premier World Superbike Class on the all new CBR1000RR. In his first season in WSB he recorded an amazing 4 race wins with 9 podium finishes, garnering 4th overall in the championship on a brand new and undeveloped bike. For comparison, Ben Bostrom would ride the same bike Honda CBR1000RR in 2005 for Team Renegade, and despite available HRC factory race parts and a year of development the more experienced Bostrom would never even set foot on the podium.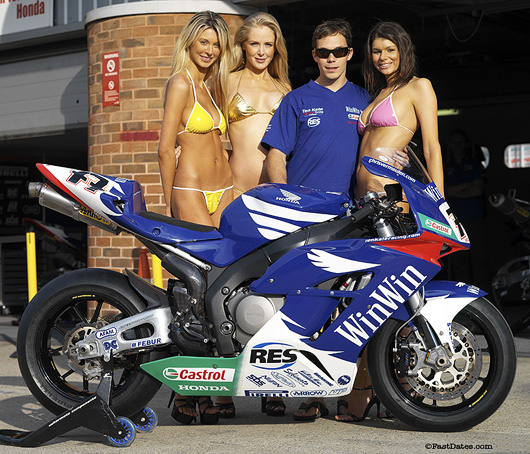 Chris and the SBK World Superbike Fast Dates.com Calendar Kittens at Brands Hatch 2005

This past 2005 season in World Superbike saw Chris placing a very close 2nd in the World Superbike Championship with366 points / 6 wins to winner Troy Corser's 413 points / 8 wins. No one else was even close with Noriyuki Haga on their factory Yamaha R1 back in 3rd place with 271 points / 2 wins, and trailed further behind by the usually dominate Ducati Corse team riders.
By the end of the 2005 World Superbike season it was obvious Chris was one of the top riders in World Superbike with a great shot at clinching the SBK title in 2006 if he stayed with Ten Kate. He could have also written his own ticket to join one of the bigger bucks factory teams like Ducati, Yamaha, and Alstare Suzuki.
And most certainly you 'ld expect the Honda of Japan to step in give the Ten Kate team full factory support with Vermeulen sign on a long term contract. But Honda of Japan recently, has not been very smart when it comes to letting go of their best riders (as evidenced by the loss of Rossi and Giberneau in MotoGP).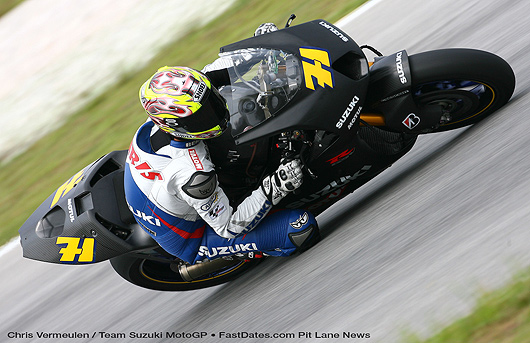 Chris on the Suzuki GSV-R in Winter Testing. Click for a big 1224 Screensaver

What confounded everyone, though, was why Chris would leave his catbird seat in SBK at joining the struggling Suzuki team in MotoGP aboard their RSV-R which was struggling at the back of the grid. We caught up with Suzuki's new MotoGP caught up with its newest racer Chris Vermeulen shortly before he boarded a plane to head off to the latest test at Sepang in Malaysia.
We asked the young Australian star about his first ride on the Suzuki GSV-R, his passion for Hot Rods and what race number he will use in 2006. He also told us what he does during the off-season, along with his hopes for the 2006 season and which tracks he is looking forward to visiting. Here are his answers and views to the questions we set him.
Q. Now that you have had a chance to ride the Suzuki GSV-R, what are your first thoughts?
A. How comfortable and easy the bike is to ride straight out of the box, it is lacking in power at the moment compared to some other bikes but the team know that and that's what we are working on for '06
Q. How have you settled in with your new crew?
A. My crew are a great bunch of guys and they have so much experience. Their work methods are very methodical and nothing is a problem to change and they work so well between themselves.
Q. How have you found the transition from a Superbike to a MotoGP bike?
A. So far the transition hasn't been easy, the only thing a Superbike has in common is the amount of power it produces. Other than that a MotoGP bike is built as a race bike and there are so many more things you can adjust with the bike to make it work for you, this is the difficult part learning about this, but when you get it right man they go fast!
Q. You have been able to test both Bridgestone dry and wet tyres how did you like the feel and grip of them?
A. I was very surprised with the grip of the Bridgestone tyres especially in the front and how much lean angle I can carry using them. They are also a great company to work with.
Q. When you tested at Valencia you and another rider had 17 on their bike. What number will you race with in 2006 and why?
A. I will use number 71 next year. I like to have a number 7 in my racing number because of Barry Sheene who was a great help at the beginning of my career. My choice would be to use 77 first or 17 numbers that I have used in the past, but other riders are using these. Hopefully we can get number 71 up to the front of the field.
Q. The fitness required to ride a MotoGP bike is a very high standard. What training program have you got planned through the winter?
A. The winter (summer in Australia) is the period where I train the hardest of all the season to get myself to a fitness level that I can maintain during the year. I do a lot of running, mountain biking, motocross and some gym work, I am also very active with surfing and working on my farm and this keeps me pretty fit.

Chris on the Suzuki GSV-R in Winter Testing. Click for a big 1224 Screensaver

Q. You will only get one season on the current 990cc MotoGP machine before the limit changes to 800cc. What are your views on the new limit that is coming in for the 2007 season?
A. To be totally honest I am not sure why they are changing the rules to 800cc so I am not for or against it. From my opinion it's just great to get at the early stages of the new bike with Suzuki and have a part in developing the bike.
Q. After the test at Sepang last November how did you spend the winter and Christmas period?
A. I went home to Australia (the sunshine coast). I spent the festive season with my family (Mum, Dad and my three sisters) and my girlfriend Toni come over with me from the UK.
Q. We understand that you also have a big interest in cars. Can you tell us a bit about what cars you have and what is so special about them?
A. I have been in to old cars for a while especially Hot Rods. I have has a soft spot for mid 50's Ford F-100's and when I found parts of a '54 model for sale I jumped at it. My Dad and I spent two years restoring it. Recently I was looking for something to have in Europe and I bought a built Hot Rod from America, a 1933 Ford coupe. Now I am looking at starting to build another rod in Australia with my Dad, I love it!
Q. If you didn't race motorcycles what else do you think you would do for a living and what would be your dream job?
A. At school I wanted to be a sport scientist, I have a keen interest in how athlete's train.
Q. You have a very striking design on your Shoei helmet. Does it have any significance?
A. It has evolved over the past couple of years but the flames stem from my Hot Rod interest.
Q. You will be visiting many new countries this coming season. Where are you most looking forward to going to and why and which circuit are you most exciting about racing on for the first time?
A. I am looking forward to going to China. I have heard a little about it from the team and it just sounds very unique. I can't wait to race at Jerez and Barcelona, I have watched GP's at these two tracks for a long time and they look like great tracks to race on.
Q. What are your plans and hopes for next season?
A. My first goal like any other rider in the paddock is to beat my team mate, but that is not going to be easy. John has a lot of experience and has proven how fast he is many times by qualifying on the front row and running top six often. It would be great if we could work well together with development and push each other so that we are both pushing for top positions consistently.
---
Take Me Back to: Contents Page • Pit Lane News • Members Corner
Chris Vermeulen's Profile
Place of Birth: Brisbane, Australia
Date of Birth: July 19th 1982
Nationality: Australian
Home Town: Yandina, Sunshine Coast, Queensland
Marital Status: Single
Eyes: Hazel
Car: 1954 Ford F150 Hot Rod & 1933 Ford Coupe Hot Rod
Motorcycle: Suzuki GSV-R
Favourite Food: Italian, Pizza and Pasta
Favourite Drink: Ice Break Iced Coffee
Favourite Film: American Grafiti
Favourite Music: Hot Rod Lincoln by Comander Cody, Metallica, Rammstein
Ideal Holiday: Sunshine Coast Australia Home
First Race: 1988, Motocross
Racing hero: Wayne Rainey and Mick Doohan
Favourite Sports: Motorsports, Training & Surfing

Career Highlights
2005: MotoGP race at Phillip Island, Australia
2005: World Superbike Championship runner-up
2004: World Superbike Championship. Forth place. Four victories
2003: World Supersport Champion. Four victories, four runners-up places, three pole-position. Youngest ever WSS Champion
2002: World Supersport Championship. Seventh overall. Two pole-positions. Two podium finishes
2001: World Supersport Championship. 17 th place. Three top-ten finishes
2000: World Supersport debut. Best finish sixth
2000: European Superstock debut. One win
2000: British Supersport and Superstock Championships. First Supersport win. Five Superstock race wins.
1999: Australian Superbike Championship. Privateer Champion
1998: Began Road racing. Two race wins on 250cc GP machine
1993-1997: Dirt Track racing. 10 State titles. National runner-up three times