One of t he biggest crowd pleasers at this year's IMS Long Beach event were the Bat Girl and Bat Man Custom 3-Wheelers, complete with life size action figures at the controls, built by Aloha Brothers, swimming pool builders out of Northern California. During the winter months when work is slow, they get bored and build these wild machines you'ld expect to see in the next Bat Man movie.


2013 / 2014 IMS International Motorcycle Show at Long Beach, California
Photos and Report by Jim Gianatsis - Click on any Picture to Enlarge

Long Beach, CA - Dec 6-8th 2013 - As the annual Advanstar produced (IMS) International Motorcycle Show makes its way across America every winter, with 3-day stops in every major city, it's the perfect time for motorcycle enthusiasts to come in from the cold and see the latest new 2014 bike offerings from all the major motorcycle manufacturers and fill out your Christmas wish list. With much of the the motorcycle industry and media based in Southern California, we like to think the Los Angeles stop at the Long Beach Convention Center the first weekend in December is the best IMS weekend to get together with our motor head friends, celebrity builders and racers, and many of the FasatDates.com Calendar Kittens working the bike displays for top manufacturers.
One of the beautiful contestants in the J&P Cycles Ultimate Builder Competiton was this Valentino Rossi tribute Yamaha R1.
This year's IMS Show at Long Beach showed the Motorcycle Industry is back in strong recovery from the global economic collapse. with almost all the bike manufactures in attendance with big displays and many exciting new bike models, and motorcycle enthusiasts were there in big numbers to see them. The only major manufacturer not at Long Beach, surprisingly, was Aprilia. While Ducati had its most lackluster display in years, the multi-time World Championship winner not even bothering to bring the new $60,000 Superleggera Superbike or any race bikes to display.
Naked and not affraid, the Super Duke 1290 will be stiff competion to Ducati's new Monster Testastretta 1200.
The best sportbike display at Long Beach was actually put on my KTM, and thier new wheelie monster naked 1290cc V- twin Super Duke ($16,999) and the sweet 690cc Duke ($8,999) single ccylider looked and felt quite the "bomb"! Perfect city busters and canyon carvers. Fulling spec'ed out with Brembo brakes, White Power suspension and lightweight race wheels.
I was drooling over the Super Duke as my favorite must-have bike at the show, especially after it pased my bouncing on the saddle and twisting the throttle test.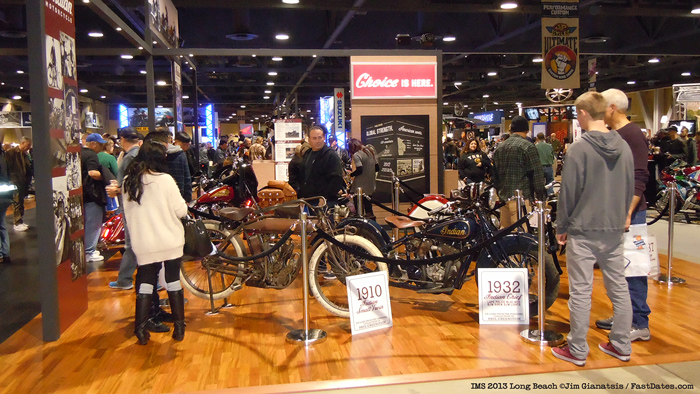 The manufacturer with the best display at Long Beach was the new Indian Motorcycle Company (owned by Polaris) which showed off its all new generation of big V-twin road bikes powered by the new Thunder Stroke 111 engine, the design and quality of which outshines anything coming our of Milwaukee. Also in the display were antique Indians motorcycles to trace back the new brand's heritage and theme, and a modern replica of the famous Burt Munro Bonneville Streamliner.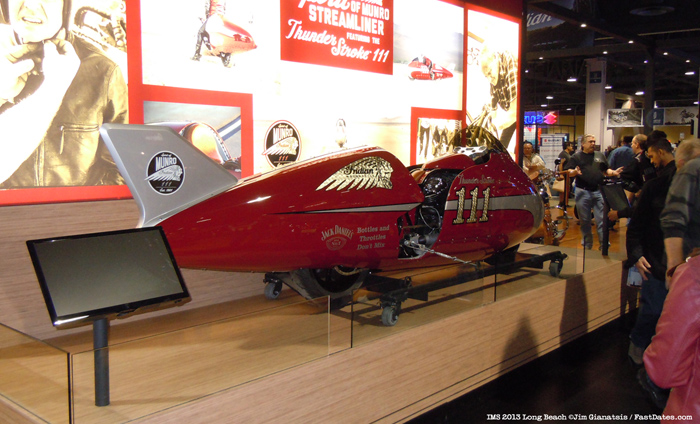 Above, the replica Burt Munro Indian Bonneville Streamliner usigthe new Indian Thunder Stroke engine. Below, the new Indian Chief laid bare shows a modern modern monocoque stamped steel chassis and cast aluminum swingarm housing a modern yet simple aircooled V-twin engine.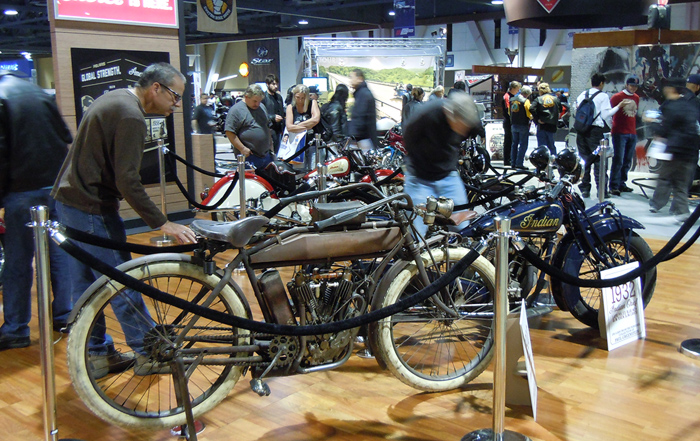 It was nice to see many of the bike manufacturers were now focusing on the entry level motorcycle buyers with many affordable 250cc and 450cc street bikes now available, but it may be some 30 years too late. A look around the Convention Center clearly showed 80% of the attendees were age 40 and above, to support the dismal statistic that the average age of a new motorcycle buyer in America is now close to 52 years old, and growing one year older each year. Meaning that in 20 years the sport and the industry will probably be half the size it is today. Today's iPhone texting and iPad generation of young adults have no interest or money for motorcycles and the high priced insurance. If a kid does need motorized transportation, a $2,000 used car is cheaper than a used bike and can be insured on their parent's policy.
The many exciting manufacturer commissioned J-Model customs at the show included this Kawsaki V-Twin Bobber with a twin shock front end.
The economic collapse in America brought with it the demise of the American V-twin custom bike market. The American middle class no longer has the disposable income to spend on a $30,000+ custom bikes. And the millionaire athletes and movie stars who bought $70,000 Orange County Choppers and West Coast Customs and rode them once, then parked them, never to buy another. Today you can buy them for pennies on the dollar, if the owners aren't giving them away to clean out their garages.
What is taking the place of the American V-Twin Custom Chopper in a small resurgence of the custom bike market is the Cafe Bike and Streetracker, made popular by the TV show "Cafe Racer" and the magazine and FastDates.com Calendar popularized bikes of Richard Pollock and Roland Sands. All the Japanese motorcycle distributors featured customized Streetrackers and Cafe Bikes in their displays which they commissioned from top name builder based on their production bikes. The most purpose designed production bike for this is Yamaha's new V-twin Bolt model, which was created for the customizer in mind, using either optional Yamaha Bolt Accessory Parts, or just do your own thing. One thing for sure, the Japanese are now building V-twins that are far better quality, better performing, more cost effective and just s easy to customize as anything coming out of Milwaukee.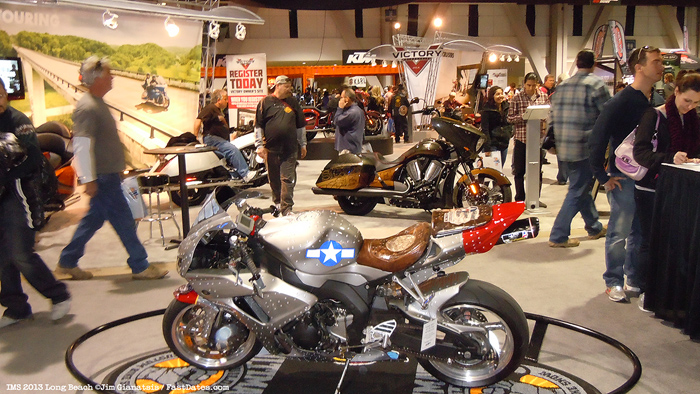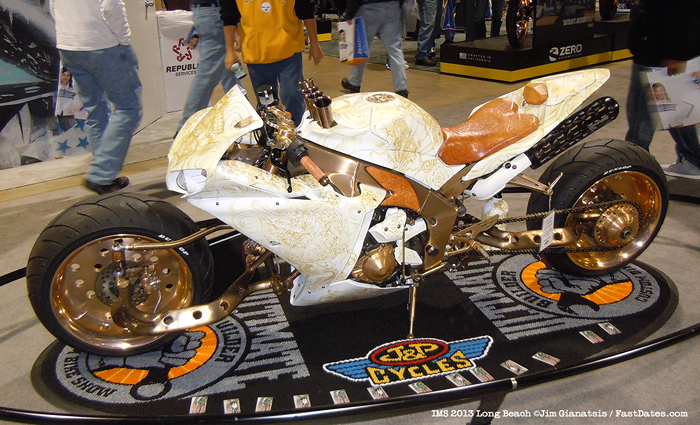 Return to Pit Lane News • Pit Board Features
Shown here above and below ,incredible Japanese V-Twin based customs like these Yamaha Star bikes were everywhere at Long Beach and showed you don't need an American V-Twin custom to be cool, plus they're a lot more relaible and practical as every day rides.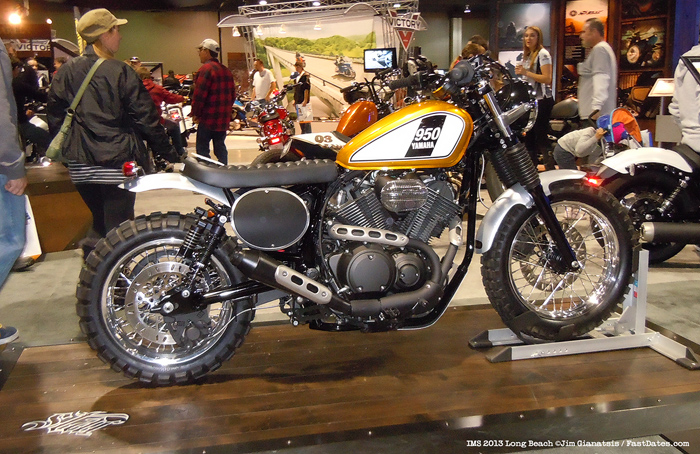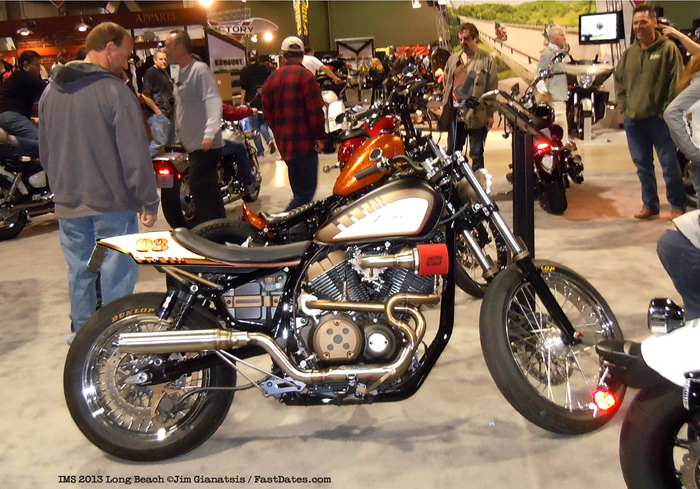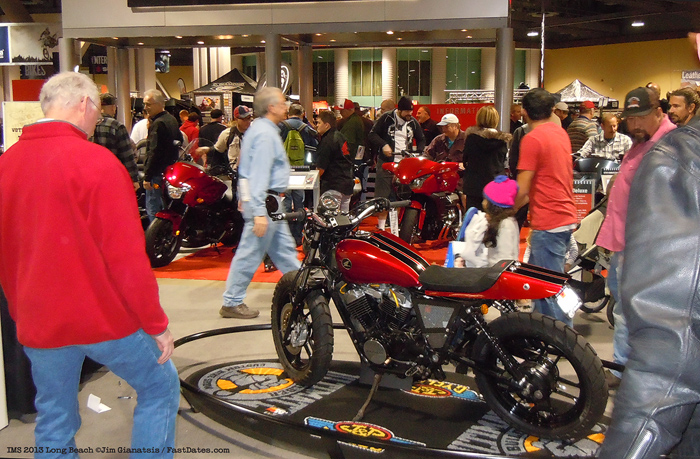 How wild is this? For the guy who has everythig, including a place to park and ride it, the Quad Ski which premied at Long Beachand features fold-up 2-wheel drive ATV wheels which you can drive into the water, where jet propulsion then takes overand sends you and your passenger on wild ride! The price? Just a mere $46,000 which seems rasonable considering the mechanical complexity.



Return to Pit Lane News • Pit Board Features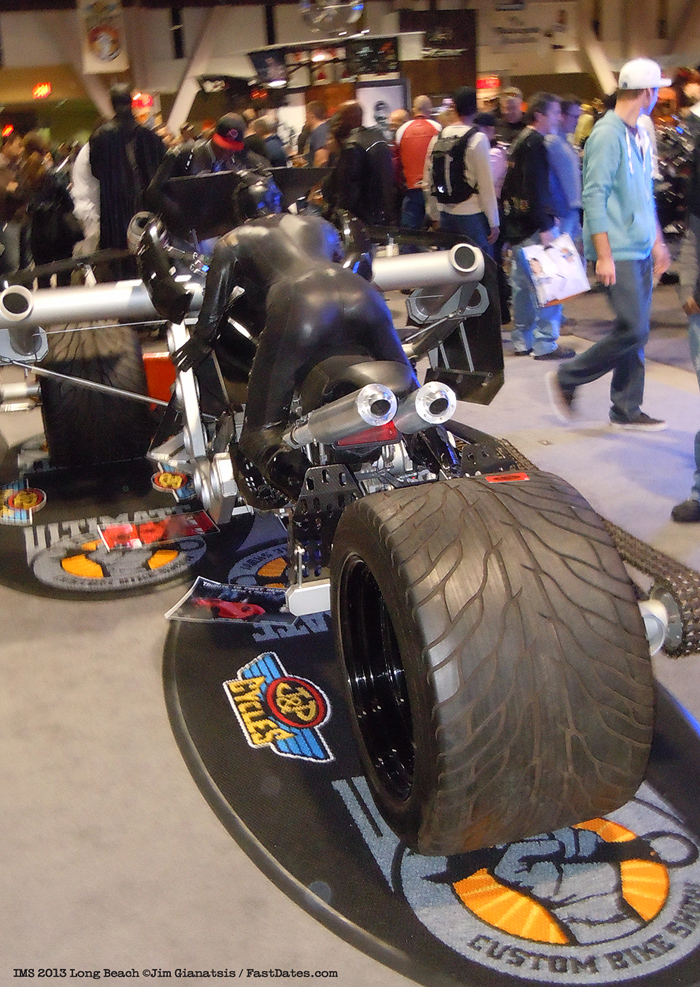 More of the Bat Girl and Bat Man Motorcycles from the Aloha Brothers.
Return to Pit Lane News • Pit Board Features