Light Me Up CD
click to order

Taylor Momsen gets Pretty Reckless


She's the next big thing. Most of America still knows her as sweet young long legged Jenny Humphry on the prime time TV soap Gossip Girl. But in the last year actress Taylor Momsen turned 15 to 17 years old (going on 25) and emerged from her jail bait caccoon as a catapiller turned vampire bat - the sexiest rock diva ever. Taylor tops Madonna and Avril LaVigne in raunch, sex and beauty with songs like "Going Down" and "Make Me Wanna Die" while perfoming in bra, panties and garters. She also can sing! In interviews she talks about dating older guys, masterbating with her vibrator, and likes to say "fuck" a lot. We got to meet her this past summer when she performed on the Vans Warped Tour, performing at one concert with a Tampon string hanging from her panties the entire show. OMG. Check our her R-rated videos on YouTube.com and order her full 12-song Album "Light Me Up" recently released in England and is now available here in the colonies on Amazon.com by clicking left. Fuck yea!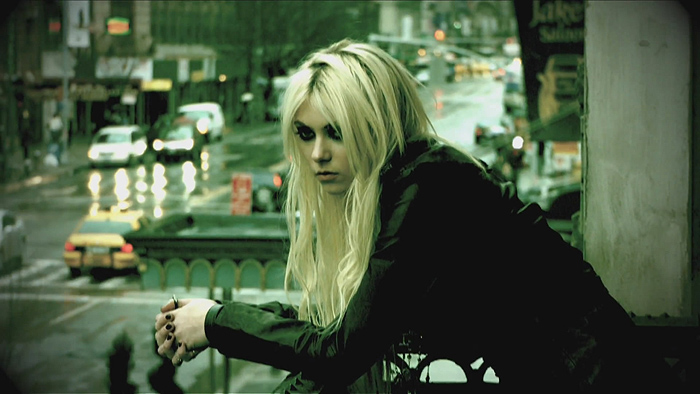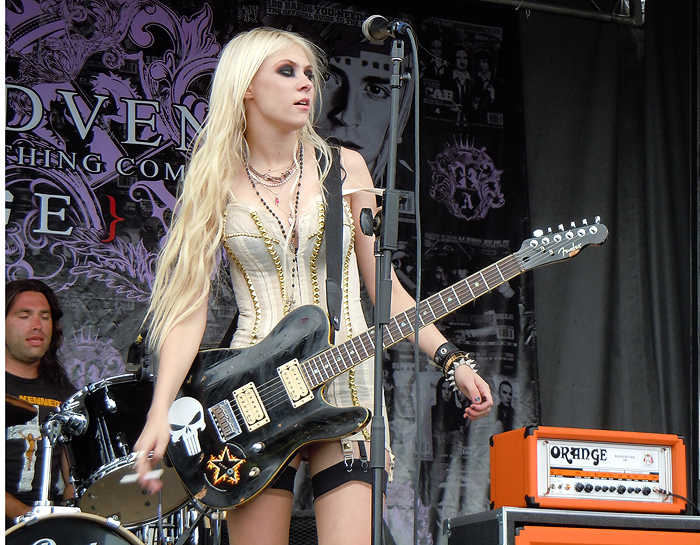 Below: Our fearless editor stalks Taylor at the recent Vans Warped Tour where she leans in to give us a kiss,
and her body guards (aka Band Members) close in for the kill.
Taylor Momsen
Biography

Born: St. Louis Missouri, USA, July 26 1993
Name: Taylor Michel Momsen

Taylor Momsen was born in St. Louis on July 26 1993, she began her career at the age of three, in a commercial for Shake and Bake. She's 5 feet 7.5 inches tall. Taylor's younger sister Sloane was born on the 20th of December 1996 and is also becoming a rising star. Taylor's first roles in 1999 was the guest role of Honey Bee Swan in the movie Prophet's Game with actor Dennis Hopper.
Her big break came with the Jim Carrey's movie How the Grinch Stole Christmas in 2000 where she played Cindy Lou Who. In 2002 she appeared in 3 feature films including the Spy Kids Sequel: Island of Lost Dreams, We Were Soldiers alongside her sister, and the movie version of the kids fairy tale Hansel & Gretel. She has also appeared as Samantha Wallace in the feature film Saving Shiloh and Doubting Thomas in 2005. Taylor played the lead role of Hopper Watson in the proposed series Misconceptions for The WB in 2006.
In 2007 Taylor was cast as Jenny Humphrey on the new CW pilot of Gossip Girl. The show went into syndication and in the First Season her charactr was a sweet doe-eyed 14 year old who like to sewn her own clothing fashions, By the end of season. By the Third Season in 2010 she was 16 and seducing her older brother's friends.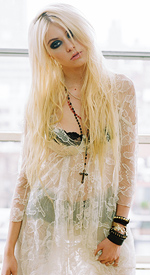 During the summer of 1999 while 17 years old Taylor formed her own music band The Pretty Reckelss, with Taylor singing lead vocals, featuring a gothic rock look and performing in the syle of Jon Jett and the Black Hearts of the 1980s.
What is exciting is that Taylor really can sing and write great music with her band members. She does push the band's look and style to the limits, often perfoming in bra and panties and singing songs about sex, love and drugs.
They first began performing at clubs in New York City in the fall of 2009. The bands first national tour was as part of the Van's Warped Tour across America for 3 month in the summer of 2010.
They are signed on Interscope records and released their first 4-song EP on Van's Tour called "The Pretty Reckless" featuing the songs: Make me Wanna Die, My Medicine, Goin'Down and Zombie. The songs were also available on iTunes.
The Pretty Reckless also has done a number of concerts and media appearances in in England where they have quickly built up a large fan base. Suprisingly Interscope chose to release the band's first full lenght CD album "Light Me Up" only in England first in September 2010, and not in the USA. Copies of "Light Me Up" are now available in the USA as am Import CD on Amazon.com.
The large conservative population and media in the USA is probably the main reason why The Pretty Reckless is not getting as much air play and national media attention. Interscope has released some very sexy music videos o fthe band, available on YouTube.com, to help the band build it's American fan base in other ways.
Meanwhile, Taylor's character Jenny Humphrey" on the Gossip Girl TV Series has disappeared from the Show's 4th season in the fall of 2010 as Taylor is devoting herself to her band and music full time.