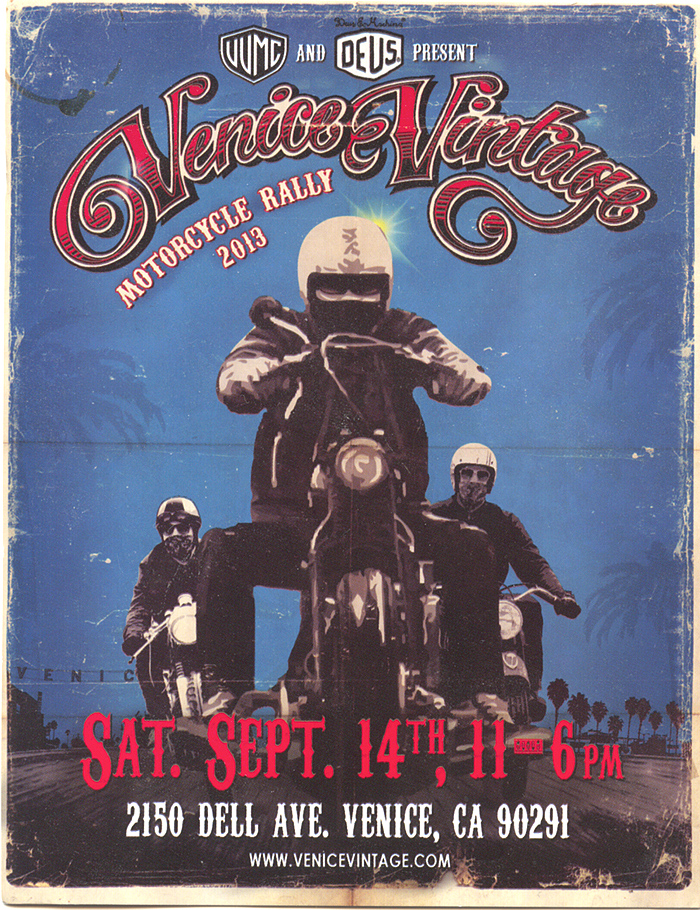 2013 Venice Vintage Motorcycle Rally and Show
Photos and Report by Jim Gianatsis - Click on any Picture to Enlarge

Venice, CA - Sept 14th 2013 - The Venice Vintage Motorcycle Rally and Show has been taking place in downtown Venice, California (next to the bigger city of Santa Monica inside greater Los Angeles) for a few years now organized by the Venice Vintage Motorcycle Club. The event starts early at 9am on a Saturday with an easy 10-mile straight road motorcycle ride up the California Coast on Pacific Coast Highway 1 from Santa Monica to Peperdine University in Malibu. The ride then returns back down the coast to a Venice city parking lot for an afternoon Bike Show, featuring a display od participant and show bikes, venders, together with BBQ food and rockabilly music.
The Venice Rally and Show is probably similar to make local bike events growing popularity in big cities across America. Admisison is usually free, or like the Venice event is just $5 including parking. Supported by local bike shops, it doesn't have to be profitable, and it provdes a great way to spend a Saturday or Sunday with your passion for all things 2-wheeled. What it also does, though, is kill the sport for larger paid bike events. In today's tight economy, no one wants to pay $20 to see top custom bikes and bulders from around the world. Instead, give them a grass field or parking lot with a bunch of old classic bikes to see for free, and they're happy for the few house their wives let them out of the house.
Bikes and spectators gathered at the end of the day for the Bike Contest awards. We estimated the day's attendace around 1,500 people.
Being a sportbike rider myself, one who likes fast and twisty roads without traffic, I haven't had the desire to participate in the actual Saturday morning Rally ride which crawls its way through weekend grid locked costal beach automobile traffic and traffic signals, with slow old bikes that have a penchant for breaking down. But for those who find riding in big groups like salmon, exciting, and just being abe to survive a 40 mile ride without breaking down or running into each other, an accomplishment, I can understand the camaraderie.
The event focus on the now popular vintage bikes and cafe bike customs of the 1950-80s era. I'm a people watcher, and like to attend such events to check out the cool old bikes and the people. While some of the trendy custom / retro cafe' bike can be fairly ecliptic. And some you just have to ask, "Why take a beautiful valuable old classic a screw it up into a worthless pile of junk?" To each his own.
This pinup model display was set up just for photos witht he girls and a custom Triumph bobber.
A great supporter of the cafe bike cummnity, local shop Dues Ex Mechina sponsors the Venice Rally and Show, along with other monthly events at its store location. They also sell new bike quality convesions like this beautiful Kawaski W65 (above) converted to cafe racer specs.
Keeping with the Show's retro theme, PinUp girls and this Triumph bobber were available to pose for pictures with.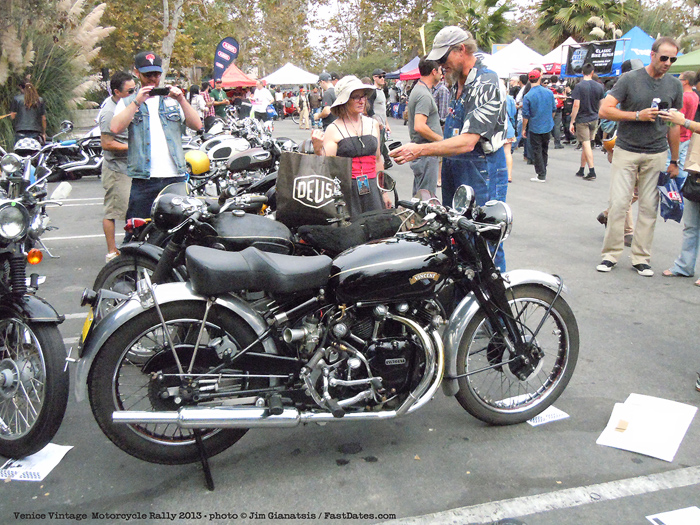 Which brings me to my one big concern or complaint about the current cafe bike craze popularized by TV shows and magazines like Cafe Racer. Take a now rare and collectable bike like a classic 1972 Honda CB750, when if restored is probably wroth from $8,000 - $12,000 and would be the pride of anyone's collection. But have some amateur builder or used parts shop turn it into a stripped down / cobbled together custom cafe racer that won't fetch a $2,000 bid on Ebay. Granted, many of these bikes were trashed barn finds to begin with. But wouldn't it be more satisfying to return them back to like new stock condition, and have them really worth something when you're done? If you really want to look and go fast, safely, just get a nice used modern sportbike. But for most of us, it doesn't take much skill, fabrication or creativity to strip off the fenders and side panels, bolt on a set of clip-on's and straight pipes and call it a cafe' racer.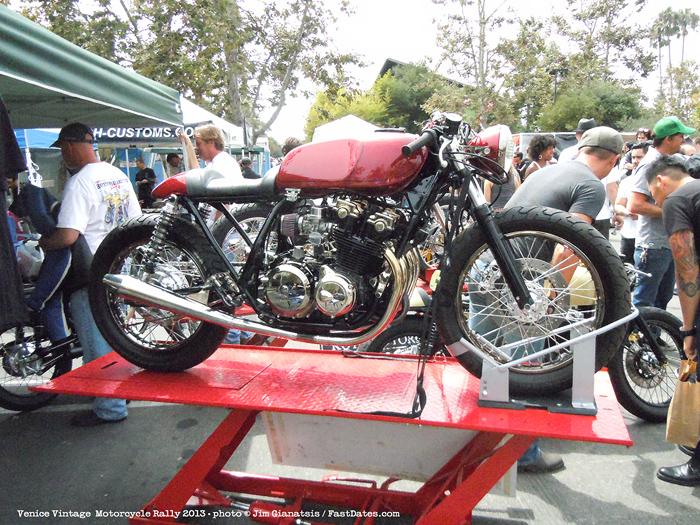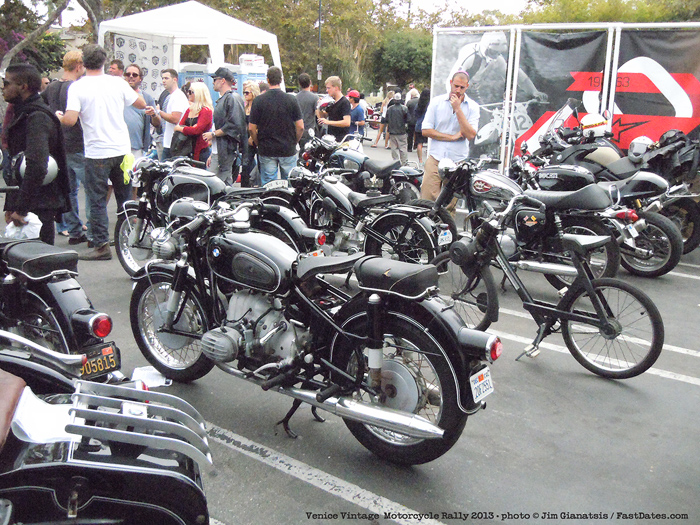 Beautiful classic 1960's BMWs
My favorite "bike" at the show was this 1930's unrestored Morgan 3-Wheeler which uses a JAP V-twin engine, a classic powerpant that also found its way into many high-end British motorcycles during that era.
The event's Raffle Bike was this this pretty little 1965 Honda CB160 customized by somenone going under the name SS Classics. Another backyard build utilizing upside-down mounted conventional handleabars (easier to build than real clip-ons) and wheels too tall for the centerstand to work without a piece of wood under it.
Original classic biles like this Norton single above, and the Triumphs below were way cool
To find out about future Venice Vintage Motorcycles rides and club events go to VeniceVintage.com


Return to Pit Lane News • Pit Board Features