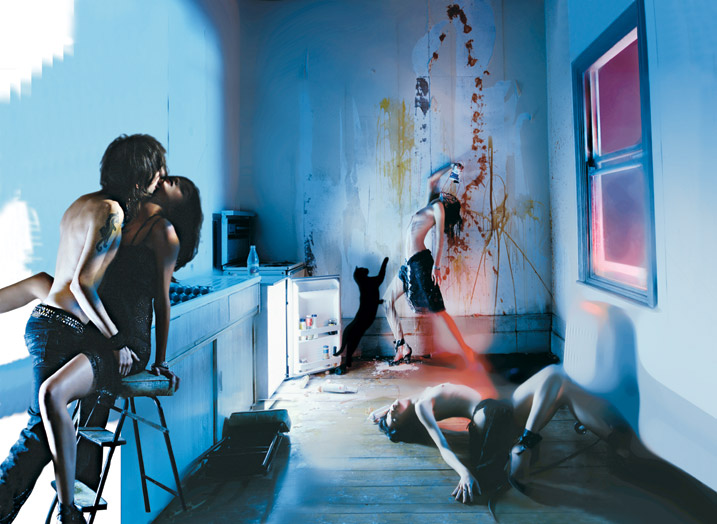 The Pirelli Pinup Calendar
You know we love motorcycle pinup calendars at FastDates.com! Our website was initially created to promote our own calendar line and celebrate the mating of beautiful and sexy celebrity pinup models with the world's most exotic racing and premier custom bikes. Our own Iron & Lace Custom Bike, Fast Dates Race Bike and Berm Busters Motocross Racing Pinup Calendars continue to be the world's premier selling line of motorcycle pinup calendars.
The 2004 Pirelli calendar:
n the 12th November 2003, in the historical Royal Courts of Justice building in London, the 2004 Pirelli Calendar was presented to the press, to collectors and to enthusiasts the world over. Once again, this event was one of the world events most awaited by lovers of photography, fashion and beauty, an exclusive event that traditionally blends art with seduction. This issue is special: it marks the 40th anniversary of the Pirelli Cal, a "must have" symbol, a true icon of beauty.
The models
The calendar models offer, each time we look at them, new views on the concept of beauty. They are an integral part of the photographic landscape; they mix together with the natural elements, giving the viewer the impression that they always have been there. The models are a sort of guidance on how to read the pictures, with some degree of erotic allusion, but above all they represent a hymn to life.
This year the Pirelli Calendar is embellished by a line-up of some of the world's most highly touted models, some of whom participated in previous editions: Maria Carla Boscono, Karolina Kurkova, Natalia Vodianova and Jessica Miller in 2003, Frankie Ryder in 2001 and Alek Wek in 1999 and 2000. They are joined by Liberty Ross, Amanda Moore, Pollyanna McIntosh, and promising "rookies" Dewi Driegen, Esther De Jong, Ai Tominaga and Adina.
The aim of the Pirelli Calendar is to illustrate a particular theme with a set of pictures of the highest artistic level. Every year the quintessential nature, the subject or essence of the calendar is methodically planned by Pirelli and carefully maintained top-secret until the official launch, organised with a private but spectacular style ceremony.
"The Cal" can be interpreted as both a "mean and an end" of Pirelli's communication strategy, which has been built over more than 100 years of initiatives and success in the field of reach, branding, brand awareness and corporate image projection. Reductively, it can be confined to be a "marketing tool", but for its estimators and enthusiasts is definitively more than that.
he pictures
"This Calendar portrays an imaginary world, so I wanted the images to evoke fantasies, simply hinting at or suggesting forms and situations," Knight explains. "When we dream, we use a wide perspective, and the image may be clearly defined in some details while it is out of focus in others. Of course, the technique must also lend coherence to the images from a visual standpoint."
Knight's post-production technique, based on the "merging" and chromatic processing of the photographs, proves to be quite well suited to this particular project: each shot is perfectly defined in some points, less in others. "In each photograph there are situations or symbols to decipher," Knight concludes. "I want people to be puzzled by this Pirelli Calendar and have fun looking at it and looking at it again, discovering a meaning of their own each day".
The models
In his quest for inspiration, Nick Knight contacted some of the most famous figures from the fashion, entertainment, literature and contemporary art worlds, speaking with each of them and gathering their confidences. "I asked them to tell me their ideas," he recounts, "and then I illustrated them. The responses were incredibly varied, because the personalities of the women interviewed were quite varied".
Each image of the Calendar is therefore associated with an idea expressed by one of these women (listed below in alphabetical order), but the names behind them will not be revealed.
Bjork (singer, Islandic)
Catherine Deneuve (actress, French)
Tracey Emin (artist, British)
Marianne Faithful (singer and actress, British)
Heidi Fleiss (writer, American)
Emma Forrest (writer, British)
Courtney Love (singer and actress, British)
Stella McCartney (designer, British)
Catherine Millet (writer, French)
AimÈe Mullins (athlete and actress, American)
Isabella Rossellini (actress, Italian)
Emmanuelle Seigner (actress, French)
Liv Tyler (actress, American)
Elizabeth Wurtzel (writer, American)
"It's like a masked ball," recounts an amused Knight. "The cast of advisors - actresses, singers, top models, writers - is variegated but homogeneous in terms of interpretation, because of the beauty that all the models involved have in common".
This Pirelli Calendar is highly innovative in its technique and artistic expression, therefore, but in the selection of protagonists fully confirms the canons of 40 years of tradition.
Innovation and technology at the service of artistic creativity of Nick Knight, world-famous British photographer who made visual sculptures, born of a symbiotic relationship between traditional photography and digital art. His taste, combined with an approach typical of "conceptual art", have produced an unprecedented Pirelli Calendar that is vibrant in its color, abstract in its design and magical to the eye.
Knight posed his models in an ambience that is dreamlike and fantastic but unequivocally feminine in which the perspective of portrayed female sexuality - as traditionally perceived by men - is reversed. "I feared that the calendar might propose a vision of woman from the exclusively masculine viewpoint," Knight explains. "So for this project I decided to ask the women what they would like to see represented in a Pirelli Calendar, leaving them to choose the theme."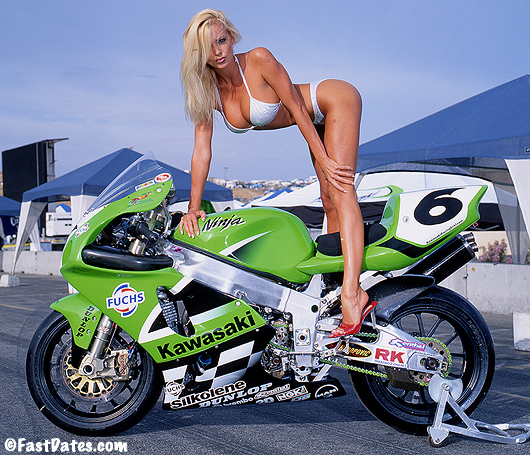 Above, a shot from our SBK World Superbike Championsip endorsed 2003 Fast Dates Racebike Pinup Calendar featuring the world's top factory racebike beautiful photographed for perfect viewing, together with the world's most beautiful pinup models like Penthouse Pet of the Year Zdenka (shown here) and Miss Graet Britain Nicki Lane.
Crossbow Calendar
Certainly one of the first motorcyle pinup calendars started 17 years ago by former Superbike magazine editor John Winthrope in England, with assistance by Vic Barnes. The Crossbow calendar always features a diverse mix of sportbikes, racebikes, naked bikes, exotics, and just plain off the wal weird stuff like this year's Harley V-Rod trike and a turbo Yamaha v-Max, and a MPC Ural Military Sidecar outfit.

The Crossbow models are the prerequisite popular British Page 3 girls, who on some pages appear topless and on other pages not (?). Our favorites this year include the very sexy Nicola McLean and Rachel Mundy. But we also miss last year's sexy cover girl Jodie Oram who should have earned a return performance, and the fact none of the calendar girls models are featured in more photos on the Crossbow website.

Crossbow upgraded to a high quality 15x15 spiral wire bound format a few years back which we like. But the larger format and quality sheet press printed calendar needs to be photographed with a larger format camera for improved sharpness. We'd like to see the pictures run full page width without all the side text. The Crossbow Calendar (£9 ) and other products including our FastDates.com Calendar line are available to IE browser users only at Crossbow-Calendars.com
---
Superbike Magazine Calendar
Superbike magazine has the potential to produce a really incredible calendar, but lucky for us they don't! The constraints of making their calendar an affordable free give-a-way packaged in a poly bag with the December year end issue of Superbike means it's not perfect.Their calendar is a saddle stitched fold-in-the middle magazine format, inexpensively web printed on lightweight 100lb. coated cover stock paper. Expect the thin paper calendar to tear through its punch hole and fall off the wall within weeks of hanging it up, or as soon as your buddy lifts the pages to flip through it. And because it is web printed the skin tone of the models is not always perfect. It does fold open to a nice 17 x 11 3/4 inch size, but in giving us nice big pictures the calendar grid at the bottom of the page is pretty useless and very difficult to read.

The 2003 calendar shots are revived 2002 Superbike magazine cover / centerfold bike and model shots which just ran the past year. The bikes are mostly current production bikes which the magazine featured and tested, including the Italian exotics like MV Agusta and Benelli.

Now that we're finish slamming Superbike, we'll give them four stars(!) for having the most beautiful young model topless models posed up close and personal. Together with excellent quality studio shots of the girls and the bikes by Anthony Butler and Paul Barshon. While the graphic layout and Photoshop reworking of the images by Huw Willams and Jayne Toyne is also first class.

And we'll slam them again for not paying their models a fair working wage. We tried to set them up with our own Miss Great Britain Nicki Lane for a feature shoot, but they didn't wan to pay her much more than cab fare for a day's shoot and she had to decline.
---
Performance Bikes Magazine Calendar
Like Superbike, Performance Bikes offers their calendar as a freebie with their December issue. This calendar is also saddle stitched (stapled-in-the middle magazine format), web printed on lightweight 100lb. coated cover stock paper. It also opens to a 17 x 11 3/4 inch size. Their art department's design of the calendar is just plain bad with poor layouts, photo croping and type use. The skin tone of the models is really off. Many of the girls are an off-yellow color or just plain faded.

If you want a calendar grid you can write on, the Performance Bikes calendar is big enough with almost one full page devoted to the date grid. But expect the thin paper calendar to tear through its punch hole and fall off the wall within weeks of repeated use.

Again, the 2003 calendar shots are the magazine's revived 2002 cover / centerfold bike and model shots which just ran the past year. Credit goes for the bikes being either top factory or privater race bikes, but negative marks goes for the tight cropping. poor layout design and medicore photograpahy that makes the bikes difficult to enjoy. They really blow it in jamming an editorial style product release ad on the date grid page, forcing the girl pictures to be really small, when they should be a tall as the grid and take up the whole page.
---
Dreamgirls Calendar
The first motorcycle pinuip calendar in America started back in 1985, with Dreamgirls origionally featuring custom Harleys and licensed by Harley-Davison as an official product until 1998 when they dropped it for political reasons. Many people still call it "The Harley Calendar" of which it is no longer. The current publisher of Dreamgirls is StarWest who uses custom bikes submitted by private owners, some built by known builders and some not too special. The models are all Los Angles "B" pinup models shot in nice locations. Photography changed for 2003 with the hiring of top LA photographer Kim Mizuno. High quality printing in a large 15 x15" wire bound format. At selected dealers. $14.95

Iron & Lace Calendar
Dream Girls competes with our FastDates.com Calendar title
Iron & Lace which is also a 15-inch design wire spriral bound, but printed on even heavier high quality art board. Bikes are the latest leading edge customs from top name builders across America like Paul Yaffe, Jim Nassi, Jesse James, and our models are well known celebrity movie stars, national beauty pageant winners and centerfolds from Playboy, Penthouse, Perfect 10 magazines. Selected dealers and HERE. $15.95
Order the FastDates.com
Calendars HERE!

Pit Lane News and the
Ripped Pavement, Fast Dates
Roadracing Calendars feature
the photography of
Gold & Goose,
Jim Gianatsis



---
World Superbike Girls Gone Wild!
Click HERE to enjoy a heart warming shot of our official SBK FastDates.com Calendar Girls from 2002 Laguna Seca World Superbike, Miss Great Britain Nicki Lane (left) and Lauren Nicole (right), taking a short break from the rigors of shooting the next Fast Dates Racebike Pinup Calendar out at the race track with famed photographer Jim Gianatsis, to unwind in their skimpy bikinis on the nearby beach in Carmel. Nicki and Lauren also served as the official Team Ducati Corse umbrella girls for Troy Bayliss and Ben Bostrom during the race weekend.
You too can re live a World Superbike weekend at the beach and at Laguna Seca Raceway with our SBK World Superbike Trophy Girls in
The Making of Fast Dates The Video available for ordering. And for a lot more very revealing pictures of our beautiful SBK FastDates.com Calendar Girls, be sure to visit them in Members Corner.
2003 and 2004 Fast Dates Calendar
photos now available in
Member's Corner!
---
More Tantalizing tidbits from the Crossbow Calendar
Nicola and Rachel might be working on their sun tans if they were anywhere else but in England.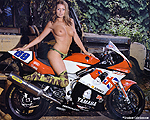 ---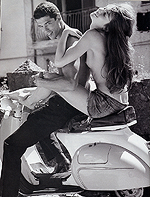 Click for the big picture. Jessica Miller gets firsky on the back of Alessandro Gassman's Vespa.
The Pirelli 2003 Calendar
Yes, Sports Illustrated Swimsuit cover supermodel Yamila Diaz-Rahl does have great breasts, and no, you can't buy this calendar. The world's largest tire maker has been producing the world's most expensive nude pinup calendar as a promotional giveaway since the 1960's. It's usually a lavish production featuring the world's top supermodels photographed by one of the world's premier photographers, usually in a large 20" square format with high qaulity design and printing. Pirelli's worldwide distributors usually pay $40 each cost for the calendars, and in turn give them away as Christams presnts to their favorite people. You have to know someone at Pirelli to get one. Usually you can find an old one on E-Bay if you'ld like to get one for your collection.

Yamilo Diaz-Rahl says "no" to Enrico Lo Verso, but her eyes say "Yes, yes yes."
A few years back photographer Herb Ritts got Cindy Crawford and Laetitia Casta totally naked on the beach for the Pirelli Calendar.
For 2003 its fashion photographer Bruce Weber who gets top boy/girl supermodels topless including Yamilo Diaz-Rahl who just happens toalso be on the cover of the 2003 Sports Illustarated Swimsuit as well, and Victoria's Secrect model Heidi Klum, all together in a rural Italian village. The candid style shots are pretty boing, there's no concept or tie-in to Pirelli tires, but hell, Bruce probably only had a $1,000,000 shooting budget to work with....
You can see all the pictures in the current Pirelli Calendars pn their website at Pirelli.com