In Paris, motorcycles get front row grid position at every intersection. The competitors awaiting the starter's flag include a couple on a GSXer, a business man on scooter with rear luggage box, a naked Suzuki sportbike twin, and a cute babe on her little scooter. Bikes and scooters also get to park anywhere they want including on all the sidewalks, anywhere, 2-3 bikes deep! There are no parking meters in Paris for cars, either. Viva la France!
The 2001 Paris Motorcycle Show page 2
Story & Photography by Jim Gianatsis
Here in America we tend to think we are at the center of the motorcycle universe, but that's far from the truth. The reality is we are a distant outpost on the fringe of what's really happening in the world of motorcycling, getting limited access to just some bikes only 1-2 years after they've first proven themselves in the European market.
Paris is a great motorcycle town with almost as many people on motorcycles and scooters commuting to work and play, as there are cars. Hopped up naked sportbikes are the normal, not the exception. And motorcycles get to park anywhere they want to on the crowded city sidewalks. Not once in an entire week did we see a Harley-Davidson on the street -just a few sportbike Buells. At a busy traffic circle on the Avenue De Champs Elyees jammed with mini cars and tour buses you'll see a business man on Ducati 996 dicing with a kid on a naked Honda CBR900, a pretty secretary in a BMW roll cage enclosed scooter, and a cute schoolgirl on a Vespa. Such is how life should be in America!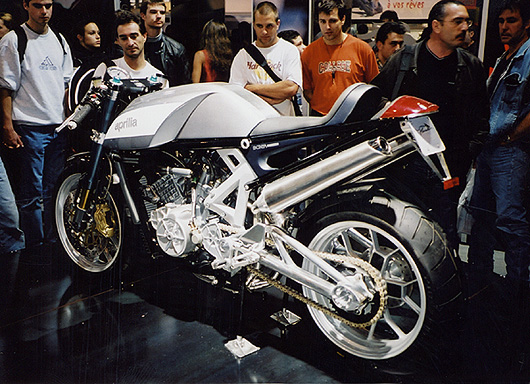 The Aprilia Blue Marlin concept bike had premiered the previous week at Milan, and had French fans drooling as well. This futuristic naked bike features an RSV1000 Superbike V-twin engine and looks like it could easily go into production.
Left: Aprilia's Marlin from the front. Right: Max Biaggi's 500cc 2-stroke GP Yamaha with the new M1 4-stroke.
Notice how the carbon bodywork changes from grey (below) to gold (above) in the light.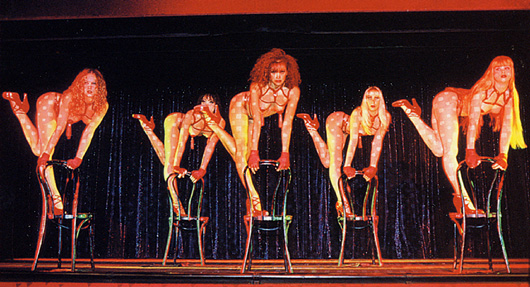 Of course our favorite photographer couldn't go to Paris without experiencing the world reknown cultural and artistic delights the City of Lights has to offer. Front row tables at the Moulon Rouge and the Cracy Horse with a bucket of iced champaign proved a lot more fun than looking at boring old paintings at La Louvre. Mona Lisa had nothing over these beautiful Crazy Horse girls in incredible performances correographed to different music and light shows.
Below: More of Laetitia's ad campaigns on the Paris tour busses.

Pit Lane News • Paris Show page 1 • Paris Show page 2