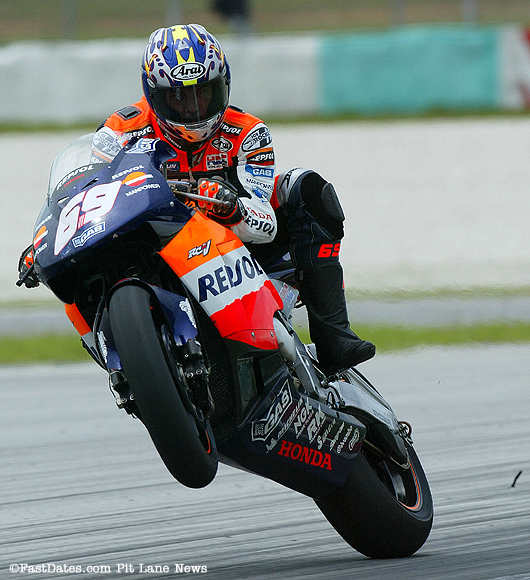 American Superbike champ Nicky Hayden launches the RC211 out of a corner in testing.

Honda and Ducati MotoGP teams test at Sepang
Rivals Rossi and Biaggi turn top times for Honda
Honda and Ducati MotoGP Winter Tests, Sepang, Malaysia, Jan 20-22, 2003: The Christmas and New Year holidays are well and truly over and it was back to work for the MotoGP Championship teams as they prepare for the 2003 season. The MotoGP Open Winter Tests for all the Honda teams and Team Marlboro Ducati at Sepang, Malaysia, ended on a high note with all teams and riders satisfied with the results and the data logged for future reference. Overnight rain lingered at the 5.548km circuit during the morning of the final day but by 13.30. the track was dry enough for he riders to get in track time in good conditions.
Rivals Rossi and Biaggi quickly up to speed on Day One
Repsol Honda MotoGP Championship Team riders Valentino Rossi, the reigning MotoGP World Champion, and American Superbike Champion Nicky Hayden, completed day one of the three day Honda winter test at the 5.548km Sepang circuit, Malaysia, today.

Champion Rossi spent the day evaluating the braking performance of his RC211V five-cylinder, 990cc four-stroke, while 2003 MotoGP debutante Hayden made his acquaintance with the fast grand prix circuit. Valentino Rossi: "Today we did only 23 laps. We only have one bike and started with the set up we had at the GP in Sepang last year. We concentrated on braking today and the transmission performance while under braking. But if I need adjustments made it's difficult with only one bike, I have to wait while the mechanics get it ready. This afternoon when we came in to make changes it was dry, when the bike was ready it was raining. So we decided to stop. This is just the first day and we hope for a full days testing tomorrow."
Nicky Hayden: "This is another good chance for me to get in some training on the bike. This is my first time at Sepang and I like it, it's a real GP circuit, fast and safe. I didn't push so hard today I just concentrated on finding a set up for the circuit and trying to find a good rhythm out sthere. I need the experience."

Rossi goes over the electronic feedback from his practice laps with an HRC engineer and Repsol Honda team manager Jeremy Burgess.
The Telefonica MoviStar Honda Gresini team began the Sepang test as a full team, with team riders, Daijiro Kato and Sete Gibernau testing their RC211V machines at the 5.548km circuit. New boy to the RCV camp, Sete Gibernau, who had only once briefly tested the RCV prior today, spent the opening day of the test finding a base set up to work from. Sete Gibernau: "This is my first full test on board the Honda RC211V, and obviously it will take time to adapt to the new machine, but there is no rush. There are a few little things, mainly electronics, that need setting up to suit me, but little by little it will come. Also, after a break such as the one I've just had, you need to get back into the mindframe of racing once again, to pick up the rhythm where you left off. This is obviously harder when you have to get used to a new bike too, but for an initial test, I'm very satisfied indeed. The team is very good and very supportive, and I'm excited about the year ahead, and about fighting for the top positions once again."

Teammate Kato concentrated his efforts on suspension work, an area the diminutive, lightweight Japanese feels vital to his success in 2003. Daijiro Kato: "I feel refreshed after the short winter break, but I picked
up a bit of a stomach upset yesterday, and I still feel a little under the weather today, so that didn't help me, even though I set a good lap time. We are working mainly on the suspension settings for the bike, which is
where I need to focus most. We do not have the new parts for this season to test yet - they will arrive in February at the next session. I'm looking forward to 2003 now, and although it rained here this afternoon I decided against going out, because I got lots of rain laps in during the test we did in Jerez."

Third place finisher in the MotoGP Championship last season, Tohru Ukawa, was at Sepang with his new team. Ukawa completed put in 56 laps aboard the Honda Pons RCV during the opening day of the test. Tohru Ukawa: "Everything is going okay here in Sepang, where we are currently working mainly on both the front and rear suspension settings. We have already improved it considerably and will be working on it more
tomorrow. This afternoon I was going to dedicate to tyre testing, but then the rain came, so I couldn't do any of that, hopefully the rain will stay away for the next two days. We are still using the same machine as last
year, testing some of the new parts added whilst they construct a whole new bike in Japan. Overall though, I am happy with how everything is going with my new team, communication is good and we work well together."

Italian Max Biaggi returns to the Honda camp in 2003 racing an RCV for the Pramac Honda Team. Biaggi completed 27 laps today, primarily trying various adjustments to the seating position, footrests, and the controls, in a bid to find the most comfortable riding position. Max Biaggi: "Today was the first time I sat on a motorcycle for over two months. I didn't do so many laps today, it's a new bike and we have a lot of testing before we start the season. We were working on the electronics today and we needed some help form the Japanese technicians. They had many riders to look after so it took time. We spent time on my seating position on the bike, footpegs, levers, I have yet to feel comfortable on the bike. The important thing now is for me to understand the strong and weak points of the motorcycle. Right now I feel the strong point is the power and the delivery, the weak point is the clutch."

Makoto Tamada makes his MotoGP debut in 2003, riding the second Pramac liveried RCV. Tamada's machine will be equipped with Bridgestone tyres as the Japanese manufacturer steps up its tyre development programme, working with four-stroke MotoGP machines for the first time. Tamada completed 56 laps of the track today. Makoto Tamada: "The first day of testing was, as always, dedicated to the set-up of the bike, partly because it's the first time I've ever been to Sepang and I need to understand and interpret the circuit. I'm pleased with the way things went today, as I've been able to prepare well for the days ahead. There's plenty of room for improvement, and we'll be carrying on with the test programme tomorrow."

Bridgestone have also recruited the services of former grand prix rider Shinichi Itoh to assist with their winter testing programme. Itoh, now an HRC test rider, has been working on various Bridgestone testing projects in
recent years and his vast knowledge of grand prix racing and Bridgestone tyres will be invaluable to new boy Tamada as he approaches the most important season of his young career. Shinichi Itoh: "I hadn't ridden at Sepang for a year - and last time I was using tyres from a different manufacturer. I noticed the difference, and after trying out a few solutions we drew up the work programme for the coming days. It's going to be pretty intense but I'm not worried about the quantity of work as I'm sure we'll be able to achieve some excellent
results."

Honda test times Sepang January 20, 2003: Valentino Rossi, ITA Repsol Honda 2m 05.76s - 23 laps.
Daijiro Kato, JPN Telefonica MoviStar Honda 2m 05.02s - 29 laps. Max Biaggi, ITA Pramac Honda Team 2m 06.0s - 27 laps. Tohru Ukawa, JPN Honda Pons 2m 06.0s - 55 laps. Sete Gibernau, SPA Telefonica MoviStar Honda 2m 06.6s - 28 laps. Shinichi Itoh, JPN HRC Honda 2m 07.5s - 55 laps. Nicky Hayden, USA Repsol Honda 2m 07.76s - 58 laps. Makoto Tamada, JPN Pramac Honda Team 2m 09.2s - 56 laps.
Lap Times Tumble on Second Day of HRC Sepang Test
Jan 21st: Day two of the HRC winter test at the Sepang circuit, in Malaysia, saw all Honda RC211V riders lower their lap times from yesterdays opening session. Reigning MotoGP World Champion Valentino Rossi set a scorching pace on his Repsol Honda while testing tyres for team supplier Michelin. In the searing temperatures and high humidity of Sepang Rossi set a lap time 1.6s faster than his best lap time during the grand prix held at Sepang October of last year.

Valentino Rossi: "Basically very happy with the results of today. The bike now seems stable and we have no chatter. It is now possible to go very fast and to keep regular fast laps. The engine feels strong and I have good
traction without having to slow to stop spinning. We will keep all the settings the same for tomorrow. We have worked hard on the front today with nine different compound Michelins. Tomorrow we will work more on the rear."

Rossi's Repsol Honda teammate, American Superbike Champion Nicky Hayden, was feeling more at home on day two of the test. The American put in an amazing 84 laps of the circuit, lowering his lap time by over a second from yesterday as he familiarised himself with both the changes to he RCV and the Sepang circuit. Nicky Hayden: "I'm feeling a lot more comfortable on the bike which is good but the track has taken me a lot longer to learn than I'm used to; certainly longer than the other GP tracks I've ridden on. It's such a long lap time and so much wider. Although we got a faster lap time it's been a little frustrating today and at times we seem to be going round in circles - I guess hardly surprising - it's still early days. Tomorrow we'll do more work with suspension setting and with tyres. Step by step!"
Honda Testing times Sepang January 21st: Valentino Rossi, ITA Repsol Honda 2m 03.5s 65 laps. Daijiro Kato, JPN Telefonica MoviStar Honda 2m 4.3s 56 laps. Max Biaggi, ITA Pramac Honda Team 2m 04.5s 47 laps. Sete Gibernau, SPA Telefonica MoviStar Honda 2m 04.9s 58 laps. Tohru Ukawa, JPN Honda Pons 2m 04.9s. Shinichi Itoh, JPN HRC Honda 2m 05.6s 76 laps 76 laps. Nicky Hayden, USA Repsol Honda 2m 06.6s 84 laps. Makoto Tamada, JPN Pramac Honda Team 2m 07.1s 61 laps.
New Honda rivals Rossi and Biaggi burn ip the track on Day Three
Jan 22nd: Most riders spent the afternoon testing tyres for their 2003 suppliers. The Repsol Honda team of Valentino Rossi and Nicky Hayden pronounced themselves satisfied at the end of the day. Rossi happy with the amount of technical set up and tyre testing work he completed, Hayden happy with the progress he has made to date.

Valentino Rossi: "A good three days and for me the best part is to understand the problems we have had in braking. We got some good settings yesterday and today we have found some good Michelin tyres. The grip on the edge has always been a problem but today we have the tyres and the settings to get good grip on the edge. The engine and chassis feel strong and now we understand the braking better it is possible to make a good time."
Max Biaggi: "I can look back on this test and say it was very positive. Two and a half months without riding a motorcycle. But within 10 laps of riding this bike I felt comfortable, at the end of the test I felt quite good
about it. Today we finalised the set up and covered a lot of kilometers. Michelin asked us to do an endurance test with the tyres. The test went well, Michelin are doing a great job for us for 2003. I spent the last 10
minutes of the test I pushed hard looking for the limit. I got close but I didn't want to make a mistake on the first test with the bike. The team and I are beginning to understand each other and I feel comfortable. We now
have one month before we test again. I will keep my concentration, I want to ride the bike again as soon as possible. I'm having a lot of fun with it!"

Nicky Hayden: "I've gotta be pretty pleased with the tests here. It's an awesome place and although it's been hard learning the track on the new bike - I've leaned heaps and the important thing is I've stayed upright and
the times are getting faster. Things seemed to get better when we set most of the bike to standard settings and I could concentrate on the tyres and just riding the bike better. I'd like to be able to go harder into the turns. It's a question of confidence really. I know I can be far harder on this bike than I could be on my VTR. I'm enjoying it. I'm sure it'll come!"

Honda Testing times Sepang January 22nd:. Valentino Rossi, ITA Repsol Honda 2m 02.65s 55 laps. Max Biaggi, ITA Pramac Honda Team 2m 02.8s 48 laps. Tohru Ukawa, JPN Honda Pons 2m 03.4s. Daijiro Kato, JPN Telefonica MoviStar Honda 2m 03.7s. Sete Gibernau, SPA Telefonica MoviStar Honda 2m 04.3s. Nicky Hayden, USA Repsol Honda 2m 05.47s 60 laps. Makoto Tamada, JPN Pramac Honda Team 2m 06.5s 30 laps. Shinichi Itoh, JPN HRC Honda 2m 06.5s 31 laps.

Loris Capirossi power slides the new Desmosedici. His MotoGP experience and track knowledge is allowing him to come to grips with the new bike much quicker than team mate Superbike Champ Troy Bayliss.
New Ducati Marlboro Desmosedici Team on Pace at Sepang
The Ducati Marlboro Team started its three-day test at Sepang with Loris Capirossi and Troy Bayliss continuing development and set-up work on the Ducati Desmosedici for its first season in the MotoGP championship. This was Ducati's first ever appearance at the Malaysian circuit, and Troy Bayliss, unlike Loris Capirossi, was getting to grips with the Sepang track for the first time.

On arrival, the Ducati Marlboro Team was greeted with average temperatures of 30° C (35° C track) in addition to stifling humidity and the test session was later interrupted by a violent tropical downpour in the afternoon. The first day of testing however allowed the Ducati engineers to continue with set-up work on the bike and the riders to gain more experience with the Desmosedici prototype. Using the positive tests
at Phillip Island as a basis, the riders undertook several test sessions, and by the end of the day Capirossi had completed 38 laps and Bayliss 39.
The second day of testing for the Ducati Marlboro Team at the Sepang circuit in Malaysia mainly revolved around set-up work on the Ducati Desmosedici. Both Capirossi and Bayliss completed a similar number of laps, 56 for Loris and 57 for Troy. The high temperatures (air 33° C / 51° track) enabled the team to
verify the performance of the bike in difficult conditions, and confirmed the validity of the technical solutions applied so far by Ducati Corse engineers.

Both riders slightly improved their times on day two. Capirossi, who felt more at home on the Malaysian track, got down to a time of 2'04.4", while Bayliss continued his learning curve, but improved on
yesterday's performance to end the day with a time of 2'06.1".

"I'm pleased with the way testing went today" commented Troy at the end of the session. "My aim is above all to learn the track and establish the right feeling with the bike and the results so far show that we are on the right track. Today we concentrated on finding the best set-up for these temperatures and this type of track surface. I feel that we've still got a lot of room for improvement, but at the moment I prefer to concentrate on testing and set-up. As well as the Michelin tyres, today I also tried a number of different fairings, due to the high temperatures, and new gear ratios. We have to take advantage of every lap of the track to understand the bike and we'll be doing the same sort of work tomorrow."

"Today we did a really good job" declared Loris. "We managed to resolve many of the doubts that we had yesterday, in particular regarding grip. We tested lots of front and rear tyres and by the end
of the day we had sorted out the problems of traction and spinning at the rear. This enabled me to improve on yesterday's time and I finished with 2'04.4". We mustn't forget however that we are only here to do testing and tomorrow will also be dedicated to the tyres and accumulating as much experience as possible because
inexperience will be our worst enemy. The results that we are obtaining day after day are most satisfying and give us cause for hope. In addition these four-stroke bikes are really enjoyable to ride, the Desmosedici slides around easily, it's great fun!."
---
AMA PRO RACING OFFERS INCENTIVES TO LEADING WERA RIDERS
AMA Pess Release 1/20/03: A program has been developed by AMA Pro Racing and WERA Motorcycle Roadracing to give leading WERA riders a better opportunity to compete in the AMA Chevy Trucks U.S. Superbike Championship. Riders finishing in the top three in WERA's 600 and 750 National Challenge classes will be awarded free AMA Pro Racing licenses and a set number of free entries for the 2003 season.

The program will work as follows: First place riders in WERA 600 and 750 National Challenge classes will be provided a free AMA Pro Racing license and seven free entries into AMA Chevy Trucks U.S. Superbike Championship events. Second-place riders will receive the license and five free entries, and third-place riders will get a license and three free entries. Entries may be used for any class in which the rider is licensed to participate in 2003. "We see WERA as a valuable partner in developing America's road-racing talent,"
said Scott Hollingsworth, AMA Pro Racing CEO. "We would like to provide WERA's best riders a better opportunity to make a smooth transition into the AMA Chevy Trucks U.S. Superbike Championship and this program will help make that possible."

WERA President Evelyne Clarke sees the AMA Pro Racing/WERA alliance as a great opportunity to give WERA riders much deserved recognition. "WERA has always been a training ground for riders who have gone on to win national and world championships," said Clarke. "We are happy to see our riders go on to be successful in AMA Pro Racing. This union between WERA and AMA Pro Racing should provide even more of an opportunity to showcase our top riders and to give them help in making the transition to AMA Pro Racing." For additional information on this program contact AMA Pro Racing at (614) 856-1900 or via e-mail at proinfo@amaproracing.com.

WERA Motorcycle Roadracing, Inc, is one of the oldest and largest national sanctioning bodies conducting motorcycle roadraces at road courses across the United States. 1999 marked the 25th Anniversary for WERA Motorcycle Roadracing. There are over 3,000 roadracers holding a competition license and 250 holding a
support membership.
---